One month full of festivals just kept us from reviewing one of our most expected albums of the year: Insurrection by Signal Aout 42. Released on the 7th of June, it's the 7th album from the Belgian EBM act that we interviewed a few months ago. We had to wait six years to have the new SA 42 record but without a doubt, the waiting has been worth it. Jacky Meurisse's band has been key in the creation and evolution of Electronic Body Music and here we find the last chapter (till now) in the History of the genre. You can order it here: [email protected]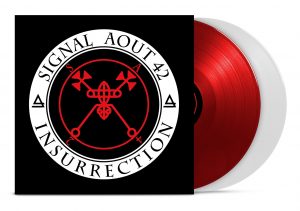 Boom: the album starts with "Under Pressure", the shortest track of the album and a perfect introduction to it: hypnotic bass lines, heavy rhythms and ominous synths. "Technocra (z) y" and "Welcome to Reality" are the first flood killers, two powerful tracks that are good examples of how an EBM track should sound. "Out of Control" starts with some menacing voices that remind us of early EBM and techno, continues with some 80's/early 90's synths and an oppressive rhythm, creating one of the finest songs of the album. If we heard this in a club, it would be us the ones out of control. "Le Bien-Le mal" is aggressive in an almost industrial way. In "Insurrection" Jacky sings in French and together with "Honor and Justice" has an incredible production. Without the vocals, they could stand up as perfect techno tracks. "Dance Until the Sun Rise Again," commands you to dance till sunrise, and with songs like this, it would not be difficult. "Black Snow" is a doomy, dark track with a powerful bass. The trip finishes with "The New World", some calm after the storm, a bit of hope to compensate with the dark tone of the album.
Recently, I was discussing with a friend that the more you listen to a genre, the easiest that it's to find details in one work, like Eskimos are able to find some differences in the snow that they have to call it with different names. And this is a record like that, a must for EBM fans that will find a work that updates the genre in 12 tracks that sound like future classics where the connoisseur will discover with pleasure a lot of details. And for the newcomer, a sample of what EBM has been and it is in this 21st century that we are living.