Header photo: Patrice Hoerner
Signal Aout 42 is considered to be one of the pioneers of what's called new beat—a crossover of EBM and acid house, popular in the late eighties. We spoke with Jacky Meurisse, the man behind the signals, about his band and how big they were in Valencia where people used to party for days with his music as soundtrack. SA42 are playing next October at the DarkMad Festival in Madrid.
–What were your influences when you started making music?
–I began making music when I was young, I was 16, in 1981. At that time, my influences were punk and bands like Sex Pistols, The Clash… I also enjoyed some rockabilly songs and the electronic sounds used in disco music (Patrick Hernandez's "Born to Be Alive" and Donna Summer's "I Feel Love"). Some years later, I began to compose true songs, and I was inspired by what I was hearing in clubs: Fad Gadget, New Order, Kraftwerk, Cabaret Voltaire, DAF…
–I read that your music was more industrial/experimental at the beginning. How do you describe it, is there any recording of your beginnings?
–Indeed, when I began making music with some friends from school, no one in our group knew about music theory. Our performances were based on a visual concept (combination of paint, stroboscope and smoke) along with rhythms (beatbox, metallic percussions), some synths (sometimes lent by a friend of ours) and slogans scanned in an echo unit. We were not musicians. It was our only way to perform. It was pure improvisation, that is to say, it was a great mess. But it was so powerful and amazing (for that time) that in the end, we managed to have an impact on our public! As for the recordings, no, there is not. I'm looking towards the future, it's very rare for me to look back as far as projects are concerned.
–You changed the name of the band because of a joke with a toothpaste brand, can you explain it to us?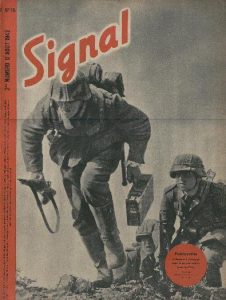 –When we began to perform, we had to find a name for our band. And as we mainly had a punk culture, we wanted a rather provoking name! Furthermore, as we were also developing a sort of "communication" (we stuck posters and stickers) and as our style on the scene was enough provoking so people would speak about us, we needed a name which could be related to propaganda. That's why we chose Signal, in reference to the German propaganda magazine during World War II. Signal sounded just great, and it fitted perfectly in this spirit of provocation we wanted to give. Unfortunately, probably because of the lack of culture, the young people did not realize the connection with the propaganda magazine, but thought that we chose this name after the toothpaste brand Signal. To end this confusion, we decided to add the publication date of Signal, August 1942, that we used in our posters for several performances… That's how Signal became Signal Aout 42 or SA42! Later, this name made things more complicated for two reasons.
The first one is simple: a lot of people do not get double meaning, and made a conection with the name of the German propaganda magazine from World War II and considered that SA42 had a far-right ideology… The second one is more anecdotal, but still has consequences for SA42: in the meantime, and also in Belgium, a band that had, I think, the same inspirations as ours, made an impressive breakthrough… Front 242! The fact that their name also ends in 42 and that they had an enormous success led the public to think that we had copied this prestigious band. But I can assure you it's not the case.
–Do you know that your first single "Pleasure and Crime" was a big hit in Valencia? One musical movement just took your sound as a pattern.
–Waw, I feel honored to hear that! I know that SA42 had a lot of success in Spain, but I did not know that we inspired a musical movement… I can hardly believe it! I performed several times in Spain, and each time the vibe was just great, the public welcoming and the venues were well equipped. I don't know whether it is linked to what you just told me, but SA42 is very successful (still today) in Latina America!
–How do you think that nightclubs helped the diffusion of your music in the 80s?
–If you wanted your song to be a hit, nightclubs were crucial. Before selling CDs, you had to take the dancefloor test! At that time, DJs were true pioneers! They took risks so the public would discover a song before another. I remember that when I composed my first true song, "Please and Crime," I recorded it on a tape and I asked the DJ of the On the Beach (a new wave club where I used to go then) if he could play it. He took the tape and a few minutes later, "Pleasure and Crime" was played in the club!!! I thought, great, the dancefloor is still full of people… My song is not that bad… I do not know the name of this DJ but I owe him!! Without him taking risks, would I have continued making music? I don't know if this would still be possible nowadays.
–Signal Aout 42 is considered one of the pioneers of new beat. What do you think of this label?
–Well, you know, EBM, new beat, new wave, techno… for me it does not really mean anything… They say SA42 is EBM… I must say I don't really know why… But I'm conscious of the fact that we need to classify music by genre. As far as I'm concerned, I never tried to be part of a genre. Something funny with SA42 is that this project has more than 30 years and has gone through several musical movements, and thus it's been labelled in many different ways. That's normal, because I get my inspiration from what I hear, even if I must recognize that I almost do not listen to music!!! I hear, but I do not listen…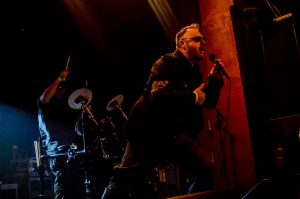 To answer more specifically to your question about new beat, I'm sure that it comes from the material used for composition. Indeed, as I said to you before, I'm not a musician, at least in the academic acceptation of the word. Thus, I had to use instruments that could overcome this "disadvantage." The Roland synth brand just released an instrument perfect for me: the Bass Line TB303!!! I was one of the first buyers of this instrument that nobody wanted at that time. It was not an instrument for musicians, but it was perfect for me. I have two TB303, one TR606 and one Juno 106.
It's this combination of instruments that created a new sound (at least for me). I guess I was not the only one having this. This new sound has been passed on by several big nightclubs in Belgium, such as the famous Boccaccio: DJs played their part in slowing down the tempo and the new beat was born. This period was great in Belgium. For once, our little country was renowned for its music in the entire world!!!
–Were you interested in acid music? In case of an affirmative answer, American or English?
–As I said, I hear a lot of music but I don't listen to music… so it's impossible for me to tell you whether something is American or English. I would say that Detroit rings a bell to me. All I can say is that each music genre has great sounds and acid, acid house, etc. are no exception.
–If we consider new beat as a subgenre of EBM, can you explain how this genre became so popular in Belgium?
–I think new beat was successful mainly thanks to nightclubs. At that time in Belgium, there was a bunch of big nightclubs. By the way, Belgium is still a musical country, it's the country of big festivals, and people come from all over the world to have fun! For new beat, it was the almost the same, it was a big party with big piercing sounds. The party would last from Saturday evening till Monday morning… and some people did not sleep!e
Maybe because of its geographic situation, stuck between United Kingdom, France and Netherlands, Belgium was a perfect territory to mix all these genres and cultures. After all, Belgium is the country of surrealism!!! New beat is probably a small part of all this. From the 80s, small Belgium proved to the world that she had something peculiar to offer to the music industry. It's still the case today, we still have very good artists of all genres.
–Do you know that there is another EBM band called Pro Patria, like your first album? What do you think now of the fact that your first album is considered as a classic?
–Yes, I know Pro Patria. I had the occasion to speak with Peter Vercauteren. I also know very well Seb aka Sebmer Blondwülf who just joined the band. Alas, I could not go to see them perform at W Festival this year, but I heard very good reviews! I would lie to you if I would say that to be considered as a classic means nothing to me. Of course, receiving congratulations and compliments, and to be recognized as such is very gratifying. However, I think it's important to stay humble because I happened to know good artists that just did not become famous and others, who are worse, who succeed. You need a bit of talent to succeed, but luck is also important. You have to be in the right place at the right time. That's why you always have to be modest.
–How was the creation of the always difficult second album, in this case Contrast?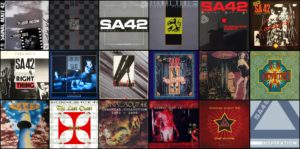 –I did not have any particular difficulties. At that time I made a living only of music. I had my own recording studio and I was exclusively working for my publisher, Disco Smash. I had quite a lot of side projects for which I had to make money. On the other hand, SA42 has always been a sort of playground where I could do whatever I wanted without thinking of money-making. For me, it was a true passion and a way to express myself. Thus I composed this album without any problem. I can say the same for the next albums. Contrast was the experimental album of SA42.
–Who was doing the numerous mixes of your songs that appeared in maxis?
–I was the only one to remix the titles of maxi singles of SA42. Those versions were dedicated to be heard in nightclubs and were thus oriented towards dance.
–What happened after your third album Conviction? Why did you stop making music with SA42?
–In 1995, despite a successful period (Pleasure Games, Le Park, DJPC) where SA42 was in the top of European charts, had Gold records and very good perspectives for the future, I decided to stop completely playing music! Since 1988, I was only making a living of music and was working exclusively for my label (Disco Smash/Blackout Records). After 7 years of relentless work and despite my success, I was revolted of the way my label was working (different vision of the way to make the projects live on…). To this, add the fact that I had a good offer for a job in a completely different sector and that my family was becoming bigger. I began to ask myself existential questions… I took the decision to change of life. I had the intention to continue playing music simultaneously… but this was the case for 12 years!
–You bought a studio in 1988. How did the studio changed your musical career?
–The fact of having a studio completely changes your perspectives. At this time, a studio was very expensive! The fact of investing so much money can lead one to hesitate and not everyone is ready to take the risk. Once you've taken the risk, if you have all the necessary materials makes things easier and open you new horizons! As far as I'm concerned, taking the risk was worth it. I did not count my working hours, for me it was the paradise… I made a living of my passion! I also had to rentabilize the material, so I began to create parallel projects (Pleasure Games, etc.) and to remix groups of labels as Amnesia…
–A lot of your releases were published by Disco Smash Productions. How did your relation with this label start?
–Disco Smash was one of the unavoidable music shops of the region (Mouscron-Courtrai-Lille) and provided the DJs of the nightclubs. Bruno Vangarsse, the seller, imported unique pieces, he was an unavoidable record shop owner. A friend of mine told me that the owner had begun to publish records. Indeed, Michel Nactergael just happened to produce and publish Michael Fortunati, an artist of Italian disco, with the song "Give me up." So naturally, I went to see Bruno to show him the songs "Pleasure and Crime" and "Lovely Trees." Bruno and I got along well, and SA42 became the second artist of Disco Smash… some months later, the maxi single "Pleasure and Crime" got out!
–You have worked with projects like Amnesia, Pleasure Game and DJPC. Can you tell us something about them?
–Amnesia was the project of Stephan Novak who had followed the same path as me as he went to see Bruno with the song "Ibiza." As soon as it got out, "Ibiza" was a hit in all new beat clubs. Stephan also composed an album for Amnesia, Hysteria, which is a masterpiece of the style!!! Then I helped him and did some remixes. After this, Stephan was fired by Disco Smash for reasons unknown to me.
DJPC is a big anecdote… Patrick Cools came to me to compose a song together. We made "Insomniak" and at the end of the day, Patrick asked me what was best for me… cosign the title or get paid for the studio day… I've been stupid, I told him to pay me. They say a bird in the hand is worth two in the bush. My ass. Then, to thank me, the label entrusted me the composition of some titles for the album.
Pleasure Game was a project of Bruno and I with songs like "Le Dormeur" and "Le Seigneur des Ténèbres." Then again, I don't know why the label decided to make this project more commercial.
–And what can you tell us about Le Park/Mundo Vision/Tanaka? They were projects with almost the same people, right? Why so many projects with different names?
–I do not have anything special to say about Mundo Vision and Tanaka. They were made to earn money. But I am very proud of Le Park. I realized this project with one of my friends, Johann Betremieux. The songs "Litchies" and "Naked True" were hits as soon as they got published. We were thinking of recording an album but we were in 1995, the year where I decided to change life… Indeed, music was my sole occupation, 10 hours per day and 5 days a week… 200 hours a month… 2000 hours a year!!! It's necessary to compose some songs and to publish them. It's impossible to publish all those songs in only one project. So you multiply the projects. You know, I don't even know how many songs I made and published, but it's surely more than one hundred!
–In 2007 after a hiatus of 10 years SA42 was back with a 4th album Transformation. How had EBM changed during these years?
–I knew that sooner or later I would compose again, because for me, it's a way of expression. So after 10 years of silence, I began to compose again. In 2007, the album Transformation was finished. I remember that a young German publisher came to see Michel Nachtergael and me to buy the rights of publishing to compile the songs of SA42. This young man is called André Kobliha and his label Out of Line. Today, Out of Line has become a main label. The first record they published was the compilation Immortal Collection of SA42. And yes, the number one of Out of Line is… Signal Aout 42.
That's why I contacted them for my come back and André was enchanted by the result of Transformation. The album was again a success! Personally I did not care about the evolution of music during the last 10 years. I only did what I wanted to do, I did not care whether people were going to like it or not… apparently they liked it.
–In 2010, you published Signal's 5th album Vae Victis. It came with an extra CD of remixes by different artists under the name of Northern Alliance. Was the idea yours? How did you choose the artists to remix your song?
–Indeed, it was my idea. Thanks to my come back in the world of music and to the fact I was doing quite a lot of concerts, I met a lot of people. People I meet are very often nice and with a rich personality. Creating this Northen Alliance was a way to pay tribute to those artists who are from my region and whom I know personally. Now, I know even more artists. I have the luck to get along well with a lot of people from the music world.
–In 2013 came your 6th album Inspiration where you wrote songs "inspired" in other artists and giving clues with the names of the songs. How did you get this idea? 
–Exactly. I just had this idea, I thought that the 6th album could be the last and that it was time to pay tribute to the artists that inspired me the most. They say you are what you eat and that's true: I think that as a composer, you are what you listen to. Doing so, I challenged myself. This was not as easy to do as it could seem. It was also a small game with my wife who has the same musical culture as me. When I finished a song, I made her listen to it and asked her what artist it reminded her… and she was right each time. 
–Let's talk now about your latest two side projects, one is Grand((0))Signal, with Tcheleskov Ivanovitch from Grandchaos. You have published two different versions of the same album. Why?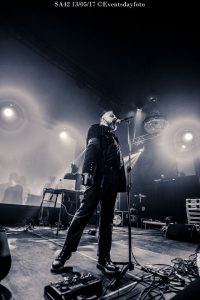 –Tcheleskov joined me for the concerts when I came back in 2007. We have the same inspirations, we come from the same musical universe. He asked me to do a project together, and I accepted to do so. First we published the project on the Dropcard format, limited to 200 copies and then we published a CD edition under the label Unknown Pleasures Records. For this second edition, the publisher wanted some modifications regarding the original edition on Dropcard. This great collaboration was well welcomed by critics.
–And Crystal Blackout by Jacky Meurisse Project. Why did you release it with your name and not under Signal's?
–I decided to publish Blackout under the name of Jacky Meurisse Project, because the compositions do not meet the expectations of SA42 fans. I composed this album to have fun, without following the codes, and I let my imagination go. This is a composition for "pleasure." I followed the same process as for Grand((o))Signal, with a first edition on Dropcard and then on a CD with a Spanish publisher, Müsex Industries.
For your interview, I can already give you the exclusivity that a second record of Jacky Meurisse Project will soon be published. This album is almost finished. And no, I did not use it for SA42, those are two very different projects… As for Insurrection, the compositions have been ready for a long time! I'm just waiting for the inspiration to finish it.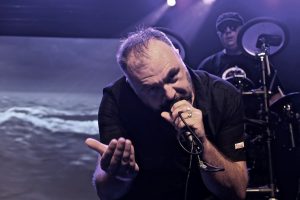 –How was Insurrection received ? Do you think we live at a time where we need to be rebels?
–Insurrection was issued on the 7th of June, just before the summer holidays. As I work with a big label, Out Of Line, which manages a lot of artists and as SA42 is not really its spearhead (at a commercial point of Vue), it's too early to know how the sales are going. But compared to 25 years ago, the sales are not the same, except for very big artists. I can say that the album has been very well received by the critics and the fans. I am particularly proud of it. As for the rebel thing, I think it's written in my genes … sometimes, it gets very tiring. I proved several times that I am able to create more commercial tracks and to fit in, but I can't stop myself from creating non-commercial music. For me, it's a way to express my opinion, I'm trying to make the people realize that there is not only one way of thinking.
Today, it's clear to me that we have more reasons to be rebels than 20 years ago. I think that our world has always needed and will always need rebels, either to slow down the destructive zeal of people, or to bump into the mind-numbing inertia of others. In my album I speak about this kind of insurrection: on the one hand, just check the news… you see all those confrontations, protests, acts of violence, poverty, discrimination, all kinds of intrusions… On the other hand, I speak about a more personal insurrection that should exist in each of us, to fight against indoctrination and brainwashing that media and social media use on us… I think it's the time to think by ourselves and not letting anyone influence you. Evil has a thousand faces, it lurks, it is our mission to locate and fight it! This is the motto that could illustrate my new album Insurrection in the best way possible.
–What can you tell us about your show at DarkMad?
–I'm so proud to play at DarkMad and to appearing on such a great line up! I'm very happy, because the Spanish public is great and welcoming. I'm confident, because I already played for Manuel Ángel González a few years ago, in Madrid, and everything went fine. Plus this time, Manuel does everything in his power to offer you an exceptional event. I think he is a true lover of this music genre. I know people from the public will come from different countries. Belgian people will also be present. I can't wait to see the gigs of the other bands. SA42's friends will come over for this occasion. We will be round ten and we want to take advantage of our stay in Madrid to visit together the greatest places of the Spanish capital… in a good mood, of course!