The impossible mix between The Cramps, 3D Horror Cinema, 50s rock n roll and the Goth Rock of Alien Sex Fiend is called Dr. Diablo and the Rodent Show. Today we bring you a very interesting interview to Andy Wilson, alias Ratfink, the rodent of this original duo. They will be playing for the first time in Spain during the DarkMad Festival, in October in Madrid: the boneyard is coming!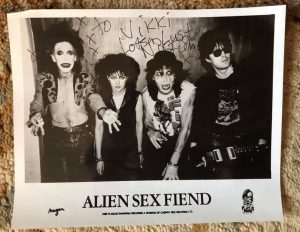 —Your first record with Alien Sex Fiend was Here Cum Germs in 1987, right? How did you get in the band?
—Back in 1986, I was the drummer for a rockabilly blues band called The Turnpike Cruiser which held high esteem in that world. The manager was Mr. John Bentham, who owned and ran Jettisoundz Independent video company specializing in punk, goth and indie bands. One of his clients was Alien Sex Fiend and John knew I was a huge fan, I was even in the Fiends fan club. One night in rehearsals, he told us that we had a couple of shows supporting them. Well, of course, you can imagine my mind was blown. Having met Nik Fiend on earlier occasions at shows, he kind of knew me. When I was sound checking my drums at a Scottish show I decided to do some Fiend beats as my kit sounded amazing, unknowing that Nik and Mrs Fiend were checking me out at the back of the hall. Weeks went by and I got a call from Nik asking if I would like to have a jam with them in London… erm… of course!!! ha ha ha!! That's how it all started for me really, Nik wanted live drums back in the show again after touring with Alice Cooper and I was the dude he wanted as we got on so well, we had great chemistry. My visit to London was the start of a 7-year relationship with them. Here Cum Germs was a fun album to be introduced to that crazy Fiendish world and my recordings were done on that first visit.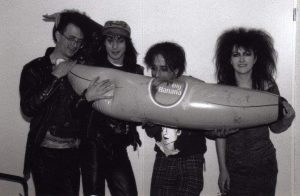 —Which album is your favorite of all the albums you recorded with Alien Sex Fiend?
—I had lots of fun times recording albums with the Fiends, but I think Curse was my favourite as it moved the Fiends into a different world of sampling and lots of experimental journeys happened in those sessions. It also took them back to America for a very successful and long tour. Good times.
—How was being in one of your favorite bands? You played with them for seven years, right?
—To be honest, I did not see it coming. I was a young 19-year punk hanging out with friends, being in bands, taking drugs, listening to music and having a laugh in a small town in the north of England called Lytham. To be in a band with my heroes was magical in every way, it was like being in your favorite horror movie and I was the main character. Good times, weird times. I had to grow up very quickly, and had responsibilities I never had before, but I loved it.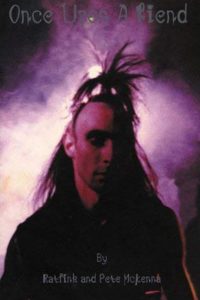 —You have written a book, Once Upon a Fiend about your time in Alien Sex Fiend. How did you get the idea of doing this and when did you start writing it?
—Wow yeah, that was like 19 years ago. That came about when a friend of mine Pete Mckenna contacted me regarding my memories with the Fiends. Pete had just recently had a book published called Nightshift about the Northern Soul music scene back in the 1970s. One night, he came over with wine and a recorder and basically interviewed me asking questions similar to those, really, ha ha!! Around a month later, I got a huge envelope addressed to me saying READ ME!! It was a script of what was my life with Alien Sex Fiend. Finally, got it published after about 6 months negotiating with publishers. Once Upon a Fiend was an OK book, looking back now I would have addressed certain issues a lot differently. I think Pete was trying to get things out of me that I was feeling uncomfortable about, letting off steam. I am humbled about it tho and happy that I got an opportunity to tell my story, even in hindsight now it's a bit cringy.
—After Alien Sex Fiend, you were in a band called United States of Mind. Can you tell us something about this, not very famous, band?

—No, not famous at all local band with a dear friend of mine Alan Pill. USOM were a trippy acid kind of band just for fun we did some shows and some cool recordings but that was it. Kind of Captain Beefheart meets Hawkwind on acid.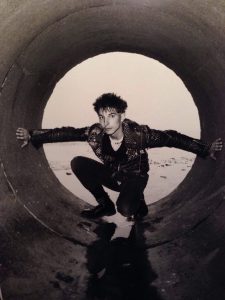 —How were the beginnings of Uncle Fester?
—Uncle Fester was a punk rock 'n' roll band I was in for 10 years after United States of Mind. It started after I was in the core band Dog Food from Blackpool doing Iggy and the Stooges stuff. We went on to tour around the UK and released about 5 albums, lots of fun good songs, but burnt itself out around 2011. We changed the name to UFX around 2006, as there was a silly metal band from the states we kept getting confused with and it was pissing us all off, ha  ha!!
—How was the term Junk Rock coined? Do you think it was the best one to describe your music?
—Yeah, absolutely, filthy, in ya face punk rock 'n' roll!!!! I also ran a web site back then called junkrock.com. I used to interview a lot the band I felt fitted in that genre, just to name a few: Backyard Babies, Hellacopters, Gluecifer, Turbonegro, Nashville Pussy, Stooges, Dead Boys, Mc5. Ya know what I mean!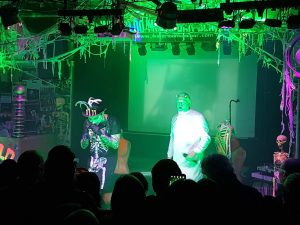 —How did the Vince Ripper and the Rodent Show started? At the beginning it was all about 50s/60s garage, right?
—Vince was a very popular DJ a few years back, and we got together to create a live DJ show based on the Mad Daddy (Pete Myers) radio shows from the late 50/s early 60s. Ghoulardi and Screaming Lord Sutch vibe. Vince would spin the tunes and I would be the creepy kooky compare introducing the songs but as a live show, it was mental when it first began. We played our first show in our home town in a local pub, it was so packed there were people outside that could not get in, but just listen to the show out on the street. As it grew and we were doing more shows people often mentioned, we should do some live songs. Cool, we thought, great idea. So we went into the studio with a fabulous guitarist friend of mine Simon Dunbar Delmar, we put down a few backing tracks, including The Cramps' New Kind of Kick, The Sonics'"Strychnine" and Alien Sex Fiend's "Smells Like." The audience's reactions were fantastic it was fresh and something different that's people always need. It worked so well live and now Dr. Diablo and the Rodent Show is pretty much all backing tracks now with me and the Dr.
—The band released three full albums from Boneyard Go-Go!!! to Planet Shockorama in 2017. Which one is your favorite or which one did you enjoy the most recording it?
—I think the last album Planet Shockoram. It was so much fun because it was a themed album kind of telling a story about another planet out there for us all to have lots of fun on and not give a shit. This earth we live on is so self-absorbed by greed and hatred, by the humans living on it. We chose some really cool songs to cover on the album and one of my favourites was David Bowie's "Scary Monsters." It was well received also and it was cool to get some great reviews.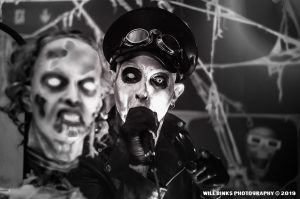 —In these albums, the band has covered other bands like B52's (for the science fiction) and even Love? How do you pick up a song to put it under the rodent show treatment?
—Vince and I would just sit around discussing what would work and what wouldn't, we already had the themed ideas in our heads. We often liked picking on our favourite artists to do our own versions, all about having a giggle.
—Boneyard Hits, the EP from 2017, both in the cover and the title, pays homage to the
Cramps. How did you get into them and why have they been such a big influence for you?
—That was a complete homage to them and that EP. I have always been into The Cramps since 1981, I first saw them in Manchester at the Hacienda in 84. The whole show was and still is dedicated to The Cramps and Lux Interior's crazy world. Also a huge nod to my former band Alien Sex Fiend, of course.
—What can you tell us about Dr. Diablo? He was in Section 25, right? How can I start with this band?
—The Dr. joined the show in November of 2018 after Vince wanted to do other things. I've known Stuart (Dr. Diablo) for many years and been in bands with him. He is a technician and knowledgeable man and super funny. Very different from Vince and gives the show a new flavour and a different feel. Section 25 used to produce Switzerland the Dr.'s old band in the studio around 1983. He recorded and co-wrote Nature + Degree, Retrofit and Dark Light. Toured all over Europe and the UK. He is a family man like me, loves Blackpool FC and enjoys smutty humour… a lot! We are writing our own stuff at the moment, finally and that's super exciting and hopefully we will be releasing something soon,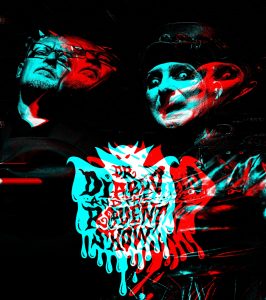 —We also big fans of horror cinema at the Garaje. What are your Hammer favorites? Also, we are interested in Amicus Films (we learned about them in one of your interviews). Which movie can you recommend us?
—Yeah, I absolutely love Hammer Films ever since I was a little boy when I sneaked downstairs at my parents' house and watched The Reptile staring Jacqueline Pearce. It scared me for a long time but I loved it. My favourites would be most of the Dracula ones, as I love Christopher Lee: Dracula Ad 72 is so camp I love it, also Plague of the Zombies and Frankenstein Must be Destroyed. Peter Cushing is fabulous in that. Amicus Rodent recommendation would be: Tales from The crypt and Asylum. There are lots more, like From beyond the grave. I love all those movies as there have short stories throughout them.
—The use of 3Ds in your show, is a homage to the cinema of the 50s, right? More than a decade ago, 3Ds movies became popular again, but not a lot of horror movies have taken advantage of this. 
—The idea of using the old fashion 3D section in the show was to get the audience involved in the show with us. It always causes a William Castle (1960s Horror Director) kind of vibe, audience participation is king in our show as we hand out the glasses to everyone. Also again the 3D section is a homage to Lux Interior as the main 3D section in our show features a film called The Mask from 1961 directed by Julian Roffman. Really trippy and looks great on a big screen Lux and Ivy had an idea to remake it back in the 1990s but nothing came of it. I think they should bring back 3D in modern horror films. I think it enhances the experience in the movie theatre.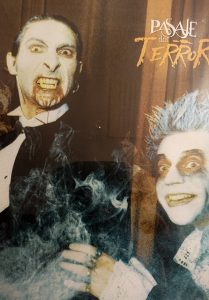 —You played Dracula in the Spanish interactive horror show Pasaje del Horror in Blackpool. How was the experience?
—Now that was fun I can tell you. Getting dressed up as Christopher Lee and scaring people all day and getting paid for it… ha ha best job I ever had!!! Loads of fun and met some really special people. I only did it for one season. When I left the owners kept ringing saying they cannot find another Dracula as believable as me. – "Can you come back please? We will pay you double," ha. Unfortunately, I had a new job by then, lots of fun tho.
—You have grown up close tot Blackpool. After watching the TV series with the same name starring David Tennant, I was surprised with this kind of English Las Vegas. And also, the greatest punk festival Rebellion is made there. How is the atmosphere of the city?
—Yes, pretty close. Just up the coast line in Lytham, I was born and bred there, but I have lived in Blackpool on and off for the last 30 years or so. Blackpool definitely has its own identity with The Pleasure Beach consisting of Roller Coasters and the oldest Ghost Train in history allegedly, the golden mile offering candy floss, cheap beer, sleaze and "kiss me quick" hats. The 3 piers offering hours of fun for all the family, the 500-foot Blackpool Tower and that sea breeze!! Also annually, we have the lights switch in autumn when all the prom is lit by millions of coloured light bulbs and odd features dotted about. It's definitely more like Coney Island on acid than Vegas!!! When the punks come to town for Rebellion, it's the most fabulous time for everyone in this town, everyone is in good spirits and the vibe is electric. As well as the main event in the Winter Gardens, there are lots of fringe events all over the town, it's a great place to be.
—There is an important 50s element in your music, what do you find that interesting in this decade? 
—The main thing that fascinates me is the danger back then,the Rock 'n Roll and how cool as fuck everyone looked. I like to think that there are elements of that in our shows, unhinged danger but with a crampy coolness about it all and most importantly a sense of humour.
—So, when are we going to have the first album with the new line-up?
—Yes, as mentioned we are writing new songs at the moment and looking to release something for 2020 Year of The Boneyard!!
—How is going to be your concert at DarkMad?
—We are super excited to perform at DarkMad and this is the first time the show will be performing outside the Uk. The show will be stripped back slightly, but the performance from the Dr. and myself will blow ya socks off!!! GET READY MADRID!!… THE BONEYARD IS COMING!