Photos: Alana González
The second day of DarkMad had already been marked by the cancellation of the duo Cold Cave and their subsequent replacement by the English band Test Dept. For us, few changes could have been more beneficial, as the legendary industrial music band were among the concerts we were most looking forward to seeing in our lives. Moreover, the authors of The Unacceptable Face Of Freedom not only did not disappoint but gave what, for many, was the best concert of the whole festival.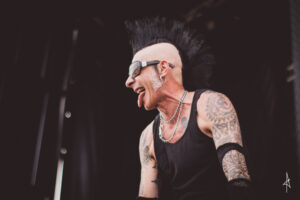 But well, let's start at the beginning. Despite hangovers and some own organisational problems, I arrived early at the festival to see the great Txarly Usher and his band start. The line-up of the Ejemplares had recently changed, with Alfon and Javi on guitar and bass, and we were about to witness their live debut. The band were also playing songs from Dentro de Nuestras Tinieblas, their album from last year that we had not yet been able to hear on stage. They started with a song from that album, "Letras Tristes", which conquered us immediately and was followed by one of their best songs, "Latidos". The band continued a track that appeared on an EP, "Hipnopedia". And perhaps because I know Cuervo, Corazón y Cuchillos so well or because of that bass that is so The Cure, I was delighted to hear "Llantos de Alcohol", another of the band's great compositions. Txarly was full of charisma and stage presence at all times, proving to be one of the best national front-men. Among the new songs we listened to "Gatos" and "Big Bang Bang", the latter being especially outstanding. Txarly then commented that Hugo Zombie was in a corner of the stage watching the concert and then played a song by the band they met in, Los Carniceros del Norte. They said goodbye with another new song, the aptly titled "Dos minutos de Odio".
I missed DarkRad because I had to plan my route (something I hadn't had time to do), although a colleague told me she was really cool. Laurent Konstroy, organiser of the Setmana Santa festival, had come from France and saw Jana Komaritsa's performance and really enjoyed it. But well, a few minutes later, Then Comes Silence were already on stage. Without a doubt, they are one of the best Goth rock bands of the moment, with a highly recommendable discography. They also have a great frontman like Alex, the amazing guitarist Hugo Zombie and the powerful Jonas on drums. On Sunday we could listen to some of their best songs like "Apocalypse Flare", the tremendous "Good Friday", the catchy "Chain", "Warm Like Blood" with its burst of energy or the great "Rise to the Bait". After "Strangers" and "Strange Kicks" they finished with guitars and a lot of distortion. A great concert from a band that deserves much more attention.
The comment everyone made when they saw Karl Hefner & Hugh Lagerfeld on stage was: "- Fuck, I thought they were two guys". The truth is that the artists (whose names are a mix between the famous designer and the creator of Hustler) bet on anonymity by wearing masks confused the whole audience. What we later found out is that one of the members of the duo, in charge of vocals and guitar, was unable to attend the festival due to health problems, and sent the girl we saw who had already worked with them live in the past. But well, talking about the music, we listened to a kind of dark disco that felt very good at that time of the afternoon. We gradually got into the mood, helped by the decor that seemed to be made especially for them. We will tell you a bit more about this project in a close future. In the meantime, we recommend the Synthax Error album they released in 2015.
We went to see Sigue Sigue Sputnik Electronic who, at that moment, were playing one of their classics, "21st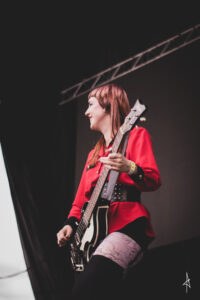 Century Boy". The last time I had seen them was at W-Fest and there was also Manuel Fan DL Kaox there, who I guess also he only enjoyed a lot the band's concert abd thought about bringing them to Madrid. They weren't as good this evening, but at least they proved to be more than a one-hit wonder. They continued with another of their great songs, "Atari Baby" and closed, of course, with "Love Missile F1-11".
We went back to the tent to see the Polish duo NNHMN who were presenting their new album. It was the first time they played their new work in front of an audience and despite the nerves they showed in the interview, they convinced the large audience. Their new compositions are a bomb of very physical, sensual and danceable electronica. We were liking them a lot and they are a duo that should already be in the big letters of the festival, but… we had to leave.
The awaited moment arrived, the first concert in Madrid of Test Dept, who had only been in Spain in the eighties when they played in a monastery in Valladolid. I was a bit nervous because you never know what you might find in these cases. But what I saw that evening exceeded what I imagined. They focused their performance on Distorbance, their latest work released in 2019, which really had a much greater impact on me live than when I listened to it at home. In the middle of the stage they had placed a metal structure that they used as percussion. The concert, fortunately, had enough sound power that the style requires. In addition to the musicians, on stage there was a video artist who was dedicated to putting on the projections, whether anti-fascist or anti-capitalist, which helped to express the combative message of the English band. Among the songs we were able to enjoy the powerful "Information Scare", "Gatekeeper", some instrumental theme based on the three main musicians doing percussion, a "Landlord" that sounded almost techno (a friend told me that he had even danced at that moment) and they said goodbye with an incredible "Speak Truth To Power". Really fantastic.
We rushed to see another concert of the second youth of Days of Sorrow. At the Ombra Festival, they had an immerse success and here they did the same thing again. I was lucky enough to get there in time to hear their great classic "Wild World", which continues to win them fans. As we mentioned before, Sunday was a night of premieres and so we were able to listen to a couple of songs they hadn't played before: "Wild Vertigo" and "Like a Machine", two powerful and danceable compositions, the second one with a part sung in Spanish. They finished on a high note with "War", a song that was very well received by the audience. Soon we will have a vinyl edition of Soulmate Sister and I don't think it won't be too long before they release a new album.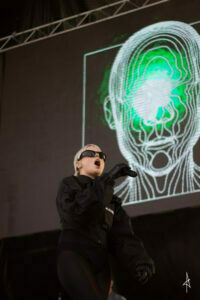 On the big stage we had Rein, the new EBM sensation who has toured with the biggest names in the scene. Although I admit to having arrived with certain prejudices, basically, I'm not a big fan of people who sing that well, her concert convinced me. Apart from singing and filling the stage at every moment, her songs seem to me to be very well produced, capable of giving a new touch to a genre like electronic body music. Among the highlights, we had "Reincarnate", a powerful "Off the Grid" with its screams and impressive production. We heard the sensual "Transmutation" and had a valid proof that you can sound modern and different in tracks like "Release Me". In the audience, there was a group of Swedes who had come to see her and I'm sure they had a good memory of the concert, but also good sunburn. Following the tremd of the day, we had some new songs, and a final with a very powerful "Bodyhammer" and "Dystopia". Amazing.
We went back to the tent to see the end of Putilatex's concert and we managed to get in with difficulty because the stage was packed. Little by little, we managed to reach a corner from where we listened to "He visto a la Virgen", the new song "Inquisición" and a hilarious "¡Mira una moderna!" with references to the very same Boy Harsher. The audience chanted all the songs and danced their hearts out. This new version of Putilatex, more electronic, is a killer, so if it happens to be in your city, don't miss it.
We went to see Kite for a while and found that all the Swedish artists, both the guys from Then Comes Silence and Rein were in the audience. The two musicians that are part of Kite appeared surrounded by synths and managed to gather a large audience eager for their slightly epic synth pop… But at the time, it wasn't really what I was in the mood for, and after a few songs, I went to the second stage.
On the Mad Stage (the tent) Blac Kolor started powerfully and made us dance during the whole performance. We had a powerful techno live with his most acid moments, the distorted vocals that are his trademark and a powerful ending to remember. This year's electronic selection, focused on German artists, seemed to us to be particularly successful.
From there we moved on to Boy Harsher, undoubtedly one of the most anticipated concerts of the festival.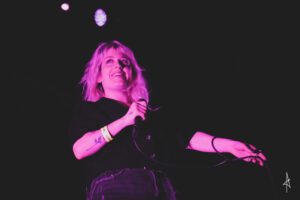 They started off more atmospheric with "Keep Driving" but soon got into they got into more danceable material with the fantastic "Give me a Reason". In my area was Txarly Usher who exclaimed, "Oh my god, the disco!" as he walked past me. They continued with the sensual "Morphine", "Fate", "Westerners" and a very powerful "Come Closer". The charisma of Jae Matthews, the centre of attention of the whole concert, is amazing. After the atmospheric "Tower", a haunting song with a explosive ending, came their version of Chris Isaak's "Wicked Game", and a danceable "Tears". They said goodbye with "LA" and "Modulations", although they came out again for some encores. The audience really enjoyed "I Understand" with its Twin Peaks vibe and the now classic "Pain", celebrated from the very start.
As we were on our first night, what better way to finish than with another debut. The renowned techno DJ Christian Wünsch was to present his new EBM live set in the tent. The day before we had greeted him and commented that it was bad luck to play at the same time as the headliner and he had told us that he would try to delay it. I guess he succeeded because he finished later so we could see a good sample of what Victims of Secrecy has to offer. From the moment we arrived the music was getting more and more physical, becoming more EBM with a classic flavour and gaining intensity until an impressive end. Let's see if we can repeat soon.
To finish saying that we already have dates for the 2024 edition which will be the 10th and 11th of May. We are already counting the days.