Berlin-based band NNHMN are finally getting the recognition they deserve and becoming one of the top acts of the darkwave genre. Thanks to their potent releases and a very tight agenda of concerts, the duo is getting more and more famous. If you haven't seen them live yet, they are playing next week at DarkMad Festival in Madrid.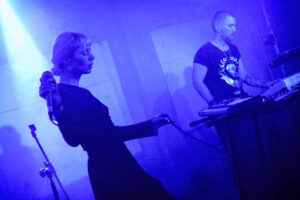 —NNHMN was first called Non-Human Persons, right? Why did you change the name? I see you released one album, No Fear, and several singles/EP. 
—Lee: Violaine, thanks for having us. We don't feel we changed it we just synthesized it. Symbolically NonHuman expresses compactly what we are or maybe what we feel we are.
—As you just said NNHMN stands for NonHuman, but why? Do you think we've lost our humanity? Or maybe you consider yourselves out of this world?
—Lee: NNHMN is an abbreviation of NonHuman. To me, NonHuman – it's like the observation of the world without Hypocrisy. Being naked. A strip-tease from being-a human-nowadays.
—Michal: It's rather about the connection to the non-human world, to the beginning of synthetic culture, the connection between mind and nature. 
—You are from Poland. We know quite well the metal scene there, as we used to go to OFF Festival. Could you tell us how the goth scene in your country is?
—Lee: I do speak and read in 3 languages, maybe not perfect but still – and have lived abroad for 7 years now, you know… I am not sure any more what is ''my country" – especially now when nationalism is growing globally. I do feel a European, or maybe a Berliner for now. There are specifics of the country you come from, those subtle things, the language you live most comfortably in but I don't know any more – it has started to be somehow ambiguous to me. I am equally interested in news from the world*, Germany or Poland. But am a kind of local patriot, I keep an eye on my home town, being sometimes proud, sometimes terrified. Very emotional stuff – this memory of the child.
*We did play at the Off Festival 2 times actually, very good memories. 
*We did play at Castle Party festival – we could call it an equivalent of WGT in Poland. We played in an old gothic church, it has been an amazing experience. The audience is fantastic there, and the reception was excellent. This is the most important goth/industrial festival in Poland. Besides the Wrocław Industrial Festival, of course. It is taking place in an old castle in the stunning landscape of Lower Silesia Province. But unfortunately, I do not have any revelation about the Goth scene in Poland as we left the country quite long ago. 
—Now you live in Berlin. Many artists we interviewed live there, do you think this city has something special that attracts artists?
—Lee: Berlin really is a special place full of creative creatures, stunning architecture and districts. I can't stop loving it while cycling or running through Kiez'es (as we say in German about your vicinity). But still would like to live at the border of Berlin and nature around because I miss it(the nature).
I think it's important for not only an artist but for a human animal to find your tribe/quasi family/ so – individuals who think, feel alike. In Berlin, you definitely can find such a thing as a creative creature. However, very many people find extreme loneliness here. So it's also a tricky city.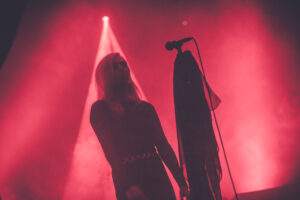 The city of Berlin also helps artists with a lot of things and a lot of creatives are in need because in these capitalistic circumstances we are all stuck in, one can work really hard yet not being able to pay one's bills. I know talented artists who barely are able to meet the ends – especially now – in the pandemic time.
—Michal: Berlin is a nice city to live in – not too big like London or New York, full of creative people and I feel the city is very cultural and social orientated. … And we have here a lot of rabbits in the city. hehe. That's the funny story. When Berlin was divided by the wall (actually two walls, with the no-go-area in between) rabbits have had a safe place to grow the population between the walls (no foxes, no enemies, just DDR soldiers). As the wall collapsed, all of a sudden rabbis got freedom and a whole city to live in. So now rabbits are all around, you can meet them in parks and neighbourhoods, play grounds, etc. really lovely (there is actually great doc on that).
—Which bands influenced you?
—Lee: Too many… –that's why I will try to post some playlists on Spotify to present some of them -I did find it fun, I put together one already -it's called 𝐂𝐎𝐋𝐃 𝐒𝐇𝐈𝐍𝐈𝐍𝐆 because of the atmosphere and moon like light in all the tracks there.
—Michal: Yep too many. Starting from punk and metal bands, going through rock bands to avant techno, dark disco. No limits, but common ground is probably a raw minimalistic sound and somehow psychedelic approach. Actually lastly I'm coming back to the roots, and we spent a week ago a whole evening listening to Polish punk bands from 80/90s. And I'm still very impressed by Siekiera band and Nowa Aleksandria, how perfect sounds this album.  
—The description of the band on Discogs says that you aim to achieve a lot with a little. Do you mean musically? Do you think there is an overuse of instruments, etc. in music nowadays?
—Lee: Ha… It means only that we don't use loads of instruments and the production means are precise and clean not overdone. I want the sound to be somehow minimal and communicative but psychedelic, deep and spacial at the same time. 
—Michal: I think we have a very minimalistic approach to the composition and sound design and this statement is all about that.
—Lee, you said once that death is your great inspiration. Would you like to tell us more?
—Lee: I did say that? I don't remember the circumstances. Maybe, sounds like me. In my opinion the soul is an electric particle present in the biomechanical vehicle, the time for the ritual of life is limited, so I just try to use it as dolphins do (life not death).
—Lee, I see you like artists Throbbing Gristle, Sonic Youth or Alessandro Cortini. What is it you like about those artists? What do they have in common that you like them?
—Lee: To me what connects them is the freedom of creating whatever they want -to experiment- this is a model I want to cultivate in our works, sure we are under the umbrella of new wave -called nowadays very willingly darkwave genre- but I have the feeling that we were/are able to work out our own sound formula and mythology as well.
Those projects are extremely individual, I like radical artists, I like non-conformists. Alternative music is with me since always and very rarely I am able to listen to mainstream music. I like poetry in the arts and pop somehow is not interested in poetry (at least not the modern pop -read- music that makes actual money:).
Especially -I like Kim Gordon, I admire her power and tender wet voice -when recording ''Black Sun" I was thinking about ''Little trouble girl" the song of her.
Throbbing Gristle was going into unknown or rather we are going into unknown with their music, taking part in some kind of ritual. Ritualistic performance. 
I also like Larissa Iceglass work and Camella Lobo and Nico – the 3 ladies have something in common, maybe the special purity maybe it's the church inside them. I adore this something. 
—Michal, I see that you like Óscar Mulero. We're big fans of his work at el Garaje, is he an influence for your sound?
—Michal: I really like how he is able to achieve a very high energy with somehow strict composition, simple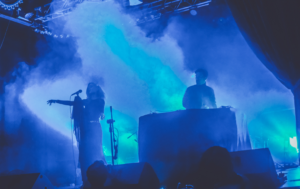 tools, always sounding brilliant, going directly to the point. For sure, it inspires me production-wise. Actually, if some of that comes into our music that'd be very good. His works are brilliant. 
—Gebrüder Teichmann remixed your track "Saturn Melancholia." Why did you choose this band to remix your song? Any plans of other remixes?
—Lee: We did not choose them, we were eating supper together while listening to music, and we did play this track for them, and they said -oh, wow, Nico on MDMA, and they wanted to do it, so they did. It went out marvellously, in my opinion. The vinyl is hand-curved by Andi's wife Brenda and believe me, I have never seen such a beautiful piece of vinyl. 
—You've said that your song "Love is Dead," from Second Castle (2019), is a doomy lullaby about loss and about saying goodbye forever. What is the story behind this song?
—Lee: The story behind it is that some time ago I thought and felt as if love and light in me and for me were dead. The gloomy moment in my life –the border between being a girl and becoming a woman. This strange consciousness -like if you would know that you will never again in a lifetime hear that someone loves you. 
One day I played on this Persian Xenophone synth through a lot of timelines delay. I've been twitching the synth a bit till I've heard Cortini-like ocean of waves, I switched on my condenser mic and thought for the moment that I was Nico -and the text to "Love is Dead "- as it had been alive in me at this moment, was born live, I sang it and this is the end of the story. Later on, Michal added this slo-mo beat and did some little frequencies edit of the track but basically it is a solo improvisation of mine. The moment of organic purification. Would love to play it live one day.
—You said that Church of No Religion (2019) is a collection of purgatory poems and lamentations. According to you, it's also a kind of experiment with ambient techno and voices. Do you think that ambient techno is the perfect music for the purgatory?
—Lee: Honestly I have no idea. This so-called hypnotic techno was to me very meditative and ritualistic, it has been present super shortly as a subgenre but I loved it -it did something to my subconscious. It's very narcotic and oneiric – just as I like. A few years ago we listened to a lot of things from Hypnus Label, artists like Dino Sabatini (''Shaman's Path"), some works of Donato Dozzy and my personal favourite – ''Planet Uterus" by Prince of Denmark.
—In the vinyl edition of Shadow in the Dark (2019), the cover represents a painting by Aleksandra Waliszewska. According to you, in what ways does her work fit your music?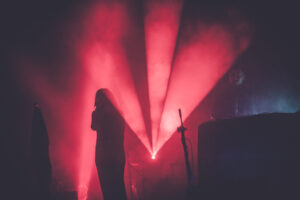 —Lee: I have been a fan of Aleksandra's works since I remember – I have always dreamt of doing something with her, so it has been an honour to me when she said yes.
What I like in her work is purity mixed with cruel perverse imagination, she has an amazing ability to say a lot using simple methods -that is also our/mine idea of expression.
—For your video of "Special," the main character is based on Nico, from Philippe Garrel's movie La Cicatrice Intérieure. You've made the video yourselves, right? Is cinema also an influence for you? Would you like to do the soundtrack of a movie?
—Lee: We shot and produced the movie by ourselves, we love the video clip job, and we are kino-maniacs – there is hardly a one day without watching a movie.
I would very gladly take a music video or soundtrack as commission work.
—Michal: That's true, we are cine addicted people. Loving many neo-noir films and soundtracks. One of our favourites is music from "Thief" of Michael Mann recorded by Tangerine Dream. It is really perfect. 
Actually, I've never thought about writing a soundtrack but if you could work closely with the director who understands your music vision and how it can influence the film. Yey. Then it could be a great adventure. 
— I am a complete fan of your work, Deception Island Part 1. The change in sound is quite impressive. How would you define your new sound?
—Lee: I would say it's a dark electronic wavy, techno-ish danceable and oneiric synth music.
—Michal: I'd just add to that: minimalistic and psychedelic. 
—I also noted that the way you sing is much more sensual and less cold than before. In "The River of Fire", the voice and the music are almost disco sometimes. I can even hear that there is a part almost flirting with acid (or maybe it is me who hear acid everywhere). How come did you decide to make even more danceable music?
—Michal: To me, it is an interesting and appreciated direction. I was djing for years and actually love when people dance to our music. I think we will explore this direction in upcoming tracks even more. 
—Lee: In this particular track I use my voice in the gentle way as the person I wrote and sang this part for was crushed down to zero and this song is tagged -FRAGILITY- in my throat as the moment required it.
—Where do you find your inspiration for the lyrics? I read that you put into music an old Icelandic tale, Edda, with your song "Der Unweise." Why chose this particular tale? Are you fond of Nordic mythology?
—Lee: I love to read and Nordic mythology is a large part of European culture and tradition- but it's not the point here. Sometimes we start to improvise, and I am starting to be obsessed with single words like "'Hero, Hero" for example -but I don't have the sentences in me- so I go online, search and find a lot of stuff stupid, sentimental, inappropriate… And then I find what I am looking for and it's ready to go. 
—In this song and in "Nachtang," you seem to be singing in German. How do you decide in which language you will write a song?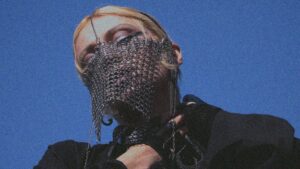 —Lee: I do not decide -the decision is waiting for me there. I love both of the languages, I would sing in every language or without a particular one like on ''Church of no Religion" in glossolalia manner. I love languages and find it interesting like they are changing and influencing one another.
—You have your own label, K-Dream Records. Did you create it because you didn't find any label to release your music or to get full independence? Do you plan on releasing other bands than yours with your label?
—Lee: This is our label to release digitally and to release cassette tapes -we love the format. For the vinyl release, we cooperate with the fantastic Oráculo Records and for CDs releases, we cooperate with experimental Zoharum. This model is very flexible and comfortable and the parties are happy (I hope so!). 
—Michal: We established this label to release our music only and there was no idea to release other artists' music and for now, it works for us perfectly but maybe in the future? Who knows…
—I saw that you played in a festival in Seoul, South Korea (Zandari Festa, 2014), how was the experience there?
—Michal: Seoul was lovely somehow and was nice to have the chance to present our music to a new audience. Also, I have to add, eating insects instead of chips was a very cool experience.
—Lee: It had been exotic –Asia and the huge scene – pretty strange feeling as we are I would say, rather an underground band.
But the people were extremely friendly and Asian light was so different, truly magical.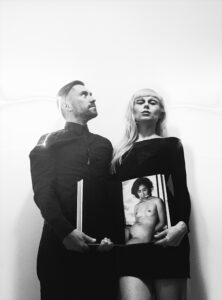 —I read that Instagram censured a picture of both of you where you hold a book where we can see a picture of a naked woman. What do you think of things like this? Was it the first time you got censored?
—Lee: It is all bullshit, of course -all-around hate speech, hard pornography- and suddenly a nipple is a case, everyone knows what I am talking about here, it's just hypocrisy pure(and prudery), That's the system which is more and more like ''The Castle" by F.Kafka.
—Do you find immortality attracting? Why?
—Michal: The world would be different if we all were eternal like vampires. I think mortality – determines our beings, making us who we are and pushing ourselves to be faster. The last one is rather a side effect, I'd say.hahaha
—Lee: I do find it attractive -sometimes I feel like… everything I do is pointless because I am about to die.
—Covid-19 made the future quite uncertain. How were your lives impacted by the pandemic?
—Lee: I was very down about it all. After almost 2 years of rethinking and rebuilding our studio, after 2 years of recording and releasing music and videos -we were ready to play a European tour, about 10 concerts in European capitals. It all was cancelled. We did also start the talks about tours in the United States and the UK but -of course- soon we had nothing to talk about, I mean we talked but all was simply impossible in 2021. So yes, I was sometimes really, really sad about it all. But we do have our music at least and the river of ideas is endless, as for now. Would also add that the relationship with our audience is very, very warm and this adds a lot of positivity to all of it.
—Michal: It's great to play live again, we were used to the cancelled shows. I don't count how many. But the feeling when you can exchange your energy live with the audience is precious. We still need to wait for better times but meanwhile, we can compose and record new music.
—The last song of your EP Tomorrow's Heroin,  "Maserati", was inspired by DAF, as you commented on Facebook. Since Gabi Delgado died, as a kind of homage, we have asked a few artists about how this duo has influenced them. So when did you start listening to DAF and how do you think they music has influenced you?
—Michal: Yes, DAF was at its time a very pioneer of new wave electronic music, with their punk approach they represented fierce and freedom and also progress.
The first song of DAF that I heard was "Der Mussolini" and this event punched me in the face. At first I thought about Suicide actually but the vocals has such different quality and the music it's so clear as a contrary to Suicide's approach. "Maserati" was built on this scheme: pulsating classic new wave section, relatively simple text, a lot of pure fun and a pinch of rebellion. 
—For The Comfort Of Your Exstazy, your last EP was a bit more techno. After the lockdown you wanted to do more danceable material or was just a time to show your techno influences?
—I think Comfort is a child of frustration. You know, after a few first years of doom in Berlin, we were kind of back in the game and received many valuable invitations to play. Then, the pandemic came, so we went back to prison for another two years. So yeah, I guess Comfort was born from the lack of comfort actually. We wanted this rocket to fly.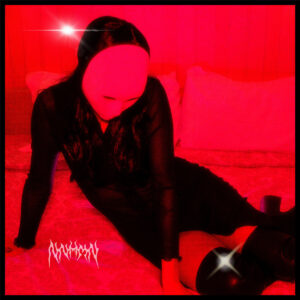 —What can you please advance of your future album Circle of Doom?
—It will be much more sound advanced as Michael did huge work around sound work. During the last months, he is basically working on sound quality, we experiment with a lot of advanced analogues high-end technologies/equipments. Contrary to lots of artists, we produce and master our records by ourselves, so it is crucial to be good at what we do. We also work on the style I would say. The music will be more approachable and intended to be listened at home but in the club environment as well. So clubby, dancy, but also telling stories. Not only dance, dance – it would be boring.
I am also back to my primary range of sopranos, which I resigned from the few past years.
—In Facebook you wrote that these new songs are for the "modern body music lover".  What other bands/artists do you find that are keeping a similar attitude/style?
—I don't really know, we do not listen to much music nowadays. We don't want to be influenced to much. W listen to some top EDM artists just for the hell of a sound quality reference.
But I think maybe Alison / Zanias/Minuit Maschine have a similar approach (we talk about intentions here, not an individual style) in this sense that they/us do not want to repeat other artists from the past, or be a copycat of leaders* of so-called darkwave genre. This is a real plague, I think, the army of copycats, who are just copying and pasting patterns of the very admitted artist on the scene, I'm highly not respecting that.
—How do you remember your last concert in Madrid, as part of the Bizarro nights?
—Absolutely crazy, we loved that and the audience as well, they went crazy and so did we.
I am not talking about the organization of it, because it was just exquisite:)
—Lee, in one of your spotify playlist, Träume, you included a couple of songs by Spanish singer Jeanette. I was quite surprised, although it's a quite eclectic list. How did you discover this singer and what did you like of her music?
—This playlist is pure horror:)
It has about, I assume, 8h or so. I am just adding there tracks that I am approaching in books, Instagram stories, random Spotify algorithmic playlists etc. But a lot of it comes from my past, yes. I shall be more concrete and disciplined to add and delete the tracks, but I really have no more time to do it, so it is just growing to its gargantuan size.
Yes, Jeanette is one of my treasures of the past, it's obviously from Carlos Saura's movie. I am, we are movies freaks, so that's it. 
I think her voice represents best what this playlist is about, the word Traume means Dreams and this is what she is to me, a quintessence of the magical flower. I highly recommend everyone to see and cry to Jeanette singing "Porque te Vas" at Saura's funeral.
—What can we expect of your concert at DarkMad?
—I have no idea, many of the completely new songs. I am terrified, I have no time to rehearse them as we are ending the album right now. I am extra envious of artists who can have it all, the time to be calm, and prepared. They can give their audience more, I guess. I feel like living in the Circle of Doom right now.