You can't blame Electronic Body Music for being dull. You can say if of a lot of styles of music, but never of EBM. And one of the most unique and original bands in the scene (and in the world) is the Belgian act à;GRUMH… whose originality already starts in its name. We have chatted with JΔ3 Seuqcaj and J∆55 eKOJ ex-members of the band and actually in Hà; PEOPLE.3.55, whose first album we reviewed a few months ago.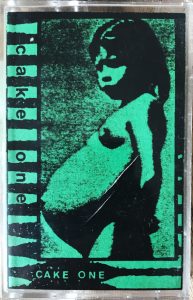 —What's the origin of the name of the band? The first appearance of à;GRUMH… was in the compilation Cake One, right? Were you already in the band?
—JΔ3: The name was chosen by founding members SΔ3 and PΔ3 during a train trip. They quoted names of vegetables, this delirium became the first song of the band. I was a permanent guest.
—In the same compilation Cake One, there are a couple of tracks by Confite Solar, a band formed by you and SΔ3. Also the rest of the bands seems to be projects of the different members of á;GRUMH… Can you please tell us more about this compilation? Was it really released in 1982?
—JΔ3: Cake one is the founding compilation of our Titicaca/TTKK label. We were young, crazy, full of ideas and we had found a way to express them.
—That compilation was published by Titicaca records, a label managed by the band. Most of the releases were by members of the band, right?
—JΔ3: Yes!
—By the phone (1982) was the band's first album. Was it really recorded by the phone? Can you please tell us more about the recording of the record?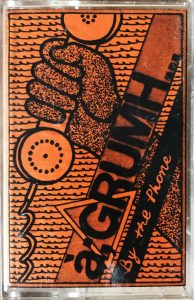 —JΔ3: You answered the question yourself. Yes, these songs were recorded by the phone.
—What were the influences of the band back in the day? Were you influenced by non-industrial bands?
—JΔ3: I listened to progressive music, krautrock, classical music, free jazz and heavy metal.
—Why did most of the Industrial bands of the time released only cassettes? Was it cheaper or did you already know that they were going to have a revival at the end of the 2010s?
—JΔ3: We always had cassettes of the label in our pockets and we gave them (or exchanged) with other bands. Underground Music = cassettes.
—In the band's second album Mix Yourself! (1985), there is a song in Spanish (also in your new projects and in other songs like "Podredumble" or "Caterpillar"). Wasn't it weird for a Belgian band to sing in Spanish? Where did you learn this language?
—JΔ3: It's not weird any more than singing in Martian. I learned Spanish at school and with Hispanic friends.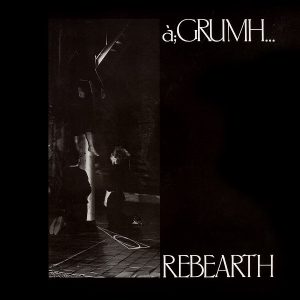 —Rebearth (1986) was a more ambient record, and the seed for nEGAPADRES (there is a question about them too). Why did the band want to make two different styles of music under the same name?
—JΔ3: Indeed! The band was simply the best way to express our creative desires. We wanted à;GRUMH… to be the receptacle of our musical follies.
—In No way out, your album from 1986, we can find "Hitoy", a spoof on New Beat (according to some of you). Don't you like the genre? How was Belgian music in 1986?
—JΔ3: "Hitoy" is a recreational song in Walloon. It's our clownish side. I hate the New Beat.
—In Black Vinyl Under Cover (1987), the band worked again with Ludo Camberlin, was he the right person to help producing your albums or just the producer at PIAS?
—JΔ3: I guess it was the right person.
—The band released a lot of EPs and singles like Too Many Cocks Spoil the Breath (1987) or Bloody Side (1988). We want to stop in The Price is Right (1989) with "Ayatollah Jackson" that became a club hit. Don't you think that it's a bit weird to dance to a song with lyrics (in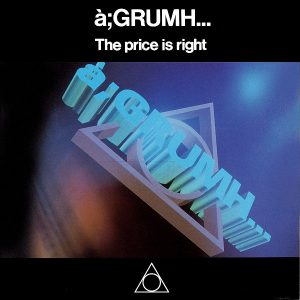 different languages) like that? Better than to dance to songs with stupid lyrics, that's for sure. Are you interested in dance music?
—JΔ3: No, no and no! Why not? People dance to the sounds of music, the sounds of the drums and the sounds of the sung language. They do not care about words. Shake your body and use your brain.
—JΔ3: We (SΔ3 and me) are fans of Pink Floyd. This song fits perfectly in our universe. Stand up, react and fight. Don't be zombies.
—The band had a great sense of humor naming the albums, and sometimes even calling them in a different way in the CD version. Why was the band doing this? Do you think that humor is important in music?
—JΔ3: Humor is needed, laughter is fundamental and PEOPLE who take themselves seriously are often assholes. Sometimes, I'm a fucking asshole.
—JΔ3: The Power of a song is sometimes extraordinary. I hope with all my heart that some people have been touched and changed their mind.
—What is basically the T-Circle?
—JΔ3: Theee T-Circle is a meeting of creators in various fields. Music, photography, painting, cinema, sexuality, comic strips…
—You left the band in 1989, can you please tell us why? What did you do before coming back in the 2000s?
—JΔ3: I left the band for family reasons. I travelled the World and the Seven Seas, I watched my children grow up. I was the singer of a hardcore—metal band named Unclean.
—Other project has been Brain Sektor, with them you released two records, right?
—JΔ3: Indeed! No comment!
—Another of your projects is nEGAPADREs.3.3. a continuation of à;GRUMH … that released its first album in 1987 and had a comeback in 2006 with a new album. Can you please tell us more about this band? There is a new album Binche, waiting to be released, right?
—JΔ3: nP.3.3. allows us to express the dark, industrial, ritual side of our music. nP.3.3. was born from the desire of PIAS. Our label thought that recording music as different was a commercial suicide if we kept the name of à;GRUMH…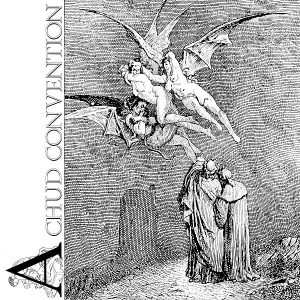 —Another side project, this time with guys from Skinny Puppy was A Chud Convention. Only a 12″ was released (with two long tracks), what happened with this collaboration? The name comes from the 80-horror movie, right?
—JΔ3: After a wonderful and magical European tour with SP, we all wanted to leave a testimony of our complicity.
—Some members of the band has also played as Theee Rebearth Corporation v.3.47. Under this moniker there was an album released in 1988 called Verses. Can you please give us more info about this?
—JΔ3: Theee R C is the name used for musical creations of T-Circle members. However one of the members of this project must be SΔ3 or me.
—BIMFEST was the band's last concert and the second one with J∆55 eKOJ. Any chance of a reunion? Any unreleased track to be released?
—JΔ3: Now à;GRUMH… is sleeping. Indeed, we got unreleased tracks, who knows…
—Your new project is called Hà; People.3.55. When did you start this band?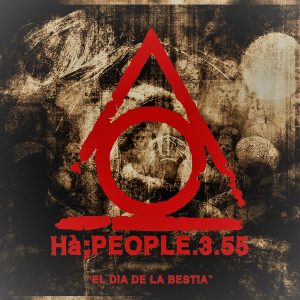 —JΔ3: JΔ55 and me we started HP after remixing AKALOTZ, a German EBM band that we like very much. JΔ55 recorded sequences, strange sounds and voices we did not use and composed a black diamond from all that. Our first song was born.
—Last year Hà; People.3.55 has released a new album, El día de la bestia. What can you tell us about it?
—JΔ3: With El día de la bestia we explore other musical regions. Industrial music, ritual music, dark ambient undergo a metamorphosis to turn into industrial doom.
—J∆55 eKOJ: El dia de la bestia is a trilogy. The next two episodes are almost ready. We will try to offer something a little different each time, but staying in dark and industrial music. To develop the music, I use old synthesizers, but also samples, all this goes through effect processors. But it is not impossible that we add acoustic guitar, for example. Hà; PEOPLE.3.55 is very experimental, we do not want to set limits. Maybe we will come back to the EBM one day, who knows?