Affet Robot is one of these Turkish artists we have discovered thanks to the interview we had with aux animaux and we have already reviewed his last EP. We wish a bright future to this darkwave project, born in Istanbul, and hope that these uncertain times, we have to live,  won't cause too many problems to his music career. You can listen and buy his music on his Bandcamp.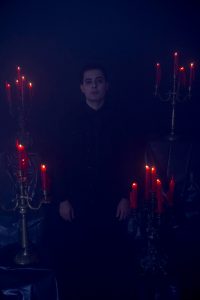 —What's the exact meaning of Affet Robot: A robot that forgives or are you asking a robot to forgive you? What's the concept behind the name? In an interview you talked about technology-induced degeneration and the space occupied by the virtual world.
—Robot is a kind of metaphor which refers to every malicious thing created by humans. And it is foolish to say "forgive me" to the evils lacking mercy, created by ourselves. The Affet Robot (Forgive Robot) name is coming from there. Alienating from our nature or building virtual identities (because of technology) are just some of these evils. So yes, we are probably going to ask to be forgiven at the end. Here is the Affet Robot's manifesto:
"All the catastrophes created by one's hand will trap his own. When the day comes, it is foolish to seek forgiveness by the evils lacking mercy, created by the same hand."
—I read that you were involved in other music projects before Affet Robot, anything you would like to mention?
—I played in several music projects before Affet Robot, and I think all of them made a contribution to understand what I really like to do as much as what I don't want to do. 😊
—We have already asked She Past Away and aux animaux about the Goth scene in Turkey, but they are not living there anymore, so can you please tell us a bit more about it?
—I think, it is hard to define it as a scene because we are a very little group of musicians here and the audience of this genre is very few. Because of that reason, there are not many venues which open their stage to this genre. However, new projects are showing up day by day and popularity of dark wave/cold wave/dark synth pop, etc. is rising with small steps. 
—Did you have any problems in Turkey because of the music you are doing?
—I have a problem with chaotic life in Turkey. However, this is the same thing which feeds me and triggers me to create. It is a trap that won't let you go. Sometimes I think that if I lived in a different country, how would it affect my creativity? It is a big question for me.
—What are your influences? Any Turkish band?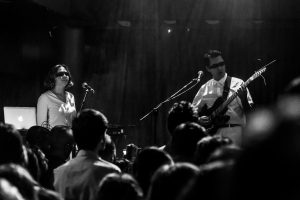 —Turkish 80s & 90s TV series/movies' synth-based sound has an impact on Affet Robot's sound. New Order, Joy Division, Depeche Mode, Blancmange, Tears for Fears and many others influenced me so much. And, of course, She Past Away is also in the list. In addition to music: independent cinema, painting, mythology and Turkish literature are other inspirations for me.
—In an interview with She Past Away, Volkan said that these were his favorite Turkish writers: Tezer Özlü, Küçük İskender, İhsan Oktay Anar, Can Yücel, Sabahattin Ali and Nazım Hikmet. Are you influenced by any of them?
—All those names are so valuable for Turkish literature. Yusuf Atılgan, Oruç Aruoba can be added to the list.
—I read that you studied psychology. Do your studies influence your way of writing lyrics? Did you ever based any of your songs in a case seen at work?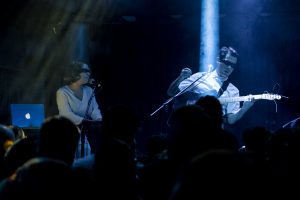 —Yes, I studied psychology + clinical psychology and I can say that human psychology is my main inspirational area to create music. Listening to different stories, exploring their inner world makes me feel more sentimental and deep. I couldn't write intentionally any lyrics on a case, but I think all these stories leak in my emotion pool and reveal as a lyric or a melody when the time comes.
—How was your first album Röntgen recorded? I read that it was done at home, right?
—Yes, Röntgen was a bedroom production and the whole album was produced, mixed and mastered by me. All tracks were produced and recorded in 3 months. Röntgen was a kind of catharsis for me. It was something I had to reveal to be able to feel free. For this reason, I didn't think so much on production, just recorded and released it. It sounds raw, distorted and careless.

—Your new EP, Huzursuz Seyirler has been recorded in the Red Bull Studios in Amsterdam. How was the experience? How did they contact you? Do you think that they have helped your career?
—Affet Robot was invited to join the "Red Bull Warm Up" series which support local musicians in Turkey and the music video of "Röntgen" was shot by the support of Red Bull too. Then, they invited me to record a track in their Amsterdam Red Bull Studio and the Huzursuz Seyirler EP was recorded there in two days. I am very thankful to Red Bull for all these opportunities.
—Why did you choose to finish your new EP with a second edit of "Ihtimal?"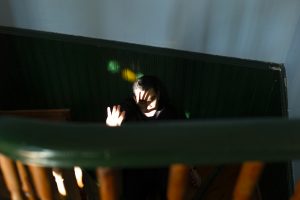 —In addition to the original version of "Ihtimal," I wanted to arrange the track from different perspectives. Transforming tracks which I produced with different understandings make me excited.
—Lately, you have released a remix EP with some (I think) Turkish artists, how did you choose them and what can you also tell us about them?
—I was thinking on a possible remix album and shared this idea with my friend İlker who mixed and mastered the Huzursuz Seyirler EP. He remixed the track called "Fırtına" as Men with a Plan (the music project of İlker and Can). Then, Mind Shifter, Astrofella and Hanzo&Yaman remixed other tracks. All of the artists are my friends and I am appreciated for their support.
—How has the line-up of the band changed with these years? I know that it's basically you, but at the beginning there was another guy playing with you and now there is a girl, right?
—You are right. At the beginning, Eser was playing bass guitar on stage, but the line-up has changed in time. Now, Zeynep and I are on stage and she is playing synths.
—What are the band's plans for the future? Any gig in Europe?
—2019 was a fulfilling year: 1 EP, 1 Remix EP, three music videos and the gigs. I think 2020 will be more full of action. I am working on the second studio album which will be released around summer. Besides, we are going to play at Klang (Rome, Italy) on the 14th of May, Kalabalik Festival (Alvesta, Sweden) on the 20th of August and Klubb DÖD presented event at Snotty Seaside (Stockholm, Sweden) on the 28th of August. More dates will be announced soon. I am really excited for 2020.