First big day of Primavera Sound. Out of the festival, my routine consists of sleeping until lunch time, eating well, resting a bit and heading to the forum with some alcohol in my veins. I had three gigs in a row in the Auditori, thus I thought this day was not going to be very hard. I was wrong.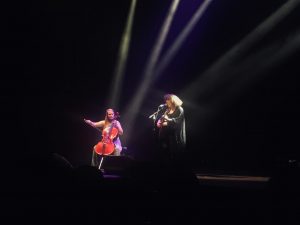 I began with Bridget St. John at 4 pm. She came with a cellist. Her first tune was a version of Bob Dylan's "Just like a Woman." From that moment on, I guessed the set was going to be special. At the end of the song, some electronic music came from out of nowhere. She continued with one of her tunes, the marvelous "Fly High," and she told us it was the first time she was playing in Barcelona. "Ask Me No Questions," the tune that launched her career was the next one, followed by "Mon Gala Papillons" and its beautiful lyrics: "Si je mange, si je danse, je suis heureux." So beautiful was the a capella version of Joni Mitchell's "The Fiddle and the Drum." For "America the Beautiful," she changed the lyrics and adapted it to the actual reality. She then finished with "Castaway" and the spiritual "Lazarus." Incredible, at least.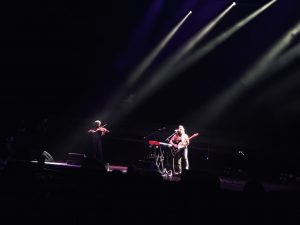 Apart from going to the bathroom, I did not change seats to see Julien Baker's concert. I was not really acquainted with her music, but she managed to convince me. Very nice, very young and accompanied by a violinist, she began with "Something." All feeling, with an impressive voice, and of course, with really good tunes. We heard, in order: "Sour Breath," "Shadowboxing," the very acclaimed "Sprained Ankle," "Rejoice," "Funeral Pyre." She played the piano for "Go home," and finished with "Turn Out the Lights" and "Appointments." Very good as well.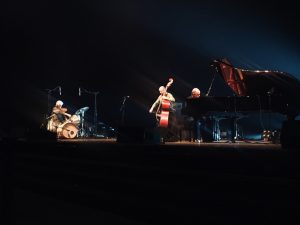 The following gig was The Necks', the Australian improvisation trio. They began with the piano, and, gradually, they incorporated the double bass and some percussions. After a part with a very repetitive piano, the double bass became the protagonist and the rhythm began to accelerate and became weirder and weirder, to finish in an incredible explosion of free. Around the 40th minute, the music became more relaxed and they finished a bit before the stated hour. I liked it.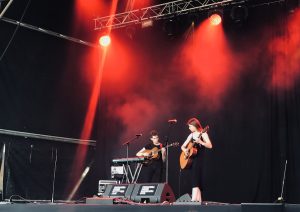 In part because it fitted my schedule, I went to see Tomberlin, who was playing alone the beginning of "Tornado" when we arrived. She continued with "Any Other Way" and "You Are Here," where a man accompanied her playing the guitar. Sadly, her gig was a bit boycotted: we could hear the sound of Stephen Malkmus's show on Primavera stage. She continued with "Self-Help," she played alone "February," accompanied "Seventeen," the sad "Untitled 1" and the final "I Am Not Scared." It's a shame this was not the time nor the place for her gig. If you'll have some languid singers, they should be playing in the Auditori, where you can't hear the sound of other concerts.
Then, I went to Adidas to see Shonen Knife who opened their show with "Jump Into the New World" from their new album, followed by "Twist Barbie" or "Ramen Rock." We began to get hungry with their enjoyable tunes: "Sweet Candy Power," "All You Can Eat," "Sushi Bar Song," "Wasabi" or "Banana Chips." We had a lot of fun, we only missed the Nick Lowe version of "Cruel to be Kind" they usually play.
Clairo, who was playing at the Pitchfork had the worst sound of the whole festival, at least of the gigs I've been able to see. It did not matter if Cuco came to play "Drown" with her, or whether she was nice: the show was horrible, part because of the tremendous bass sounds and her very low voice, part because of the audience who did not stop speaking. It's only at the end, with tunes like "Pretty Girl" and "4ever" that people eventually shut up and even sang her songs.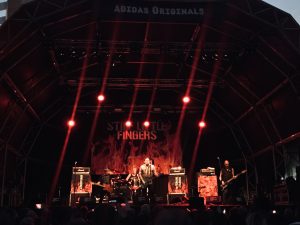 We had our next programmed gig just after Clairo: the classical punk band Stiff Little Fingers. It was like a trophy I was missing for my collection of 70s punk, and I was really eager to see them. They began with the powerful "Law and Order" and "At the Edge." Right after it, they played anthems like "Suspect Device," the homage to Clash's leader, "Strummerville," "16 shots," "Wasted life" and the incredible "State of Emergency." Before "My Dark Places," the singer, Jake Burns, spoke to us about his depression issues. "Nobody's Hero" and "Gotta Get Away" led the way to the final, which consisted of "Tin Soldier" and "Alternative Ulster," which was for a lot of people, the best tune of the festival. I wish we'd have more punk like this.
I made a return to commercial pop with Sigrid, again at Pitchfork. Surprisingly this time, the sound was very good. Even if her music is not really my thing, she was great and she has a lot of good tunes. She could be a great star. She began with "Sucker Punch" for a very crowded audience. I can highlight "Mine Right Now," "High Five," followed by "Don't Kill my Vibe," the slow "Never Mine," and the final with "Don't Feel Like Crying."
This year, they used the same marquee they use for the Trashville stage at Azkena Rock Festival for the stage which once was the Hidden Stage. There played Pylon Reenactment Society, the new vehicle of the original singer of the band from Athens. Along with very good musicians who wanted to have some fun, she managed to recreate the sound of Pylon in the 80s. They began with the crazy "Beep." At this instant, one could see this was gonna be great. They continued with "Volume," "Danger, with a dance of the guitarist who managed to emulate the original sound of the band. The party continued with "Feast on my Heart," and "Crazy" , famous among us thanks to REM's version. "Human Body" was followed by the new tune of the band, called "Messenger," which was not out of tune in comparison to the classics. During "Dub," we saw that Chandra, who had been playing before and whom we could not see because of an overlap in the schedule, was standing by our side. People were climbing on the stage while they were playing the last tune, "M Train." Then, the singer finished the gig embracing the public. A ten out of ten.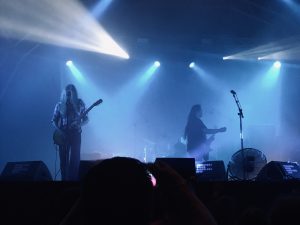 As they finished a bit before the stated hour, we had time to see Carcass's final. We saw some very powerful tunes and we are now craving for more. Not far from here, there was the Rayban Studio where was playing Demdike Stare. I had already seen them, but I always enjoy going to their gig to see what they're going to do. This time, they gave a powerful show, less difficult to hear than other times we saw them. There was not a lot of people for their mind-blowing music, which sometimes sounded industrial. We could even dance for a while. Good, as always.
I returned to Adidas to see Myrkur, who was pregnant, who gave a very good show. They had some small technical issues, and for a while, we could see that how she got angry with the sound engineer. I didn't listen to her music very much, but everyone present was blown by her voice. She ended alone, accompanied by her drum, with a Nordic love song, "Willemann og Magnhild."
I could almost see the entire gig of Empress Of, whom I had seen some years before, but this time, it was far better. She began with "Trust me baby" and "In Dreams," which she sang in Spanish. Now she plays with another woman. They had technical issues and they were left soundless during a tune. They tried to solve the issue without no one helping them. They played songs from their new album, but they also had the time to play "Water Water," "Realise You" or "Woman is a Word."
I went running to the Rayban stage to see FKA Twigs. It was already full. I really wanted to see her and she did not disappoint me: from the first tune "Hide," she sang hidden, until the final and very moving "Cellophane," it was one of the best festival's concerts. "Water," her famous single, was second in the set, followed by "Pendulum," "Figure 8," "Video Girl" or "1000 Eyes." She made some incredible choreography with a sword, and the pole dance we see in her new video. In the middle of the show, the big curtain that stood in the background fell, and we saw in a metal structure the band and the dancers. The final tracks consisted of "Papi Pacify," "Lights On" and "Two Weeks." Very, very well.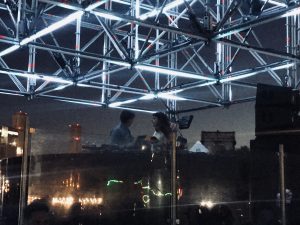 I ran to the Bits area to see the last hour and a half of Octo Octa B2B Eris Drew and they gave me what I needed. When I finally arrived, the music sounded very 80s and according to my friend Shazam, they played , X-Press 2's "Say What," Ralpho Rosario's "All Right Now!" DJ Tonka's "Old School," Universal Robot Band's "Disco Boogie Woman," Mighty Dub Kat's "Ghetto Girl," Gypsymen's "Daylite," Lone's "Blue Moon Tree," Miles Fontaine's "Got to Go," Johnny Loopz's "I Can't Stop," Marco Bertek's "We Leave in the Sunset," Armando's "100% of Disin'U," Slo Moshum's "Bells of New York," Inner City's "Follow Your Heart," Koes Plus' "Bunga Ditepi Jalan," Glass Candy's "Naked Glass" and "Understand this Groove." They got us a surprise: they put some drum n'bass with Amazon II / Aphrodite's "Beat Booyaa." The DJs were always playing with vinyls. I was very tired when I went back to the hotel, as the sunlight began to show up.