The Paraíso festival, which took place during the 14th and the 15th of June in the Campus de la Universidad Complutense de Madrid, has been a great critic and public success, with a total of 25 000 assistants. The festival offered an almost full day of music between Friday and Saturday. We were really hungry for good music and attended 22 of the 23 hours of the festival. We are really sorry for that first hour of Saturday that we missed.
Friday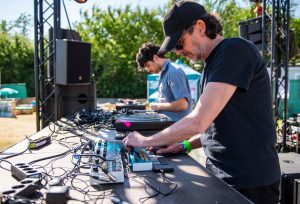 We started at the Nido stage, which focused on artists from Madrid's scene. Opening the edition, we had Pedro D. and Suso Saiz with their project Bcosof Live Remixes. For those who don't know it, Bcosof is a platform dedicated to music and art where it's possible to find some works of the artist mentioned before. We were only a few those who were sitting down under the sun of Madrid, listening to this peculiar session. Steve Reich was the protagonist of the first half and we could listen to some versions of his work like "Pulse-Sections I-X-Pulse" and "Music for 18 Musicians". They continued with The Buddhist Monks' "Amitaba" and among others, Catalynx's "Lights" and the very hypnotic "A sort of Homecoming" by Paul Keeley. A great beginning.
In the main stage called Paraíso, Maribou State were about to start. It was one of the lives that we wanted to see the most. Four musicians on stage started with "Feel Good" and for the second song, the great "Nervous Ticks" the singer, Holly Walker joined them. She sang some of the tracks from MS's two albums, Portraits and Kingdoms in Colour, "Steal", "Kingdom", "The Clown", "Vale" and "Turnsmill". We really enjoyed it.
After this, we moved to the Club stage to see the last half an hour of Jacques Greene's live who was playing his "Perlant" when we arrived. From his Feel Infinite, released a couple of years ago, we could listen to the track that gives the name to the album and "I Won't Judge". He finished with his remix of Frank Ocean's "White Ferrari". The live had a really good sound and really got us in a good mood for the rest of the day. I have to see his full live on another occasion.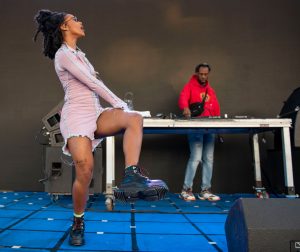 While the stage was getting set for the following artist, we looked for a place to have dinner. It was quite easy and fast to find a food track where, in no time, we got a burger and some French fries. So, we saw the beginning of the "rapper" IAMDDB from a bit far while eating our food. Together we a DJ, she made all the public jump. When we could join the party, she was singing "Ooo", the acclaimed "Shade", "Moonlight" (in which she asked the people to sing along), and "More". Although it's not my cup of tea, I liked it.
Without moving from the stage, we wait for the beginning of the next DJ: Moscoman, one of the artists we wanted to see the most. He started with Red Axes (also from Israel) and their "Phu Quok". During his two-hour set, we could listen to Erol Alkan's remix of Depeche Mode's "Cover Me" and the famous "La Mezcla" by Michel Cleis Feat. Totó La Momposina. We could also listen to one of his own tracks: "Rubab" made with The Organism. After a lot of electro with Arabian influences and strange disco, he played some acid, and a flamenco tune, like saying: I know I am in Spain. He finished his set with a mix of Moloko's "Sing it back" with Donna Summer's "I Feel Love". Great.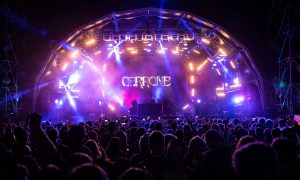 I ran to see my "headliner" of the day, Cerrone, and in the confusion, I lost all my friends. At least, I arrived in time to see the beginning of "Back Track" and the famous "Love in C Minor". One after the other, he played his hits: "Give me love", "Love is the answer", although everything with pre-recorded voices and with only another musician helping. While we were listening to "Rocket in the pockets" or "Strip-Tease", some images of Cerrone in the seventies were displayed on the screen of the stage. Finally, during "Je suis Music", a singer appeared and she sang some songs, among them "Hooked on You" and the final "Supernature" in which Cerrone played drums. To be honest, I was expecting more, and although it was a good concert, only during the last fifteen minutes he made us vibrate.
As we have seen John Talabot a lot of times (he is quite famous in Milan), we chose to go to Orpheus The Wizard's session (although we already saw him at Primavera a few years ago), whose set was completed with some visuals of the dawn that really fit the music. We danced to Andrey Subbotin's "Don't Cry", Supadelics' "Freak Out", Cammel's "Butterfly Effect", de Don Raye's "Standing in the Rain", River Yarra's "Frogz Ov Gondwana" and a fantastic and a bit forgotten "7 ways to Love" by Cola Boy. He finished with a harder part, almost EBM that we enjoyed a lot. Very good.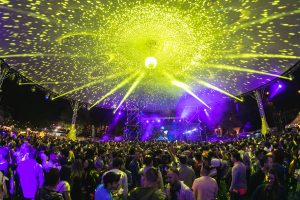 We finished the day (well, night) with Kink. Although his music is not what I usually listen to at home, his Boiler Room is absolutely hypnotic and I wanted to see him live. Armed with a keyboard and some other instruments, we could listen to some of his tracks such as "Perth" "Raw" o "To Love You". The public was as passionate as him and like most of the acts at the Club Stage, it had really good sound. At half-past five the sound was cut, so it was time to look for my friends and go home. It had been a very good day and at the moment, it was difficult to imagine that the following one was going to be even better.
Saturday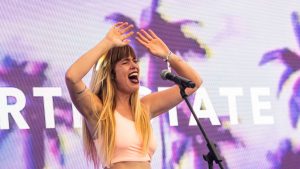 We arrived just in time to see the beginning of the Spanish duo North State. The Vehí Brothers just released their first album, Before the Silence, the day before and the concert worked as a perfect premiere of the record. Sharing the singing duties, they played most of the songs of their LP and even one track not published yet that they might give for free in September. They finished with "PC Age". Quite good.
We moved to the Manifesto stage, that was our home for almost the rest of the festival. All the DJs who played there were very eclectic and made us dance and have a good time during the rest of the festival.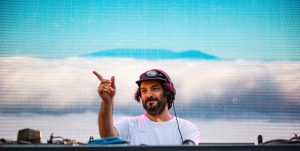 We arrived with the set of Kalabrese already started (we missed around 20 minutes). As we started dancing, he played the immortal "The World is a Ghetto" by War, that was followed by one of his own tunes, "Dance Yourself Clean". People were really enjoying the set and dancing a lot, although it was only 20:oo of a very sunny day. We danced to The Synthesizer's "Capriccio Italien Op. 45', the fantastic Joey Negro's remix of 'Spanish Hustle' by The Fatback Band, some salsa tracks, nineties house, and a remix of Talking Heads" "Girlfriend is Better". For the last half an hour, he sang one song and continued his eclectic set with our beloved Grace Jones and her "Pull Up To the Bumper" and finished with The Cure. One of the best sets that we saw at the festival.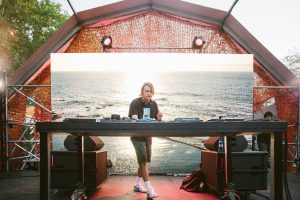 We stayed in the Manifesto stage to continue with Max Abysmal that throw us in a sea of percussions with Mr. Raoul K's "Africa", which was followed by Anatolian Weapons' "A Strange light from the East", Alejandro Castelli's "Peru". He also played some classics, like Morenas' "Cuando Brilla La Luna" in Mr. Marvin's remix and Aquastep's "Oempa-Loempa" both tracks from a far 92, the omnipresent Red Axes with their "Kicks out of you", Alex Clavijo and Bassel Darwish's "Black Jaguar" and the new beat of Black Merlin's"Burn It'. We even could listen to an Avalon Emerson's track, her "One more Fluorescent Rush", Juju and Jordash's "Clean-Cut", Bufiman's "Running (The Chase)" and a fantastic ending with DJ Disse's "Egyptian Disco" and the eighties sound of 1000 Ohm's "Love in Motion". Very, very good.
And the moment arrived of returning to the main stage to see Charlotte Gainsbourg. Last year we saw an astonishing concert of her mother, Jane Birkin and we were really eager of seeing her live. On the piano, she started with "Lying with you", and sadly with bad sound. Until the third song, it did not start to be fixed, but it was never good enough. The incredible "I'm a lie" was followed by "Heaven can Wait", "Sylvia Says", "Paradisco" and her hit "Deadly Valentine". We loved the staging, created with some frames and the band and she was fantastic, but it's a shame that the sound was never good. She even remembered her father, the immortal Serge with "Lemon Incest", a song that Charlotte recorded with him in 1984.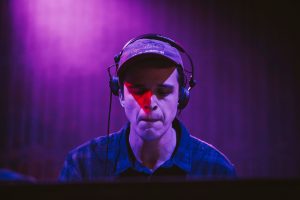 We returned to the Manifesto stage and did not move from there for the rest of the night. We saw the second half of the set of the Brazilian DJ Millos Kaiser, that was playing a Jorge Ben's track when we arrived. It was another fun set where we could vibe to Donnie Tempo's "N-Haler", Maroochy Barambah's "Mongungi", Nami Shimada's "Sunshower", Fernando Abreu's "Space Sound to Dance" and some synth pop in Spanish that I did not manage to recognize. He finished with the classic "Lindo Lago do Amor" by Gonzaguinha, son of Luis Gonzaga. Really good, a name to remember.
And the turn arrived of one of our favourite DJs, the unique Motor City Drum Ensemble that managed to gather the biggest number of persons in the Manifesto Stage. It was a bit difficult to find a place where we could dance at the very beginning but, finally we managed to find a good spot. We listened to a track by The Beloved from the time when they were doing acid, their "Acid Love", a bit of disco with Midway and his "Set It Out", Transvolta's "Disco Computer", guitar wizard Dennis Coffey's "Wings of Fire", Brenda Harris" "Making Love Will keep you fit", and "Shining" by Venus Dodson, famous Leroy Burgess's collaborator. We moved forward in time to arrive at the nineties with one of Todd Terry's project: House of Gypsies' "Samba", to go back again to the eighties with Quango Quango's "Love Tempo", and even further with the space disco of Blush and his "Lift Off", Hott City's "Feeling Love", and some acid with the eternal Armando and his "Downfall". Really good, as always.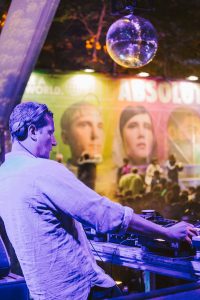 A lot of people moved to the main stage to see the set of Laurent Garnier, but we were, definitely, in a different vibe, so we decided to stay in the Manifesto stage to see Antal. He started with a remix by Dimitri from Paris of The Face Vs. Mark Brown and Adam Shaw's "Needin' U" and soon we were dancing to Osibisa's "Fire". He played Joey Negro's remix of "Spanish Hustle" (for the second time in the festival), a bit of Latin disco with Gerd Janson's remix of The Gibson Brothers' "Heaven". Among the modern tracks, he played "Only Human" by KH (or Kieran Hebden, also known as For Tet). Having a look at Antal's traits, and while we were dancing to "Disko-Kebap" by Urfalı Babi, we wondered if he has not Arabian origins. Still in Turkey, he continued with Nazan Åžoray's "Halhal" to travel to Italy with Walter Martino's "What Love Can Do", part of the soundtrack of the Parano film. Antal continued with more disco: Madleen Kane's "Forbidden Love", Pockets' "Go with Me", remixed by the great Joey Negro, whose "Till You Surrender" was next. This track is credited to his project Prospect Park, and was followed by Index's "Starlight". We realised that the end of the festival was closed when "Can't Let Go," by Chocolate Buttermilk Band started sounding, but we were going to stay until the end. More disco with "That's all" by Ingram, and one of the best moments of the night with an incredible "Stuff Like That" by the great Quincy Jones. A fantastic session that only had one but: during the last hour, the volume was a bit low, but it was fixed.
Overall, it was a fantastic weekend full of good music. The Festival still has some sound issues to solve, especially concerning the main stage and find a way not to cut so abruptly the sessions at the end of the night. But for a second edition the rest was really well planned and taken care of. We hope that this Paraíso is going to last more than Adam and Eve.
Photos: provided by Paraíso Festival