On the cover of the classic This is Electronic Body Music (1988), together with Front 242, The Neon Judgement, à;GRUMH…, Parade Ground, The Cassandra Complex, Chris and Cosey and a few more names, we could find The Weathermen, the EBM duo formed by the late Bruce Geduldig and Jean-Marc Lederman. We have already talked about Mr Lederman when we reviewed his album The Helpless Voyage of The Titanic and now that he has released Letters To Gods, we have also bought some of his latest works. Following the steps of his previous 13 Ghost Stories, this album is another incredible collection of songs, born from the collaboration with 22 artists that have been asked for a letter to a god or a fallen angel. An excuse as good as any to bring us this 24 tracks where we can find some musicians who have worked with Lederman in the past together with other interesting artists providing vocals and lyrics that have been produced by the expert hands of Jean-Marc Lederman, creating this great album.
A recording from some aliens who have found a CD of a lost civilization (ours) works as an introduction for Letters to Gods. The album starts properly with the fantastic synth-pop of "All or my Life" with Agi Taralas from the duo Our Banshee, who already collaborated in 13 Ghost Stories. And the following "letter" is a great dreamy song with Emma Barson (Promenade Cinema). We don't have the time to wake up, as we continue dreaming with "Demon's Crawl Rework 2019", a track that, like the name states, is a new version of a song by Ghost and Writer, another project of Lederman and Frank M. Spinath. For this occasion, they added a new work of cello and leave it more minimal and quite dark.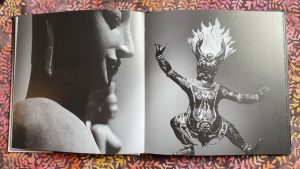 My favorite piece of music of the album has the sensual voice of Mari Kattman from Helix (and also part of another project with Lederman: Marie and The Ghost) and reminds me of my beloved Bel Canto. We continue visiting old friends of Jean-Marc Lederman and now it's the turn of Jay Aston from Gene Loves Jezebel, the classic band from the 80s where Lederman played, and who delivers a song full of dark romanticism. Jean-Marc seems to take inspiration from the sounds of music boxes to create the beautiful and innocent song in French "Lettre À Pélé" where some members of Atome collaborate. Christina Z (writer of comic books like Witchblade and Magnesium Burn) jumps from the strips to frighten us with her spoken word accompanied by some disturbing and cinematographic jazz. The spoken word gets faster and becomes rap in the mouth of Mexican artist Das Vintage, who delivers a letter to his father with killer rhymes. We go back to more classical (at least for me) sounds with another great track "Heaven", with Lucia Fairfull from Scottish band Lucia. Stefan Netschio from the classic band Beborn Beton, and also guess voice in 13 Ghost Stories brings us a very commercial and powerful song that reminds me slightly of And One, especially at the very beginning. The first half of Letters to Gods finishes with an extract from Fear and Loathing in Las Vegas, as disturbing as the famous book. 
In the second CD, we have a group of big names and a more electronic result: this "B-side" starts with Elena Alice Fossi from Kirlian Camera (a band that doesn't need introduction between our readers), in a more danceable track sung with a lot of sensuality in a register that really fits her. Elena Alice had already collaborated in 13 Ghost Stories, so you now have another reason to buy it. The following track reminds me a bit of Depeche Mode, it's the letter from Tom Shear from classic band Assemblage 21 and also in Helix with Mari Kattman, delivering a catchy song sung with great intensity. The album continues with industrial sounds that remind me again of Depeche Mode's Construction Time Again; the song where Mark Hockings from MESH (who also collaborated in 13 Ghost Stories) performs is another powerful and brilliant track. Another of the guess singers, Jenna Fearon manages to astonish us with her amazing cover of Nick Cave's "Into My Arms", curiously the first single that I bought on CD. Her take is minimalist, fragile and passionate. It's certainly difficult to improve the original but this version can be easily considered as good as Nick Cave's classic.
The singer of Chiasm, Emileigh Rohn surprises us with a perfect performance in a track with a production. of the best electronica. We continue with Miriam Christina from 580 Miles and another of the tracks that we have liked the most, with a very original production. The letter from Haydn Park (The Ninth Wave) makes us fall in love with another felt interpretation.
Our beloved Rodney Orpheus (The Cassandra Complex) sings in the jazzy "Sophisticated Evening" with a register quite far from what he usually delivers. I highly recommend hearing this track to all the fans of the creators of The War Against Sleep because they will be surprised with this side of Rodney. We also have Louise Fraser (another collaborator in 13 Ghost Stories) in the song I'm Falling that reminds me a bit of 90s trip hop, mainly at the beginning before Louise's beautiful voice fills the song with light. The track with Lis Van Den Akker (Misery) is dark and solemn as I like it. Another of the artists that we love at El Garaje, manages to impress me at the end of the album: Claus Larsen (Leæther Strip) delivers an incredible performance. The album finishes with a text by Nietzsche that starts with a piano and finishes with some angelical choruses that Tim Burton would kill for.
Two texts, one by Philipe Genion (à;GRUMH…) and the other by Ceratomia complete this amazing work that can be bought in a very nice hardcover art book published by Wool-E Records. The beautiful edition really fits the content: an album where nothing really stands up because everything has an incredible quality, from the outstanding performances to the work of Lederman that it's close to perfection. Better that worshiping false gods, we should start worshiping music like this: the reward would be, undoubtedly bigger.