Machine, Then Comes Silence's last album was one of the best works of 2020. The Swedish post-punk band showed their potential, creating an album that, we think, will definitely be considered as a classic in the future. One year after the release of the album, we talk again with Alex Svenson, in an interview done exclusively for DarkMad, where he tells us how he has been living these days in which, suddenly silence came.
—A lot of things have changed since the last interview. First, your two guitar players left and they were replaced by Hugo and Mattias. According to you, what have they brought to the sound of Then Comes Silence?
—Hugo and Mattias supplement one another very well. They are two different kind of guitarists. Mattias has more or less taken the role as the lead guitarist and Hugo keeps the rhythm and the riffs rolling. Then Comes Silence have always wanted to work with a certain guitar sound. It's not a traditional rock based twangy or a fat metal distorted sound. Some people would describe it more as a "synth" and electronic sound. It's they way the guitars are played I think.
—Last time, you commented that you were going to record an album, but finally it got shelved. What can you tell us about this record? Do you think that the songs will have any chance of being recorded/released in the future?
—It's the rejected album. And it's rejected for a reason. The songs didn't qualify for a new album. At the time it happened it was a hard thing to accept, but now I totally understand. It was weird and probably too experimental, but, of course, some elements will revive and be recycled for the next album.
You have to pass thru weird paths and places on the way to the next album. I don't want to repeat myself as a songwriter, but I don't want to release whatever comes out if it's rubbish. It's better to keep your eyes on the road and deliver a more thoroughly worked out piece in the end.
—The drummer of the band, Jonas Fransson got married with Gözde of Aux Animaux, an artist that we really like. Have you ever thought of doing a song together? I mean, apart from the collaboration in All Tomorrow's Parties.
—Gözde is featuring on a song we've recorded this Winter. At the time being, it's not confirmed yet when it'll be released. We hope to share some exciting news before the Summer.
—Everybody was really excited with the release of Machine. I remember talking with Jorge Larreina about it and he was really enthusiastic. But then, Covid appeared. Do you think that the album should have been way more successful without the pandemic?
—Well, it's hard to tell. With hindsight it was a good timing to release it in the beginning of the lockdown. We got the time to focus on social media, but that was also the only platform that worked well for us and probably everyone else. Our labels gave us the opportunity to make more videos to keep it going. An album spreads and sells better with touring and festival shows. Both physically and digitally.
I personally think it's a bit harder now a year after the pandemic started to keep the pace and stay tuned for the new music that's coming out. I miss the one and most important component… The live experience. Hearing new stuff coming out from the DJ's desk on a club late at night or watching bands on stages and festivals.
Machine will always be the album without the tour. Sure we will be playing soon again and Machine will be highlighted everywhere we go, but we might have more to offer by the time we're on the road again.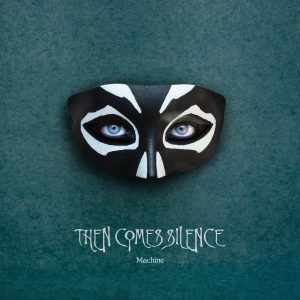 —Stefan Glaumann has done the mixing of the album, how was working with him? Also, you have been producing most of your own work. Would you be interested in working with a producer in the future?
—Working with Mr. Glaumann was a great experience. He did a wonderful job mixing the album. I produced 'Machine' as well as the early records, but who knows about the next album? We'll see. It's good to invite others to the playground.
—In the song "Ritual" you collaborated with Karolina Engdahl from TRUE MOON. How did you meet her?
—Then Comes Silence have been fans of TRUE MOON for some time. Karolina's got that voice I can listen to over and over again. When we recorded the song, we didn't know each other yet. We met up for the first time in Hamburg in 2019 when we played two shows in a weekend together.
—"W.O.O.O.U." is the name of one of the songs of the album, but also the initials of your Facebook fans/followers page. Do you think that keeping in touch with your fans have been important during these strange times? The band seems to be very active in social media.
—Yes, it's been an essential lifeline. No doubt. It feels like we have come a bit closer to many of our followers/fans. We've grown together. In thick and thin.
—How did you get the idea of making a cover of "All tomorrow's Parties" with friends? It seems to be the perfect song for these days. You also covered Siouxsie and the Banshees's "Christine," right?
—Isn't it just natural? I am surprised we haven't seen others doing a cover of that song. The title says it all. It's an old song, a classic. Some might have missed its existence. One of the artists that we asked to be a part of this didn't know the song and kindly declined to contribute.
We felt very early that the parties will be missed. This lockdown with closed borders wouldn't just be a brief thing. It could take some time… We didn't expect it to take so long thou. It felt like a good thing to do at the time. It was also a kind of rehearsal for the online event "Gothicat Festival" that was going to be launched a week after our version of "All Tomorrow's Parties." That's where we premiered the quarantine live session of "Christine."
—As you have just said, that version appeared in the Gothicat Festival, a periodic streaming event where the band appeared twice. How did you get in touch with them? I think it was a really cool idea, we really enjoyed the first editions.
—We are friends with Ash Code who initiated Gothicat Festival. They asked us to join so we chose to record and film a cover of "Christine." The song is about mental health. This pandemic has been playing many tricks on our heads and will most likely keep doing it for a little more. Who can argue against it?
—How have the band lived these days? During the first part of the pandemic, at least there was no lockdown in Sweden.
—It's well known the Swedish strategy was a bit different. We didn't go full lockdown like most of Europe, but it's not the same as having a great time up here. There's no meaning in discussing who had the best strategy or not, but looking back we can all see that a full lockdown maybe doesn't help like people expected. The virus has got its ways to slip thru the net.
Luckily, we've been able to meet and work with the band.
—The band has managed to play a couple of shows with people but always with social distance. How were the experiences?
—We did two live sets in one day for a small crowd back in October before the harder restrictions were applied. In September we invited an even smaller but very dedicated crowd to our two-day live stream at our own place, the Red Box in Stockholm. We're thankful for it. We needed this. For a second it felt almost like normal.
—So, are you hopeful with 2021 or do you think that it's going to be another shitty year?
—So far 2021 has been quite shitty. It will probably be like that till summer at least. The 2021 tour was postponed again. Maybe we were a bit naive, but I believe it's just in our nature. We don't give up and still keep the faith.
—We are going to see you at the DarkMad Festival (at least, we hope). What can your fans expect of the concert?
—We will put on a great show for you and ourselves. Looking forward to seeing you!
Cover Photo: Jonas Fransson