The Danse Society is one of those bands that helped me (and a lot of people too) get interested in Goth music. After a 24-year hiatus, they are back with a new singer and four albums that prove they are still a band with a lot to say. They are part of an incredible line-up together with Neon Judgement, Front 242, Die Krupps, The Young Gods, Linea Aspera, The Names, The ObsCURE and Starcontrol. All of them will be playing on the 25th of August on the Belgian beach of Ostend.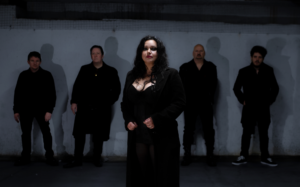 —Danse Crazy was born after the fusion of the bands Y? and Lips X, where Paul and Lyndon were playing. How was the music of these two bands? There is nothing released right?
—Paul: Well there is a track from Y? on a compilation album of bands from Sheffield and surrounding areas called Bouquet of Steel – the track was called "End of Act one". Lips-X (Mine and Lyndon's band) put out a cassette album with around 10 original songs where we played and sang everything ourselves. I'm pretty sure there are not many (if any) surviving copies.
—Why the change of name from Danse Crazy to Danse Society? What has it to be with 2 Tone? Did the band think that they could get confused with a ska revival band? 
—Paul: Yes, the 2 Tone label and Ska were really making headway into the mainstream, we could feel ourselves being confused with those acts like The Selector, Specials, Madness etc. – Something we obviously did not want to happen with the type of music we were playing, not that there was anything wrong with that type of music, of course, it just wasn't us and we felt the time was right for a change of name especially as we had a line-up change with Paul Hampshire (Bee) and Dave Patrick leaving and Tim Wright joining.
—The band created their own label, Society Records in 1981. Back then it was not that usual. How did the band got the idea? Was it easy to manage it being so young?
—Paul: It was more a vehicle for getting our first single out. This was self-financed and we knew we had to help ourselves as no one else was going to do it. So Society records was born, and it just continued from there really. We didn't really think about it too much. Myself and Lyndon basically managed the physical side of things and Steve did a lot of the promotion.
—The second single of the band, "There is no shame in Death," is, nowadays, considered a Goth classic, but back then I guess it was quite adventurous to release a song that long. Were you afraid of releasing such track? How was it received back in the day?
—Paul: It was the second single but it was recorded first, and with "Clock" being successful we needed to put something out quite quickly to keep the momentum going. Our new manager at the time Marcus Featherby, financed the production and we were all up for it at the time, as it gave us some space to write some more new songs. "No shame" was something different and I think that was the main appeal to us releasing it at the time, the last thing we wanted to happen was to pigeonhole ourselves into one type of music (we still don't).
—In "In Heaven (Everything Is Fine)", there is a more experimental approach, which can also be found in most of Bauhaus' albums. Do you think that modern post-punk bands have lost that sense of experimentation found when the genre was being developed?
—Paul: I think we were being influenced by so many new things, not just the music scene but film, TV, fashion, politics, etc. David Lynch had been on our radar and had really made an impact – Eraserhead was so different from anything else that was about, musically we wanted to emulate that, I think a few bands of the time felt the same. Another influence on that song was Eno's solo ambient works, Music for Films springs to mind and Music for Airports – we just stuck all these ideas into a melting pot and see what came out.
—In interviews, the band has repeatedly cited Hawkwind and Pink Floyd, not the most frequent influence in the '80s. How do you think that these bands have helped create the sound of The Danse Society?
—Paul: We were all massive music fans and listened voraciously to everything we could. We grew up in the '70s where bands like Floyd, Hawkwind, Sabbath, etc. lived on our record players. Although we left that music behind, there were still overtones and undertones popping occasionally in our music. In our first bands at school I played covers by Rush, Wishbone Ash, Led Zep (this was before punk was born) and this is how I learned to play guitar, as well as going to see many of these bands before the 77/78 punk explosion.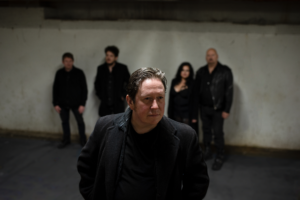 —The second LP Heaven is waiting  was the album that should have put the band in the same league (commercially I mean) as Bauhaus, The Sisters of Mercy or The Mission. What went wrong according to you?
—Paul: In my opinion, we were let down by the record company in that the A&R man who signed us, believed in us and promised us the world (lol) left before the release, which put a massive damper on the project – his replacement did not have anything invested in us and so only went through the motions when it came to promoting. I also think in hindsight that maybe we weren't that 'commercial' in terms of singles. I always thought of us as more of an 'albums' band. I think if we had stuck around a bit longer we would have been as big as The Mission/Sisters, etc. but … well it obviously wasn't meant to be.
—Nowadays, big record companies don't have the power they used to have, well they are not that big anymore. I guess Arista were to you the perfect example of "evil" record company. How did problems start with the label?
—Paul: As I mentioned above, without investment of time and money nothing lasts, and all Arista wanted was a quick return which meant a 'hit' single. When that wasn't forthcoming we were out. It's a sad, but not uncommon, tale.
—In the song "Say it again," the band worked with producers Stock, Aitken & Waterman. I am really curious of how was working with them. Were they very demanding? Or they just gave you some directives?
—Paul: They had a set sound and way of working for sure, you can pretty much tell one of their records from the first few seconds – it was called the 'Hit Factory' for a reason and it really was a factory style set up. It's a shame we didn't get the 'hit' part. It was very much a case of fitting the song to the style they worked with – if you listened to the demo of "Say it again" it is very different!
—And Looking through consisted in some demos that were used to get a new label but finally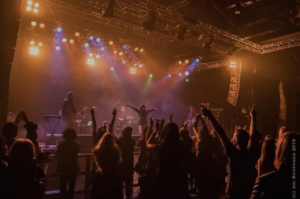 the band chose to release them. Do you think it was a good idea back then? A few years ago, Maurizio Pustianaz worked on them. How would you describe the way he improved them?
—Paul: The Looking Through recordings were demos to try and get another deal after Arista, and we nearly succeeded, but then that fell apart and everything started to drift, so in the end we decided to release them as a CD. However the pressing was quite poor really. Maurizio (who has remastered a lot of our older stuff) was a big fan and did a fantastic job returning the tracks to something like I remembered hearing them in the studio.
—What happened at the point with the band? Were you not very happy with the situation?
—Paul: As I said, things began to drift, we were disillusioned with the whole business, drink and drugs played a part and with no direction, the fragmentation began.
—All the members of the band (except the singer) continued as Johnny in the Clouds. Can you please tell us anything about the days with this short-lived band?
—Paul: After Steve left to find fame and fortune in London and then LA, we briefly though we could continue with another singer (Mark from Music For Pleasure – which was David's old band before replacing Lyndon) – It was great for a while and we wrote and recorded a good album (I listened to it recently) and we played a couple of gigs, but I think in hindsight the rot was already settled in and there was no coming back.
—Paul, how was your life during the 24-year hiatus of The Danse Society?
—Paul: After Jonny and the Clouds, I worked with Tim and Andy O from Blue Zoo on a project, and some TV and film stuff with David. Then I joined the band Party Day, initially to produce and then to play guitar. It was exciting, fresh, loud, raw and I loved it, plus there was no pressure, it was like being back at the start of The Danse Society. Of course, I needed to pay the mortgage, etc. so I managed a comic shop for a while, then an HMV record store and then we moved to Scarborough and I worked at various jobs before starting my teaching career. Music took a back seat, I did a few bits and bobs, but really other things took precedence in this period and I fell in and out with music, sometimes bitter, sometimes inspired.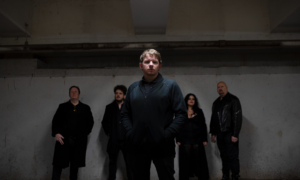 —Maeth, what can you please tell us of your other band, Blooding Mask? You created that band in 1992, right? Was it your first band? You were going to release a new album last year, what happened?
—Maeth: Blooding Mask wasn't my first band but it's the first band I have founded. It's a project that involves esotericism and experimental music with strong orchestratic, tribal and operatic sound in several languages. Because of the esoteric content, I am focused on catching the right cosmic alignments and rituals, rather than being concerned about keeping up with a schedule. It's a niche project but the followers are very keen. In some ways it's a relief because it was never born as music. The music side of it is a consequence. This is why in nearly 30 years Blooding Mask counts only 4 albums until today. As a matter of perspective, the new album Autopsy of a Dream is not actually late, it's taking the right time to come out. I am so excited with Paul (Nash) joining and I really can't wait to have the new songs/videos out. Spoiler alert! The new track is in Japanese.
—Was it difficult for the Danse Society to come back with a new singer? How did the fans receive it?
—Paul: Overall, it was generally positive. There were the usual naysayers/haters, mainly from people who hadn't even listened to the Change of Skin album – it's an occupational hazard these days (sad trolls with nothing better to do) – but we never reformed 'for the fans' we reformed because we wanted to make music again and were enjoying that. Having Maeth involved as the singer was a revelation in sound and song writing (we loved it).
—Maeth: I have to be totally honest here: I was amongst the people waiting to see the reformation with him, so I was very surprised when I was made aware he disappeared after only recording the vocals on one track. Because the first announcement included him, it was a bit of a shock at first for many people, however, after a decade I can tell you that the vast majority of followers are strongly supporting us despite some initial controversy. The main reason why the way our sound has been evolving since 1980 until today is because The Danse Society was never a band to fit in a box or to become a cliche. Replacing Steve was no joke. His talent and presence was very distinctive and any other male singer would have matched like a clown at a funeral. The band took a real leap of faith with me and confirmed they have the ability to reinvent themselves after 40 years. The 17th of April 2021 we celebrate the 10-year anniversary since the reformation with me. If you think about it, this is longer than the first line-up survived in the '80s, and seeing newer and older generations enjoying our gigs together is the reason why we are still here.
—How is Steve Rawlings doing? Are you in touch with him?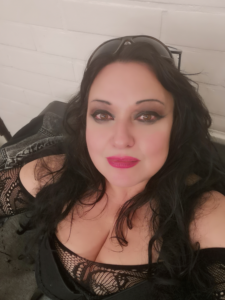 —Maeth: Sadly not. He has completely lost contact with us. We hope he is OK.
—About Change of Skin, apart from the evident changes, the album is quite long specially for The Danse Society standards. When were these songs composed? The song sang by Steve Rawlings only appeared on the CD edition, right?
—Paul: No, the song 'Towers" was only released a couple of years ago (out of general interest) and appeared digitally and on CD on the 40 years of Danse compilation. 'Towers" was re-recorded as the title track for the Change of Skin album (appropriately).
—Maeth: "Towers" is the only track recorded with Steve but it was not included in the album at all. The tracks were composed and recorded between 2010 and 2011.
—Maeth, was Scarey Tales the first album where you help compose the songs? How did the band get the concept for the record?
—Maeth: To be honest, I co-wrote the lyrics for Change of Skin and I wrote the vocal melodies on all the tracks. Only the instrumental parts were already written when I joined in. However, Scarey Tales opened a completely new chapter because we started exchanging demos and putting all our ideas together from the start. We were looking forward to getting new songs out there, which is why the album is much shorter, compared to Change of Skin. The concept was about scary stories to tell into music, and a rhyme book to accompany them, a bit like a soundtrack to a film but more old school. There are some nice influences there. "The Tale" is my favourite. I was inspired by Lovecraft when I wrote the lyrics.
—The band has recorded some peculiar versions, first Jefferson Airplane's "White Rabbit" and in VI, "The Sound of Silence". Any special reason to choose those songs? Do you like to give a darker version of famous songs?
—Paul: Both those cover songs were chosen by me – I knew Maeth would do an amazing vocal on "White Rabbit" and I thought we could do an interesting version and put a darker spin on the iconic tracks (which I think we succeeded in) – I was particularly pleased with "Sound of Silence" as it started from the guitar riff, but unfortunately it was overshadowed somewhat by the version by Disturbed that came out around the same time (great minds and all that lol).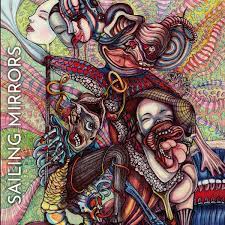 —According to the description of your last album: "Sailing Mirrors is a dark exploration into life past present and future." How do you think that the past has treated the band?
—Paul: I don't think too much about the past, other than I am grateful for the opportunities it afforded us (as a band and as a person) – I'm more interested in the present and the future and my next project. Currently, we have our '40 years of Danse celebrations' and old and new releases (I'm trying to get all the old and new tracks plus stuff that's never been heard before out there). I'm also busy with the new Blooding Mask album, as well as preparing for a Danse UK tour and our next album – it's all go 😀.
—Do you think that Sailing Mirrors is an album that can appeal to old fans?
—Maeth: Judging by the feedback it certainly does! With the exception of the title track, which is very orchestral with David Whitaker's awesome contribution, most tracks still reflect the original sound. It is still the same entity reinvented.
—How has the band lived during the pandemic? I know that Paul Nash's father sadly passed away because of Covid.
—Maeth: There have been many pros and a few cons. We lost Paul's Dad and I have lost my (canine) baby, and I know I don't need to tell you how much we miss them. However, being at home has been a blessing in many ways because we had all the time to carry on working on Sailing Mirrors in our studio and enjoy some healing time together. We were lucky to have a couple of awesome gigs immediately before lockdown started. We supported Toyah on the 29th of February in Scarborough and then performed at Porta Nigra Festival in Belgium on the 7th of March. Then it all froze, but not for us. We can't wait to gig again !
—I know that it's quite difficult to think about the future with such a situation, but what are your plans for the future? You were recording in the studio recently, right?
—Maeth: Yes, we are busy recording the follow-up for Sailing Mirrors which we hope to release at the end of this year or beginning of 2022. Hopefully, our UK Tour with Inertia and Black Light Ascension and Form will go ahead in July and we can't wait to be back to Belgium for Sinner's Day Special in August. We are cautiously planning more dates which we will announce soon.
—Last year the band released a live recording with material from 1980 to 1982 and also released on Bandcamp a live album from the Danse Crazy days. Are you going to publish more material from those days? Have you ever thought of releasing an album with the classic songs sang by Maethelyiah?
—Paul: Yes, as I mentioned with the '40 years of Danse' I'm trying to get lots of interesting stuff out, there's more to come, both audio and visual which will include some real goodies, and to find out more this is where I plug subscribing to our channels including our Bandcamp page (dansesociety.bandcamp.com). Maybe a live album would be fun. We always play a selection of the old tracks live, usually never the same twice, but they are great fun to perform and obviously with a female vocal it adds a different edge.
—Maeth: You raise quite an interesting point. We enjoyed releasing "Come Inside" in an exclusive soundtrack version for Italian movie [email protected] in 2013, and we also released a special version of "Seduction 2012" which you can enjoy on YouTube (late night viewing only). Yes, you can find the back catalogue on the band's Bandcamp page. However we are not planning to record old tracks with me because we have plenty of new ideas to keep us busy. However, you are more than welcome to come to our gigs. We always make sure half the set list is back catalogue.
—How is going to be your concert at Sinner's Day Special?
—Maeth: We can't wait to be back to Belgium ! It's an awesome place and we know we will have a great time!
—Paul: I can't tell you how much we are looking forward to it – we love Belgium, it will be an awesome gig! See you there <3
A special thanks for the questions and for you for reading – peace and love TDS x