Thanks to the next concert of Tangerine Dream in Madrid, we had the opportunity to do this double interview in which we talk with Bianca Froese-Acquaye, widow of the late leader of the band and current manager of it and with Thorsten Quaeschning, member of Tangerine Dream since 2015 and musical director. They are playing on the 8th of November at the But venue in Madrid with Flash Zero opening the night, in the most important electronic event of the year.
Bianca Froese-Acquaye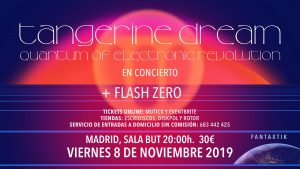 —Honestly, I did not know anything about the encounter of Edgar Froese with Dalí in 1967 until you mentioned it when we were setting up the interview. Can you please tell us something else about it? He was also interested in Picasso, right?
—Bianca: As Edgar studied fine arts and sculpture before he decided to become a musician, he, of course, was very interested in the life of the painters like Dalí and Picasso. He especially liked their approach to things, their philosophy that was reflected in their works. Both painters inspired Edgar with regard to his musical work. Visual arts were one of the main triggers for his musical ideas. Edgar described the encounter with Dalí in a long chapter in his autobiography Tangerine Dream – Force Majeure. His conversation with Dalí, when he performed with his band The Ones at Dalís weekend happenings in Cadaqués in 1967, even inspired him for the name "Tangerine Dream" of his band. So the influence of arts is immense.
By the way, Edgar met Picasso as well in the south of France sitting in a small restaurant by the sea and having lunch, but at that time felt not to disturb him, only to watch this man shyly from a distance and feel the aura of one of the greatest artists of the century.
—How was Edgar Froese's relation with Klaus Schulze and Manuel Göttsching, the other two big names of the German electronic music?
—B: As you know Edgar worked together with Klaus Schulze for the first album of TD Electronic Meditation in 1970 but rather quickly Klaus decided for a solo career, which Edgar respected very much. Klaus's success proved right and so did TD's career. The paths of Klaus and Edgar did not cross very often over the decades and honestly Manuel Göttsching's did not either. All three musicians were extremely individuals and followed their own approach to electronic music – successfully and independently.
—Edgar Froese was always interested in soundtracks and TD made a few ones of them. Can you please tell us more about this side of the band that is sometimes forgotten? Did he like cinema?
—B: Edgar always told me when he didn't become a musician he would have become a cameraman and film director (like my father was, by the way…), he loved cinema. TD did many scores between the 70's and 90's for Hollywood directors and US or German TV series. The most popular are Risky Business (Paul Brickman) and Legend (Ridley Scott) both with a young Tom Cruise, Thief (Michael Mann), The Sorcerer (William Friedkin), Firestarter with a very young Drew Barrymore, Streethawk (motorcycle series) and many more.
On the one hand, these scores were a great challenge for the band to deliver music upon a given script, on the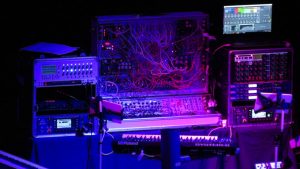 other hand, Edgar knew and felt very well that he would lose his creative freedom and independence when staying too long in the scoring business. That's why he decided to concentrate much more on the band's albums and live performances then.
In 2012 he received an offer from Rockstar Games New York to score the new computer game Grand Theft Auto V (GTA V) and he accepted this exciting challenge, which led to the American VGX Game Award for the best score in a game in 2013.
—You co-produced the documentary the Revolution of Sound: Tangerine Dream, released a couple of years ago. Do you think it's the definitive work on the band?
—B: I don't think so, but it's a very good work on the band, who has performed for more than 50 years now on this planet. Margarete Kreuzer, the German and Berlin-based director, started this project under difficult conditions as Edgar sadly died in 2015 at the beginning of the making of this film. So, we both had to start from scratch and decided to go on with the film with a new script. Fortunately, we had Edgar's autobiography as a good basis for the documentary with many original quotes from him.
Currently I'm conceptualizing an exhibition on TD at the London Barbican Centre with my team, one more opportunity to present the band's life and career over the decades especially to a younger audience. The exhibition ZEITRAFFER (time lapse) will be presented from 16 Jan to 02 May 2020.
—Are we going to have the opportunity of seeing the exhibition in other countries? And what happened with Tangaudimax?
—B: The London exhibition ZEITRAFFER is the prelude to an international touring exhibition. TANGAUDIMAX – a future Tangerine Dream museum – will hopefully be the grand finale of the TD era. There is still much work ahead!:)
—Can you tell us if the unreleased collaborative album between TD and Timothy Leary is going to be released soon?
—B: As I learned: Yes. But the label still has to clear some more rights on this.
—I guess not everybody knows that you have been an important part of the band: you sang in a couple of albums, helped in production duties and done the artwork of some of the records. Can you please tell us more about your work inside the band?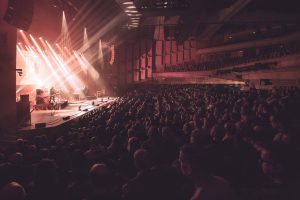 —B: Tangerine Dream means the world to me, it's my life, my inspiration, the music I wake up with. The Tangerine Dream cosmos is almost infinite. So was Edgar, my great love and best friend. He left a wonderful and responsible legacy to me. I manage the band, concerts, releases, artwork and everything else in connection with TD since nearly 20 years now. My gratitude for directing this exceptional project is huge and I'm thankful that the current line-up (which was at the same time the last one together with Edgar in Melbourne 2014) Thorsten, Hoshiko and Ulrich, had the courage and the talent to follow in the footsteps of TD, to continue this mammoth of electronic music.
—You are also an artist (painter and photographer), was it difficult to combine your career and your works with TD?
—B: Of course I had to set priorities always, but finally my work was inspired by TD music and I always felt good in doing artworks in connection with TD. Sometimes I wished I would have had more time for painting, but it was often compensated then by wonderful atmospheric live concerts all over the world.
My paintings can be seen here: http://www.bianca-froese-acquaye.com 
—Of all Tangerine Dream albums (and they are a lot), which ones were Edgar Froese's favourite? And yours?
—B: I can only judge it from the Eastgate years in the 2000s. Edgar Froese's favourite was the Five Atomic Seasons series, a compositional setup in Nagasaki and Hiroshima, a pentalogy of Springtime/Summer/Autumn/Winter/Endless Season. Edgar created this work under very special conditions, so this work had an exceptional deep meaning for him.
My favourite album still is: Hyperborea. My first contact with TD in 1984. The turntable played in loop….:)) Extraterrestrial.
—Can you please explain to us the main reasons to continue with Tangerine Dream?
—B: Love for music. My love for Edgar. My conviction of the current line-up's great talent. My love of life.
__________________
Thorsten Quaeschning
—You have been involved in the band for a long time, first "behind the controls" and then as part of the band, right? Can you please tell us a bit more about your beginnings in TD?
—T: I was asked in 2003 to come to Edgar's Studio in Vienna. As a synthesizer- and piano player I surely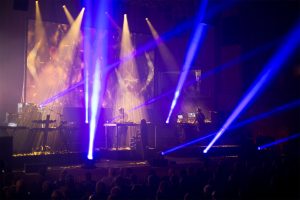 knew Tangerine Dream before and I was especially a fan of Edgar's edgy interviews in magazines like "Keyboards", "Keys", etc.
After working in Edgar's Studio and on Tour as a technician and producer, I was asked in 2004 to join the band for the new albums and concerts from 2005 on. The first album I co-composed was Jeanne D'Arc together with Edgar and Jerome Froese. In 2011, Edgar gave me the role of the "musical director". I spent a lot of years in Edgar's Studio learning and was taught many things about his views, concepts, structures and elaborated scales and working processes.
—You also have a long career on your own, can you please tell us how it's going and explain to us a bit about it?
—T: In my youth I had piano, flute, violin and drum lessons. My first band around 1994 was called Minory, a Gothic Rock Band with progressive roots. We played a lot of concerts and did some album till 2004.
Another of my bands is Picture Palace music, it was first intended as a live band to score old silent movies, it developed to a proper long-time band with many albums, awards and concerts.
Other projects are Quaeschning & Schnauss (with the album Synthwaves), Thorsten Quaeschning meets Paul Frick (The Seaside Stage Session), Bargmann & Quaeschning… There are a few other cooperations that will be announced soon.
I also composed music for movies like "Cargo", "Letters from Libya", "Remnants", etc. and played concerts and recorded albums as a solo artist (The Munich Session).
Most of it is a mixture of Electronica, Ambient and Post-Rock.
—Quantum Gate was the first album released without Edgar Froese. How was it received? Was it difficult to record it without the leader of TD?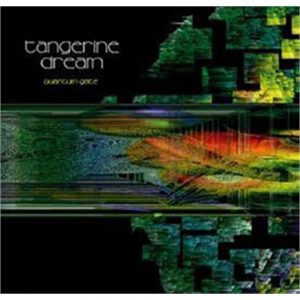 —T: Quantum Gate was received unbelievably well, reaction and chart-wise.
We began to record and compose the Quantum Gate Album together in summer 2014 after the tour. We talked about the concepts, visions and ideas and composed various sketches. After the sad passing of Edgar in January 2015, we worked with Edgar's sketches and ours, composed music horizontal and vertical wise, which sometimes means we composed a completely new part that integrated before or after another part, sometimes, we composed additional parts for the same part inside the music, which could be explained as vertical-wise. We have a concept for the period that is called "Quantum years". The idea is to return to sequencer-driven music, integrate the ideas and intentions of the more free-form seventies and structured eighties with a contemporary sound.
—When you make some music, how do you know that it fits in the Tangerine Dream catalogue?
—T: This is easier than it seems. It is clear from the moment I began, because the intention of the first note is fixed.
—Did you work on the GTA5 soundtrack? I think that making soundtrack for videogames can be interesting, as a challenge for the artists, and a way to get introduced to a younger generation. What do you think about this?
—T: Yes, we composed circa 35 hours of music for Grant Theft Auto V. It is a very interesting work between classical scoring and taking care of game specific functionality. The game itself is mixing the music, because it is related to the exact position of the player inside the game. The idea of big motives and melodies like "Gone with the Wind", "Star Wars" etc. are not working in a modern videogame music, because the needed time of the player to success inside, for example, a single mission, it differs immensely. So, you have to work with atmospheres and rhythmical elements.
—Who are playing now in Tangerine Dream? Is still Ulrich Schnauss touring with the band? He gave a really good concert this year in Madrid.
—T: We play as a three piece: Hoshiko Yamane on Electric Violine/Viola, Ulrich Schnauss on Synthesizer and Ableton and me on Synthesizer, Piano, Electric Guitar and also Ableton. Sometimes, we are joined be guests like the great Paul Frick (Brandt Brauer Frick), Franz Bargmann (NEU!), Richard Barbieri and others.
—What's your favourite period of the band?
—T: If I should pick albums it would be Zeit, Phaedra, Ricochet and Underwater Sunlight. I really like the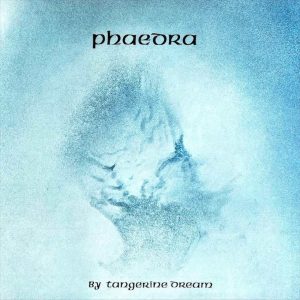 atmosphere and influence of these albums.
—In the latest years, there are some "literally albums": Finnegans Wake, Edgar Allan Poe's The Island of the Fay and Frank Kafka- The Castle. How were these albums made? Reading the books first and then trying to put the text into sounds?
—T: Surely, we read the book first, then talked about which part should be transformed sonically by Edgar or me. Sometimes, it was to reflect the story – sometimes to mirror the atmosphere of the situation.
—Are we going to have a new Tangerine Dream album soon in the future?
—T: Yes, we are already working on new material. It probably will be released in 2020.
—What can you tell us about the concert, is it going to be focused on old or new material?
—T: In concert situations, we are playing music from 1974 – 1989 and after 2005. I think the music before 1973 was not meant to be re/interpreted note by note. The music after 1989 – 2000 is tbh, just not our favorite period. Every concert has a different set list, some tracks are played close to the original composition in structure and sounds, some other tracks could vary in structures and time. At every concert, we are playing a so-called "Session", a mixture between an improvisation and a "real-time-composition". At the beginning of the session, we agree on a Tempo and the first Chord / Key – everything else is morphing, influenced and composed by us three in the moment of the session. This could last between 20 and 120 minutes, sometimes even more. That helps us keep it fresh and creative for us and it's interesting for the audience.