Of all the amazing artists that we discovered thanks to the Minimal Wave label, the unclassifiable electronic project In Aeternam Vale was, undoubtedly, the one that surprised me the most. In the notes of the first compilation released in 2009, I could learn that the French project already had a big discography of more than 200 releases of which we have only seen a small part. Of unreleased material and other things, we have talked with Laurent Prot in this new interview. It's going to be one of the lives that you should not miss at Ombra Festival that will take place next week!!!!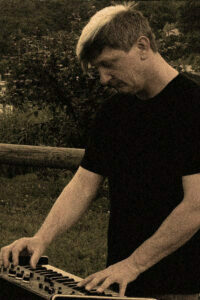 —First you started as guitar player in a punk band called Sordid Blanket. How do you remember those days? What did punk mean to you?
—Well, those were wild days. We were young savage and basically complete morons, punk was utopic, energetic and cynical, carrying a typhoon of possibilities and freedom at the opposite for us of the old hippie movement we found apathetic.

—As influences you have named Flying Lizards, The Normal, PIL, Yello, Kraftwerk, Throbbing Gristle, Suicide and Ravel. We don't talk at El Garaje so much about the Flying Lizards as we would like. How do you think they influenced you? The way of decomposing a song?
—Absolutely, when I first heard one of their songs on the radio it was "Summertime Blues" and still I think they got the essence of it here. This maybe triggered the desire of producing covers myself.
—Then, in 1983 you created In Aeternam Vale. At the beginning as a band of three members, right? Were you just keeping the "Rock band" format?
—We were four: violon and singer, guitar player, bass player (me) and a drummer. I will say a stage format, because the idea was to perform on stage as we were not even having a place to rehearse or a track to play, just 4 guys playing in the same place at the same time.
—How and when did you get your first drum machine and sequencer? When did you get interested in electronic music?
—When I stopped being interested in performing on stage and wanted to produce and record in my bedroom. Then, I bought a SR-88 and a CS- 01 that I plugged on my bass amplifier.
—Eructation Et Vocifération, if I am not wrong was your first release in 1984. In that time, the music was more industrial and experimental. How was the recording?
—The recording was shitty and the music approximative, the ideas most of the time were not that clear too
Typically bedroom recording with minimal technique, first track on the right, re-recording on the left, no mixer.
—From 1985 you stayed alone with the project. What happened? Was it easier to make the music you wanted on your own?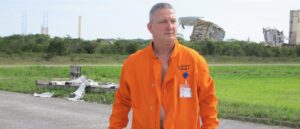 —Well, a bit later than that, let's say 1986, 1989 but there was always invited ones as there is still today.
Anyway, the major reason I guess was that I was producing anytime so it became a project on my own.
—You have repeatedly talked about interest in improvising. From where was it coming?
—I don't know exactly but improvising can produce either the best and the worst, and I like the idea of spontaneous and ephemeral music.
—How was Garde Au Sol Productions working? Did you sell many albums?
—Ha,ha, very artisanal, sharing and distributing audio tapes to friends and other labels from that time (1982 – 1990). I think less than 500 were ever produced and sold.
—Were you in touch with other electronic pioneers in the 80s? I read something about Jean Louis Costes, right?
—Yes, you're right, I will not give a list of them here, but Jean-Louis and I did some common tracks released on his label called "Ma musique sur ta musique" in the mid-eighties.
—You did techno dub, proto-EBM, New Beat, coldwave but at the same time you were quite isolated from the outside. When did you discover "other's people's" vision of these genres?
—Absolutely, isolated indeed and I discovered the names given to this genres afterwards.
I discovered other's vision of these genres thru the music my friend Pascal Aubert, Didier Gibelin and Philippe Tona shared with me to listen.
—You have been doing techno-like music, but you are not very fond of clubs. Do you like to make music to dance to?
—Yes, and it's a selfish process, I like to make music to nod, shake fist and dance to.
—How did you decide the material to release? As we can see in the latest compilations of unreleased material, you left quite some gems in the closet.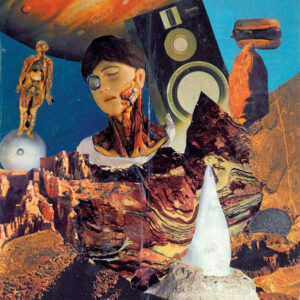 —Well, gems I don't know. Maybe just unheard things that can sometimes surprise the ear. The decision is fast and spontaneous most of the time, when I feel it just makes sense.
—It's quite difficult to trace your music evolution as you have recorded a lot of cassettes, have a lot of unreleased material and in every album we can find a lot of different styles but… when do you think your music moved in a more "song-oriented" way, I mean, compared to your more experimental stuff of the beginnings. Nourriture Liquide? Première Rétrorythmie?
—Well, in those 2 albums the songs were written and performed by Pascal Aubert for 80 % of them.
At the beginning, that's true, he was more about shouting and screaming in a wild vocal performance. I remember the change just came naturally with time as he started to sing the texts and lyrics he was writing.
—I could find some connections between Rock Around the Aspirateur and some work of The Residents. Were you interested in their music?
—Yes, I'm a big fan of The Commercial Album and Eskimo and Diskomo.
—When did you start using samples? How did it change your way of working?
—During 1986 I think, with an effect mini rack the Boss RSD10, only one sample and no way to save it. Then came the Korg DDD1 drum machine with sampling option and the Roland MKS 100.
Anyway, they were very limited machines but it changed my way of working as it was complementary with analog synths and drum machines and expand creative possibilities.
—You named one of your cassettes "Dub" and did some "dub-influenced techno" like in "Dust Under Brightness" or "La Piscine". Where was this dub influence coming from?
—Don't know exactly, but I think from Jah Wobble's Bedroom Album.
—You have done a lot of covers. How do you choose a song to cover it?
—Because I like it.
—What can you please tell us about your collaboration with Spanish singer Anneq? You met her in 2011, right?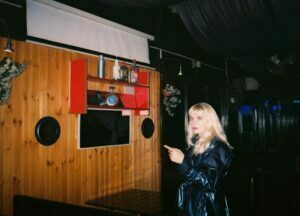 —End of 2012 actually. We chit chatted for a while and then after a few months we decided to make songs together. I like her Deep voice and it was nice that I could compose music on her singing voice.
I like to make it that way.
Then Anneq convinced Veronica Vasicka from Minimal Wave to release them.

—

When did you start creating your gear? What's your favourite instrument created by you?
—

Not so long ago, maybe 2012 I started to build my own modulars. My favorite is a 9U Doepfer suitcase in which I put 3xVCO, 1xComplex oscillator, 4xLFO, 4xADSR, 2xVCF, 1xcomb filter, 6+2xVCA, 4xstep sequencer, 1xmidi interface, 1xanalog delay, 1xanalog reverb and 1xVacuum tube distortion.
—Paraphrasing one of Frank Zappa's albums, according to you: Does humour belongs in experimental music?
—Yes, for sure. Not only in experimental music anyway, and maybe in all forms of art too, that's what I think otherwise let's just lay on the railway and wait for the train.
Anyway, in techno to my point if there is humour, it's in the "decalage" the producer will distillate in the track, in the words, lyrics and sounds.
—You recorded/toured as Solid State before Vasicka meet you. How was the music of this project?
—Honestly more or less like IAV, just I was fed up when In Aeternam Vale name.
Then Veronica unburied that name again in 2009.
—What can we expect of you in the future? New tracks?
—I'm not as prolific as my good friend Christophe Petchanatz from Klimperei but there's always new tracks coming out here or there and on my Bandcamp.
—It would be very nice to have your complete discography released in Vinyl-On-Demand. Your music is quite the material that they publish. Did you have any contact with them?
—According to what I know, those guys seem to be very busy, you know.
—What can we expect of your live at Ombra Festival? I saw you in Milan in 2015 with Vessel and Silent Servant, what a line-up!!!
—Well, I guess you can expect anything, I didn't decide yet.