Either as part of seminal band such as Absolute Body Control or The Klinik, on his own as Dive or with projects where he looks for different ways of expression, Dirk Ivens really deserves a full chapter in the history of electronic music. It has been a pleasure to interview one of the persons that have defined the music that we love so much. We hope that his concert with Absolute Body Control, part of the Ombra Festival, will take place as planned. It will be at the end of November in Barcelona.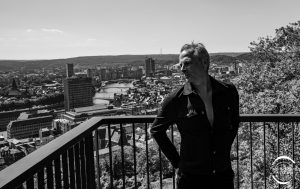 –After being in a punk band called Slaughterhouse, you formed The Few. What can you please tell us of these bands? Were them a step towards the sound of Absolute Body Control?
–Slaughterhouse was a traditional 4-piece band, Voice/Guitar/Bass/Drum. We were inspired by the punk scene of that time like The Damned, The Ramones, The Sex Pistols. But the most important influence came from the Belgian band The Kids. I saw them dozens of times and the energy they spread was incredible. But as it goes with so many bands existing from friends, it didn't last long, although I had already this music virus inside me. The Few came shortly after and was only 3 persons on stage as the drums were replaced by a rhythm machine. Both bands sounded completely different to Absolute Body Control, which was totally electronic and highly inspired by SUICIDE, The Human League and many other acts from the U.K. scene.
–As you just said The Kids was a huge influence on you. Do you think that the punk influence has always been there in your career? At least the DIY sense of doing things.
–Yes, I liked the idea of experimenting and creating your own sounds. Being busy with recording and creating, either punk or electronic, the DIY culture was always high level and important for me. That's also the reason why all those electro bands sounded different, because there were no diskettes with synth or drum sounds, you had to search yourself for your own style.
—In the first album of Absolute Body Control, there is a cover of Brian Eno's Baby's on Fire. Eno is not a usual reference in this scene, apart from the great Bauhaus cover. Were you interested in his music? In "Turning Around", a track that you recorded live in 1983 I can hear a bit of Devo. Have they influenced you?
–I like both, especially Devo, but they were no influence, really. "Baby's On Fire" is such a great song, I always heard that one in my favourite pub, so we decided to cover it and it's a very simple and easy to play tune. 😀
–How was born the idea of doing Numbers, the second Absolute Body Control album, completely instrumental?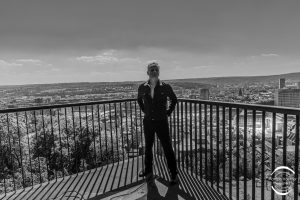 –We experimented a lot in these days and at one point we had a lot of bits and pieces, so we thought it would be a nice idea to collect all that was interesting and put all on one tape. The fact that it was completely instrumental made me decide not to put voice on it, so it could be considered as a whole.
–Number 2 and 4 sounds remind me of John Carpenter's soundtracks, maybe it's just the similar gear used. At that time, there were some great electronic soundtracks. Have you ever been tempted on doing music for films?
–Yes, it could be the fact that many people had the same gear like Korg, Moog and many other stuff that a lot of sounds will be hanging in the same field. I was totally not in this Moroder sound (Note: I wrongly asked for Giorgio Moroder when I meant John Carpenter), the Donna Summer disco feeling; now, in these days, that music is melting together but back then it was a completely different genre and scene. But movie soundtracks always interested me, I am a fan of John Carpenter and so many more. In 1995, I made with DIVE a soundtrack GRINDING WALLS, with visuals by Sigillum S, and I wish I had more opportunities to do so.
—In an interview you said that "the secret of ABC is that the songs are catchy and poppy" and I totally agree with it. Although the sound is minimal and sometimes raw, once you hear one of your songs twice it feels like you have been hearing it all your life. Is it easy for you to write catchy melodies or is it something that really takes a lot of your time?
–We try to make it as simple as possible. No more than 4 layers on top of each other, just like a 4-piece group, but the instruments replaced by electronics. Of course, the melody and text have to come out of your head and you can have the most expensive and the best instruments but, if it's not there, then it won't come. And inspiration hangs in the air, once in a while we can grab it and create. 😀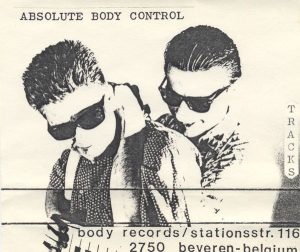 –Instead, the compilation Tracks is packed with your more experimental/industrial songs. Is it because the material dates from the beginnings of the band or were you using your more difficult material to compilations?
–Our main goal was always to keep our music as interesting as possible for ourselves and for the listener, therefore we always tried different angles and atmospheres, all in the matter of the song. We really experimented a lot and bought many different instruments and that also gave the variation in sounds.
–Wind [Re] Wind from 2007 was an album of reworks of your classic material. Did you think that the sound of the tracks was outdated or just wanted to see how they could sound with modern technology?
–To be honest, the sound quality was not the best, the possibilities to make better recordings with new technologies were there. And we planned to go on stage again, so we needed excellent backing tracks where Eric could play on top of it.
We tried to stay very close to the original idea and sounds, but now it's very much more dynamic and clearer.
–Can you please tell us a bit more about the idea behind Absolute Controlled Clinical Maniacs? It is difficult to think of a supergroup of your style. How was it born?
–The Absolute Controlled Clinical Maniacs was formed out of 3 different bands = ABSOLUTE BODY CONTROL (Dirk – Eric)/THE KLINIK (Dirk – Mark)/THE MANIACS (Sandy). To make it short, Sandy Nys from The Maniacs was very active in the home tape scene and he was sending a lot of tapes around with some music from those projects. One day he got an invitation from Norway to perform there, so he asked us to make one band out of those 3 to play some gigs. When we got back, we changed the name again to THE KLINIK who was now existing out of these 4 members and released Sabotage. Shortly after, the line-up changed with me and Marc staying as main members.
—At the beginning The Klinik was composed of two members: you and Eric Van Wonterghem. Was it difficult being both of you in the band to mark a line between what was ABC and the new band?
–Not really, Mark was inspired by Throbbing Gristle and Tangerine Dream and I came out of the more synth pop scene. The Klinik (slow – dark – doomy) and ABSOLUTE BODY CONTROL (Minimal – synthwave) were totally different things.
–The first album of The Klinik was Sabotage. We always make one question about the recording of one iconic album. In this case, what do you remember of the creation of that record?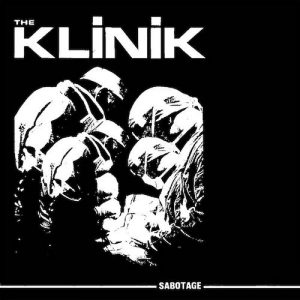 —One side was recorded by Mark and me in his home studio, a small room full of gear. I wrote the text and did the voice while he made the music. All was recorded in one take so to speak, if we made a mistake in the middle of a song, we had to restart all over again, there was no computer to correct anything. Therefore, it is impossible to do remakes of the old songs, the instruments are floating into each other, you cannot cut this without hearing that. The B-side of the record consisted of live recordings from that tour in Norway. When we released the record, we got national airplay on the radio because a band in our genre touring in Norway was very special at that time.
–The sound of The Klinik moved to EBM with Pain and Pleasure and Plague. According to you, how was the Belgian EBM scene in these years? How do you remember it?
–There was a scene with bands like à; GRUMH …, The Neon Judgement, Parade Ground, Snowy Red, A Split-Second, Front 242 and so on, but everybody was working more in their own cocoon, and that's also the biggest reason why they all sounds so different. We had no real contact and live gigs were very rare. Most of these bands were all inspired by the same U.K. electronic scene and suddenly there was a Belgian movement. 
–You released a couple of albums with the project Blok 57 with ex Vomito Negro member Guy Van Mieghem. What can you please tell us of this experience?
–We were living in the same town. So, we all know how that goes: -"let's do something together" and before you know it you are in the studio recording some ideas. With Blok 57 we never played live although we got signed by the German label Zoth Ommog and released two albums together. It was fun but just a side project.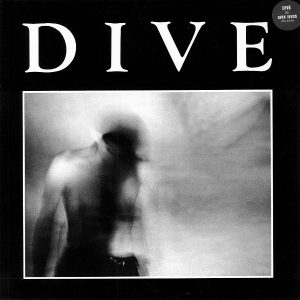 –Dive created a new style and influenced a lot of bands (again). Have you felt the pressure of having to reinvent yourself every time?
–When The Klinik split up for the first time, I was completely on my own and wanted to create something with a minimum on instruments but with a maximum on sound. So, I created with just a few instruments an overloaded sound and was screaming or whispering my voice on top of it. It was not a case of reinventing myself, but I was tired of making compromises with other musicians and from that point I wanted to do 100% my own thing. For many people I created something new and seems to be an inspiration. In any case, for me it was a kind of escape from the music scene and the opportunity to do my own thing.
–When you play as Dive, is it more difficult to be on stage on your own?
–It's such a relief to go onstage without any instruments and armed with two stroboscopes as the only used lights, to create a performance and build up the energy between me and the audience. Of course, when something goes wrong technical wise there's no one you can talk to or whatever but in this way I have the possibility to do gigs worldwide without too many travel expenses for the organiser. Yes, it's simple but effective.
–With Dive, you worked with Italian producer Ivan Iusco. How important was he to sound of that project?
–He was and still is very important because at one point you have to develop your sound and as I am not really a musician and far from technical wise, I had to collaborate with other persons to continue and bring variation. So, in the last releases I always collaborated with other musicians like Ivan, Jan de Wulf, Rafael M. Espinosa, Eric van Wonterghem but as a performer I go alone on stage.
–And the last of your projects is Sonar, the most danceable of all of them. Have you been interested in dance music during all these years?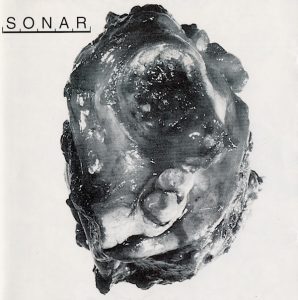 –I am a big fan of Esplendor Geométrico and wanted to do something in that style but harsher while E.G. gets more hypnotic and trance. I was not really interested in the dance electro scene but E.G. has that industrial experimental touch which I like so much.
–Sonar has released 8 albums, quite impressive considering that you have been releasing records with the rest of your projects. How do you manage to be so prolific?
–All the projects comes out of the same minds but have a different sound, so it's very easy to make the difference, DIVE and The Klinik are more in the dark EBM doomy style, ABC is minimal synthpop, SONAR is instrumental beats, MOTOR! K is krautrock guitars and drum, using a synth bass loop. 
–How did the project of remixing and getting remixed by Muslimgauze was born? Did you meet him?
–I knew Muslimgauze for a long time and I collect all his releases. On my Daft Records label, I already released his Silknoose album in 1995 and we had contact by phone or letter/fax very often. When we were working on that Sonar vs Muslimgauze E.P. in 1998 the whole idea was to do some remixes of each other and afterwards go on a small tour together. Unfortunately, that never happened, when I wanted to phone him again to discuss some details for the live set-up, I got his father on the line telling me Bryn was very sick and in bad condition. A few days later he passed away, very unreal…
–I was surprised when I saw you as part of a kind of krautrock band like Motor! k. How did you get into that?
–As I started in the late '70s playing guitar as a result of the punk movement, that vanished when the synthesiser came along. My dream was always to pick up that guitar again when the time was right. Two years ago, I met a guy who had the same interest as me in bands like NEU!, La Dusseldorf, Michael Rother …. and we agreed to start jamming together just for fun. Soon, we found out we needed a real drummer instead of a rhythm machine to get to human driving beat as we wanted to sound melodic but powerful. And, of course, one thing led to another, some demos got recorded and the German label Out Of Line was directly interested. So as we speak, our brand-new album MOTOR! K – 2 comes out end of this month Sept 2020.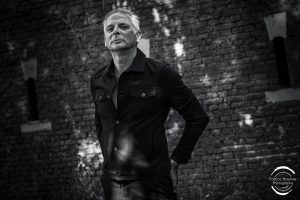 –You were the owner of, first Body Records, and later Daft Records. What happened with them? Is it difficult to make music and at the same time run a label?
–It was good as long as the sales were OK. It was never our attention to get rich with it, but we find out that you have to put a lot of energy, effort and money into the whole thing and it's so difficult these days to survive. Many record stores are not there anymore, distributors stopped, so it's a real struggle and that was never my meaning. So, after putting out more than 100 releases. I decided two years ago to stop both, Daft Records (CD) and Minimal Maximal (Vinyl) and sell my stock, so that I could fully concentrate on my own outputs. Believe me when I say that my heart bleeds when I hear very good demos that deserve to be put out but my brain says wisely no. Time changes and so be it.
–With Daft Records you have released an album of Esplendor Geométrico, a Spanish band that you have also confessed to like a lot. When and how did you start listening to them?
–As I was following E.G from the beginning I had a chance to see them for the first time live in Utrecht/Holland in 1989. They were not very known in the electronic scene so every opportunity I got I mentioned their name in interviews and slowly they became more popular in Germany. So, we had the chance to play some shows together. They were releasing their albums only on vinyl until I approached them to make their very first CD release on my label and so we did. In total we released 3 albums Sheikh Aljama (1991), Nador (1995), Tarikat 1997 and one CD single Treinta kil´pmetros de Radio in 1996. They became good friends, we toured Germany and the USA and we still often share the same festival bills.
–Do you think that your fans have followed your entire career, or they are more fans of your different projects?
–I think most of the people who know me, have been aware of what I am doing and all the several projects I have. Of course, everybody gets older and interests change as I also see many younger people at gigs too 😀.
–I guess it's difficult to make plans nowadays with this situation, but what are your projects for the future? A new Sonar album?
–Well, now in these Covid-19 times I guess every musician made a new album ha, ha 🙂 Like I said, for myself there's the new MOTOR! K album coming, soon to be followed by a brand-new DIVE album and for the moment we are slowly writing new ABSOLUTE BODY CONTROL material but that will be for next year. With SONAR we don't have any plans because Eric is now very busy with his own project MONOLITH and we take it as it comes, no pressure at all. 😀
Pics: Patrice Hoerner