Photo credit (header): Tim Sheard
When I bought my first China Crisis album more than twenty years ago, I didn't know what a pearl I was getting. I remember the chill air of the morning on my way home from the record store. I played the record a few times, but sadly forgot about it soon. But now, when I listen to the music of the band again, I feel how is driving me backwards, and I can almost see the first light of that day, and the melancholy of the music reminds me of crying on some faraway beach. Today we talk with Gary Daly, one of the creators of our favorite possible music. They are playing next Sunday at the W-Fest. I'll come running to the first row during their concert and will shout: China My China!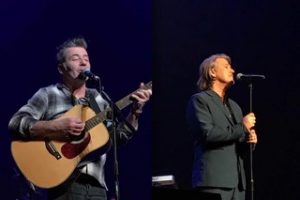 —The name of the band was coined in a bar, mixing together Russian Crisis and China East, right? Did you have any problem with the name during the Cold War? And when touring China?
—Ahaaa no, our band name has never been a problem, and sadly, we have never toured China. And if we did, we would change our name to "China Greatness'. I'm sure our fans in China would love that.
—At the Garaje we love Brian Eno's music. You said that it was an important inspiration for you, especially Before and After science. Which other albums do you like from his career and what did you find so great in his music?
—Brian Eno was a complete and utter revelation. Eddie has David Bowie's Low album and that's when we first heard of Brian Eno. We loved everything about him, and we soon followed everything he was involved in, with Talking Heads being one of our fave bands. Discreet Music and Plateaux of Mirror with Harold Budd are absolute classics. I still play these albums all the time, truly inspirational…
—Don't you think that if Virgin hadn't signed China Crisis so soon, they could have the same indie legend status of Prefab Sprout or Aztec Camera?
—Possibly, but at the end of the day, fate is what it is. Shoulda coulda has never been a great mantra, really.
—You have compared the band repeatedly with The Fall, which similarities do you find in both bands? I honestly find China Crisis closer to Japan (even geographically).
—The number of changing members for one, ahaaaaa and the fact, that Ed and myself are a bit like Mark, as in, if it's Gary and Eddie up there on that stage, then it's CHINA CRISIS, no ifs, no buts.
—About the first album, Difficult Shapes and Passive Rhythms. Some people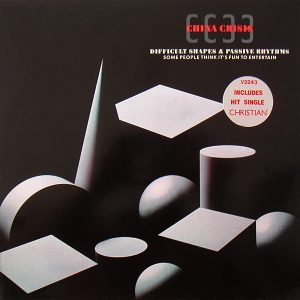 think it's fun to entertain, from 1982, it involved four producers, why did you work with so many?
—Because they kept getting it only half right, and we were very, very determined young gentlemen, wanting it to sound the very, very best it could.
—From synth pop you turned slowly to pop. Which are your favorites pop album from the 80s?
—Awwww this is impossible for me to answer. I just don't listen to music in that way, and cannot think of a single album other than maybe Colour Of Spring by Talk Talk, that was a completely beautiful recording. I very much relate to music in the here and now, making it and hearing it.
—What's the meaning of the subtitle Possible Pop Songs Volume Two? In the preinternet era, a friend told me that if one day a compilation of the best pop albums was going to be released, the Beatles should be volume One, and yours Two.
—Ahaaa, it was from Brian Eno's album with Jon Hassell, Fourth World, Vol. 1: Possible Musics. We always enjoyed stealing some "enoism's"…
—You studied in a Catholic School, and have one song called "Christian," and another called "King in a Catholic Style." Do you think that this experience marked you, or it was just fun?
—Christian was a little boy who was friends with a nephew of mine. I'd never heard that name before, and so it stuck with me. And about "King", I was listening to a lot of reggae: Steel Pulse/Aswad/I Jah Man, and again I loved their song titles. 'Forever I and I "is another "reggaeism". And for sure being brought up Catholic put us in touch with a lot of great things, music, stories, beautiful images… but yeah, if you can avoid any religious indoctrination… great!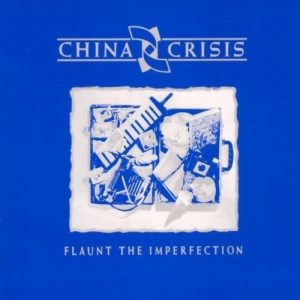 —Your third album, Flaunt The Imperfection from 1985, was produced by Walter Becker of Steely Dan, and it's the most soulful of the first ones. Were you looking for that sound or it just happened naturally having him in the band and as producer?
—Yeah…Walter was/is the complete genius of melody, harmony and he was super generous with his talents. Him being credited as being in the band was just a bit of fun. We just wanted him to read the credits and know how much his work meant to us.
—How do you see now your fourth album What Price Paradise from 1986? Don't you think it should have the same good recognition of the first three albums?
—No, not really. It's over produced, a bit bombastic at times. The songs are as good as any we have written, but something was deffo missing."Charm" perhaps, music does have to have a certain amount of Charm and Magic, and for me, it deffo lacks that. But that's just me, I'm sure Kev, Gaz, Brian, Eddie would say otherwise.
—The band lived in Hawaii for three months, in which you started recording Diary of a Hollow Horse in 1989. How do you remember that experience? Again, this album has some Steely Dan influences, right?
—It was a tough one, everyone under a huge amount of pressure to deliver "hit" singles. And sadly we didn't.
It was a beautiful crazy time for us, I'd just become a dad, with our first daughter and we were living in Maui. What's not to like… but yeah, again, great songs, but lacking "magical moments".
—One weird question. I don't know if you know it, but the French release of Warped by Success (album from 1994) has a really ugly cover. Do you know why this cover was used (it looks like a punk record from the late 70s)?
—That was a terrible time for Eddie and myself. We got ourselves involved with the wrong people, business—wise and everything went completely wrong. We do plan to release "our"version of Warped with home recordings, etc., etc.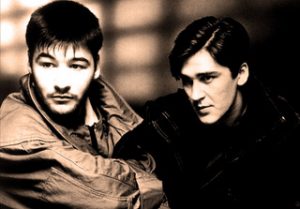 —Why there was not new record for 20 years? The band only toured during these years, right?
—We just did not have the "mindset" to record. We'd had a couple of sessions where we thought we could make a record but it was only when the whole crowdfunding came about that we could see the possibility of funding and making a record properly.
—Finally, in 2015, a new album, Autumn in the Neighbourhood, was released. How did it feel to write songs again?
—Well, Eddie and myself never stopped writing songs, so it was just a matter of deciding to work on the best ones, which we did, and we are very, very, very pleased with Autumn, I think it was, well, we go tour mojo back, ahaaaa and the fact the fans loved it also, was just amazing, really, really g r e a t.
—The album was released thanks to a crowdfunding with Pledge Music. Do you prefer the freedom of not having a record company trying to tell you what to do?
—Absolutely, it's been such a great thing for China Crisis. We had very, very little control back in the day, but now, we are masters of our domain, ahaaa
—And what can you tell us of your first solo album? Is it a comeback to the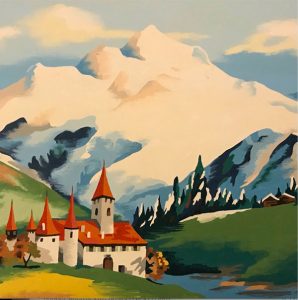 sound of the first China Crisis records?
—Yes, it is. And why? Because it's Gary, one half of the super-talented China Crisis. And I write and record as I always have, from day one, and that's what you can hear: all the charm and all of the magic.
—Which modern artists do you think that have been inspired by your music? I think that you have cited John Grant and Belle and Sebastian before. Any more?
—Crikey, loads and loads… Chairlift being one, Owen Pallett is another. And these people are all fans of the China's, because we were their first melodic synth pop with many, many influences.
—We always like to ask for the gear that bands use. In your case, you have talked a lot about your Juniper 8, your favorite synth. Which other have you been using during these years?
—Korg Polysix, Juno 60, SPX 90 effects units, but mostly I write at the piano. Always, and then synthesize the songs in the studio, ggrrrhhh!! Oh and tape delay. Very important.
—How is your painting career going?
—Ahaaa, I don't paint. I'm a drawer, I draw a lot, and colour in… And I have no great ambitions for it, I like that it informs the music a little.
—Any plans for a new record?
—Yes, Classic Crisis, with strings and things, which will happen for 2020, with live dates, etc., etc.
—This is going to be your second concert at W-Fest. How do you remember the first, just two years ago? And what can you tell us of your concert in this edition?
—The festival itself is such a lovely thing, and we had such a great time. The audience was amazing and we loved every minute of performing, and for sure, this year will be even better, with the band so looking forward to returning, yay!