If you felt in love with music in the 80s, you must know John Fryer, producer who worked on albums by Fad Gadget, Clan of Xymox, Depeche Mode, Yazoo, Cocteau Twins and was part of This Mortal Coil. Lately, he is back with Black Needle Noise, a new project with three albums already released, the last one, entitled These Mortal Covers, considered the best cover album of 2020 by El Garaje.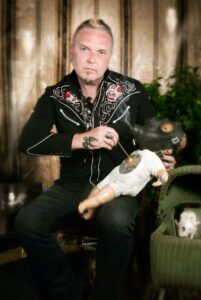 —Let's start with a question about the name of your band. Is Black Needle Noise a reference to vinyls?
—Yes, there are two versions of the name: 1. The old school version would be, BLACK represents VINYL, NEEDLE represents, PUTTING THE NEEDLE ON THE RECORD and NOISE represents THE SOUND COMING OUT OF THE SPEAKERS, but I was watching Black Mirror TV show and was inspired and got to thinking about melting your vinyl down and injecting into yourself so the music would be running around in your veins and body so you can access it whenever you want with just a click of your fingers.
—According to you, Black Needle Noise's story started with "Bang Bang", a song famous by Nancy Sinatra's cover (the original was sang by Cher). It was produced by Lee Hazlewood and has a dreamy sound thanks to the use of the tremolo. What inspired you to do this song?
—Black Needle Noise started after my other 2 bands DARKDRIVECLINIC and SILVER GHOST SHIMMER had been discontinued for one reason or the other. I had written lots of other songs while writing for those 2 bands but the songs just didn't fit into the sound of those bands and I thought it would be a big waste of music if they just sat around and didn't get finished.
So the idea of Black Needle Noise was born and is not to have one sound or song type. Black Needle Noise will go wherever it wants to go visually and sonically. "Bang Bang" was the 1st song to be released under the name Black Needle Noise followed swiftly by "Wild Stone" with Zialand singing. The reason for doing the cover of "Bang Bang" and most of the covers I've been doing is down to the music placement company I've worked with over the years, as they say it's easier to place a cover version than original music.
—You sang in the before-mentioned "Bang Bang" and in a song in each of the records that you have released. How do you choose the right track to sing?
—Well, a lot of the time the songs I have sung on have been asked for by the music placement company at very short notice (a day or maybe 2), so I end up singing them myself as there isn't usually enough time to get anyone else involved. Why I add a song I've sung on to the albums is just as a bonus track for the album. I wasn't ever going to release albums it was just my friends in the media asked me to put the tracks together for doing reviews and I was advised to add an extra track as a bonus to make the album more special.
—You have worked with a lot of female singers, is it because you think that the voices of women fit better the atmosphere of your songs?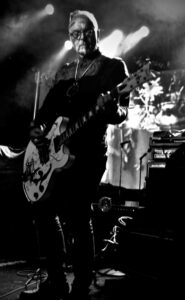 —Yes totally, most of the time a female singer and what they add to the song elevates it to another level but every now and again a male voice works for the music, like "Seed Of Evil" with Raymond Watts, his vocals fit perfectly, same as Bill Leeb, Antic Clay and all the other male vocalists who have been involved with BNN.
—The singers of your songs are usually the one that writes the lyrics, did you have any problem with the content of any of them?
—So far no, I trust the singers to do an amazing job. They have their name on the song/ songs as co/writer so I always believe they write things that they are proud of otherwise they wouldn't write what they do?
—What do you look for in a singer? Do you write the song thinking on the singer?
—No, I write the music and then ask someone to sing on the song. It is not always the same as what they normally do and may take them out of their comfort zone but all the singers so far have been up for the challenge, apart from the couple who have ghosted me, who shall remain nameless.
—Any singer you would like to work with in the future?
—Oh, there are plenty of singers I would love to work with, the list is kinda endless.
—You said that you wrote "Dead Star" as a tribute to Bowie, an artist you would like to have worked with. Please try to imagine being Brian Eno in the seventies in the process of producing Low or Heroes. How would these albums sound with you as a producer?
—That's not exactly true. It ended up being a tribute to Bowie on my part with the way I mixed it. Betsy wrote the lyrics and gave the song its name, but it all fits together in a strange cosmic way.
Well, as for LOW & HEROES, of course, they would have sounded better if I would have made them, ha ha.
—You also said that one of the pillars of the project is to have an open mind regarding songwriting and sound. But is there any line you would never cross? Any limit?
—At the moment, the only rule or guideline is that I only ask singers to do 1 or 2 songs so it doesn't become a burden and impact their own musical career and projects, so they can enjoy working with me.
—You have recorded two songs with Elena Alice Fossi from Kirlian Camera, a band that we have also interviewed. How was this collaboration with the Italian singer born?
—I have been working with Kirlian Camera since the 80s mixing some of their albums over the years and I had a couple of tracks I thought Elena would sound amazing on so it was really a no-brainer. In the tracks Elena sang on ("Behind The 4th Door" and "Naughty Girl"), she has done a really amazing job and the rest is Herstory as they say.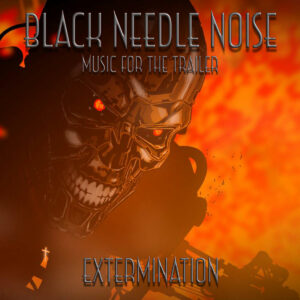 —What can you please tell us of Extermination, the song that you made for the trailer of a movie still not made?
—I had worked with Bruce before on the song for DANGER GLOBAL WARNING. It was a project through multimedia to make people aware about global change.
Some years later Bruce asked me if I would help him with his pitch for a movie he wanted to make, and, of course, I said yes. He described what he wanted and the time frame of when he wanted things to happen and then I made the music. He put his animation to the soundtrack as he said it was easier to work that way for him. It has had great reviews but unfortunately it hasn't been taken up as a movie yet.
—Your music is very cinematic, apart from the soundtracks in which you have worked in the past, would you like to do a new one with your Black Needle Noise project?
—Yes, I would love to and there are a couple of movies in the pipe line as we speak + I'm also working with my friend Greg Young on doing a documentary about 4AD to glorify the golden years in the 80s and what it meant and means to people/fans and how it has inspired generations of bands over the years. I will be making music for that too.
—I finally saw your documentary and really enjoyed the live part. How was the idea for this doc born?
—Phil Owen of (Skatenigs) invited Betty X with BNN to come and play the song she had sung on [social media disease] at his show case for SXSW. I thought wow but why don't we turn it into a set of 5 to 6 songs, if we are going to travel all that way why not make it all worthwhile and so the live band was born.
It's been a 6,000-mile round trip in the end for Anjela & I.
This was maybe going to be a one-off show and so I thought about filming it if we could. Fortunately Anjela's friend Katherine Sweetman is a super-duper film-maker/ director and she offered to come down and film it for us. So it was only going to be the one show but while we were there we got invited to play the second show the next day, so one show turned into to 2, fun fun fun all the way. The film has been entered into several film festivals and has been getting a really nice response.
—What can you also tell us about the ReMIXes album that you released in 2016? It was you doing the remixes right? How do you approach your own songs when you are going to remix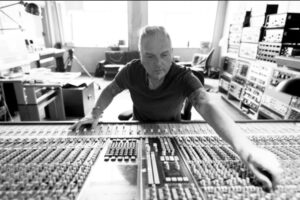 them?
—No, I don't remix my own songs. It's not really a remix album, it's a collection of remixes people have done over time and put in one place on Bandcamp. It will be added to whenever there are more remixes to be added. It's like a never-ending gift that keeps on giving.
—Currently you are making the videos of the band, right? When did you start doing them and how did you start?
—Black Needle Noise is all about collaborations, I started out doing videos of the songs but as time has gone by more and more people have collaborated. Black Needle Noise is all about promoting each other from many different genres and will continue to promote whoever works with the and becomes part of the BNN family.
—You said that in a conference you gave in a University you realized that young people don't want to pay for music. Do you think there is a way of changing their minds?
—Well, it's the way of the world now with the internet. They think everything on the net should be for free but they don't understand what goes into making what's on the net.
Pirating on the net is a problem and if everyone takes everything for free then there will become a time when no one will have the money, time or energy to make anything, no software, no movies, no music, no tv shows, it will all gradually dry up and they will look at each other and wonder why because they don't understand what they are doing.
—One of your latest songs was made with Fakeba. How is your project with her going?
—Fakeba contacted me some moons ago and asked about working with her on an album for her but I suggested doing a BNN song 1st. We made "System Bi" for BNN and then set about making her album Jotna. The album Jotna is an amazing dance ambiance album that hasn't reached the potential it deserves, but that is how we met you in Spain before the show we were about to play in Madrid promoting the album.
—You have worked with Sivert Høyem, singer of Madrugada and with Raymond Watts. When you are working with a singer that is famous for singing in a band with a particular style, do you try to do a song that fits their style or do you try to do something completely different, to address their style in a different direction?
—All the singers for BNN are famous in their own right but the music for BNN is not always the same as their own careers, sometimes it takes them out of their own comfort zone or as in Bill Leeb's case it was his 1st vocal collaboration outside of his own projects. It's different for every singer.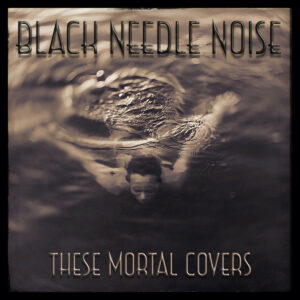 —At the end of last year you have released an album of covers, entitled These Mortal Covers. How did you choose these songs for the album?
—It's been a collection of songs over many years starting in 2011 with DARKDRIVECLINIC and "Walking In My Shoes". We were backstage at one of our shows and Rebecca ask to wear my shoes to walk across the room in, so I said hey, why don't we do a cover of "Walking In My Shoes" for fun and that was the start of the covers. A lot of the others I have been asked by the music placement companies to do as they always tell me covers are easier to place than original music or the publisher is asking for covers of songs to get placed. Also Anjela was walking around singing some songs and wanted to do them so they are also on the album.
—In the new album there are three songs sang by Anjela Piccard. What can you please tell us about her? Is she properly a member of the band?
— Anjela is my awesome wife and has sang on 3 covers that she wanted to do and is in the live band with Betty X, Sean Haezebrouck and myself. It's been so awesome working with her vocally but she is an artist in her own right too.
—Is it difficult to approach classics? I mean, you have included even a cover of "What a Wonderful World".
—The whole idea for the covers from my perspective, is to make the songs more cinematic in my own sweet way. Not all the covers have changed that much from the originals but then others have changed quite dramatically. It really depended on the song to where it moved me to take it. "What A Wonderful World" was taken in a more apocalyptic depressingly but uplifting way to fit these dark times and the way of the world right now. It's also perfect for a film.
—I could not find any information about "Let This Be The Night". Who wrote it?
—Ah, that would be Pinky's (singer with SILVER GHOST SHIMMER) father "Russ Conway". We originally did it to commemorate, honor and to remember the passing of her father for a tribute and we really liked how it turned out. So I wanted to add it to the album.
—How is being a producer nowadays? Can music industry pay a good producer? What do you think of bedroom producers?
—It's not easy these days but fortunately I am still working away mainly mixing and executive producing when mixing. There are some very good bedroom artists but a lot of them can't get the mixing right. It takes a lot of time, energy and skill to be able to mix properly it doesn't come overnight, it took me years to get it right.
—Last time we talked, you told us about your touring plans, and I guess that they have been cancelled due to the Coronavirus situation. Are you rescheduling them for next year?
—Yeah, it was so sad that we, Black Needle Noise and Fakeba had to cancel our shows but the tours will be back on as soon as humanly possible. It's very hard to put a time line on anything at the moment but we will be out there and playing again when we get the green light to play. Keep your eyes and ears open for further information.
[bandcamp width=100% height=120 album=1865934225 size=large bgcol=ffffff linkcol=0687f5 tracklist=false artwork=small]