When the term Futurepop was coined at the end of the nineties, few of us could imagine how boring the pop of the future was going to be. Instead of challenging music with lyrics that make you question reality we have Ed Sheeran! At least, we have the music of Apoptygma Berzerk to prove, sadly, that the future is no longer what it was. We have interviewed Stephan Groth, who will be playing with his band on the Sunday of the W-Festival.
—Apoptygma Berzerk was the first "EBM" band coming from Norway. How was the Norwegian music scene back in the late 80s? Lots of Black metal bands? Another Norwegian band that we love is Bel Canto, Annelli Drecker collaborated with the band, right?
—The music scene in Norway in the late 80's was pretty boring, but there were some exceptions, of course. Great stuff from Norway in that period is for example Beranek, Bel Canto (as you mention, and yes, Anneli Drecker is singing on "Back On Track" on the You And Me Against The World album), Munch, Holy Toy/DePress, Blue Mathue, Sister Rain, Erik Wøllo, Fra Lippo Lippi, Svart Klovn, Kid Death & The Nightshades and Clockwork Orange. And then there was a new wave of bands that started in the early 90s that we also liked a lot, like Deathprod, Biosphere, Motorpsycho and Mental Overdrive. The metal scene in Norway was back then, as today, extremely active.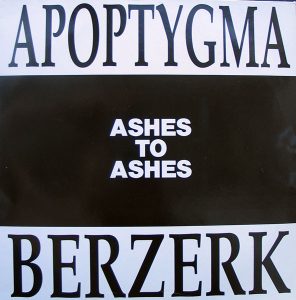 —You released a single and an EP before your first long player: Ashes To Ashes and The 2nd Manifesto. How was the band back then? What did you want to achieve with the band?
—Actually there was also a single named Bitch that came out before the first album, as well as contributions to compilations and so forth. APOP was more or less a one man project. I wanted to experiment and do something that was non-typical when it came to Norwegian music. Music was always my hobby growing up, and the great goal was to release a physical record. Having achieved that, the goal became to release yet another one. And here we are, 30 years later, LOL!
 —Do you think that your first LP is the most Goth of your discography? From the name of the album to some lyrics and the intro?
—We never did "goth music" as such, but we always loved bands like Siouxsie & The Banshees, The Cure, Red Lorry Yellow Lorry, Fields Of The Nephilim, The Sisters Of Mercy, Killing Joke, This Mortal Coil, Joy Division and Clan Of Xymox.
 —In your song "Skyscraping (Schizophreniac)" you sampled PJ Harvey's "Rid Of Me," released only a few months before. Did you find any link between her music and yours?
—I love PJ Harvey!
—The term "Futurepop" was coined during a conversation with Ronan Harris with you. Do you like it? If you take pop as popular music, I agree but I don't see a lot of pop in your or in VNV Nation music at least at the beginning. Maybe melodic EBM?
—Back then, the term "Futurepop" made sense, because it encapsulated the sound that both VNV Nation and APOP had at the time. This, of course, has changed drastically since, at least for APOP. By definition, both VNV Nation and Apoptygma Berzerk is pop music, and so is everything that includes a verse-chorus structure, melodic tunes, hooks and repeated choruses. I always loved popular music, but I don't anymore. This has changed, because what is considered popular music today/chart music, is terrible both to my ears and to my soul. In the 80s, most pop music ranged from decent to great, but the modern pop music that we hear on the radio today, has totally devolved into something generic, uninteresting and uninspiring. They still have repeated choruses, but most of the choruses are not even any good… there's nothing new, clever, challenging or exciting about mainstream pop music today.
 —In your first two albums you start and finish the album with a song in two parts, was it a way to give unity to the album?
—Yes! Well spotted, this was the idea all along. By having an intro and outro it will make an album more "complete," and I wanted it to be the same experience as when watching a movie with a defined start and finish.
—There is a big change between your first album and 7, more synthpop and less EBM, less aggressive. Would you say that this is your first Futurepop album?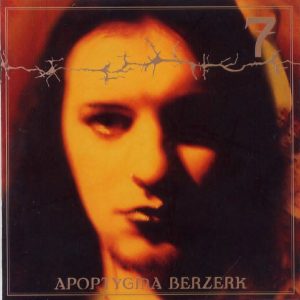 —No, not at all, but what you can hear traces of, is the fact that I'm starting to find my own sound. This is still 5 years before the phrase "futurepop" was coined.
—In "Mourn", is Kurt Cobain playing the guitar or is it just a sample from his version of "The Man Who Sold The World?"
—It's actually Kurt Cobain playing.
—Welcome To Earth is a record about extraterrestrial contacts, how did you get the idea for this? Musically, do you think that this album is harder than the previous one?
—I don't see this album as "harder" than any of the previous stuff. The main hit-single from this album, "Kathy's Song," is one of the "softest" songs released by APOP up till then. I've always had an interest in the extraterrestrial and the inter-dimensional, and this came up to the surface during the recording of this album.
—There are a few songs about UFO's, from Bowie's "Starman" to Hüsker Du's "Books About UFO's." Which ones are your favorites?
—I'm a huge sci-fi fan, so this is an easy and "given" topic to write about, and it also grasps the attention of so many people because it's such a vast theme. When it comes to "sci-fi/UFO" music, I've always loved the stuff our Swedish friends S.P.O.C.K do, a very serious topic, mixed with a great sense of humor!
—After a science fiction record you wrote Harmonizer, a very personal record about your divorce and the relationship with your daughter. Was the album a way of overcoming the situation? The change of style was to fit the lyrics?
—Actually, I think that Welcome To Earth and Harmonizer are very similar in style. Going through a divorce was extremely heavy, so writing Harmonizer was definitively therapy for me.
—The press said that you sold out, the same happened to The Cassandra Complex after The War Against Sleep. Do you think that the press most of the time can't understand the motivations of the artists?
—FAKE NEWS!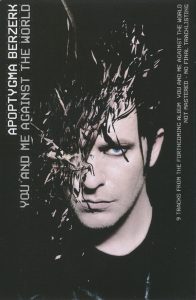 —You And Me Against The World from 2006, is your more "rock" album, and the most successful. Why, again, the change in style? You said that you wanted to sound in studio like you sounded live.
—Again, great spotted! Since the beginning we've integrated guitars and drums in our live set-up. The energy that is created when performing live is very hard to recreate in the studio when playing only electronic instruments. We always had a very special energy on our live gigs, and we wanted to catch this vibe and recreate it on record. This is why the You And Me Against The World album has more guitars and drums on it than the rest of the albums in our catalog. Also, at this time, most of the electronic music being released was totally boring. It was a vacuum, and I was tired of pure electronic music, so I wanted to do "something else." As an artist I have to be on the forefront and take things further, and I consider it my job not to go with the flow but to do something new and interesting. I always had one leg in rock music and one leg in electronic music. I grew up with Blondie, Ramones and Pixies, as well as D.A.F., Front 242 and Nitzer Ebb, so for me to integrate rock elements in my music is totally natural.
—In Rocket Science, your following album, you follow the style of the previous one, but your lyrics are about the novel 1984 and some conspiracy theory. Nowadays, there is too much disinformation, and it's really difficult to know what to believe. What's your opinion on the subject?
—Don't get me started! LOL! This could have been a separate interview all together. Again, you are totally right! The internet is flooded with information, and truth and lies are mixed up, and you need to educate yourself to be able to distill the real truth from it all. One of the goals with "Rocket Science" was to give people who were not into any of this a starting point of what to check out and what to investigate further. Hence every letter on the front cover of "Rocket Science" gives a separate clue, and it all leaves a trail of crumbs for the inquisitive person to follow. You yourself decide if you want to find out how deep the rabbit hole goes. R: "Illuminati" O: "The Statue Of Liberty" C: "Crowley/Parsons" K: "NASA" E: "DNA (Genesis 6)" T: "JFK" – S: "The Moon Landing" C: "Fallen Angels" I: "1984" E: "Cern" N: "MK Ultra" C: "Operation Paperclip" E: "Kubrick/Mind Control." We could talk forever about this, but this is a great start if you want to know what's going on!
—Another change of style occurred in the three EPs that were later reunited in Exit Popularity Contest. How did it happen? Were you listening to Tangerine Dream and Klaus Schulze back at the time? You got good reviews again, right?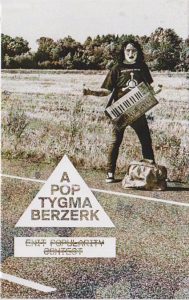 —Electronic music at this point was totally "all over the place and far from its roots," so I had to go back to the source, and try to find out where it all started. So I dove into my record collection and started pulling out classic electronic stuff from the 70's and early 80's. I needed to figure out why I fell in love with electronic music in the first place, and this adventure sent me on an analogue and modular synth bender! Tangerine Dream and Klaus Schulze are, of course, classic stuff that I love, and these albums together with material from Kraftwerk, NEU!, La Düsseldorf, Jean-Michel Jarre, Vangelis, Rolf Trostel, Mark Shreeve and Michael Garrison, inspired me to do Exit Popularity Contest.
—How is your label Hard:Drive going?
—Hard:Drive is not very active at the moment, but I have started a new label, Pitch Black Drive, that will carry the APOP releases for the future, both physically and digitally. So far, we've released the SDGXXV EP and the SDXXV album on that label.
—Sonic Diary from 2006 is a compilation album with most of your covers. How do you select a song to cover and what do you try to add to it?
—The covers that APOP have done, have in most cases been songs that have been important to me through the years, or songs that I've really liked and felt that I could add another dimension to by giving it the APB treatment!
—Your last album, released a month ago is SDGXXV, a new version of your first album, where you have worked with Ancient Methods, The Invincible Spirit, Portion Control, Clock DVA and Prurient. What can you tell us about the genesis of the project and how was it made?
—Yes, it's a "new version," or "re-recording", if you like, of the Soli Deo Gloria album. First off, we celebrated the 25th Anniversary of Soli Deo Gloria in November 2018, and we then reissued it on LP/CD remastered from the original tapes. During the work with remastering and repackaging this album, the idea came up to do some re-works or new versions of the old material. This very soon escalated, because we're not really the kind of guys that do things halfway, LOL! So, we started asking around for collaborators among artists that have been important for us, or influential along the APOP timeline, and before we knew it, we had a bunch of contributors that wanted to do this project with us. It took a lot more time and work than first anticipated, but with the finished product in hand, it looks and sounds amazing, so we're really glad we did this! If we'd had the connections we have today, back then, and if we'd had the equipment we have today, back then, then it feels like as if the album has been sent through a time machine from 1993 to 2019, and we believe that this is how it would have sounded if "S.D.G." was recorded for the first time now!
—When are you going to release new material?
—Before the German, Belgian and Norwegian tour dates in August.
 —You have worked with the music collective Bruderschaft and side project Fairlight Children. Can you tell us a bit about them? Are we going to hear from them soon?
—I'm too busy with APOP these days, so there will be a long time till I have any chance to do any side projects again.
—What can we expect of your concert at W-Festival?
—We've played in Belgium many times over the years, and we're happy to be back in Belgium again for this festival 🙂
We're totally impressed with the diverse line-up at W-Fest, and to be honest, if we hadn't played gigs in Germany the 3 days before, we would have loved to be there and watch a lot of our old heroes in action!