Few things so brutal and controversial have come out of Italy like the band Alien Vampires, which in five records has dragged us a bit more to Hell. We talked with Nysrok Infernalien, a few days before the band's concert at DarkMad Festival where they will be playing on the 26th of October. You will never look at nuns in the same way.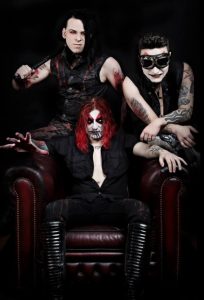 —Nysrok, you have been in some metal bands in the past (Aborym, Bloodline, Vermiin). How do you think your experience in black metal has been included in the sound of Alien Vampires?
—I have to clarify that I was a band member in Aborym. With them, I recorded and composed 3 albums: Fire Walk With Us, With No Human Intervention, and Generator. On Generator, I was the only guitarist doing lead and rhythm guitar, and keyboards. On the first album, Kaly Yuga Bizzarre, I did just the solos, but for sure I can easily say that I influenced the other members regarding the look, that's how the Cyber black started.
About Bloodline, I did the keyboards on the Werewolf Training album. With Vermiin, I recorded as a guest. Black metal will always be in my heart even if now I play other genres. Soon I will release my new projects Infernalien (death industrial) and Hell9 (evil trap) but the AV sound secret is all about the brotherhood with my blood Daryl/Nightstalker. We have been touring 13 years together sharing everything.
—How is such a radical band seen in Italy? I guess you don't have many fans in Vatican.
—I've been living in London since 2008, I can't say about Rome anymore. If you like, I can tell you about living in London, I can talk about my block Homerton.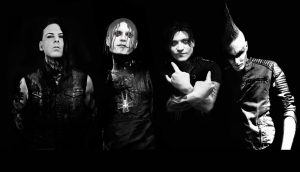 —How did the band start? At the beginning it was only composed by Nysrok and Nemesis, right?
—That's not correct: when I had in mind the concept about AV, it was around 97. I was in London, clubbing basically from Monday to Sunday, but, of course, the band started in the 2003, one year before I'm Dead Fuck You.
—EBM is an important part of your sound, and in DarkMad you are going to play with a lot of EBM bands. Which of them have influenced the band?
—I can't say influenced, but we were listening to Covenant, Apoptygma Berzerk, and Fields of the Nephilim.
—The first EP, I'm Dead Fuck You, was released in 2004. How was such a polemic artifact received in the day? I read a few good critics.
—We were too extreme for the scene at that time. After the release of Nuns Are Pregnant, every band started using religious and blasphemous or satanic symbols in the industrial scene.
—What is Evil Body Music for you, guys?
—Being aware of the reality, and the reality it's Evil.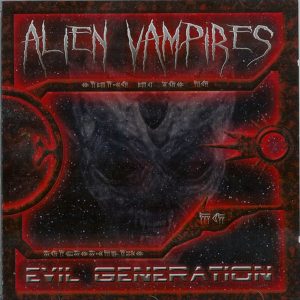 —In your first album, Evil Generation, there is a cover of Diabolos Rising's "Satanic Propaganda." Also, your songs usually speak about satanism. On a scale from 1 to 10, how would you rate your satanism?
—110
—No One Here Gets Out Alive, your second album, has been distributed in Belgium (like the other four) by Alfa Matrix. EBM seems to be huge in that country. The band has played a couple of times there, how was the response of the audience? I always make the joke that EBM stands for Electronic Belgian Music.
—The Belgian crowd is awesome. They love to dance, we want to play there again, and our label Alfa Matrix is the best.
—What do you have against nuns? They are cool, even Freddy Krueger's mother was one.
—We have nothing against nuns, we just think they should have fun and sex too.
—The album from 2009, Fuck Off and Die, has some really nice collaborations: In Slaughter Natives and Suicide Commando (who are also featured in Harshlizer). How did you meet them? The band has also remixed one of Suicide Commando's songs, right?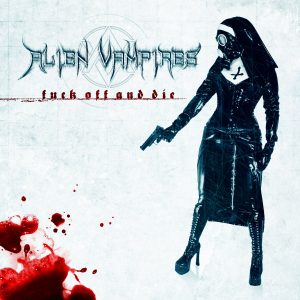 —We always liked both bands, they respect us, the collaboration was easy.
—Imagine that the band is by mistake invited to a Christian metal festival. What would the band do?
—Getting naked.
—In your album from 2010, Harshlizer, there is a song called "She's on Drugs (more than me)". It's not your first reference to drugs. Do you like to take drugs when composing your music or when playing live?
—Yeah, we love to experiment drugs while composing. In the past, we had some drugs on stage, the live was in Tijuana, we took the peyote… It was fun, we still laugh looking at those pictures.
—Clubbers Die Younger is the name of your EP from 2012. The sound of the band has included elements of trance, electro and techno. Do you consider yourselves clubbers? What kind of electronic music interest you?
—Of course, but the clubbers didn't die, hahaha. Any kind from power noise to trap.
—The band last album is Drag You To Hell. How do you think that the music of Alien Vampires has changed in these five records?
—Our music didn't change, just evolved. We can play anything, guitars, drums, etc… but our imprinting will be forever harsh. We will never regret anything we did, and we will always do whatever the fuck we want.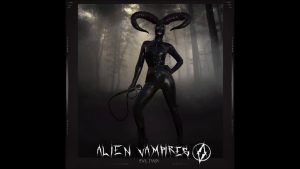 —Your last releases are two twins EPs from last year. What's the idea under this release? I mean, why two EPs?
—It's all about the duality.
—When are we going to have a new Alien Vampires record? What happened with London Paranormal?
—The new album will be released in 2020, but we might change the title.
—What's your favorite vampire movie? Please don't say Twilight.
—Blade.
—What about Speed Injektion, is it only a side project to do remixes or are you planning to do something else? 
—We want to release new material soon, but at the same time we want it to be special.
—How would you like Alien Vampires to be remembered? If you could write a few lines about the band, for, let's say Wikipedia or Allmusic, what would you say?
—AV were so damn Destrudo.
—How is going to be your concert at DarkMad? Any surprises?
—We will make everyone dancing.