We continue with the second part of our extensive interview with Ruben Montesco in which he talks about his project Anacronismo Industrial and his label Industrias Mekanikas. We will be able to see him playing at Specka on Sunday, May 30 as part of the monthly program of Femur.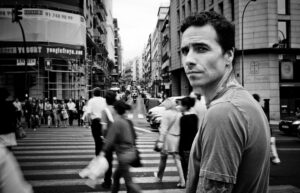 —Of all the remixes you've done, which one are you most proud of?
—You make it difficult for me because I have a lot of them, a lot. You've caught me and I wouldn't know which one to tell you. The one I was most excited about was a track from Douglas McCarthy's LP with Yasmin Gate. I was excited because remixing Douglas McCarthy is no small feat. It's not the one I'm most proud of because I would have liked to do more stuff, but due to time and all that, it was left as is. But that's the one that could stand out the most. Conde Cero has a remix that I did that I also liked a lot. And I also have to tell you that depending on the era, your perspective of one work changes with respect to another. There are remixes that I thought were great at the time and now I listen to them and I say to myself that the remix was not so amazing. And things that at the time I ended up being a bit uncertain of, and later I thought that the track was cool. Now that we're talking about it, a remix that I did for Veronika Nikolic, a very light music vibe, with a very low BPM that at the time seemed a little lame to me and over time I ended up thinking it was fucking great.
—And what are you looking to bring to the original with your remixes?
—To give my own soul. I think I achieved it the most when we did the tribute to Esplendor Geométrico, that remix in particular, is one of the most recent and one of the ones that has had more echo lately. It also depends, there are times when people ask you to do what you want or to do it in this or that line. When they give you carte blanche, you can get something like that. With the remix of Esplendor Geométrico, I tried to give a twist to what they do and take it to the dance floor. It's a challenge because they compose great tracks with a lot of power and what you try to do is to keep that power but take it to something parallel, the dance floor, with a rhythm that makes you dance, which is something they also do in such a tantalizing way.
—You told me that you had released an album as Depressor, do you want to tell us something about that?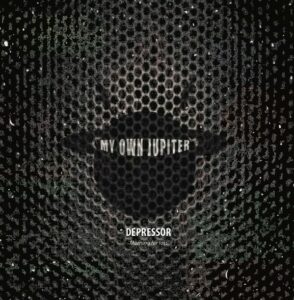 —I never said it was me. I haven't talked about it. It's a project that I wanted people to listen to without prejudices, without having a preconceived idea of who has made the album, because we have the habit of prejudging before listening. If someone did it, you don't listen to it, if someone did it, you will say that this is so and so. Besides, I wanted to tell a story, it's the work I'm most proud of, it's my top. It is a very special work for me. It is a project that I retake from time to time. It's born out of the need to tell something that I can't tell in any other way, which is melancholy, sadness. The only way I found to do it was that way.
—You also have a parallel project with Waje, called Anacronismo Industrial. How did you get the idea to set up this project?
—It came out of the need to do something together. Waje and I have a lot of connection, when we go to DJ, he knows what's in my bag and I know what's in his. We play very similar sets, I can play more EBM, more uptempo and he plays more experimental. We have a nexus of connection of many years, always in the same line. One day we said to each other, let's go to the studio and sit down to do something. I remember we went the first day and we made a great song that came out on the first Antikhrist Visions compilation. We did it in a couple of days. It's a very dark track, very hard, with a very slow cadence, very dense. That was the first track we did together, although the remix we did for Esplendor came out first.
—Do you have a method for composing between the two of you?
—The truth is that we go to the studio and we start playing. Sometimes he plays the drum machine, sometimes I play the drum machine. One of us picks up the synth or the other one picks it up. We put all the machines to work and we make sequences with the synths, the arpeggios. I have several arpeggiators or sequencers where we set up the sequences and try out different machines. There's no set working mechanics, but when we get to the studio we just start messing around.
—You have also remixed Nöle with his nickname Orlok 101, how did this come about?
—He asked us to do it. He wanted a remix of Anacronismo Industrial for his label Barro that was starting up and we were delighted to do it.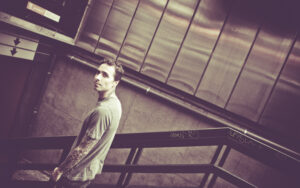 —On SoundCloud, we can find several soundtracks on which you worked. What can you tell us about this facet of yours?
—As I said before, I have many facets. I love making music and I make music of many different kinds. I love to make soundtracks, I love to put music to an image. Because the soundtrack in a film is often 50%. A music can give you a feeling of happiness, of being overwhelmed. I got there through some friends who made short films. At the beginning of 2000, I started to do some works for commercials with a friend who worked in a distribution company and we began to make small partnerships for commercials and short films. And from that point on, things started to grow. And at one point in my life I was doing a lot of soundtracks and a lot of ambient sound for short films. We were even in a film festival with La belleza.
—Which of your soundtracks are you most proud of?
—Each one has its own thing. The one for La belleza is one of the ones I like the most. The concept of that video is really cool. You can find it on YouTube. The voiceover is in French and talks about the concept of beauty. I also liked A la luz de las velas and Mentira Interna. I got some ideas for other projects because I did a lot of composition for those short films and there were things that were not used and I could develop in other projects.
—How did you get the idea of creating your label, Industrias Mekanikas?
—I always wanted to have my own label where I could release my music and the music I liked from others. The first serious attempt was, as I said before, with Sergio and it resulted in Actinium and Reactinium. What happens is that it is very complex when there are several people, each one has a point of view… In the end we started with the digital one as I didn't have the financial capacity … but finally we didn't manage to start the label physically and it stayed in digital. I wanted to do something that was physical, I didn't want it to be sold only on portals because I think that there is such a digital massification that your product is diluted between so many mails and so many newsletters. Then I said to myself: what have I done all my life? Work with vinyls: play them, and even sell them. I told you that I had my first store in 2000. So, I was going to continue doing what I always wanted to do. I sell digital on Bandcamp only and exclusively because I understand that there are people who can enjoy music in digital format. I've been thinking about making it physical only, but people who play digital music also have the right to do so.
—Do you think this is a good moment for Spanish labels? When I came back to Madrid, I was surprised by the large number of labels that I found.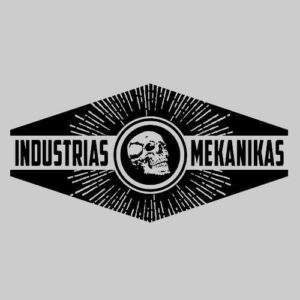 —Yes, in fact, I think we are living a golden age, an explosion like the one that happened around 15 or 20 years ago in some European city. People have lost a bit of fear and it is true that now it is much easier. Before, if you wanted to make two hundred copies of your production, the press factory would laugh at you. Now it's the norm. To give you an idea, two thousand copies of my first album were pressed. Before, the factories would press at least 500 records, they wouldn't accept less than that. We are talking about huge quantities of records. You needed a distributor to distribute them. There were many pros and cons that you would encounter before getting into that mess. With time that has changed, there are many distributors, small ones that specialize in genres and labels and you don't need to do it at that level and you can put out 50, 100, 200 or 300.
—And which of the current labels are you interested in?
—There are many interesting ones. JuanPablo with Frigio, in Madrid, is one of the most representative labels, within the genre that I usually play. Although I personally don't play much techno, I can highlight that Semantica has incredible records and has been making good music for years. There are many labels, you can go to Analogical Force, another label from here in Madrid known worldwide that sells an incredible amount of copies and we have it here. Labels that are doing good stuff, now you have Barro that makes very good music, you have Femur. In the store now, you can have a bucket of national Electro, or EBM or national industrial electro. Now you can make a bucket with labels because you have that possibility that didn't exist before. And that's only for Madrid. If we talk about Barcelona, there is a huge amount of labels there, you can get something, there are so many. The ones I have mentioned are from here, from friends we work with, we go out for beers.'
—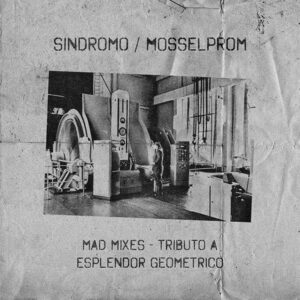 Your first reference was a remix album of Esplendor Geométrico. Have they been important in your musical career?
—It is a band that is an essential base of the avant-garde and underground electronic music in the country. It's a band that, after forty years, is still there. They get on stage and knock it down. I think it's a band that should be considered as a classic. They have been making really undergound music all their lives. Some people know them, some people don't. The purpose of that record was to bring Esplendor Geométrico to a lot of people of all backgrounds. The spirit of that album was to bring Esplendor Geométrico to the people who didn't know them, for me they are one of the most important bands of the national electronic scene. And they keep releasing great albums, one after the other.
—What do you like most about this band?
—Their rawness, their hardness, that tantric vibe they have when making the rhythms. They include what I mentioned before that I liked: that broken base, the industrial part. Besides, they are very hard and forceful. If you fit with that sound, they are very hypnotic rhythms and bases that are very well built. I really like the music of Esplendor Geométrico.
—Now, your label has 5 references. Which one would you like to highlight? In your opinion, which one would be a good introduction to someone who doesn't know the label?
—All of them have their own. In Antikhrist Visions the concept is to bring people music from known artists with others not so well known, newer people with people with more experience. I like that concept a lot. Another concept is what we did with Esplendor Geométrico: to take a group that we think is cult, an important group to highlight and bring it to the people, because whoever doesn't listen to industrial music may not have heard of Esplendor Geométrico. And unfortunately there are a lot of people who don't even know who they are. And you listen to a remix that comes from electro, one that's more uptempo like mine, more of a track or like the one Waje and I do, or Flavio's which is slower. And you wonder which band the songs are from. If you don't know it already, at least you investigate. Those are the special concepts. Then there is the classic concept: I like an artist and I release an album. But well, if you were to tell me one to highlight, I would say the first one of Esplendor Geométrico, which was made with a lot of illusion, it has had a lot of work and it is the one that has cost the most because it was the first one.
—What does the future hold for the label?
—Reference number six is already at the factory. It's an EP by Dark

Vector, with three original tracks by him with remixes by Assembler Code, Cosmic Force and Cestrian. In this reference we are going to go a little more into industrial electro. There will be a next Antikhrist Visions which already includes what we have done these days in the studio. We have another project with Fake Robotique, Waje and myself, called "The Holding Nuts." I'm preparing a new LP of mine which will be a big one, I don't know when I'll be able to finish it. I have a lot of proposals ready but with the pandemic the label has slowed down a bit. It had taken a lot of shape, it has been very well received by the people. Outside Spain perhaps we have had more repercussion than here, although here people know about it and follow it. But the pandemic has fucked us all up a lot and has put the brakes on many projects. And as the records cost a lot of money to make and sometimes it is very difficult to sell them, you find yourself in this impasse that, on the one hand, the label has not yet been consolidated much and it has also been noticed that it sells less. During these months of the pandemic, you realize how difficult it is to sell the records. It's a material that doesn't have much of a target audience, it's underground music, not for the masses, although maybe someday it will be. But it's hard to reach people, and even more so in these times when people can't go out and buy music, can't go out to listen to music in a club, and we've been locked up in our homes for a long time. If you don't go out of your area, you always listen to what you have at home and you don't discover anything new. For me one of the main sources of inspiration is when I go to see the guys in the clubs because I hear music that I don't normally listen to. Or they surprise me. There are those that don't surprise me at all because I have everything they spin, but there are many times when it's very gratifying when you go to listen to an artist and you say, what is this guy playing? And you don't even know him, which is a bonus.
—I imagine that having a label, you have to receive a lot of demos from artists who want you to release their music. What do you look for in an artist when choosing?
—That the music appeals to me, I don't know what the secret is, I mean many times there are demos that are sent to me that I love but have no place in Industrias Mekanikas. Although I try to have a broad spectrum and not limit myself too much, but people send me material that I personally don't see it within the style of the label. I'm even thinking about making a sub-label to release all this stuff because I receive material that doesn't have a link with Industrias Mekanikas but it's great music. I'm still thinking about it, but it means putting something out again from scratch, investing again. And we are in a situation to make a lot of bets.
—How is the whole situation created by COVID affecting you?
—It has affected me in almost every aspect, mainly on the financial level, which is where one suffers the most. Money makes it easier for you to maintain those projects and develop them. The second problem: leisure. If people don't go out, don't go to concerts, don't go to theaters, you just stay at home. As we said before, there are few people who get involved in researching, in discovering new music. In the store, we notice it very clearly. People don't come so much to buy, the little time they have is invested, naturally, in being with friends or going down to the bar for a while because they can't do anything else. If you go shopping, you don't have time to have a beer with friends. You get into a vicious circle that we are not prepared to live in, at least in Spain. We are not used to being at home at ten o'clock. We are a culture that likes leisure very much, to put it nicely. So if people don't have that capacity to go out to listen, to enjoy, to go to a club, to a concert, we limit ourselves lots and it affects us all in a direct way because I don't go to the clubs, I don't go to play, I don't go to DJ. People don't buy records like they used to. One thing leads to the other.
—What can we expect from Ruben Montesco in the future?
—Those of us who are artists have many projects in the air. Some of them are carried out and others are forgotten forever. Those of us who are musically restless are always looking to see if we can meet up with someone in the studio, to see if we can do something, whether it's with JuanPablo, with Nöle… I love doing collaborations. I really like when I go to play with people that we have a nexus to do a back2back because it's super fun, each one surprises you with a story and see who gets the best records. You get into a game that is really cool. It's a little bit the same with production. When you get together with someone and produce and there's a good connection, really cool stuff comes out. That's always in the air.
—And how have you handled not DJing during the first months of the pandemic?
—I've handled it terribly.
—Although in the last few months we have been able to see you playing in several clubs, especially at Specka, what can you tell us about these experiences?
—The times I've played I've done it with great enthusiasm, as if I were back at the Tresor in Berlin. When you spend three or four months without DJing, the truth is that many times you do it out of the need to play some records with some friends, have a few beers and listen to music. You're not looking for money. Many times you don't care. We all hope that with time, this will be forgotten. Just like now I almost don't remember when I used to go to a club until six in the morning, which now seems to me like it was in another life. We are so used to this situation that we have forgotten how it used to be.