Born in Madrid, Carlos Volta started collecting records when he was quite young, already showing his preference for non-commercial music, and choosing instead a darker and more industrial sound. 
His beginnings as a professional Dj can be found at the end of 1987 and early 1988, when he starts working as resident Dj in the Nosé… Nosé club… later renamed Ritual. He started working in this place thanks to one of the DJs of the famous club Voltereta, placed at the Pza de los Cubos in Madrid. Thanks to this DJ (Marcos), he was recommended to start playing some long sets of electronic music, both during the night hours and in after hours sessions. His DJ sets included the best of E.B.M, Synthpop and Industrial of the time. As an anecdote, let's say that his nickname Dj Volte came from Marcos, the Dj of the legendary club Voltereta who recommended him to play at Nosé/Ritual, because he knew very well the kind of music that he included in his sessions. Later, he changed his nickname to Carlos Volte.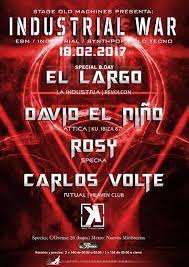 His residency in Ritual finishes in 1991, as he started working in his first tracks as producer in his little home studio with a Atari 520ST, a Kawai keyboard, a Roland R5 drum machine and a Mpc 2000 sampler. In 1992, he finishes his Initial Command album, which included eight experimental tracks with a dark sound. This changes completely his concept of electronic music and was the beginning of what would come later as composer and producer. 
He put aside his djing until 1998, when he is back thanks to the people from the famous Heaven Club, that trust him again to play his music in evening and night sessions. From those days, his impressive and exclusive sessions of Dark Electro and Industrial really stand outs. He plays every Friday and Saturday underground sessions, dedicated to people with a taste for non-conventional music. During one of these industrial sessions, he met Marcos.C, and found the opportunity to create a new musical project. That's how the Dark Industrial act Dioxyde was born.
A project that he would never have dreamed that could have the repercussions that it had in the Electro Dark Industrial field, both nationally and internationally. The band started to play in Spain and abroad and had the opportunity to share stage with some famous bands of the Dark and Industrial scene.
Thanks to Torben Schmidt, universally known for his label (Zoth Ommog Records), they had an offer to record their first album, entitled Torschlusspanik. It reached the first places of the most important charts in Germany, Holland and Belgium, giving them the opportunity to play in festivals and concerts everywhere in Europe, together with top bands.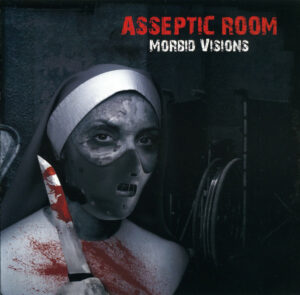 Meanwhile, from 1999 to 2006, Carlos had the chance to combine his sessions as resident in Heaven with DJs sets in different clubs of the dark scene in Madrid. In 2006, he decided to leave Dioxyde to focus on his own solo project Asseptic Room. That year, he signed with American label Dsbp Records and released his first album Morbid Visions.
In that moment he decided to put aside his career as DJ to dedicate himself entirely to his new musical project and personally to take care of this spouse who was suffering from a terminal sickness. During these years, he continued doing some remixes for other bands of the electronic and industrial scene.  
In 2011, he signed with Advoxya Records and released his second solo album Visceralofobia. They were very difficult years personal-wise and that can be felt in the tracks of the album.
Years later, he had the opportunity to collaborate with the label Cold Beats Records, being part in the production and mastering of diverse artists of the Minimal scene. Let's highlight his works for: L'Avenir, Peine Perdue, N01R, Alessandro Parisi, Sleep Museum, and also his mastering of some compilations of the label. Currently, we have to point out his session in the legendary club Specka where he has shared the booth with some of Spain biggest names: David El Niño, El Largo, Rosy, Fran Lenaers, Waje, Nando Dixkontrol, Angel ADR, Axel Heyer.
In 2021, he released a double album entitled Extinction or Reawaken, that is considered his biggest work where he showed all the knowledge from an artist that has been involved in music since very young and dreamed that one day he would be singing and playing his music to the public. A daring Dj, always looking for risky and non-commercial music. Always doing his thing. 
It will continue…