Even Ronald Reagan would have forgotten the Cold War if two gigs like these two ones had made a stop in Washington during the eighties. Next 2nd of October, the Russian post-punk band Motorama will play in Madrid while also from Mother Russia, Human Tetris will bring their music to Western Europe, with a concert on the 20th of November.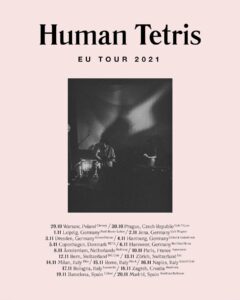 Motorama is one of the most interesting post-punk bands of the moment, with five great albums recorded. Last Summer, due to a technical issue or maybe a hacker attack, one famous e-commerce company started selling their first four albums for 1.30 pounds each, shipping included. So we bought almost all the band's discography for a fiber. From Alps to Dialogues, you can find a fine collection of well-written tracks, well played and with a lot of good taste and sensibility. Reading about the first time that they played in Madrid, during the Sónida Festival from 2013, I read in Indiespop, that they were the only Russian band they knew. Almost ten years later, we can easily name ten groups. And this is partly thanks to Motorama.
And in this list, one of the first bands would be Human Tetris as in November it will be the third time that they play in our country. Their debut album was released in 2009 but it took them three years to release their first full album, Happy Way in the Maze of Rebirth. The band split up during a few years, but they returned in 2016 with a new EP and another LP, 2018's Memorabilia. This winter we want to shout: Russians are coming!