Today, synthwave artist aux animaux is publishing her new EP, titled Stockholm Synthrome, where we can find four new songs and a remix. All the tracks have been coproduced by aux animaux together with Jons, former member of the band, and a couple of them were mixed by Alex Svenson from Then Comes Silence. As we told you in our long interview, this is the second work of the Turkish artist now living in Sweden, after Black Hole EP from 2018, where she is using the theremin for the first time as before she was playing it only live. You can listen to it and buy it here.
The cover of the album with colors and an aesthetic reminiscent of the eighties gives us a clue of what we are going to discover. "Stockholm Synthrome," the song that names the album, is a synthwave fantasy, that could sound in any Electric Youth's album, but made with a really good taste and a lot of darkness. It's a nocturnal and elegant track, with an incredible vocal work.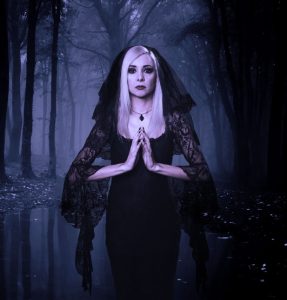 "The Gaze" is, without any doubt, one of the best songs that aux animaux has written till the date. It's one of these tracks where everything seems to fit, both synths and voice take you to another world of endless motorways and neon signs. It could be a perfect soundtrack for the Stranger Things series. Together with the original, there is a remix by Dutch artist Hauswegian that really takes it to a new dimension. Where we could find pure beauty and serenity, here we find a lot of voices with effects and frightening sounds. It could be a perfect tune for a club of a dystopian future, like the one that seems to be waiting for us when this lockdown finishes. We continue with "The Unraveling" that follows the path of the first song with a more electro sound.
"Phonophobia" was already released last year as a single, and it's another giant step in the evolution of this artist, a wonderful track, close to dream pop, with a very passionate interpretation by aux animaux where the artist talks about a hearing disorder she suffers. The lyrics are another of the strong points of the record. They cover a wide range of topics, like feeling lonely in a big city ("The Unraveling") or how we accept everything that politics say ("Stockholm Synthrome"), something that we should think about specially in these moments.
We have really enjoyed this EP and found it full of potential. During a DJ session in a local radio a few days ago, we played "Phonophobia" and the listeners really liked the song. With normal radio play, this EP could be successful. The bad news are that we won't be able to see her live at the W-Fest, as the festival is officially postponed till next year. We were really happy of her gig having been moved from the VIP stage to one of the main ones, but because of this damned Coronavirus, we won't be able to see her live this year. Meanwhile, let's listen to these songs that are going to make lockdown a bit less painful.