"Doc" just jumped off the DeLorean and shouted to me: – "Marty, we have to travel to 2019, your lineage is in danger AGAIN." As I got in the car, he told me that the only child of Marty Jr had just one chance of finding love at the W-Fest that was going to take place in Belgium. – "What about Marlene?" I asked. – "Well, Marty, she likes girls… The only way to secure the continuity of your family is making Marty the 3rd meet Lorraine, his future wife, during the festival. Some alterations in time had created the possibility of them not falling in love and Marty becoming a lonely and regretful man. I have some files that you should read before going to 2019".
THE FOREIGN RESORT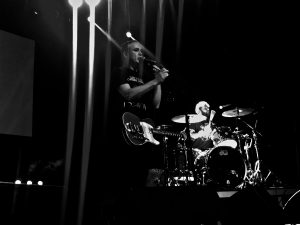 When I arrived at the W-Fest in Belgium, I was surprised that everybody in the future looked like a Goth. I started looking for my grandson, but the first band, The Foreign Resort started. I was amazed by the quality of the band. In the past we don't have acts that excellent. They started with "Obsessing", and had an outstanding sound. They continued with "Hearts Face Out" and "Suburban Depression" (in this song the bass player changed instrument with the guitarist). We had the luck of hearing a new song, "She Is Lost" and some superb guitar playing. Another great tune, "Flushed", was followed by "Dead End Roads" (with a stunning beginning), "Outnumbered" and "Dark White" (where the band changed instruments again). A truly amazing concert. In the public I recognized, from the files I had to study, the people from Then Comes Silence, really enjoying the concert.
JE T'AIME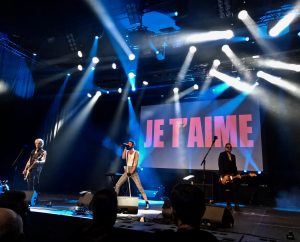 I could not find any of the persons I was looking for, so I decided to enjoy the next concert. Je T'aime is a phenomenal French post-punk trio that was brought in as a replacement for Desperate Journalist whose drummer was injured. They were missing from my files so the surprise was even bigger. Modern post-punk with some vocals that could remind you of this young singer, Robert Smith. They played songs from their first album, just released: "Millions Suns", "Fuck Me", "Hide and Seek". The singer, Dany BOY, told us that one of his friends killed himself some time ago, and started playing "Merry-go-round". For "Watch Out!" the bass player played electric double bass. The set finished with the single "Spyglass" and the final "Dance". Amazing.
KOWALSKI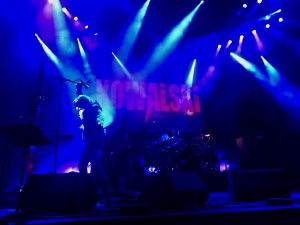 Finally, I saw my grandson in the first row of the following concert: German avant-garde band Kowalski. I tried to reach him, but the sound of an angle grinder stopped me. I guess Einsturzende Neubauten were not the only ones doing it. Kowalski released a classic album in 1982, Schlagende Wetter, a work that I, sadly, did not know at the time. The concert included some new tracks from the new album, released last year, and some from the old one, like a very powerful "Stahlmaschinen". The singer had some small problems with the mic, but in general, it was another great concert. I really loved the industrial touch of the band. 
LAVVI EBBEL
As people started moving to the following stage, I lost my grandson. OK, maybe he went to the toilet. I moved to the first rows of the second stage and there I saw Lorraine. I started talking with her, and she was really nice. She asked who played before in that stage and I said: "Je t'aime". She flushed and smiled. In that moment, the Belgian new wave band Lavvi Ebbel started playing. "No Place to Go" was the first song and they continued with "Morning Light". One of the best moments of the concert was "Victoria", one of their hits from the 80s. The band seemed to be having fun, and this is something that the public notices. The set continued with "Much a Do About Nothing", "Stand Up and fight", "On The Telephone". The concert finished with a very good cover of Talking Head's "Psycho Killer".
PINK TURNS BLUE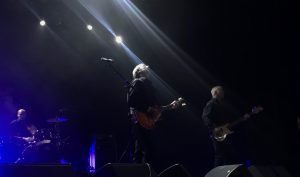 As I was waiting for Lorraine while she was going to the toilet, I saw my grandson going to the Cave Stage. It was the time of Pink Turns Blue. They delivered some "calmed intensity" as I would call it. Starting with that incredible song "Something Deep Inside", their set included "Burn", the classic "Walking on Both Sides" and "I Coldly Stare Out". I enjoyed so much the concert that I forgot everything about my grandson. It's impossible not to get into songs like "After all", "Missing You" (with a very Joy Division guitar), "Can't Be Love" and the amazing "Your Master is Calling". Another fabulous concert.
PETER HOOK AND THE LIGHT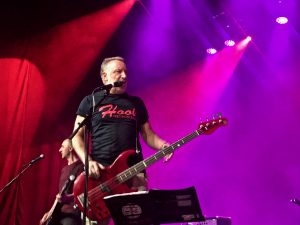 I managed to get close to Marty, but he went really fast to the other stage. I followed him and reached the first row of the concert with him. What a spoiler! Peter Hook left New Order! I realized that he was wearing a Joy Division T-shirt with the cover of their first album. I spoke to him: – "Wow, a very original T-shirt, where did you get it? He looked at me with a funny expression but at this moment, Peter Hook, started playing and he seemed to be in a real good mood. The first part of the set included some Joy Division classics: "No love lost," "Isolation", "Digital", "She Lost Control", "Shadowplay" and "Transmission". The band was really good and Mr. Hook also gave an incredible performance. After the sombre songs of JD, it was the turn for more dance material, and he started with "Blue Monday" (recorded with the mobiles by a lot of people), "Regret", "Truth Faith", "Temptation", "Ceremony" and a final "Love Will Tear Us Apart". What a setlist!! At the end of the concert, Marty finally spoke to me, but he only said: "It was incredible!!!"
WHISPERING SONS
My grandson also wanted to see the following band: he told me that Whispering Sons were getting really big and that this was the right time to see them. The band is amazing but I was really impressed by the singer Fenne Kuppens, who dressed completely in white, sang every song as they were the last song she was going to sing. A lot of people had gathered to attend to this concert. They played, with a great intensity some of their songs, such as "Got a Light", "Alone", "White Noise", "Performance", "Skin" or "Hollow". They finished with the very acclaimed "Wall" and "Waste". Really good.
RED ZEBRA
I went outside with my grandson to try to find Lorraine, I used some excuses to go outside, there was a band, DaGeist, playing every day and I wanted to see them. Anyway, he wanted to see Red Zebra so I had to follow him. For this concert, they invited some guests to play with them. When we arrived, they were playing "Shadow of a Doubt" (with a snippet of "This Is Not a Love Song"), which was followed by "I'm Falling Apart" and the classic "I Can't Live in a Living Room". Among others, we could enjoy "Ultimate Stranger, "Man Comes From Ape" (where the singer, Peter Slabbynck, ate a banana), "The Art of Conversation" and a cover of The Sound's "Missiles". The concert came to an end with "God is not a DJ" and "Innocent People". Really brilliant.
ASTRASONIC
I went outside to see if Lorraine was in the open-air stage and to see the beginning of the concert of Astrasonic. They were still doing the soundcheck and my grandson wanted to see the following band on the main stages.
APOPTYGMA BERZERK
Still no sign of Lorraine but one of the bands that Marty wanted to see was going to start. They are one of the big names of Future Pop: Apoptygma Berzerk. The band started with "Weight of the World", "Unicorn", and soon arrived one of the moments of the festival: "Love Never Dies" (this would have been the perfect moment for the couple to know each other). With a very powerful beginning "Non Stop Violence" made everybody start dancing. It was impossible to stop with songs like "Battle for the Crown, or"Kathy's Song". They also played "Eclipse" and the concert finished with a great ending with "Until the End of the World". That was serious fun.
CHINA CRISIS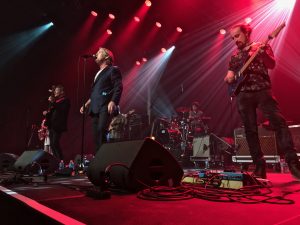 Finally, I saw Lorraine, but my grandson disappeared, I don't know how. Bad luck! I came close to her and asked where she was before, she said that she was not really interested in goth music. She had stayed during the last hours outside dancing in a stage with a DJ. But she returned because she wanted to see China Crisis and me!! The band started with "Tragedy and Mistery", with a sound more organic than the one I remember (I bought the album a few months ago, when it was released). The singer, Gary Daly, the epitome of class, appeared with a fan. Perfect example of the sophisticated sound of the eighties, they continued with "African and White" and No More Blue Horizons". The singer said that he wanted to play some reggae and started playing "Strenght of Character". Another great moment was during "Black Man Ray" although Lorraine tried to hold my hand. I went to have a drink to avoid having problems, and from the bar, I lived a really magic moment with their "Wishful Thinking". The band continued with "King in a CatNewholic Style", "Working with Fire and Steel" and a final "Christian" where the public put the lights on their telephones on like we used to do with lighters. Amazing.
NEW MODEL ARMY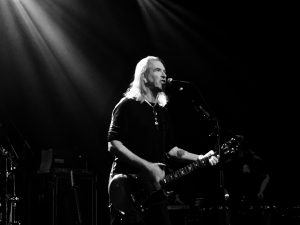 I managed to make Lorraine stay during the next concert. She knew some of New Model Army songs and was OK with staying. People were still coming and I managed to get close to the stage. There, of course, I found my grandson. I introduced them just in time to see "Stormclouds", the first song of the band and a perfect beginning. "Winter," the following track, sounded phenomenal live (I saw another of their concerts, a few years ago and they were also amazing). After that, they continued with "Island", and some really good songs like "51st State" and "Angry Planet".  The end was really epic with "Here Comes the War" and "Green and Grey". It was a marvellous concert of a fabulous band, and I managed to make Marty and Lorraine talk!
JIMMY SOMERVILLE
Things were not easy and my stupid grandson did not want to see Jimmy Somerville. He left Lorraine and me before the singer famous once red-haired singer started. Still doted with his characteristic voice, Jimmy played songs of all his career, starting with his cover of "You Make me Feel (Mighty Real)", some Bronski Beat songs ("Why" and the famous "Smalltown Boy"), a couple of Communards originals ("Tomorrow" and "You are my World") and, of course, the covers that made him famous: "Never Can Say Goodbye," "Don't Leave Me This Way" and a final "I Feel Love" that was played with the chorus of "Highway to Hell". Fun.
AND ONE
It was the last concert of the day, and I managed to keep Lorraine with me. My grandson appeared and we got ready to dance. And One started with "Shouts of Joy", the classic "Get you Closer", and "Metalhammer". For the people who had been at the festival for five days, I think this concert was perfect. The band displayed a lot of energy that made everybody dance. Even Lorraine was really surprised and totally amazed by Steve Naghavi's way of dancing. They played their cover of Project Pitchfork, and the drummer sang "High" in one of the best moments of the night. They continued with "Sometimes", "Second Voice", and had an incredible ending with "Military Fashion Show", "Steine Sind Steine" and "Killing The Mercy". The singer, before leaving, made a joke: and now, next band is Skinny Puppy! My grandson and Lorraine laughed while looking at each one eyes. The festival and my mission were completely successful.
Time to go back in time.