Photos: Patrice Hoerner
Thursday at W-Fest was a very special day for me as I was finally going to get to see Squeeze, a band I had always liked and had never had the chance to see as they don't play much outside of the UK. Alongside them Lightning Seeds were another band I wanted to see as the only time I had had the chance to see them, the festival had been cancelled due to bad weather. Sadly, the crowd didn't share my enthusiam and it was the least crowded of the four days we were there.
T'Pau
We didn't know T'Pau from before, so we were curious to see what she had to offer. She appeared with five musicians on stage and began with "Small Talk", which we thought was a good way to start the concert. T'Pau still has her good voice and has quite a lot of stage presence. They continued with "Thank You 4 Goodbye" and "Island", with a great performance by her. The next song, "Valentino" was a hit in its day and T'Pau sang it with passion while "Secret Garden" sounded like good eighties pop. During the performance of "Whenever You Need Me" she told us that she had shared the stage with Bloodhound Gang and had been shocked by their explicit lyrics as she was with her daughter. The ballad was followed by a more up-tempo track, "The Promise", and was followed by a new track from her fifth album, "Read My Mind". Another of his hits was "Bridge of Spies" which she played next, much to the delight of the audience. She continued to string hits together with "Heart and Soul" which was chanted by the audience and we were already writing that we thought the concert was pretty good before she started her big hit "China in Your Hand". Another great performance for a very good ending.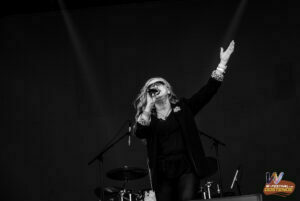 The Animals
When I was 20 years old I used to listen to The Animals, so I already knew the songs that followed. The biggest attraction of the concert was seeing John Steel, drummer and only member of the original band. They started with "Baby, let me take your home" and the popular "It's my Life", which was well played. After telling us that they now had a new keyboard player, they continued with a Jimmy Reed's song, "Bright Lights, Big City". Danny Handley, the new singer and guitarist doesn't sing badly and is pretty good on guitar, but it's hard to get away with a comparison with Eric Burdon. They played my favourite song of the band, "Crying" and followed with covers like Sam Cooke's "Bring It On Home to Me" and "Don't bring me down". We got to the big hits with "Don't Let Me Be Misunderstood", perhaps their second most famous song. The concert continued with "Night Time Is the Right Time", a blues with a guitar solo by the singer, and "We've Gotta Get Out of This Place". As an encore we had the legendary "House of the Rising Sun" and, as an anecdote, John Steel told us that he had been in Ostend in '62 and had slept on the beach.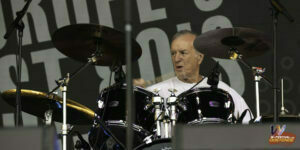 Soulsister
With Soulsister there were no less than eleven musicians on stage, including saxophone and trumpet. They are a Belgian pop-rock band that had some success in the eighties. They started with "Throught before we started" and continued with "Facing love" with their upbeat pop/soul. They followed with "Ain't that Simple" with trumpet solo included and "Something I need to know". The ballad "Changes" was the tender moment with a little duet with the backing singer. The vibe continued with the opening guitar solo of "Locks and Keys", with snipet from "Riders of the Storm". The guitar took the lead vocals for "Like a mountain", and followed with "Company", "Sweet dreamer" with a very soulful beginning and, already by the drum rhythm, we guessed that their hit was coming: "The Way to your heart" is happy and contagious eighties pop. They joined the song with "Tell me what it takes" and after a few minutes they came back for an encore which was the song "Broken".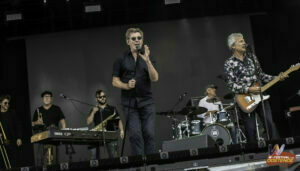 Paul Carrack
I used to make jokes about Paul Carrack because in the eighties he was very prolific. Apart from his career with Ace, Squeeze or Mike & the Mechanics, he appeared on records by Roxy Music, The Smiths, Nick Lowe or The Pretenders. At times it can give you the impression that, if you hear a keyboard on record from our "golden age ", behind it you will find our good Paul. The Sheffield-born singer came out with five musicians and got off to a pretty powerful start with "Hear Me Running" in which we had a sax solo. What would the eighties be without sax solos? He then picked up a golden guitar to sing "Don't Shed a Tear" and after talking about his former bandmates of Squeeze, he played their biggest hit, a "Tempted" which he heard again later. He continued with "Eyes of Blue", a slow song after which he took to the piano and showed us that he still has a lot of soul in his voice. He talked again of his old mates of Squeeze to present "Bet your Life", another blue-eyed soul song. It was time to introduce the band, who each played a solo, and we continued with another hit: the popular "Living Years" by Mike & the Mechanics, which was very well received by the audience. He followed with "You Make Me Feel Good" and remembered Ace, his first band, with "How Long", which was also his first composition. From there he moved on to the Mechanics again for the famous "Over my Shoulder" and finished with "Walk In the Room". Pretty good.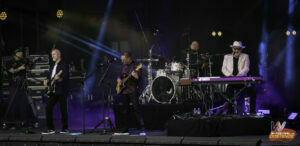 Lightning Seeds
I was really looking forward to seeing Lightning Seeds because I listened a lot to their album Jollification back in the day. They came out in a quintet formation and the papapá of "Marvellous" already warned us that we were going to have a session of good pop. They were warming up little by little; already in "Ready or not" they were in their element, and "Change" was their best. They continued with "Sense", one of their prettiest tunes, "All I Want", another nice pop song and a Kinks-flavoured composition I didn't know called "Feeling Lazy". And then it was time for the hits: first a very well-played "Lucky You", then "Perfect" with a heartfelt rendition and a cover of Wreckless Eric's "Whole Wide World" (of which I had just bought a 7″ that day), which sounded powerful and won over the audience. They followed with another version, "Showed" me with a more triphop rhythm (remember it was recorded in the nineties) and their most energetic song "Sugar-Coated Ice". To finish they had left two of their best songs: "Life of Riley" which was one of the best moments of the festival and "Pure", with which they reminded us that they already existed in the eighties. Thirty-three years later they still manage to move us.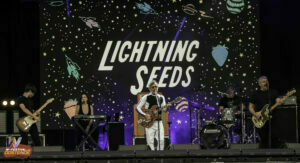 xPropaganda
A lot has changed since our first lukewarm xPropaganda review. Back then they were called Duel and although I suppose they haven't changed much in live performances, if memory serves us correctly, we have been discovering more and more details in their music and we have enjoyed them more and more. Besides, they were presenting new songs, something we don't usually see in this kind of festivals. They started with a powerful "Dr. Mabuse", one of their greatest hits, which served to warm up the audience and was, without a doubt, a great start. They followed with a cover of "Sorry for Laughting" by the unjustly forgotten Josef K, which they brought perfectly into their territory. As a new song they played "Don't Mess Mith Me", which was followed by the classic "Murder of Love". "Dream Inside a Dream" was, as the name suggests, a oneiric track, with great atmosphere and good guitars. "Beauty is Truth" was another of the new tracks, with a danceable but enigmatic rhythm like the band's music. A beautiful sky was drawn over "Frozen Faces", a strange but magnetic track, like dance music for aliens. We continued with the novelties with "The Wolves are Returning", another danceable and mysterious track. They showed us their pop side with "Duel", one of their most famous songs, and the finishing touch to such a great concert was the magnificent "P-Machinery".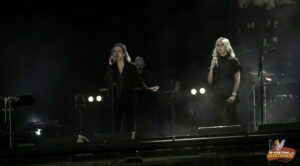 Squeeze
And then came the long awaited moment. Squeeze started with the trotting rhythm of "Take me I'm Yours" and then they fulfilled one of my dreams: to hear "Up The Junction" live. I had seen Glenn Tilbrook live in an acoustic concert a few years ago, but to my bad luck he hadn't played it so I finally got to hear it and, moreover, with a full band. After this magical moment, they followed with the energetic "Hourglass" with a great performance. In "Slap & Tickle" the one who surprised us was the keyboard player, with his funny way of playing an already quite martian keyboard part. We also had a great guitar solo. Like xPropaganda they also played new songs, like "Cradle to the Grave" which came next. Although it has a trite name like "Is That Love", we got another fun pop gem with great vocal interplay that preceded the now slow and sweet "Labelled with Love". Before starting the very country-appropriate "Pulling Mussels (From The Shell)", Glenn commented that he had felt sick after eating at the Japanese restaurant across the road. We don't know if he was joking or serious, but shortly before the end of the concert he repeated the anecdote. They continued with the classic flavour of "Annie Get Your Gun" and "Tempted" which we waited until the last moment for Paul Carrack to come out and sing it. But, sadly, it wasn't to be. Chris Difford came on vocals for the legendary "Cool for Cats", the title track of what for me is their best album and we had another great moment with "Goodbye Girl". They finished with "Black Coffee in Bed" with a steel guitar solo, a snipet of "Stuck in the middle with you" and solos from the rest of the musicians. It was a great concert, although we would have preferred to hear another song instead of so many solos.