Photos: Patrice Hoerner
Saturday was our fourth and last day of the festival, as for work reasons, we had to miss the last one. It was something we regretted because we would have loved to attend Holly Johnson's concert and see Heaven 17 again, but we hope to see them in a future edition. Saturday was a great day of eighties pop, whose most notable concerts, for me, were those of Deacon Blue and Cock Robin, who really exceeded our expectations.
Cutting Crew
Confession time: I was a big fan of Cutting Crew in the early nineties. A friend lent me their third album, Compus Mentus, and I fell in love with their melodic ability and for a long time I considered them one of my favourite bands. So I went early in the morning eager to see how they would sound live and compare impressions with my seventeen-year-old self. Quite a few people had already gathered to see the London-based band who, although not bad, I think should believe more in their songs and play less covers. Especially when you have a fifty-minute set, playing two songs by others doesn't seem normal to me. "Everything But My Pride", "Life In A Dangerous Time" or the lesser-known "(Another One Of My) Big Ideas" or "Frigid As England" would have been well received by the audience who, surely, have some of their first albums at home.  But let's move on to their concert. They started off very well with their "Any Colours" which my early nineties self received with great satisfaction. They followed with some of their famous songs like "One for the Mockingbird" in which they proved to be in great shape and the Grammy nominated "I've Been in Love Before", which created a nice moment. Then they made a stop at their 2006 album, Grinning Souls, with a touching song about the singer's daughter called "No Problem Child". Next, we had two covers: one of REM's "The One I Love" with reggae interlude and one of Arcade Fire. We had a song from their album Add To Favourites, called "Berlin in Winter" in which one of the percussionists from Heaven 17 sang with them. And after a long and passionate guitar solo came the big hit: "(I Just) Died in your Arms", which was chanted by the audience and by a young voice that sounded in my head.

Londonbeat
After a fun soundcheck with "Smoke on the Water" and "(You Gotta) Fight for Your Right (To Party!)" the members of Londonbeat appeared, the three main ones on vocals and four on instruments. The R'n'B group became very popular in 1990, but they had already recorded an album and several singles in the previous two years. They started with a song we didn't know, "Back to my roots" and already with the second song they warmed up the atmosphere well as it was their big hit: "I've been thinking about you". They continued with "Read between the eyes", a song from when they were called New Londonbeat in which they proved to be quite funny. They also played a couple of covers: first Mark Morrison's "Return of the Mack" and at the end a "Stand by Me" which began a cappella and featured an interlude from "Every Breath you take".  As for their own material, they played "You Bring on the Sun" from their '92 album and "J-Lo" and "All Eyes of You" from 2003, the latter with the potential of a good single. Although the audience didn't seem to know the songs, the band managed to keep them from getting bored. The "ballad moment" came with "A Better Love" and they looked back to the eighties with "9.00" which was their second released track. After the positive message of "Build it with love", came the cover of "Stand by Me" after which they introduced the band and said goodbye. Much better than expected.

Arrested Development
Although I admit I'm not a big hip-hop lover, I enjoyed the two concerts I saw at the festival and I think it adds some variety to the line-up. So, if they continue with one or two artists from the genre per edition, that's fine for me. In Arrested Development we have three MCs (one of them at times on the turntables) and four other musicians who gave us a very pleasant concert. They began with songs from their latest albums: "Swing Um" and "Back Down", but soon focused on their 1992 album, the celebrated 3 Years, 5 Months and 2 Days in the Life of…, from which they took no less than eight songs. We listened to "Give Man a Fish", the fun "Dawn of the Dreads" and the powerful "Fishing for Religion", which featured a great vocal performance by the female singer. The feisty "Bloody" was followed by a medley of songs from the golden age of hip-hop and the positive rap of "Mr. Wendal" with guitar solo. They returned to 1991 to play their first single "Tenesse" which was followed by "Mama's always on the Stage", dedicated to the mothers in the audience. There was a freestyle moment and they finished with their biggest hit: "People Everyday".

Deacon Blue
Since it looks like I'll never get to see Prefab Sprout, I'll content myself with having seen Deacon Blue. Actually, after their concert my opinion of the band, of whom I only knew When The World Knows Your Name, improved quite a bit. The six-piece band gave a masterclass in elegant pop that began with "City of Love". They commented that they hadn't been to Belgium for a long time before continuing with "A Walk in the woods" and a very good rendition of "Fergus sings the Blues". With "Wages Day" the concert gained in intensity and we had a great tender moment with "Chocolate Girl". They continued with "The hipsters", a good song that I didn't know and that also had a great performance by the whole band. One of the highlights of the show was the famous "Real Gone Kid", which sounded great and was followed perfectly by "The Believers". Ricky Ross was fantastic in the powerful "Your Town" and they finished an excellent last part with another great song: "Dignity". A fantastic concert.

Cock Robin
Cock Robin was another band I listened to as a teenager and never thought I would ever get to see live. They appeared in quartet format with Coralie Vuillemin at the keyboard creating the captivating atmospheres of "Straighter Line", a song I didn't know but which I loved. Two highlights of the concert were "Thought You Were on My Side" with Coralie singing alone at the beginning and "Merry As We Go". The two singers were left alone at the keyboards for a heartfelt version of "Around The Corner", with Peter Kingsbery singing with great passion. Well, to be honest he showed an incredible passion during all the concert. They continued at the top with "When Your Heart Is Weak" and we kept flying with them with an immense "The Promise You Made" that made the sun come out again for a few seconds. After a long ovation, they left. A very good concert.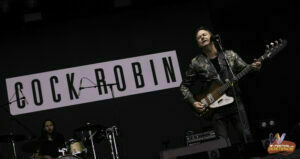 ABC
The English pop band ABC didn't surprise us because we knew that they are very good live because we had already seen them once before. They had a great and powerful start with "When Smokey Sings". With eight musicians on stage, they continued with "Show Me", in which Martin Fry proved to be a great showman. "Poison Arrow" has always been a great single and a lot of fun, and that's what it sounded like in Ostend. They followed up with the groovy "Viva Love" and "That Was Then" which would have sounded fantastic in a James Bond film. "Flames of Desire" was a demonstration of class and "Millionaire" another great track. On "King Without a Crown", Fry proved not only that he still has a great voice, but that he is the show. Although it has to be said that on the elegant "Night You Murdered Love" the band showed all their power. In "Tears Are not Enough" it was the backing singer who shone and they got closer to the end with the romantic "All of my heart". The most awaited moment came and everyone grabbed their cameras to immortalise a phenomenal played "The Look of Love".

Tony Hadley
As I said in my martian chronicle of the 2019 W fest, the former Spandau Ballet singer could well forget his version of Queen's "Radio Gaga" and play some other classic of his former band like "Be Free with your love". Apart from that, the concert was good, time doesn't seem to pass for good old Tony who still has a pretty good voice. After almost slipping at the beginning, he opened with "Intinction", and followed with one of his best songs "To Cut a Long Story Short". We had a few raindrops on "Chant 1", and he followed with one of their classics "Only when you leave" which sounded pretty good. Next up was a new song from earlier this year, "Because of You" after which he introduced his good friend Jack Daniel. After a sip from the bottle, he followed with "Through the Barricades" with a good interpretation. After the cover, we had the funky sound of "Lifetime", and although he was watching his watch a lot he gave us two great performances of "True" and "Gold".

Del Amitri
Our review of English rock band Del Amitri's concert is similar to our review of Heather Nova: it's not that they weren't quality artists, but the audience wanted something more upbeat, especially at this time of the day on a Saturday. They presented their soft rock with songs like "All Hail Blind Love", "Always the Last to know", and Kiss this thing goodbye" one of their most intense songs. "Move Away Jimmy Blue" brought us country rock vibes and in "You Can't Go Back" they proved to be a good band but it was not the best our for them. "Roll to me" was a bit more up-tempo, and in "Here and now" we enjoyed some very good guitars. "Lonely" was a nice song with acoustics and they finished well with "Spit in the rain" and "Stone Cold Sober".

UB40
For our last concert of the festival we were already tired, especially Violaine who takes the pictures and who was going through her first months of pregnancy. So we were on the verge of leaving before the end, although we ended up seeing almost the whole concert. They started with a small delay, after which the percussionist introduced the band that started with "Here I am". UB40 has again Ali Campbell on vocals and were in mourning for Astro, their member who passed away last year. Ali still retains her sweet voice, one of the band's strengths. They continued with "The way you do the thing you do" and "Homely Girl", all musicians still proving to be in great shape. "Grooving" and "Cherry O Baby" followed, the latter sung by the guitarist. "One in ten" was the most reggae moment, for better or worse. And it seems that everyone wanted to do covers and UB40 had a try on Prince's "Purple rain", which they recorded a few years ago and, in my opinion, didn't really suit them. After that, we had their big hits: "Many Rivers", "Kingston Town", and "Can't help falling in love". As I was a teenager when they released this song and I listened to it a lot, I couldn't help but get nostalgic when I heard it. It was a very good version and as I was moving around in the audience, I could see that they were enjoying it. They finished with their "Red Red Wine" which even from the back could be heard very well. We left the festival thinking that we'll see how we'll manage next year to return to the festival with the baby.