One of the good things of going to a festival in Belgium is to discover artists who were or are not so well known in Spain, and so on Friday we had both Jo Lemaire and Jeanne Mas, two singers who had triumphed in French-speaking countries. The day was quite varied with hip-hop, techno pop, chanson and the unclassifiable music of Kid Creole and the Coconuts.
Jo Lemaire
We started with Jo Lemaire and his version of Mina's "Tintarella de Luna", here turned into a fun rock 'n' roll. She continued with the first highlight of the day in the form of a cover of Gainsbourg's great "Je suis venu te dire que je m'en vais", a great song with a pretty good performance. Another good composition was "Perfume di Reve" which we hear below. In 1984, Jo Lemaire, after ending what was then her band, formed with her husband, Jo Lemaire + Flouze, released her second album, of the same name, from which she rescued the following tracks "Tentations" and "Captive et Innocente". She approached chanson territories again with "Babylon" and proved to be a very good frontwoman with the following "La Nuit te Ressemble". She continued with "La Memoire en Exil" and another of her famous songs, "C'est Mon Bateur". After a passionate song, she sang a mambo-like song called "Anonyme Incognito" and Aznavour's "For Me, Formidable". To finish, she came out for an encore which was Edith Piaf's "Johnny tu ne's pas un Ange". Quite a good concert.

Heather Nova
We didn't know Heather Nova either, and the truth is that her intimate approach, although of high quality, was a little out of tune with the more festive spirit of the audience. She had entered the line-up to replace Living In a Vox and, we know, it's difficult to find suitable substitutes in a short time. She reminded me a bit of Berth Orton with her melancholic nineties pop. She started off on guitar accompanied only by a cellist with "Send Me An Angel". They followed with "London Rain", and "Rewild Me" from her penultimate album, a song about connecting with nature. On "I Wanna Be Your Light" the cellist switched to the keyboard and continued there for "Winterblue" a slow track that reminded me of the author of Central Reservation. He returned to the cello for "Like Lovers Do" and "Fragile", at which point, after commenting that Heather had released a cover album that same day, the singer acknowledged that she belonged more to the nineties than the eighties. Well, at least the cover was of a song by Sting. She was left alone for "Sea Glass", which was one of the best songs of the concert. Another slow and beautiful song was "Fool for You" and she rescued another of her versions, this time, "Like a Hurricane" by Neil Young. "Walk this World" was the last song of this pleasant concert.

Stereo MC's
Next, we had Stereo Mc's, a band that although we connect with the nineties, actually released some of their first singles at the end of the eighties. They started with "Faded Away" which already warned us of what we were going to see: a rapper who with an amazing flow, dance rhythms and the great voice of the backing singer. It was certainly a good start. During "Everything", one of their most up-tempo tracks, we could see that they were really enjoying themselves on stage. Next was "Pressure" and they made everyone move their bodies with "Connected", one of their most memorable songs. In "On 33", another of their hits, they continued to show great passion and continued with another great song called "Elevate". "Step it Up" sounded very danceable and the band is, frankly, a lot of fun visually and very dynamic. The crowd wanted more and we had an encore which was "Place", a song that built up tension until it happily exploded. Pretty good.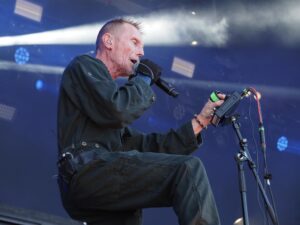 The Proclaimers
Next to hit the Ostend beach stage were brothers Charlie and Craig Reid's band, The Proclaimers. They started with "Dentures Out", the title track from their latest album and continued with "Over and Done With" from their first work. They went through their extensive discography, playing songs like "There's a Touch", "Let's get Married" and "Cap in Hand" from their '88 album. The concert went from strength to strength and during "Letter from America" the audience was already quite enthusiastic, and in "Life with you" the people clapped along with their hands. They followed with "Make My heart Fly" and "Sunshine on Leith", a slow and painful song with steel drum playing. There was good guitar playing in the more energetic "Then I Met You", which preceded "I'm on my way". Finally came the moment awaited by most of the audience and the band played their biggest hit: "I'm gonna be 500 miles" in which they showed that even so many years later they are still able to play it perfectly.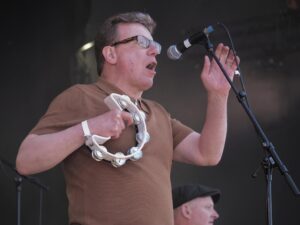 Kid Creole and the Coconuts
Kid Creole, or in other words August Darnell, had brought no less than eight musicians who started off with "Buttermilk Channel", a very funny instrumental that got us completely into the concert. Then came the three backing singers, the Coconuts of the band's name, three young girls who sang and danced impressively without breaking a sweat during the whole concert. The guitarist introduced Kid Creole who appeared and without stopping they started with "Call it a Day, sounding funkier and funkier. One of the big moments was "I'm a wonderful thing baby", which the audience enjoyed a lot. Although it seemed impossible, the next song, "Broadway Rhythm" sounded even funkier with outstanding guitar playing and the band hardly stopping to catch their breath. We arrived at "Animal Crackers" where the backing singers were very good and which had a more dub part. They continued with a powerful and elongated version of the great "Stood Pigeon", perhaps their best song, in which August Darnell was left alone doing backing vocals with the audience. The backing singers came back for a Beatles medley which they sang alone: "Ticket to Ride", "Get Back" and "Can't Buy Me Love". They also took on "Indiscreet" and August returned for the finale with the well-known "Annie I Am Not your Daddy" in which he danced the conga with the backing singers. Overall I thought it was an excellent first half hour but it lost a bit of steam with the Beatles covers. A pity because it could easily have been the best concert of the festival.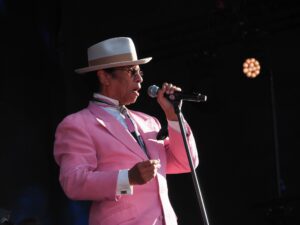 Level 42
English jazz-funk-pop band Level 42 were next up, with a line-up that included seven musicians. They started with "To Be With You Again", a pop song with a lot of soul and beautiful vocal interplay. Soon into the performance we were treated to one of their hits, the funkier "Running in The Family", and keyboardist Mike Lindup sang "The Sun Goes Down". They showed us they had a great horn section with a magnificent "Children Say" and we had a great performance from Mark King on vocals on the ballad "It's Over". He also stood out on bass, especially in "Love Games" another of the more jazzy songs in which the horn section was especially successful. "Starchild" again with Lindup on vocals sounded very Stevie Wonder and we continued to enjoy "Something About You" and the moving "Heaven in My Hands".  The finale consisted of three linked songs, the legendary "Lessons in Love" together with two very funky songs "The Chinese Way" and "Hot Water" with a great trumpet solo. It was a great end to a magnificent concert.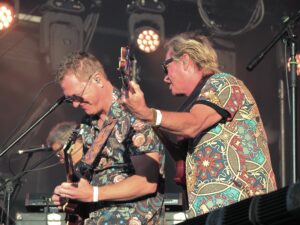 Jeanne Mas
And then we came to one of the big names of the day: Jeanne Mas, who started a little late because the guys from Level 42 had played longer than the stipulated time. Jeanne Mas is a French singer who, curiously enough, was born in Alicante and became famous after appearing in the hilarious Italian comedy Ricomincio Da Tre. In the eighties she had several hits, which we could hear that night, along with more modern songs, such as "Tout Donné" with which she began. She continued with the passionate pop of "Nature Morte", "Carolyne", a song half sang in italian called "Alex" and abandoned a bit of drama for the amusing "Flash". With a title like "Les Crises de l'Ame" you can't expect anything other than a heartbreaking track, while "Coeur en Stéréo" was more pop with its quirky French twist. "Sauvez-moi" was a playful track while "Toute Première Fois" was another beautiful composition that was chanted by the whole audience. She commented that it had been a long time since she had played a festival and that before leaving Ostend she wanted to try the fries. The final part consisted of her hits "Johnny Johnny" and "En Rouge et Noir".
Alphaville
When Alphaville appeared, the Ostend beach was completely packed with 80s fans who wanted to hear the hits of the famous German band. We had heard some negative comments about their last concert in Spain and we were a bit on our guard, but it was a fantastic concert and certainly one of the best we saw that weekend in Belgium. The opening with "The Jet Set" already gave us a hint that we were in for something big. "Dance with Me" sounded quite powerful and danceable. And with the night still young, they played one of their classics, an acclaimed "Big in Japan" that got the crowd crazy. Before kicking off with "Next Generation", a song from 1986 that went on for quite a while, they talked about their support for Ukraine. The slower "Flame" was another one of those moments to get the whole Ostend beach chanting and "Summer in Berlin" showed us that they have more good songs than we usually remember. In "A Victory of Love" they showed that they know how to make a song intense and Marian Gold had a great performance. They didn't let up the intensity with a superb version of their "Sounds like a Melody" which was followed by the classic "Forever Young", which could be considered a defining moment at any self-respecting eighties festival. Marion was banging his heart on the mic as he finished singing it to the delight of the audience. As encores we had a stark "I Die For You Today" and the fun "Monkey in the Moon". A concert to remember.