On Friday 27th of September, I had the opportunity to see for the very first time the Sweden post-punk band Then Comes Silence. Headed by Alex Svenson (Sad Day for Puppets), the quartet now composed of Hugo Zombie (Los Carniceros del Norte and Naughty Zombies), Mattias Ruejas Jonson (A Projection) and Jonas Fransson confirmed, in front of a jam-packed Siroco venue, their status of captain of Sweden post-punk. Thanks to perfectly picked songs, played at a frantic pace with incredible energy, they delighted and enchanted a public amazed with their performance.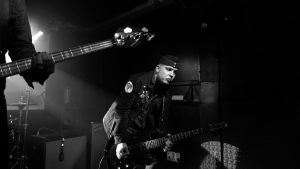 After an instrumental intro, the band appears on stage and begins with "There's a Sound." It's not long before you see the amazing cohesion existing between the members, the presence that emanates from them and their mastery: far from being mere objects, the instruments turn into true extensions of the musicians. Alex, perfect example of elegance with his black makeup, is an excellent frontman and sometimes it looks like he is dancing with his bass. Several times in the set, Hugo and Mattias seem to be exchanging some real dialogues with their instruments, and last but not the least, Jonas does a sensational work with his drums, unleashing some powerful sounds. For "Flashing Pangs of Love," the band already has communicated its energy to the public. They follow with tunes like "The Dead Cry for No One," or "Falling into the Void," which distinguishes itself with a thunderous introduction and an amazing exchange between the two guitarists. In "Good Friday," Alex achieves to convey all his emotions to the public with his deep and enchanting voice. The band then continues with "Can't Hide," "Death by a Frozen Heart," "The Rest Will Follow" and "Animals," where Hugo spins on himself.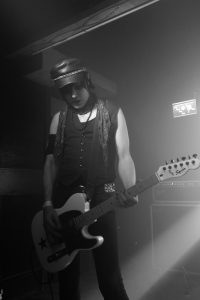 For the following one, "Mercury," the only lull of this frantic set and the calm before the storm, he ends up on the floor. From this moment on, we've reached the point of no-return. In a perfect balance between noise and melody, the band plays "Deepest Darkest," "Spinning Faster," "Feed the Beast," "Strangers," "Warm Like Blood," "Strange Kicks," "My Bones" and seems unstoppable, driving us in a whirling spiral into their fascinating and terrifying world of beauty. For "Slowly Dragging You Down," the guitar chords are struck with frenzy, the kaleidoscopic lightning hypnotizes us. Unfortunately, the set already comes to an end. After a small break, the band comes back and delight us with "Whispering About You," "Sweet Curls" and "She Lies in Wait." When they stop playing, we don't believe it, we want more and we ask for it. But after such a performance, only the silence can come to allow us to process what just happened in front of our stunned eyes.