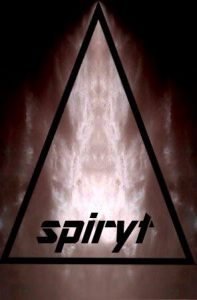 Spiryt is the new project of the French musician Jaen Luc Cruchot. Jaen Luc's first musical steps were in the band No Answer, active from 1986 to 1995. Back then, the main inspiration for his music was The Sisters of Mercy. Later, with the arrival of techno, the band added the influence of bands like Die Krupps and Ministry to its sound. When the story with the band was done, he continued on his own, under his name, having an album to release. This album, called Sad Songs, was never released but Jaen Luc, now under the moniker of Spiryt has continued working with some plastic artists, helping them by creating music for their installations. He has also worked with young designers.
His influences now range from Dead Can Dance to Siouxie and the Banshees, one of his favorite groups. He also liked Sisters of Mercy till 85, later he thinks that the band was not as good. Instead he loved The Sisterhood and also Cocteau Twins. Regarding Trip hop, he chooses the classics: Massive Attack and Portishead.
After uploading some songs to Bandcamp, now we can listen to the full first homonymous album of Spiryt published by
the Italian label Seahorse Recording. The album brings us fourteen instrumental tunes, very cinematic that manage to get the musical universes of Dead Cand Dance and Massive Attack closer. So, the first song, a really epic one, "Circle radiant" can sound like DCD, meanwhile some disturbing keyboards together with a sample of a voice that can remind us of Elizabeth Fraser form the second track "The Poison." "Derrière le voile" instead is a dark and heavy tune with a more goth feel. "Effigie" could be a song by Massive Attack circa Protection but darker and with some industrial influences. The album is very varied, but always with a dark mood. "Ninite Gardens" is one of the most evocative songs in the album and "L'hiver," another of the best songs in the album, manages in a similar way to take us back in time. It's very interesting to see where the songs are evolving, i.e. "L'hiver" finishes in an ominous way with an insistent bell and some frightening bangs. "Seven" was already released as a single, and it's one of the most interesting pieces of this record that finishes with two really good songs: "Natalia" and "Tadaodaha," this last one bringing some light to this perfect ending. Spiryt is a complete and complex work that can accompany the listener in all these dark moments that we have so frequently.
About playing live, he confesses that he would love it, but it's difficult to find the right musicians who want to play certain music, although some negotiations are underway and maybe he will manage to tour soon. Meanwhile, you can order the CD here for only ten euros.