Photos: Patrice Hoerner
On Saturday we got up early to buy some bottles of beer and some food to leave at the hotel, something we always do at all every festival we go to. We were also especially interested in seeing the first band of the day, Greek act Kalte Nacht, a darkwave duo that had surprised us with their first album released on the Cold Transmission label.
Saturday was the day most punished by cancellations and we had lost Test Dept and From the Jam. As misfortunes don't come alone, a member of Tyske Ludder had had an accident, so they couldn't be there either. The organisers acted quickly and got replacements for these bands, although they were mostly bands we didn't know. Apart from the aforementioned Greeks, we liked the Italians Talk to Her a lot, so much that I bought their latest album as soon as they finished their performance. But well, let's go in order.
It was quite hot when the Greek duo Kalte Nacht came on stage. With Nikos on bass and keyboards and an overwhelming Myrto on vocals, we were pleasantly surprised. As they unleashed their dark tunes it was fun to watch the pollen fly around us like snowflakes. Apart from some new songs, we could enjoy "Humans are Mistakes", their latest single "Our Moments are answers" or "Nychta Skia" with their terrifying screams. I had high expectations and they exceeded them. When I arrived in Spain I didn't hesitate to order the album from my usual record store.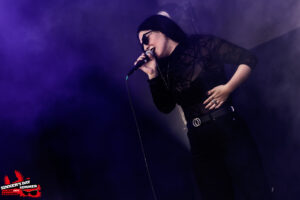 The next band to play was a much loved band in the country: Der Klinke who started in a very powerful way with "Our Dance in Darkness". This is a band we know relatively well, as we saw them already a few years ago at the W-Fest and interviewed them. The audience was very involved from the beginning and enjoyed songs like "Someone who Smiles" and "Still Alone", a favourite of the singer in which he showed a lot of passion. Der Klinke features Geert Vandekerkhof and Sam Claeys, who also have a project with Red Zebra singer called Pesch. We saw Geert repeatedly at the festival enjoying the rest of the performances. The concert continued and we reached the melancholic moment of "Curtains", a song about how it feels to see your ex-partner again. The compact "The Facts of life" was followed by a powerful "River White". Geert asked us to dance during "The Doll" which had a snippet of Talking Heads' "Psycho Killer".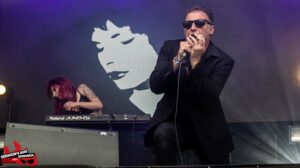 Next to appear on stage were the members of Manchester based post-punk quartet Ist Ist. Although they have two full-lengths out, this was the first time we listened to them. They opened with "Stamp You Out" and went through their two albums, playing tracks like "Fat Cats Drawn in Milk", "Watching You Watching Me" or "Black" with their magnificent atmospheres. They also made a stop at their EP Spinning Rooms to rescue "Emily" and continued with "Extreme Greed" and "It Stops Where It Starts". They said goodbye with "Slowly We Escape", a song that starts in a solemn way and then shows all their rage. A perfect end to the concert.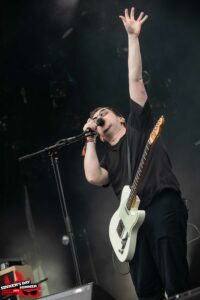 The last band to be added to the line-up was the Belgian post-punk trio Disorientations who the festival hinted that we would soon be seeing again. Their powerful riffs were accompanied by a few raindrops that didn't bother too much. They opened with "Wandering", the first track from their first album Memory Lanes and accompanied their music with images that looked like silent films. They followed with "Words", "Leftover", an atmospheric track entitled "Allied" and other stops on their debut in the form of "Waiting for", "Watching you go", "Don't" and "Close to disappearing". They finished with what was for me the best track "Zinfandel", where the singer showed a rage that he did not displayed in the rest of his performance.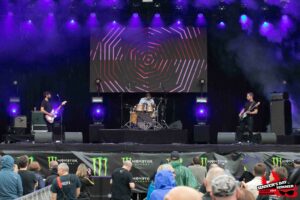 If during the Disorientations concert a few drops had fallen, when the trio Boytronic came out, it was raining a lot. Some of us took shelter under some umbrellas to see the band, who performed with a keyboard player and the two voices of Holger Wobker and James Knights.  The concert was very enjoyable and danceable, although it would have been much enjoyable with sunny weather. The band went through their entire career, playing songs from the original line-up, but also from the one where James was lead singer and of course some stops on their latest album The Robot Treatment. They started with "Trigger Track", followed by "Time After Midnight", sung by James. From the latest album they played "All You Can Eat" and a little later "Under the Red", while from the classic The Working Model we could hear "Luna Square", "Diamonds and Loving Arms" and "Red Chips" in which they threw in a snippet of the classic "I Feel Love". Adding to the band's strength of ultra-catchy songs was the great combination of the two voices which gave the performance a very special touch. James sang "My Baby Lost It's Way" and suddenly the rain stopped so we could all dance to the classic "You" in one of the moments we managed to capture on video. We hope to see them again in better weather.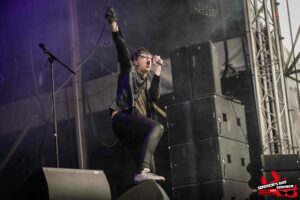 We continued with the Italian quartet Talk to Her, who, as I said before, I really liked. They were presenting their first album, Love Will Come Again, although they also played some songs from their EP HOME. The singer's deep voice, perfect for the style, and the drummer's good work, always with interesting rhythms, were the strengths of the band. After the rain, the large audience wanted to enjoy the concerts and found good material in the Italian band that shares its name with an Almodovar film. From the opening "Truth" they unleashed their compositions with rage, energy and precision. We listened to their songs "The Caller", "Hollow", some more electronic like the more danceable "Ibisco" and they finished with the slow and intense "Innocence". Quite good.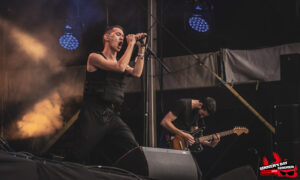 It was the turn of the German band Diary of Dreams, who owed us a performance after their cancellation at the previous Sinner's Day because their equipment got wet. They started with "Sinferno" and already at that moment they showed the epic aspect that characterizes them. A grandiose guitar-driven epic music that continued with the aptly named "Epicon". They became more atmospheric with "Listen and Scream". For "She and the Darkness" Adrian Hates sat at the piano in an emotional moment that gradually gained in intensity. Butterfly: Dance!", which as the name suggests is more danceable, and the classic "The Curse" were also played, to the delight of the happy audience who enjoyed the concert at all times. After the more electronic "Decipher Me", we returned to the epic with "Kindrom" and they said goodbye with the powerful finale that was "Undividable".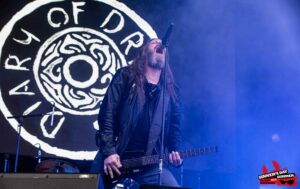 In the Batcave, DJ Nico from Synths Versus Me was playing as part of a showcase of the Catalan festival Ombra. We chatted with the reps and even spent some time in their tent. For those of you who don't know him, he is one of the founders of the cutting-edge label Oráculo and as Synths Versus Me he recorded five interesting albums that we recommend you seek out. He made a very personal selection that included some great tracks of the latest years, surprising Spanish material and some classics. In the first half hour we listened to Russian producer Kovyazin D and his "Dark Shades Of Moscow", Boy Harsher's "Machina", a remix of Anshaw Black by Black Merlin, NLK's "El Lugar", a classic track y Visage, and a Mirror Man track from an album I was given as a present a few days later.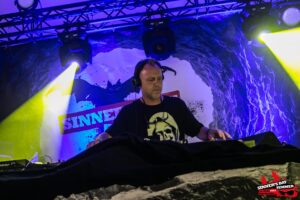 It was time for EBM legends Nitzer Ebb to appear on the main stage, this time with Bon Harris on vocals as McCarthy was indisposed. To begin with, Bon Harris has a completely different stage presence that the band's classic singer, but he gave it all he could. It's really impossible to replace McCarthy but, being the majority of the audience of a certain age and considering that we had probably all seen the EBM pioneers at some point in the past, it wasn't bad as a different experience to be able to say that we saw Nitzer Ebb with a different voice. As for the setlist, the band played classics like "Control, I'm here", "Hearts and Minds", "Blood Money", "Lightning Man", "Come Alive", or the mega classic "Join in the Chant". There was quite a lot of people watching the concert and Bon Harris proved to be a great showman, which we all applauded. The final was marked by "Down on your knees" and a powerful "Murderous".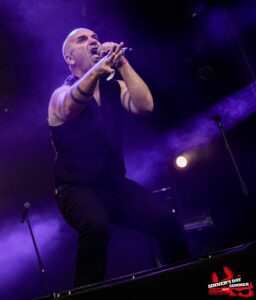 The day was coming to an end but we still had two concerts to go and one of them we were looking forward to: John Lydon and his PIL. Although he had some voice problems he managed to give one of his impressive shows. They started with the tremendous "Death Disco", which was followed by "The Body", in which he delighted us with his peculiar way of singing, alternating different voices and gesticulating a lot. "Warrior" sounded pretty good, and the band kept going through their interesting discography stopping at "Corporate", the very famous, "This is not a Love Song", a track where the guitarist shined. We got to "Public Image", undoubtedly one of my favourite songs ever and the best moment of the festival. They continued with that festival of insults that is "Shoom", the "Open Up" that John recorded with Leftfield and finished with "Rise", songs after which we celebrated the bassist's birthday. They played more than the scheduled time, but nobody complained about it.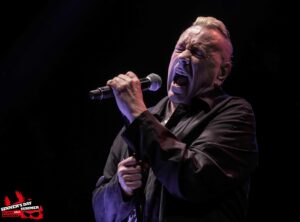 And to finish we had VNV Nation who played their classics one after the other as efficiently as on other occasions. The show stared with "Legion" and "The Farthest Star" with the typical Ronan Harris walk from one side of the stage to the other. The big moment came with "When is the future?" and we moved on to something more danceable with "Chrome".  Seeing VNV Nation is playing it safe, and even if they don't drive you crazy, they always put on a good show. "Control" sounded hard-hitting and Harris got philosophical saying that life was too short and we should have a good time while we were here. "Nova" was the emotional moment and "Our Sins" was the finale to remember. Before leaving Harris said that they are going to release a new album, so I don't think it won't be long before we see them on tour again.