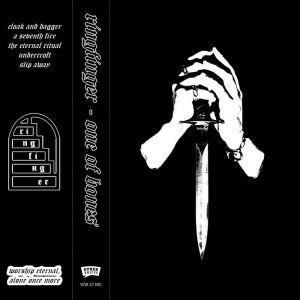 The new release of Other Voices Records is already available: Ringfinger's first EP is called Pressure and is undoubtedly one of the discoveries of the year. This EP has been published in a limited edition of 30 cassettes in black cases. Ringfinger is a duo from Vancouver, Canada, that creates "synthetic ballads from beyond" where they mix coldwave, darkwave and post-punk. 
In Pressure, we find five tracks. Two of them are intros: the disturbing "Lunar Light" introduces two great songs, the first one "Burning" where the suggestive voice of the singer stands out and "The Way" with a great melody. The EP finishes with "Pressure", a song charged with mystery and darkness that could be a perfect soundtrack to any of the terror movies the duo confess to love.
This is the first part of a trilogy. For those who already want more, the second part is available (but the label won't start shipping the copies until the 25th of January 2020) and is called One of Bone. Again, the edition will be limited to only 30 cassettes in black cases and can be bought for only 7 euros (like the previous one). Both references can be purchased and listened here.
One of Bones starts with a more danceable song, "Cloak and Dagger", always with a fair amount of darkness. The EP continues with a very beautiful song called "A Seventh Fire". "The Eternal Ritual" is a very short track that leaves you wanting more. "Undercroft" brings us back to the dancefloor and the EP finishes with another disturbing song (in the same way that Pressure started) called "Slip Away". We are waiting eagerly for the third part.