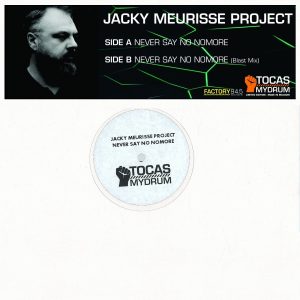 Jacky Meurisse, the man behind one of our favorite bands Signal Aout 42, has just published a new 12″ in a very limited edition for the Argentinian label Tocasmydrum. On the A-side, we find the original track called "Never Say No Nomore", while on the flip side we have the Blast Mix. The song is quite hard, a perfect mix of New Beat, techno and EBM, with some powerful chords with a ninety vibe. The remix is even harder.
This track originally appeared in Crystal Blackout, a very limited only CD record published in 2016. An album that according to Jacky was made "without following the codes, and letting my imagination go".
Signal Aout 42 are remembered for their classics "Submarine Dance", "Waterdome" or "Dead Is Calling" and they are one of EBM pioneers. We saw the band live twice this year, once at the Belgian W Fest, and the second one at DarkMad. Both concerts were amazing.
This very limited single can be heard and bought here, for less than 10 euros! It will be a collector's item in no time!