The new band signed by Other Voices Records is called Fritch and has recorded a mini LP named How's The View There? There is not much information about this project, which does not seem to have a fixed line-up, but for this album, the band was formed by Will Wilkinson, Stephen Te­e, Anna Cotten, B.H Mistry,​ Achille Dunoyer de Segonzac and Phil Boo­th (Mousefolk)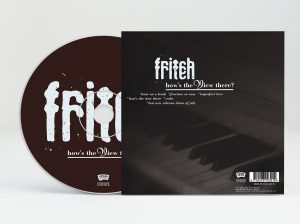 In the press kit, the label explains that they received a demo from England and that they were surprised by how professional and emotional it sounded. In How's The View There?, we can hear influences of classic artists like Scott Walker, David Bowie, Leonard Cohen but also from modern bands like Low or electronic music genius Burial. You can listen to the album here.
The mini album starts with "Heat On a Leash," where a voice reminiscent of the hurt Johnny Cash sings about writer blocks, as it's accompanied by an insistent loop over a disturbing background. In "Fracture So Easy" we find an old David Bowie surrounded by keyboards that suddenly appear and vanish between ghostly echoes. The album manages to transmit the same sense of desolation that only bands like Hood, Tinderstick or Dakota Suite did in the past. "Imperfect Love" has a sound similar to Low, sharing the same pursuit of beauty using minimum elements that it's helped by some voices that seem to try to lull you to sleep. Maybe the best song of the album. The disturbing "How's The View There?" starts with Bowie singing from the other life before some industrial rhythms join in a song that it's questioning our relation with God. The album continues with "Coda," sang with the passion of Scott Walker. The music of this song could have fit perfectly in any of his latest and experimental records, and that´s a compliment. And the last track, "Last New Orleans Dawn of July" can bring to your minds the sound of Nick Cave's fantastic Skeleton Tree. If you like any of the mentioned artists (and that's really bad taste not to like any of them) you should, definitely, listen to the album.
Please remember that the label won't start shipping the albums until the 20th of April. You can choose between a 100 ivory vinyl edition, 200 classic black vinyls, a limited 30-cassette edition and, finally, there will be 300 CDs for the people, like me, who still believe in that format.