We were looking forward to listening to the new album of the Catalan darkwave/post-punk band Paranormales and, to be honest, the album has not disappointed us but exceed our expectations. Produced by Maurizo Baggio (The Soft Moon, Boy Harsher, Holygram) Contra is the second album of the four-piece and, as we have already told you in the Garaje, has been preceded by two singles: Vértigo and Harakiri. You can listen and buy the album in CD or in a limited white vinyl 12″ here. It has been released by the North American label Cleopatra Records.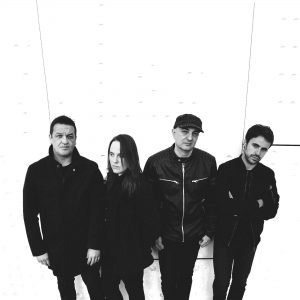 It's difficult to start an album with a song as good as "Doctrina": the beginning with that magic sound of synths that seem to surround you, the catchy melody, and Ana Ruiz's doubled voice creates a powerful darkwave track full of energy. Instead, in "Camino", they show their more reflexive and intense side with a lyric slightly mystic and a piano that really stands out with its intermittent appearances that gives a mysterious touch to the song. As mysterious and with a beginning that reminds me of the music of electronic music pioneers Vangelis and Jean-Michel Jarre, "Vida" is a passional and dramatic track, with a great melody and a production full of details. Definitely one of the best songs of the album. "Disciplina," sang by Juan Carlos Delgado, provides the right amount of darkness, with some slightly industrial percussions at the beginning and a level of intensity that never decreases. Painfully real and actual is the retransmission that we heard in "Elugelab" where what sounds like the voice of Windows, tell us everything we need to survive in a post-apocalyptic scenario similar to what we have just lived. "Gem" is the most pop song of the album with a beginning that reminds us of New Order. We already knew "Vértigo", as it was the first single of the album and after listening to the full album, we can say that it was a really good choice. "Tigre" has an eighties post-punk sound and is another perfect dose of darkness coming from J. Carlos who is the lead singer here again. "Harakiri" was the second single, and instead is a great darkwave song. Contra finishes greatly with "Origen", another mysterious track full of intensity.
On the cover of Contra, we can find a total eclipse, the unusual astronomical event where the Sun is completely obscured by the Moon. In the same way, although there is some light in this album mainly coming from Ana Ruiz's performance that gives a pop touch to the album, the darkness manages to predominate both in music and in the very deep lyrics. An album that won't be eclipsed easily.