This new "normality" that we are living has turned every little thing in a dangerous adventure full of uncertainty. And, of course, travelling to Belgium to assist to our first festival of the year wasn't going to be different and if things were not difficult enough, due to the large numbers of cases of Cov-9 in Spain, there were some restrictions to passengers coming from Spain. On Saturday 19th of September, I arrived at half past seven at an empty Barajas airport, hoping that everything was going to be perfect but I felt goosebumps as I saw that the desk for check-in, normally full of people was totally empty. At least, to go through the control and into the plane was fast. When the flight landed, I gave my QR code to one of the security guards that were waiting for us at the gate and, to my surprise, nobody told me anything. Mixed with the rest of passengers from all over the world, I went straight to the exit, but when I was really close a security guard asked me – Sorry where are you from? For a moment I doubted and thought of lying but I ended up telling the truth. I could not hide my surprise when the agent said: Spain?, OK, go on.
I got lost in the confusing Brussels airport and it took me a while to find Violaine who was waiting for me with a couple of friends that hosted us in their beautiful house during the weekend. They were so kind that even drove us to the festival. At the entrance we met our beloved third member, the great photographer Patrice Hoerner and Pascal Guisse, one of the organizers of the festival. As I had my first beer (I only drink beer in Belgium), I could not believe that I was finally there. Among the public that was slowly arriving, I saw some Larva t-shirts. They were going to be the third band of the evening. We were told that we had to use face masks when we were moving around but it was not mandatory when we were sitting down in our places. One good note was that every band had an hour to play.
Deleritas
The first act of the day was Deleritas, a local instrumental aggrotech/dark electro band that managed to make us forget the unexpected sun that was shining outside and make us plunge in the darkness of their music. The two musicians, one at the keyboards and samples and the other playing drums, were wearing face masks and I thought that in the past they would have been the only ones with their faces covered. Deleritas started with "Driven By Fear" and by their second track, called "Somnum Exterri Solebat", we were already in love with their nineties-flavoured sound. After "Echo", we had "Miroir" charged with the atmosphere of a horror movie. They continued with one of their oldest tracks, "This Birth…" that is also one of their heaviest, before bringing us some acid at the beginning of "Jour du Saigneur" and leave us speechless with the work of the drummer in "Quarantine". The surprise of the event was the apparition of Dreadfool who came on stage to play "AKR", the track that they had recorded together and one of the most EBM of the night. The keyboard melody of "A Journey" make us remember happier days in the nineties and the EBM of "Rumble Handling" made us forget everything that was going wrong in the world. Their last song was the powerful "A Brand New Apocalypse", whose name describes our daily lives. A lot of the songs of the setlist can be found in their Bandcamp.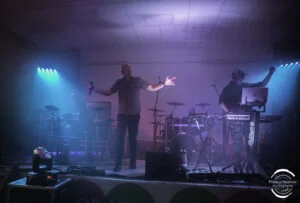 Lizard Smile
Lizard Smile is a Belgian Goth rock three-piece whose first album was recorded in 2ooo and that so far has published three albums and an EP (that we bought there). With their powerful guitars, they started with "As If I know" from Wayward, their second album. They followed with "The Last One" and "I was wrong" with a great capacity to create atmospheres. After "Still Gone" they played an acoustic song with a 10-string guitars that we could not recognize and another track with a great guitar work. "Muder Hole" was played with the arch from a violin, transmitting the tension of the track, the best of the set list. They continued with "Damage", a song that should be a hit and the danceable "State of Void" (these two from the mini-LP State of Void). Two songs from their last album, entitled Wandering in Mirrors, marked the end of their concert: the intense "Silence in my eyes" and "Find Myself", a perfect conclusion for an hour of darkness.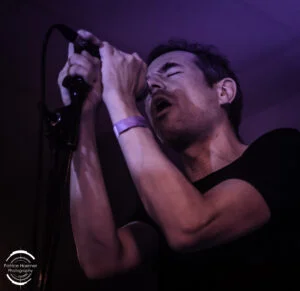 Larva
Last year we missed two concerts of Larva, so this time we really wanted to see them. They were coming with a new album, entitled, Desolation Road, that we bought together with a couple of old albums. They started with "Gritos Que Las Paredes Solo Oyen" from their previous Mundos Subterráneos to continue with The "Peace of Suicide". Marc is an incredible front man who manages to add an extra touch of lunacy to their music. And Anoxia is really cool behind the keyboards. They stop in their new album to play "Nada Perdura", which already smells like a classic, and "Pay the Price". In the middle we could hear "A guide to imperfection". When they stomped with "Tormented", some of us were already dancing in front of the stage. They continued with the powerful EBM of "Save Me To Myself", that they incredibly managed to overpass with the intensity of the foll0wing track: "Frío y Oscuro Amanecer." More songs followed: "Me odio," and "Sunk in Shit" where Marc came down from the stage and the public surrounded him. After "Hate State", we had the terrific beginning of "Family Error". And sadly everything was coming to an end that was "Massgrave", dedicated to Marc's mother who died of coronavirus recently. A great concert. If everything goes fine, we will see them in Madrid next year.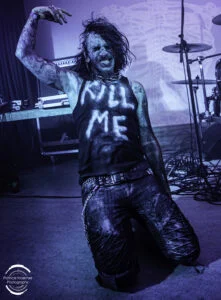 Dear Deer
One of the bands that we wanted to see the most was Dear Deer. During lockdown, we watched all the concerts that they streamed from different parts of their houses and we enjoyed them a lot. Also, these days they should have played in Spain as part of their tour with Guerre Froide (where Sabatel also plays) but these days we read that their concert has been postponed till April. A couple of minutes before their time, they appeared painted as in the concerts that we saw and in the cover of their second album "Chew-chew" that we bought there. The duo started with "Deadline", one of the best songs of their second work, with an incredible bass sound and where Sabatel shouts in a way that makes me think on B-52s. They continued with the funny "Job, Chat, Work and Gula Gula" with some nervous guitars that made us think of the first album of the Feelies. The party continued with a powerful "Dogflight", and they started singing in Polish with "Stracila" that was followed by a stop in their first album with "Clinical/Physical". They surprised us with a new track "JJR", that so far, can be found only in a live version precedent from their new album We Can Play In A Living Room, which compiles these four concerts in streaming that they played between March and April. They continued with "OZOZOOZ", and another song in Polish: "Czekaj Na Nas!" It's really amazing that with such a strong image, being so good live and with the incredible number of hits that they have, they are not more famous. The tension of "Thanatomorphosis" and the electro rhythms of the amazing "Nadia Comaneci" made us dance like it was the last day on Earth. They finished with "Disco Discord" and their first "hit": "Claudine in Berlin." Awesome. We hope that we will able to see them soon.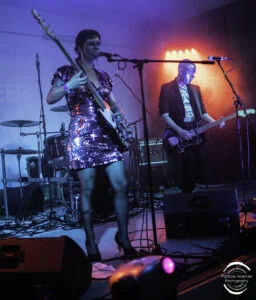 Star+Industry
The happiness of seeing Star+Industry mixed with the sadness of knowing that it was the last concert of the night. The four-piece made an epic entrance and started delivering their powerful Goth rock. They started with Pray and made a very complete selection of their discography, starting with "Ceremonial" from Iron Dust Crush, where the singer proved to have a leather throat and continued with "Selling Icons" from they last album The Renegade from 2015. From Velvet (album that I bought there) they played "Fire&Ice" and show us their ability to create atmospheres with "The Renegade" y "Last Crusades". In "Nineties" they made me think of the nasal voice of Richard Butler from Psychedelic Furs and finished with "Lost Generation". They came back to play an encore, this time the cover of Kids by MGMT and a final "Sodium Haze" that we really love. If things are OK, we will see them again in August.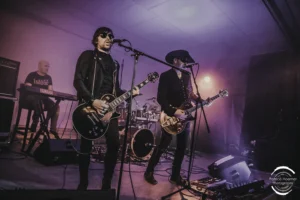 Although playing music for forbidden, we stayed until the end drinking some wine and we left thinking that we don't know when we will be able to see concerts in such good conditions.