Photos: Patrice Hoerner
When we found out in 2021 that Varsovie were going to play at the Liège New Wave Festival, we didn't hesitate to put that date in our diary to finally see the French post-punk band. Having listened a lot to their last two albums, we were looking forward to seeing the post-punk band live. Also, we always had a very good time at the Liège festival. Together with them, we had Ground Nero, a band we had seen the year before, the EBM of WÜLF, We are Ooh People, newcomers that created a lot of buzz lately and the shoegaze of the Polish act Give Up To Failure. Our friends from Vuz Records had also come to the festival and we took the opportunity to buy some of their records.
With such a line-up we were surprised at the low attendance. The festival was not expensive at all, twenty-five euros for an advance ticket and the prices at the venue were very cheap, about three euros for a glass of wine or beer. We again had the hospitality of Marcellin and Nathalie, but we would have paid for a hostel/hotel without any problems.
After a long journey we started the day with the electro-wave band from Bruges, We Are Ooh People. They started with the singers with their backs to each other and linked by a luminous ribbon, a very striking and original staging. They opened with the danceable and enjoyable "We Sell Secrets". The next track, "Hot Asian" was even more up-tempo and "Transition" seemed to me a very good track, very powerful and with an electro sound that came very well for that post-siesta hour. "Vodka with Lime" reminded me of 90's electronica and the band won me over little by little. "Cigarette Favorite" was a slower track, cold and atmospheric electronica that went in very well. "White Room" was another powerful song with powerful percussion, in which the singer showed a lot of aggression. "Days Come and Go" was a very catchy composition with a good performance from the male singer. I liked the contrast between the melancholy of his voice and the aggressiveness of hers. "Not Tonight" was another great track, very danceable and with "28" they showed us how varied they can sound with very good electronic moments. "Boner" definitely got us dancing and "Crash and Burn" was enigmatic with powerful guitar. "Bad Dream" was a good electronic track and "Come Closer" I liked it for its powerful bass. A very good gig for a band with only one album.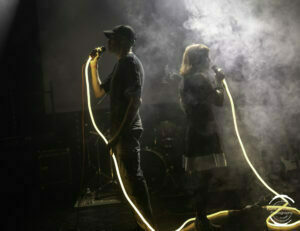 Next up were the Polish band Give Up to Failure who were the opening act for Varsovie's tour. They make post-punk with a lot of shoegaze and I liked them a lot with their songs "Chimeric Head" or "Slow collapse", this last one with a strong bass and drums at the beginning. Although hey are quite young, they master the art of creating great atmospheres with their guitars. They also have only one album, entitled Burden, from which some of the songs we heard were played, although I don't think some others have been released yet. Of these tracks, "Savior" sounded powerful and epic with a great use of keyboards while "Holy Drug", this one on the album, sounded more atmospheric, with great drumming. "The Husk" invited us to dream and I was truly amazed as I laid my eyes on the members' huge pedalboards while I was assaulted by the intensity of "All I Wanted", a track where the drummer continued to shine. They finished with the power of "Million Worlds".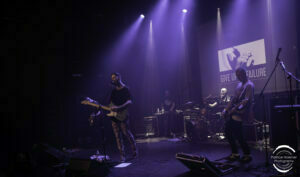 WÜLF7 is a classic EBM duo formed by Blondwolf and CyrbVII who alternate on vocals and the latter takes care of the keyboards as well. On this occasion, they appeared with Benoît Buyse on percussion. The band has self-released a couple of CDs, which we would have bought if they hadn't disappeared from the stand so quickly. We recognised the percussionist, also known as Dreadfool, from having seen him on stage singing a song with Deleritas at the 2020 edition. After a powerful start, they played "Child Soldier" from their first album. They followed with "In What Name", with both singers on vocals. After telling us that it was Dreadfool's birthday they continued with "Humanity", a song with a great start. They followed with the powerful and fast "W.A.W.W.W.A.". It's not hard to describe an EBM concert: it has to be powerful and aggressive. And that's what WÜLF7 offered that day, power and aggression. Next, we enjoyed "Ephemeral Human" with the main singer on the knees and "Fight" with good and aggressive keyboards. We also had the title track of their latest CD, "I Don't Want (anymore)" and "Morbide", one of the best compositions of this work. Dreadfool was on vocals for "Wolf" with the lead singer, a very powerful and aggressive song. As an encore they came back with "EBM Nation", a real anthem to the scene that we thought was a perfect ending.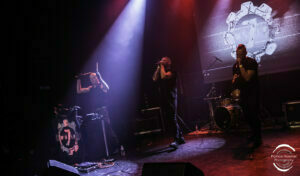 We were having dinner when we heard that Varsovie were starting playing, so we had to leave some of the fries from our hamburger to see the French trio. They started with the intensity of "Magnitizdat" and didn't reduce it during the whole concert. Of "Sunsiaré" we liked the powerful vocals and guitar, a great sample of nervous post-punk with an incredible instrumental ending. We had a great interpretation of "L'Éclaircie", a track from their second album. The fast "Retour de Flammes" was another show of the strength of the band, and "Killing Anna", one of their greatest tracks, was sung with great passion by Grégory. "L'Ombre et la nuit", from their last album is also one of their best songs and featured great drum work by Arnault, "Série Noire" kept us in suspense with those trademark fast and intense moments. "Sur la nature du vide", was another great angular track. "Coups et blessures" was a great sample of the band's sound, with powerful drums as a base, sharp guitars and Grégory's peculiar singing. "Détruire Carthage" left us with no more synonyms for intensity and "Leningrand" shone again instrumentally and was a fantastic finale. Very good.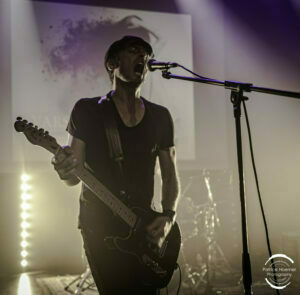 Ground Nero is a well-known Belgian Goth rock band that now features Mark Sayle from Mark E Moon on vocals. We saw them at last winter's Sinne'rs Day, already without their first singer. They are a trio with Peter Philtjens on bass y Peter Smeets on guitars that opened their concert with "They Knew". We had a heartfelt rendition of "Heaven Sent", a more atmospheric track of good Goth rock. They continued with "Vendetta", the powerful "The Risen" and "Litany" where Mark sang in his deepest way. We had several new songs that night, like "Mad House" or "At Dawn". Mark seems to feel better on those new songs made for him. We had very good guitars on "Promise" and "The Furnace", two of the previews we have already heard with Mark on vocals. The great atmospheres of the slow "Dark Descent" gave way to "Dead World" and the title track of the band's famous album, "Divergent" with a powerful sound. With "In The Blood", another good Goth rock song, it became clear why they are so famous in Belgium. For the encore, as they had no more songs prepared, they played "The Furnace" again. Now let's see when we can see Mark's other band, who have released some really good songs lately.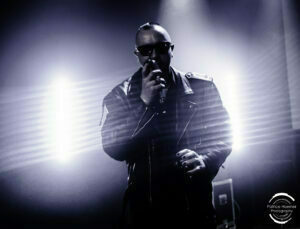 When the show was over, we were able to say hello to the guys from Varsovie and see Mark talking to the fans while DJ Gondrand played his selection of classics of the scene.