Judith Juillerat appeared in our lives after winning a contest to participate in a benefit album of covers and remixes of Björk's "Army of Me" where she used the moniker of Liliom. We are talking of a faraway 2005, when she was part of the band Super 8 (she recorded Dramatic Airlines with them) and during the same year, Judith released a first album on her own, Soliloquy. Later, she played with Black Egg (band that shared a cassette with Blind Delon a couple of years ago), until 2013, just one year after releasing her second album Acting Out. In 2016, she published two works: the album Nooks and Crannies and the Screen Door EP. To finish with her discography, let's remember A Tribute To Genesis Breyer P-Orridge, album that we mentioned not long ago, where she covered Psychic TV's "Black Moon", song that will help me to introduce my review of her new album.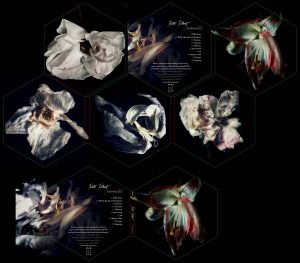 On that occasion, the song played by Judith was named after the term used for the second new moon in a month. And in this Oneironautics from last year, we meet again the Earth's satellite in "Half Moon", one of the reasons for buying this fourth album by Judith Juillerat, published by Unknown Pleasures in a beautiful hexagonal edition.
Oneironautics is a dream made true for every lover of analogue synths. The album starts with the instrumental "I had a Dream" (not related to the famous speech, it's all about the dreams and Oneiros, the Greek personifications of dreams that name the album) where you can get the impression of falling in a dream, while the surrounding sounds of synths soften your fall. In the second track "Between you, me and The Gatepost", we listen to Judith singing/narrating, in a style similar to Laurie Anderson's, in a very dreamy song, seasoned with the sound of birds singing. But not all the dreams are pleasant, and soon we arrived at the disturbing "Phantasos", with some robotic voices and a vibe that manages to be cold and warm at the same time.
Some backwards voices keep floating in "Para/doxa", the shortest song of the album and at the same time one of the most abstract ones, where only a keyboard melody seems to be the lighthouse that can guide us.  The soothing voice comes back in "Half Moon", as the reality around us is getting weirder. Instead, "Swift Tuttle" is minimalist, ghostly and disturbing: it's one of the best tracks of the album. "Sin" with its "motorik" rhythm works perfectly as an intro for the version of our beloved Amon Düül II's "Riding on a Cloud" (we saw them live in September 2018, a memory that now, sadly, seems too far away) which Judith manages to make her own. With "In-Flight", we seem to be flying thanks to a repeated sound that looks like the beating of some wings, over clouds made of lines of synths. The album finishes with "Navigability," another warm track that seems to want us to remain in this dream and never wake up.
Oneironautics works as a unified album with details and sonorities that repeat themselves in several songs. If you like electronic music, you will love this album.