At the end of the eighties, in some of the most important clubs in Spain, you could listen to "The Stand", a track that created a very emotive and magic moment. It was very popular in what was later called "La Ruta del Bakalao" in the east coast, but it's also said that it was the last song played at the popular New World in Madrid. Apart from composing this piece of popular music history, Joolz Denby is a poetess, a novelist and even a prestigious tattooist. In this interview, exclusive for DarkMad, she talks about these other sides of her life that maybe are not that well-known for our readers. She will perform at the Madrid festival that will take place next 29th and 30th of April. It will be one of the few times of seeing her playing live that legendary track.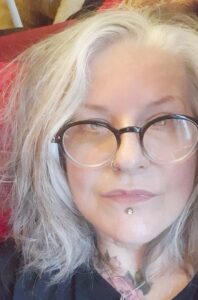 —Joozs, you have always been linked to Bradford, How has living there influenced in your life?
—I honestly don't know. I've lived here the longest I've ever lived anywhere, 40 years in the same house. It's a poor city, but has beautiful old architecture and is very close to the countryside. I don't go into the city much so I don't have a social circle there, or know anyone. I'm a hermit basically.
—When you were younger, you were a biker with the Satans Slaves, I guess it was quite unusual for a woman back in the day. Did you feel any kind of discrimination?
—Women are not allowed to be Patch members so it was my ex-husband who was the actual Satans Slave not me. Of course there was discrimination against women just as there was in the music, art and poetry worlds. I had to fight like a devil to get anywhere and I've had death, rape and torture threats for 40 years. I don't care. I really don't. I was always going to do what I wanted to do. 
—Also you were a bouncer when punk was starting. Do you have any funny story of that time?
—Only that I thought the bouncers in the Punk club I went to were terrible at their job and told them so – so they said can you do better? And I said of course I can, so they said you start work on Saturday night so I did. And I was better than them because aside from the Satans Slaves I'd been combat trained by my father who'd been an elite soldier. Never start a fight if you can talk your way out of it is my advice.
—When did you start writing poetry? And when did you start to performance it?
—I was considered a child poetry prodigy and my work was critiqued by the famous poet Ted Hughes when I was 11 so I have been writing and giving readings all my life basically.
—As a poet, you said that the Mersey Poets and Dylan Thomas were influences, but which songwriter did influence you in your way of writing?
—None really. My biggest influence is the novelist Mary Renault, her book The Mask Of Apollo is my favourite of all time.
—When and how did you meet Justin Sullivan? I guess he has been quite important in your musical career.
—I met him about 45 years ago in a cheap nightclub in Bradford. All my life I'd drawn a face in the margins of my journals and when this boy – Justin – turned round it was that face. We started talking that night and haven't stopped since. I co-founded his band, was their first agent-manager and have done the majority of their artwork and merchandise designs, plus all kinds of other things. Maybe you should ask how much influence I've had on his music career 😉
—In your first two singles Denise and The Kiss you worked with Jah Wobble. How did you contact him and start working with him?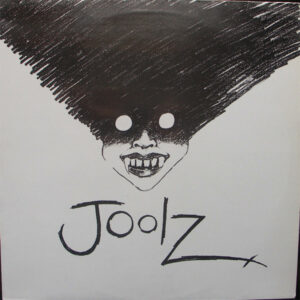 —Abstract Records signed me and a music journalist friend suggested Wobble so the record company arranged it. It was a brilliant experience recording with him but he's absolutely crazy.
—Instead, your first album from 1985 Never Never Land… was more spoken word. Did you want to release a sample of your performances?  Was "Jackanory" a satire about punks?
—Yes, I used to worry people would think I'd turn up with a full band when it was just me, which actually happened at a festival in Poland even though they'd only sent 2 air tickets, they gave me a hard time for not have 4 more musicians. Also, I'm a poet who sometimes works with musicians not the vocalist of a band. Yes, "Jackanory" was a mild satire on the Punk scene as it became, very tongue in cheek, more gentle teasing but of course some people were offended. 
—Love is Sweet Romance, your single from 1985, was your first reference with the collaboration of New Model Army. How did working with them changed your way of approaching music?
—It's always easier working with artists you know. They would record my vocal track and the rhythm track then create the music around that. In my opinion it's the best way to set poetry to music because it supports not dominates. They're very hard working musicians, very creative, very interested in new things and ideas.
—You also designed all NMA covers. Which one is your favourite? How do you create them? Listening to the albums and drawing what they inspire you or does the band give you any kind of idea for the artwork?
—I designed 95% of the album and single covers and 95% of the merchandise. Sometimes the record companies or a manager would think they knew better than 'a girl' and do some awful shit but hey. My favourite album cover varies but I currently like Winter.
—"The Stand" was a dance classic, really popular in Spain at the end of the 80s and beginning of the 90s. Could you tell us a bit about the composing and recording of that song?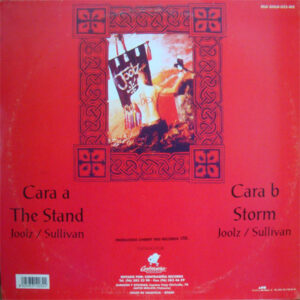 —"The Stand" is about New Model Army appearing on the BBC pop music programme Top Of The Pops. We subverted the whole event, argued with everyone and the band performed live not to backing tracks which was unheard of. But although everyone said they won, we didn't feel that way. Also, I don't think anyone ever 'wins' in a fight – everyone is always hurt, everyone always feels dirty even if they don't admit it. It's a track that speaks to pride, the naïveté of youth who think they know everything and don't and the painful heartbreak of growing up in a hard and difficult world, of becoming and artist. It's about the friends of your youth drifted away, and what became of them. We recorded it way out in the countryside in a studio in Cornwall, very remote, very beautiful.
—We would also like to talk a bit about your work as a novelist. How did you start writing crime novels? Stone Baby was your first novel, was it difficult to move from poetry to prose
—No it was easy, just takes longer. My poems are mostly stories so the novels are just very long stories. Stone Baby won New Crime writer Of The Year and was shortlisted for several other prizes. But Billie Morgan is the best novel I've written – that was shortlisted for the Orange Prize. 
—Billie Morgan was based on your days as a biker. How much of your own life do you put in your novels? Most of them are happening in Bradford or places where you have been living. Do you think it is easier to create fiction parting from real life?
—I wanted Billie Morgan to be as realistic about the biker life as possible because so many 'biker novels' are just ridiculous. The best way to do that was to step back and use my own life as material. It's always better to write about things you actually know about then use that as basis to support your imagination. 
—A True Account of the Curious Mystery of Miss Lydia Larkin and the Widow Marvell is quite a unique piece of your catalogue as it can be labeled as magic realism. Were you interested in South American literature as they have written a few masterpieces of the genre?
—I've always been interested in mythology especially Greek mythology, so I thought I might be interesting to explore what happens to Gods no one worships anymore, magic in everyday life and friendship. It was a lot of fun to write.
—Your last novel, Wild thing is from 2012, are you writing a new one?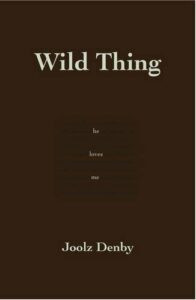 —I'm writing a novel now which is about the modern music industry, one hit wonders, cocaine, vanity, Russian gangsters, art, live and death. Based on the Orpheus story.
—You launched your own publishing company, called Ignite Books. How are things going? You have published books by Tezz Roberts from Discharge and Ross Lomas from GBH, right
—Wrong. The guy I set up the company with did a hostile takeover and took it all for himself. He wanted to publish all the men he admired in rock music. It had and has nothing to do with me. Those books are certainly nothing I'd have published. 
—You said in an interviewed that you have put work before your social life. Does it get more difficult with years?
—I wish I hadn't when I was younger, because you need a social circle as you get older and have no blood family like me, but the work was everything to me so now I'm generally alone, an old witchy woman, a kind of secular nun living in my falling down house and wild garden, with the cycles of nature and the seasons. It's a very lonely life but it's an artist's life. 
—Back to your musical caree, Red Sky Coven is a kind of folk project. What can you please tell us about it? You are still touring with it, right?
—We aren't touring anymore because the men either have partners who don't approve or their own work which takes precedence. It was an amazing, unique project that we loved doing and that people all over Europe loved. 
—What can you please tell us about The Black Dahlia, your album with Mik Davis.
—Mik was a very creative young musician who spent a year working on the album which I think was a very good training ground for him as a producer too. He went on to produce local bands and poets, and now works tirelessly and selflessly for youth mental health in our area. He's very respected in that field now and they don't know he was once a crazy rock star, touring with a great band.
—Your last album, Crow, was recorded with German composer Henning Nugel. How was working with someone far from the rock scene?
—Henning is great. He's a superb and technical musician who is extremely intuitive and  – I've never met him! It's very funny, we've never even spoken on the phone. We communicate through email or Social Media. It's totally modern – I just send him the vocal track and he creates a soundscape around it. He's a great guy. Very kind and nice.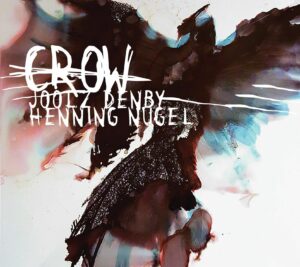 —You were the manager of New York Alcoholic Anxiety Attack, right? How would you describe the experience of working with a band in such a way?
—I've managed and tour managed a couple of bands, it's just about being well organised and paying attention to detail. It's hard work but I enjoyed it, and I'm used to hard work. You just have to be patient and lose your ego. I like that, it's a change. 
—You are also a famous tattoo artist. When did you start doing tattoos? What do you look for in any tattoo that you make?
—I worked in the tattoo industry since the 1970s but in those days women weren't encouraged to be tattooists so I just forgot about it until the Master Tattooist Ben Stone (who will be with me at DarkMad) said it was time I fulfilled my old ambition and he apprenticed me. It was pretty tough because everyone was watching me expecting me to be a 'celebrity tattooist' but I'm not. I'm an artist who works in tattoo, it's very shamanistic, very magic. It's a transformative, life changing process and my clients come to me for a holistic experience and my art. I don't copy, I only tattoo my own work.
—How was your life during these past years?
—Crazy, heartbreaking, creative, weird, breakneck, dark, golden and immersed in love and pain.
—Brexit, war, domestic violence…. The world doesn't seem to get better. Have you ever felt tired of fighting for what's right?
—My God, never. I'll never stop fighting for justice and women and children's rights and safety. Brexit is a total disaster for my country, a fuck-up of colossal proportions that has destroyed the UK. It makes me weep for my country.
—Two artists, one from the eighties and a modern one, have quite similarities with you. I am talking about Anne Clark and Kae Tempest. Do you like their music and lyrics?
—I haven't followed their work so I can't say.
—What can we expect of your concert at Darkmad? Are you coming with a band?
—I'm working with DarkMad musicians, it's a collaboration, an art experiment. I'm extremely pleased the Spanish music fans liked my track, it means a great deal to me and I am honoured to be performing "The Stand" for them. I hope they enjoy an old poet's work