At the end of 2020, in the middle of the pandemic, I bought an EP with a The Hacker's track (with his aka Amato) and three remixes, released by Madrid-based label Barro. Years of Denial's rework of "2 in 1" was the one that really caught my attention, as they added vocals to the original creating an intense darwave tune. After listening a lot to the remix, I continued with their two albums, only to be surprised again by the incredible variety found between Suicide Disco and Human Tragedy, one more darwave/ebm, the other more ambient/industrial. Both amazing records. Years of Denial were one of the bands that we wanted to see at French festival Setmana Santa but sadly we could not make it. Let's hope that we can see them live soon.
Photos: Matt Favero / @liminalwarp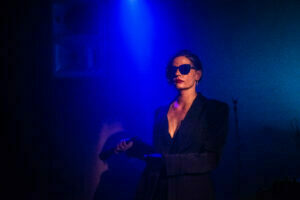 —Jerome, you started your musical career with Piano Magic, how was your experience with them? I think I saw them in their Artists' Rifles tour in Madrid. You weren't with them yet, right?
—I joined the band after the release of Artists' Rifles in 2000 and was a happy soldier for 16 years until the band was put to rest. During that time, I had the pleasure of writing, recording, and touring with the band. We released 9 albums together and played most of Europe. Previously I had studied drums in a Jazz school while drumming in rock bands and started to get into electronic music productions in the mid-90s. When I joined Piano Magic, it all made sense. I was able to bring my experience into the mix, from drumming to playing keys and producing some of the tracks. I had never worked with a songwriter before Glen, he wrote some of my favorite lyrics ever, and I'm glad to have contributed to the band's legacy. Along the line, we also have collaborated with incredible artists like Brendan Perry and Peter Ulrich of Dead Can Dance, Simon Raymonde of Cocteau Twins, and Alan Sparhawk of Low, I cannot complain 🙂 Piano Magic will stay forever an amazing experience.
And to answer your question, I was playing keys in Madrid and had long dreadlocks, more than 20 years ago!
—Barkosina, I read about the influence of Czech underground scene in your musical education. Can you please tell us more about this? So far, in the Garaje we have talked about a lot of different scenes, but never about the Czech one.
—I was born to parents who lived under the communist regime, an era that was intimidating, dark, and cold. Artists were facing political persecution, and governments were suppressing art, music, and literature. Many works were forbidden by the state, and only through samizdat which is a very underground makeshift for re-printing and re-producing banned material, artists could continue to be culturally stimulated. Therefore the Czech underground culture was always robust because it flourished from the dust of a heavy political system with a history of resistance movement under a harsh regime. That is what I mean by being influenced by the Czech underground culture. I am referring to the past and history that shaped who I am today as an artist and human being. I continue the legacy and apply it to my art practice and philosophy. Growing up musically back then, during the late 90s and early 2000s, was thereby with musical genres that exist as a political movement, resistance, and activism, so to speak. A lot of punk, hardcore, heavy metal, and free party such as the infamous Czech Tek. My family was actively involved with bands and vinyl culture and Djing. I was writing and singing. However, I moved away from the Czech Republic quite young and never returned, so I don't know much about the scene now.
—Barkosina, you have also talked about the influence of Laurie Anderson. How do you think that the composer of "O Superman" has influenced your work? What do you like of her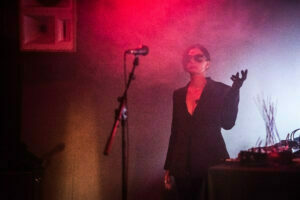 music?
—I am intrigued by Laurie Anderson's work because she applies performance art practices, storytelling, and experimentation to her musical compositions. Her work has always been futuristic because of the use of sound and objects, but mixed with the oldest human craft – voice & narrative. By combining this technique, her productions are exceptionally innovative and original. However, there isn't a trait of influence "O Superman" in my work. I don't use a vocoder, neither I draw inspiration from opera. I love other elements of her work, such as her stage presence, narration, and spoken word. I also can't get enough of listening to Bright Red – the fifth studio album released in 1994. And her early performance artworks from the 70s, she performed a piece where she standed on a block of ice and played violin while the ice slowly melted beneath her. Laurie Anderson is brillian avant-garde artist. During the pandemic, Laurie regularly presented online Norton Lectures titled – Spending the war without you – all are available on youtube. I strongly recommend watching it.
—Talking about a no-musical influence, both of you have talked about the political philosophy Isolationism. How do you think it has changed your way of seeing the world?
—It isn't exactly correct. We always talked about Isolationism as a musical influence, not a political philosophy. We refer to Kevin Martin, who coined this term in the early 90s and described it as a "form of fractured, subdued music that "pushed away" listeners". It is an introspective and intimate sonic journey with a dread feel, not Easy listening background music. It opens doors and space of the unknown, to a more adventurous and interesting sound process, dub as fuck.
—Back to Jerome, you have talked about the influence of Experimental Audio Research. What did you learn from Sonic Boom's project? Did you like any of his other bands like Spacemen 3?
—Spacemen 3 and Spectrum were already a big influence for me and my band but the release of E.A.R 's Beyond the Pale in 1996 triggered something we didn't see coming. It was time to put the instruments aside and process sounds, stretch time, and forget conventional musical structures, endless hours of improvisations followed. It gets back to Isolationism, developing an intimate relationship with frequencies and creating moods, alternative spaces, and ecstatic states. I had the pleasure to meet Pete Kember a few times, we were on the same label with PM and shared the bill, he is such a passionate and dedicated person towards his art, and I'm glad to see he is still putting out incredible music. One of my all-time favorite albums is Spectrum's Forever Alien. We used to cover Spacemen 3's "Revolution" live with Piano Magic, it all goes in a circle.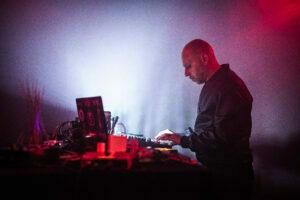 —Finishing the "influences part", how important has been industrial music for you?
—Barkosina: Industrial music is significant because of its social and political approach and background. We very much respect the history of Industrial music, and we'd like to believe that influence of industrial sound comes from working-class people working in factories and dealing with harsh extreme noise and machinery. When the term was coined by Throbbing Gristle in the 70s, the idea was to create music that isn't necessarily pleasant to listen to because of its harsh, and provocative sounds. The fusion of rock and electronic music blends with avant-garde, white noise, synthesizers, sequencers, tape music, and punk provocation. The first experimentations made by Industrial artists were all about statements and controversial topics. Those works can be easily placed under the umbrella of political art. However, these days the term and the genre have been describing purely sound aesthetics without a thematic statement. Pretty much any sound slightly distorted is defined as industrial music.
—You met in KAOS London, right? What can you please tell us about this place? Both of you used to DJ there, didn't you?
—Kaos is a place like no other. We recommend going and experiencing it. They recently moved from Electrowerkz to Fold London; worth visiting. Back in 2015, we were both Djing there and became regular ravers, and this is how we met and later began working together. Kaos has a special place in our hearts. We were musically, and humanly stimulated and educated.
—How were your first works together? Barkosina, you said you were making more performance art works and Jerome was creating the sound for them.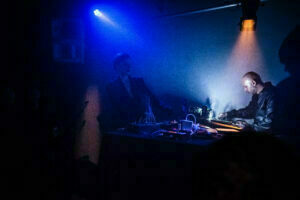 —Yes, that's right. Jerome experimented with modular synthesizers as a soundtrack to my live performance artworks. I experimented with my voice to his electronic beats, and like that, we understood the creative chemistry between us. The first works were spontaneous, and artistic. We were very productive, and inventive. All we wanted to do was to make art and be involved in the creative proccess as much as possible.
—Blood Debts was your debut EP, a very dark industrial EP, how did you find your style? Was it a development of the works of the previous question?
—Jerome: I have been working with drones and industrial textures without a specific plan or release in mind, just getting lost in sounds and creating moods. Blood Debts was a studio project without a name or a face. Further down the line, I met Maya Petrovna and recorded her voice alone without any music and used it as a collage to build tracks. Oliver Ho heard the result and to my great surprise offered to release it as an Ep on Death & Leisure. At the time, the record came out, I met Barkosina, we started to work on music for her live art performances, which led us to collaborate on YOD fully. It was a natural progression, it all made sense, and everything was falling to places, Barkosina's dark poetry and performative delivery gave a narrative to my abstract compositions, from that moment we started to write and record but also play live together. Years of Denial was alive.
—Instead, your first full album, Suicide Disco was less industrial and a bit more danceable. As you said, this is another side of the band, different from the "ambient" one.
—Yes, as previously mentioned, these are totally two different works. Suicide Disco is the result of 3 year-long collaboration between Jerome and Barkosina. However, we have always been working with Ambient compositions, which is well manifested in our release Human Tragedy out on Modular Mind. Creatively, we do need to stay diverse when working with sound and narrative.
—That album was released on Veyl label, and you have also collaborated on the second Maenad Veyl album and even made an EP with him. How is working with Thomas Feriero? Do you think his work can be compared to yours?
—Jerome: Thomas is a fantastic producer and musician. He is one of those artists who digested influences 100% and managed to produce original work every time. Following our split Ep with him on Death & Leisure, we released "Is it Over Yet" on a V/A for his label Veyl, he then offered us to release an album, and Suicide Disco was the result. Collaborating on his album was a treat and a joy to our ears; tracks like "Stranger" or "Mary is Dead" pushed us to places we never went before and helped us developing our musicality. We wouldn't compare our work, but it is certainly complementary.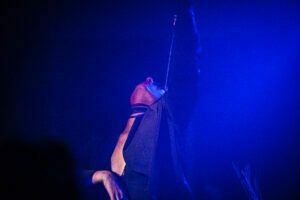 —I would like to quote you for the next question: "We make music which will remind you what pain is." Why do you think this society is trying to avoid/forget the pain?
—Barkosina: Sad songs make people feel less alone. Confessional poetry, tragic painting, bleeding body, pessimistic cinema, voices howling to the moon…
Art is "an antidote for the emptiness of existence."
Art allows us to see how flawed and fragmented we are and enables us to express hidden gems of madness, authenticity, eccentricity and savagery. There is something very real about that, no filter. Some prefer to avoid these qualities… Capitalist society designs people's lifestyles and makes the public desire perfection, happiness, and all kinds of spiritual scams. There is a pill for everything, and people are way more self-centered, and disconnected.
The recent AI selfie obsession, for example, we have technology in our hands, and we could do so many valuable things with it, but all we want is to look like fairies, a new level of digital narcissism. But there is a problem with this hyper- individualist culture, it creates extreme competitiveness and isolation, and people are more anxious and alienated than ever before. People are afraid to speak their minds, because of cancel culture, and its judgemental nature. Extreme liberalists are burning down history, art, literature, and all the villains. Mistakes and failures are an inevitable part of being human, more precisely being a better human.
Why is society trying to avoid pain? Because we live in denial.
—Going back to your albums, Human Tragedy is again more ambient/noise assembled from your earlier experimentations. When was it composed? Is it easier to do this kind of work or the more dancefloor-oriented one?
—Human Tragedy was a continous work. Some tracks were composed before Suicide Disco, so early 2019 and others after. We performed this material live in a church, theatres and cinemas during ambient/noise performances, and eventually Kujo from Modular Mind offered to release it as a mini LP. We feel comfortable working with both genres, if an ambient experimentation or more dance-floor production. When working on music, it is refreshing to switch between both sonic worlds as we wish according to our emotions and moods. It allows us to experiment more and develop our sound and expression. Our creativity can take various shapes and flavors, but its all part of one thing which is greater than the sum of its parts. However, none of the genres are easier to work on, as with every production, no matter the style, it requires intensity.
—I read that you are now living in a quite isolated place. How do you think it has influenced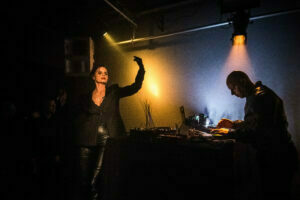 your last works?
—We thought the working process wouldn't be as much impacted by the isolated environment but we must say that some of our production took on a bit more mellow, and emotional feel. The constant silence and vast space got under our skin and it has affected our perception of the outside world. But we wouldn't be where we are right now If we didn't make this move away from a city, so overall it has been very beneficial, and the sonic signature of the project hasn't changed much.
—Barkosina, you said you bring to the band the chaos while Jerome brings order. How do you translate this to your way of composing?
—Every collaboration is interesting because it requires diverse skills and characters. We are two individuals with very different personalities, and that's what makes any band unique. I'd like to take on the wild, bouncy road. Hence Jerome is more persistent and controlled.
In general, this is more transparent when we are performing live. Jerome is more introverted, has steady technical skills, and excellent focus, which is always required because anything could go wrong at any time. I am more extroverted with a pinch of punk attitude. I like to incorporate performance skills into our live shows. Interact with the audience, and use my strong stage presence.
—From the very beginning you had a strong relation with Broken English Club, named him as an influence and had your songs remixed. How did you meet him and how do you think his music has influenced you?
—Jerome: I met Oliver Ho around 2009/10 in London. He played a few times at my event series called Flesh. We connected well and stayed in touch ever since. He is such a sweet person, a talented and visionary artist. Oliver Ho supported YOD from the very beginning and released our music on his label Death & Leisure, remixed us, and he is also featuring on our new album. We are grateful to have crossed paths and have a huge respect for the whole body of work, from his days on Blueprint and Meta to more recent projects on Downwards, Jealous God, and L.I.E.S.
Very few artists can manage pass the 20+years in the music industry and still sound fresh, exciting and relevant. Music goes in and out of fashion very quickly, but if you put your heart into what you do and stay true to yourself, you could be in for the long run, so I guess he is more an inspiration than an influence.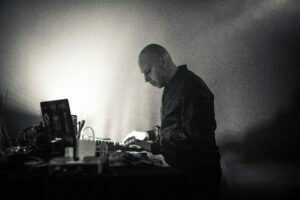 —Jerome, you also played with him in The Eyes in The Heat, a collaboration with Zizi Kanaan and Oliver Ho. What can you please tell us about this?
—Oliver and Zizi were already playing for a while before I joined them on drums. The Eyes in The Heat was a great combination of live instruments, sequences, and vocals. We played some wild shows following the release of the album on Kill The DJ. Sadly the project didn't last long, but it was all good fun. Zizi is a productive writer, constantly developing concepts. Anything could happen during our rehearsals, and the proccess was full of creativity and joy. We saw each other in September at Oliver's wedding, Zizi is now a happy mum.
—The band has been collaborating with Unknown Pleasure Records, making covers of Death in June, Bauhaus and The Sisters of Mercy. What's your approach to covers? What band would you like to cover?
—The UPR tributes are a great opportunity for us to try something different. We usually take the track to its bare root and start from there. We try to forget the original arrangement and sounds and give it our twist. We begin by creating a mood that fits the words and develop around it, and we tend to slow down and stretch time to emphasize the lyrics and vocals. Covering tracks sung by male singers is very interesting and can be challenging. The contrast in tones and emotions can create some beautiful damage. We recently released a cover of Bauhaus and currently working on a version of "Cervix Couch" by Christian Death. As massive fans of The Cure's early days, it will be a pleasure to cover one of the best band ever. Big up to Pedro Peñas Robles for the hard work and passion he puts into UPR.
—I really liked your remix of Amato in Barro's fourth release, you even added a vocal part.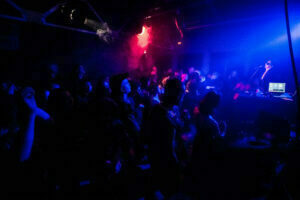 How did you come up with that idea?
—The vocal became the signature of Years of Denial, and when working on remixes, collabs & VAs, there is a demand for the voice to be present. Therefore with the Amato remix, we automatically added the vocal, and Barkosina developed the story further inspired by the original title 2 in 1 she wrote lyrics dedicated to Androgonyous Love, female and male energy living in a singular body.
—Time for the side-project questions. Jerome, can you please tell me more about Supreme Low? It's not the kind of music I listen to but I really enjoyed the album with Sensational. What's your aim with this project?
—Illbient was a big thing for me, and Supreme Low is my take on it. I love blending Industrial atmosphere with raw Dub process and beats. I have been producing that type of sound since the mid-90s, and I am still heavily into it. After wanting to collaborate with Sensational for years, it finally happened. I didn't want to swap files, but to make it a special moment and create together in the zone. So it took more time, but we grabbed the opportunity to record the EP while he was gigging in the UK. I am really happy with the result. Moreover, to keep the family vibe, I have invited Broken Engish Club and Barkosina, who also feature on Still Ill with remixes from the master of confusion Hypnoskull and the always surprising Maenad Veyl.
—Barkosina, you released a solo album in 2021 entitled Fasting culture, what can you please tell us about this? It was released with a hard-cover book, wasn't it?
—Fasting culture is a mixed media art project created during the pandemic.
The work is composed of poetry, performance art, short essays, and music and the final product is in the format of hardcover book & audio tape published on Modular Mind Records. The initial idea came from the feeling of emptiness during lockdowns emphasizing the relationship between artist and cultural space. With my fasting practice, I decided to fast and make art simultaneously. I felt the need and urgency to experience physical emptiness, a state of deprivation, to articulate the concept – that for the artist, the absence of culture is parallel to the absence of nutrition. As we know it, the cultural landscape was first to shut down and last to be re-opened. Without any support, quick as a flash, culture and living art was dead.
—What can we expect of the future of Years of Denial? More ambient or more dance?
—We have an album coming out – Suicide Disco Vol.2 on Veyl records.
If all goes as planned, it should be out beginning of March 2023.
We also hope to tour Internationally and perform live as much as possible. Being on the road feeds the will, and it give us the purpose to continue.
More ambient or more dance? The answer is both.