From the electronic ashes of Cuartilla & Muto, and believers of the techno religion, World To Zero was born, a duo of promoters of the radical action, armed with lethal synths. We will have the opportunity of listening to their last EP for the first time in Madrid at DarkMad. It will be on the 25th of October: the world can be really fucked, but we still have music, the music of World To Zero.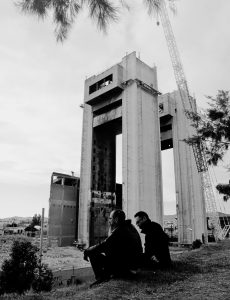 —Your previous project was called Cuartilla & Muto, why did you change to World to Zero?
—The project, more or less, is still the same, we just changed the name. Some of the tracks of WTZ were started when we still were called Cuartilla & Muto, even though some of them were played in some concerts, but as they were not published, we decided to release them as WTZ. Cuartilla & Muto were Víctor and Javier, World To Zero are Cuartilla & Muto.
—World To Zero is the English translation of the name of your first album as Cuartilla & Muto. Have you used the same name as a link between both projects?
—That's right… we can say that it's the evolution of both projects.
—What artists have inspired the music of World To Zero?
—Well… if we have to name some artists, we would never finish. We have a similar taste and also our vision of art is very similar. There are a lot of groups and artists that both of us like, but I don't think that they have inspired us.
—Javier, you also have your own career under the Logical Disorder moniker, with a sound between IDM and dark ambient (although every album is different). What can you please tell us of this project?
—It's a project I have been using since 2006 to exorcize myself, I used it as therapy, not to become crazy, although lately I have it a bit abandoned. I like to mix light and darkness, because life is not a bed of roses. 
—Also you have your singles as Muto. Those were your beginnings, right?
—More or less. Muto was posterior to Logical Disorder, that moniker was created so I could have the different styles separated, just after my first project, called Crashcats died.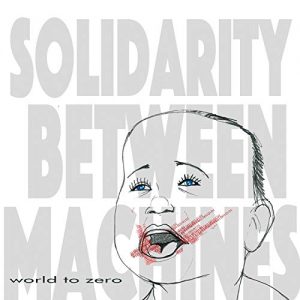 —Your first album, Solidarity Between Machines was published last year. How was it received?
—To be honest, better than expected. The launching party was at Razzmatazz, and that's really good for us. We decided to release it only digital and until now we are selling copies. It's the album that has sold the most and the one with more downloads too.
—And this year, in may, the band has published, Futur negre, your second reference. How would you describe the album?
—It's the continuation of SBM with a bit more experimental and purer sound. We had the launching party not long ago in Barcelona and it was very well received.
—The influence of acid is evident in tracks like "UFO", don't you think that there is a new interested in the genre?
—Acid, since the arrival of the 303 at the beginning/middle 80s has always been there… in House music, in Techno, in Electro… in electronic music in general. It's possible that now people are listening to it more, but we don't care. 
—Do you think that electronic music must have a message?
—Of course… all kinds of artistic expression must have a message, if it doesn't have it, it's not art.
—Are you a pair of negative persons or the world is really fucked?
—Hahaha…the second answer. The world is fucked because of humans.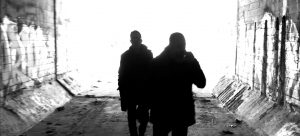 —Do you feel part of the Catalan techno scene? Is there a scene?
—Yes, there is a scene, it has always been there and it will always be there. The "scene" that is been sold to us… it's better if they don't know that we exist. 
—Are you still interested in clubbing?
—Electronic music is always going to be linked to clubbing. What we knew as clubbing stopped existing a long time ago. We are proud because the 85% of our performances have been outside of the clubbing hours. As public, we have missed a lot of performances because they are too late in the morning and to see a concert, you have to see all the shit around it.
—Of all the big festivals of electronic music, LEV, MIRA, which one is closer to WTZ aesthetics? 
—World To Zero could fit in all of them.
—With your previous moniker, you played in Dakar with some of the artist that are going to play in DarkMad. And later you have collaborated with one of them, Fakeba. Do you think that a feeling of community was created with the bands that shared that experience? 
—In Dakar, we shared the adventure with Flash Zero, Fakeba, JLA Form and Kirlian Camera. For us, it was a fantastic experience. It was the first festival of electronic music, before that, there was never a festival like that in Senegal. The illusion that we put in that festival could be noticed, and yes, as you say, a feeling of community was created between us. In a weekend a lot of anecdotes happened. And yes, with Fakeba we have collaborated with a remix. A very beautiful person. Pure light.
—How is going to be your concert at DarkMad?
—It's going to be the shit!!! Let's go!!!