Wisborg is the name of the city close to Count Orlock's castle in the silent movie Nosferatu, but also the name of a Goth Rock band that have recorded three albums as hypnotic as the eyes of the famous vampire. We have talked with Nikolas and Konstantin, the two founders of the German band. Tomorrow, they are playing at the Dark Winter Festival Liège together with La Lune Noire, Ductape and Joy/Disaster.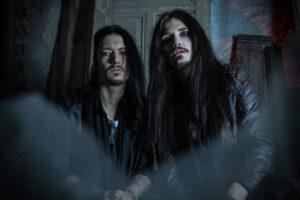 —The band started in 2017, how did you get the idea of creating Wisborg?
—Nikolas: We had enough of the unnecessarily long working processes of our old projects. Konstantin and I had never written music together before and it worked very well, so one thing led to another.
—Wisborg is the name of a city from the silent movie Nosferatu and in your first album you also made references to Dr Caligari. What do you find interesting in German Expressionist cinema?
—Konstantin: It is a way more artistic approach to cinema. The lack of dialogue puts the focus on the visuals.
—How did you get interested in Goth Rock? You named Sisters of Mercy and Type-O Negative as influences, didn't you?
—Nikolas: Gothic rock is just one of many influences we both have. The sound that came out when we wrote our first songs for Wisborg was kinda gothy because of our musical overlap.
—How has your experience playing in metal bands has influenced the sound of Wisborg? You both are still listening to Metal according to the spotify playlists that you post on Facebook every month. Any band that has caught your attention lately?
—Nikolas: I'd say you can hear it in the heavily distorted guitars and the songwriting itself. We often put the focus on guitar riffs rather than playing melodies over a bass line as you'd traditionally expect from gothic rock.
—How was the recording of your first album The Tragedy Of Seconds Gone? Was it easy to get in studio the sound you wanted for the band?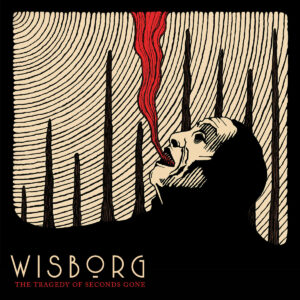 —Nikolas: We were lucky enough to work with Achim Dreßler from Wellencocktail Tonstudio in Hannover, who instantly had the same vision for the record like we did. With him we were able to bring the signature sound of our The Tragedy Of Seconds Gone demos to life.
—We could say that life is what happens From The Cradle To The Coffin. What's your ideal way of spending what rests in-between?
—Nikolas: Trying to live in the present and doing everything that gives me a feeling of purpose, like making music and spending time with beloved people.
—According to one of your interviews all your albums are existentialist. Do you think that this philosophy of thinking is even more needed today?
—Konstantin: Which -ism you need to get through the day depends entirely on you as a person. I'm not in a position to decide what's best for the world.
—The second album was more nihilist but Into the void is more full of life and sexual. What made you go from one point go the other?
—Konstantin: Love, sex, death and transience were my lyrical themes from the very beginning. The second album lacked a little sexiness compared to our debut, so I guess I overcompensated on Into The Void. (laughs)
—Luc Lacroix joined the band as live drummer in 2019. I guess he's now a regular member of Wisborg. Accord to you, what has he added to the sound of the band?
—Nikolas: Luc is still just playing live drums and not involved in the songwriting process, but he's a member of Wisborg for us anyway.
—The band has done some remixes for Chelsea Wolfe, NIN, Then comes silence and Agent Side Grinder, among others. What do you try to express with your remixes?
—Nikolas: Creating remixes is just fun and a possibility to try out new ways of being creative. We really like the artists and tracks we edited, so what would be more logical than asking yourself: "Hey, how would the song sound if this and this would happen?" or "How would the vibe of the vocals change if I'd change the chords in the chorus completely?" To be able to fool around with stuff like that is like being locked in a toy store.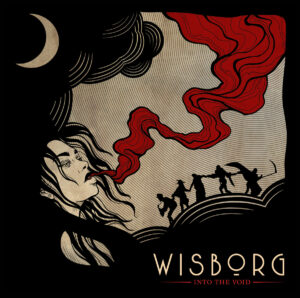 —Also in your last album there were some remixes included in the CD version (not really in the Cd version but as a download code). How did you choose the remixers? What's your favorite?
—Konstantin: We asked befriended musicians, people we met on our musical journey up to this point. It's always cool to hear alternate versions of your songs – to pick a favorite wouldn't be fair to the others.
—How would you describe the band's evolution from the first album to Into The Void?
—Konstantin: Huge!
—In the album, you have collaborated with Jørgen Munkeby and Dani Divine. Why did you choose them? Did you enjoy working with other musicians?
—Konstantin: Both of them were chosen because we felt like their input could improve the tunes. It definitely did in my opinion! Working with them was fun, I think it's safe to say that there will be more collaborations in the future.
—How is your Patreon subscription service going on? Do you think it helps get closer to your fans?
—Konstantin: It's really great to get in touch with our fans on a more personal level and their financial support helped a lot with the production of Into The Void. We appreciate you!
—The band has been recently endorsed by Hagstrom Guitars of Sweden. Can you please tell us more about this? Is the guitar that you have been using in most of your albums?
—Nikolas: We both used Hagstrom guitars from the very beginning, both in the studio and live on stage. The Super Swede Tremar is my ideal instrument, so I may find it difficult to use other guitars. That's why the guitar can be seen in every music video. (laughs)
—Konstantin, you also play in Morgue Poetry and Kryptotype, what can you please tell us about this project? I read in an interview that maybe you will release new material with Morgue Poetry this year, right?
—Konstantin: Kryptotype has been inactive since late 2016, for various reasons. I have no intention to revive that project ever again. Morgue Poetry, on the other hand, is just sleeping, not dead. Let's see if I'll manage to record new music for it this year – life is busy.
—Another side project is DEATH CULT 69, with Konstantin and Luc, what can you please tell us about this? It's more doom metal, right?
—Konstantin: I started writing doom riffs during the pandemic and felt like turning them into songs – one thing led to another and now our debut EP Join The Cult is out digitally and on tape (almost sold out). If you still want to get a physical copy, better be fast: jointhedeathcult.bandcamp.com
—Any new Goth rock that you like?
—Nikolas: Not really, I'm more into Post Punk at the moment. I'm all the more happy to share the stage with Then Comes Silence, Joy/Disaster and Ductape.
—How has the band lived these Covid days?
—Nikolas: We were lucky enough to be able to play a couple of shows. But we also kept busy recording the third record and practicing our new songs to bring them to stage.
—What can we expect of your concert at Dark Winter Festival?
—Nikolas: A wild mix of tracks from all three albums embedded in passion and suffering.