VUDUVOX is the project of J-C Van Thienen (formerly in BUZZ) and Olivier Thibaut, percussionist in SA42, whose first album Vaudou Électrique was published in 2014 and now they are going to release a new one. They will be playing with She Past Award and Dear Deer on the next 7th of March in Lille and with Larva, also in March in Liège. We had an interesting chat with J-C, leader of the band.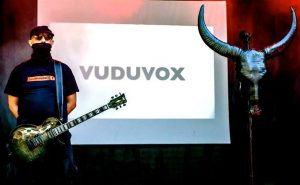 —Can you tell us something about the beginnings of the band, how did everything start?
 —Well, there have been two or three "beginnings" so to speak… To cut a long story short, I started a solo project called BUZZ in the mid 80s. With a couple of other musicians, I released a tape -now re-released on vinyl on Dark Entries– and four 12" which achieved reasonable indie cult status, especially "Kennedy" and "Berlin." Live, I supported Anne Clark, A Split Second, The Essence, Minimal Compact, The Neon Judgement, Taxi Girl and so on, until 1989. I never stopped playing music afterwards, but didn't get a home studio before 2006 when I decided to resuscitate the project. By then, the name had become far from original and finding another took me a good while. To boot, over a period of 4 years, the line-up kept changing every six months or so with collaborators literally jumping on the bandwagon only to leave as soon as they realized it had to be more than a hobby. I nevertheless managed to release 5 self-produced CDs, as well as numerous other tracks on compilations, from Brazil to Russia, and remixes by SA42, Bertrand Siffert (The Young Gods' live engineer), David Harrow, People Theatre, Danny Briottet (formerly of Renegade Soundwave) or Dirk Da Davo of The Neon Judgement to name but a few. In the meantime, BUZZ played from Portugal to Switzerland and Germany, sharing the bill with Cassandra Complex, SA42, Implant and so on. In late 2011, the guitar player pretended he was having a burnout and left ten days before a series of 9 gigs in France and Belgium so I called Olivier T. -whom I'd seen playing electro-percussions live for SA42– and ten days later we were opening together for Parade Ground, and next for Implant, Psyche, Spectra Paris and so on.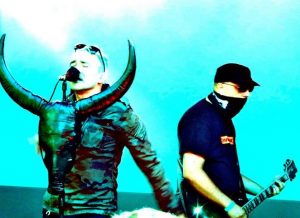 Around that time I tested the name "VUDUVOX" on various friends and fans, from the UK to Brazil which, after weeks of brainstorming, also marked a complete rebirth whilst generating positive vibes and enthusiastic feedback from all over. "VUDUVOX" was apparently a good choice: it can be pronounced easily in any country and proves to be very evocative, summarizing what to expect from us, i.e. a mixture of dark, punkish and almost tribal, energy – i.e. the "vudu" bit – coupled with old school electro, industrial and even EBM or synthpop – hence "vox." As you'll have guessed, we can't be labeled that easily. Now and again some twat whines that we're "too modern" or "not post-punk enough" and I couldn't care less: "je ne regrette rien" and I've always stuck to my guns. We're not your average déjà vu act or mere clones. So we generally find ourselves off the radar thanks to what has often been qualified as a unique, homogeneous and immediately identifiable, sound.
 —Your first album "Vaudou Électrique" was released in 2014, can you tell us something about the recording? It was released by an Italian label EK Product, are you still working with them?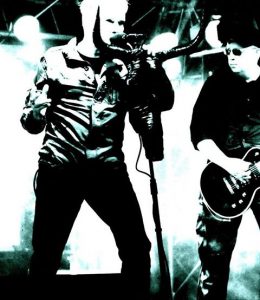 —We're still working with EK Product indeed, and happily so. They're obviously an up-and-coming young label as their recent Complicity Content 2-CD compilation is showing. After our name issue got sorted out, we agreed that Olivier should switch from electro-perx to guitar and I totally re-arranged the forthcoming album, Vaudou électrique. It was pre-produced by Dirk Da Davo, finalized by yours truly, and mastered by Len Lemeire of Implant whom I'd met via Anne Clark and who'd done the mastering of all the BUZZ albums. By then, Amedeo, who runs EK Product and had distributed BUZZ in Italy, had offered to sign us ASAP without even listening to a single VUDUVOX demo. It was a pure matter of trust and confidence and Vaudou électrique got released on EKP in November 2014. The following years have been increasingly busy; last year saw us play Northampton, Liège and Lille with Attrition, as well as Milton Keynes or Rome, before culminating with the NCN and E-Only festivals in Leipzig with Suicide Commando, Ash Code and Apoptygma Bezerk. And we've also been working hard on Fétiche, our next album, which has been delayed by more than a year now because after a couple of initial masterings at the Implant Plant I decided to re-work on various knick-knacks that nobody else but me will hear in the end! Sorry I'm late but it's all for the best and it's never been so close…
—Your concerts seem very intense, according to the videos I have seen. How would you describe your live performances?
 —They are rather intense little events indeed as you'll have seen on YouTube for instance. We love performing live and convince new audiences, especially abroad… I've always insisted on combining sound and vision and, on our live DVD, every accompanying vid. is synchronized to the music and bears a close relationship to the lyrics. It is generally projected directly onto us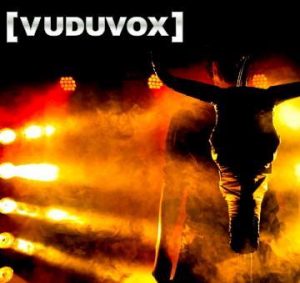 and gives each show an eerie radical feel. To be perfectly honest with you, we're not very fond of floodlights… we're not the fucking Pink Floyd! Our concerts are played full speed ahead with guitars, vox and machines, the aforementioned DVD and my mic stand's fetish bull skull. Plus, we use the same sound-kit from one track to the next, almost Ramones-like; once a punk always a punk. We're fully aware that you can only either like it or hate it but we're not prostitutes and we don't cater for an audience: no compromise, no surrender!
 —You have done a remix for Zwaremachine, we interviewed them a few weeks ago. How did the collaboration start?
 —Since that remix for Zwaremachine last month, I've only just sent a so-far-unreleased track to the Orphans compilation, launched by North Shadows Records to honour and support the firemen of Monchique in Southern Portugal, a region torched by hellish forest fires last Summer. No less than 38 up-and-coming European acts feature on it, including She Pleasures Herself, IamtheShadow or A Thousand Societies to name but a few… And every single penny (or cent more like) raised with each download will be sent to them.
Over the last three years, we've recorded quite a number for Implant, Llumen, Rhesus Factor (feat. Leaether Strip), Tragic Error, etc. as well as covers –of Front 242, Indochine, etc.- for various albums and compilations, not to mention vocal collaborations for Synthetik Form and Code Six. And, believe it or not, we've already started work on the third album and I've got about 200 unreleased tracks in the pipeline, with new ones being added regularly. The newest one, demoed yesterday, will feature I Am The Shadow's keyboard player Vitor J. Moreira. Fortunately, the Internet facilitates all this and helps us feel more part of a scene whereas locally we have little support and few contacts altogether, except the Sampler et Sans Reproches radio show who's been promoting that kind of music for 20 years or so and is still cutting-edge.
As regards Zwaremachine, I was introduced to Mach Fox – from Minneapolis – by our common friend Severin 24 some twelve years ago. He made a logo and a remix under that name for BUZZ and recently offered me to remix this new kick-ass project of his. Let me tell you that "there was fun in the making" but remixing other acts is always much trickier than working on one's own tracks: pressure on, pressure on… I think Mach was rather pleased with it and we'll be sharing the stage at New Wave Festival off Liège, next September – with Whisperong Sons – as well as a couple of other venues…
 —You are going to release your second album this year, and you have already some gigs planned. It's going to be a busy year for VUDUVOX, don't you think? Any plans of coming to Spain?
 —Yep, as I told you earlier Fétiche is due out pretty soon and it will be yet another busy year for VUDUVOX but we won't complain, far from it… My only gig in Spain was when I played Madrid's Ya'sta, then an indie club, solo, as BUZZ, when the Movida was still going full blast… That was some night to remember indeed. VUDUVOX have no plans for Spain so far but – joder! – that would truly be de putamadre, hombre/guapa and any proposal will be happily considered; so fire away!