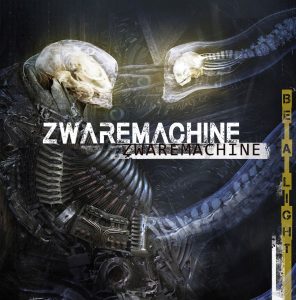 We have received the first album from Zwaremachine, entitled Be a Light and released last 2018. Zwaremachine is the project of visual artist Mach FoX who describes his music as "Minimal Hypnotic Industrial Body Music". The band will tour this January, playing on the 19th in Eindhoven, on the 24th in Hamburg and on the 26th in Heerlen (Netherlands) with Portion Control and a DJ set of Dirk Ivens.
Mach FoX is not a newcomer, he has been making music for a long time, first under his proper name and also with different monikers such as Satan Starship and publishing records like The Inquiry EP and The Sky Is Falling and now with this new band with a style that we, definitively, like more.
Be a Light, released by the Phage Tapes contains seven original songs, our favorites being "Another Way," "Be a Light" and "Person to Person," and seven remixes, made by artists such as Timmy The Tapeworm, Audiocentesis or Thosquanta. Influenced by bands like Skinny Puppy and Dive, it's a record that can be enjoyed by classic EBM fans and those who like more industrial sounds. Menacing vocals, oppressive ambience and some synth lines that will make you shiver and want to dance and the same time, all together in one of the best EBM albums that we have recently listened to.
Last December, a new free single has been released: "Remain Unseen" and can be downloaded from the band's Bandcamp. Be a Light can be purchased here.
We also had a small interview with man behind the (Zware) machine:
—When did you start as Mach FoX? On Discogs I found references up to 2006.
—Mach FoX was a solo project beginning in 2005 and was part of the Twin Cities,
Minnesota USA electropunk scene. I was able to add some band members from other bands in the scene and I performed and recorded until about 2010. I still release music, video art and perform as Mach FoX.
—And what about Satan Starship? It's also you, right?
—Yes. Satan Starship was the project that Zwaremachine came from. Originally I wanted to have a collaborative effort based on a central sequencer and have 1 or 2 other musicians linked via MIDI for live performances. This was done several times and there was a recording released also.
—The Raumschiff EP, is your first reference under the name of Zwaremachine? Does it have any connection with Satan Starship?
—That first EP used many samples and loops processed from the Satan Starship release. The editing and production for the Raumschiff EP were done by myself and a good friend/DJ Joe "Jobot" Bartuski and we went on to perform theses tracks live as a band starting around 2012. This was a much more electro-industrial sound on that early EP. I think in many ways the Zwaremachine music I make today still holds the spirit of the first EP with the focus being "Minimal Hypnotic Industrial" and with the "Body Music" added as a reference to EBM. I think Industrial Body Music would be a good term as well
—You are also a visual artist, how is going to be the visual show in your fore-coming concerts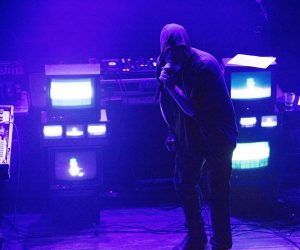 —I am very much interested in presenting the band with an element of visuals and lighting, with a stage setup that creates the atmosphere and moods for the music to live in. In the US I am able to travel with custom lighting, CRT televisions, stage gear so it is a much more complete vision for those attending. While traveling abroad for upcoming shows my gear will be limited but I still rely on projections and some custom staging. By making custom visuals, I can also design the projections to bu used as a light source.
—Why the change from electro punk to EBM?
—I feel like electropunk is the attitude more than the style or genre. I came from playing guitar in punk DIY bands and still consider Zwaremachine an electropunk band. I just wanted to expand the description and add the elements that were more genre-based. EBM is also a broad term that evolves so I don't consider us strictly an EBM band either. I wanted to subvert some pop elements and add my own techniques to create an Industrial Body Music that gave a nod to classic sounds and added a current vibe as well.