One of the bands that we, at the Garaje, have always supported is Vuduvox. We already interviewed them in the past, we tried to see them live at the Liege New Wave Festival (we missed the flight), and this year, they were going to play at the W-Fest. Sadly, we will have to wait for 2021 to see them live. In the meantime, you can read our new interview with J-C Van Thienen and listen to their songs in Bandcamp.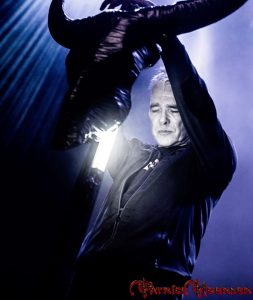 —Are you still thinking about releasing an alternative version of the first album mastered by MF of Pankow? So far we could have a glance at "Berlin" (Pankow Mastering) and "Silex" (Pankow mastering)
 —Yeah well, this might be out some day most probably on a Belgian indie label this time; it's verbally agreed but I've been really busy recently and there's no real hurry since some people have only just discovered our first album Vaudou électrique, now sold out incidentally. Dirk Da Davo – of Neon Judgement fame – had worked on the pre-prod, I'd completed the mixing and Len Lemeire from Implant handled the mastering. Maurizio did a great job too and it does deserve to see the light of day. 
—What happened with the new album Fetiche? So far only "Les infrabasses" has been released and some songs played live. How were they received?
—Fetiche is still in the pipeline, it's almost completed, all the tracks were recorded and mixed and I had a technical mishap that forced me to redo a couple of tracks. Then, I've been working anew on a couple of bits and pieces only I can hear and redoing all the vocal parts… but we're getting there. Parallel to this, I never stopped recording and writing for the next one. All its tracks are waiting to be mixed properly now, and we have many more in stock… "Les infrabasses" won't be on the album although it's a great track but since it was released on the EKProduct compilation last year there's no need to re-release it. Besides we did a couple of tracks for various releases, such as a remix for Zwaremachine, a cover of Front 242's "Headhunter" for the German compilation Im Rythmus Bleiben, also featuring Læether Strip or Plastic Noise Experience, another of Indochine, would U believe it?, while another track was issued on the Orphans compilation on Northshadows Records, alongside IAmTheShadow, She Pleasures HerSelf and Autopsie d'une Ombre… The tracks from Fétiche that we've included to our live set were truly well received each and every time, be it "Entre chien et loup", "Aboyer" or "Fétiche" itself… And we've also been testing various tracks from the third album, namely "Elektro Tanz Machine", "Paris brûle-t'il" and "Nos coeurs sont des machines" and they went down a storm…
—Last year, the band has been touring a lot. We were supposed to see your live, as you know, but we missed the flight. How would you resume this year of concerts?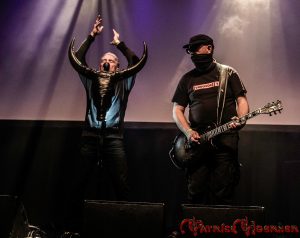 —Indeed, last year we played France, Belgium and Holland in very decent venues, festivals and clubs. Every single gig was a treat, sharing the stage with She Past Away, Ash Code, Zwaremachine, Neon Electronics, Larva etc. You truly missed something, but there will be other opportunities after that coronavirus shit gets sorted out, not thanx to our respective governments by the way who have proven for once and for all that they are no more than useless arrogant tossers, every single of them.
—What can you please tell us about Olivier T., the other member of the band?
—Olivier adds his guitar riffs on my demoes and is in charge of our live gear and implements, he's the technical wizard when it comes to the live-shows; Jacky of SA42 for whom he plays live electro-percussions introduced me to him about 10 years ago and when I asked him to join me a little later for a series of 9 gigs starting the following week he agreed, adding his electro-perx to the set before switching to guitar when I opted for a name-change from BUZZ to VUDUVOX and I've never looked back. Plus, we recently worked together on a couple of SA42 tracks, adding some guitar to them.
—In these days the other really bad news has been the death of Genesis P-Orridge. Was he an influence for your music? Also Andy Gill from Gang of Four died last month. You liked his music, right?
—I was never deeply interested in Psychic TV and the like, and have always been more into less extreme stuff, like Chris and Cosey, The Young Gods or Cabaret Voltaire. Andy Gill's departure was a tough blow too. I was fortunate enough to see GoF ten years ago in a Belgian festival and they stole the show, just as I'd expected, all the more so than Jon King was still on vocals.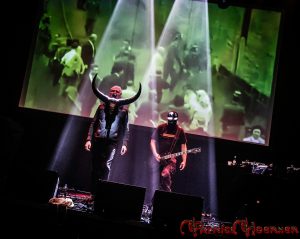 —What are the lyrics of your songs about? Why have you chosen to sing in French?
—To be perfectly honest with you, I prefer the tongue-in-cheek innuendo approach to ranting about current politics, I leave that to RATM and mail-order prefab rockers.  My subjects range from the Islamist bombings ("Paris brûle-t'il?"), animal cruelty ("Pas d'âme"), Post-war Europe ("So Kalt", "Berlin") to the Holocaust ("Ils descendront du train", "Varsovie"), the dereliction of the Western world ("Silex", "Entre chien et loup") or great figures of the 20th century , such as the eponymous "Mishima", "Kennedy" or "Maiakowski". But nothing on Greta since I'd rather be seen dead than sing her praise. Others are simply about electronic music, like "Bruit blanc" and "Les infrabasses" whereas "Sérénade pour un renégat" is dedicated to Gary Asquith of Renegade Soundwave, and "Daniel D. décolle" to Daniel Darc of Taxi Girl, another sad loss.
Choosing French was a bit of a challenge at a time when it was only used for M.o.R or variété crap. I wanted to use French just like Parálisis Permanente or El Aviador Dro were using Spanish, DAF German, Litfiba Italian and Gary Numan English…It also corresponded to that burgeoning European feel, a spontaneous decision to bond across borders with fellow musicians and audiences, and was miles away from the masquerade politicians have made it, from Merkel to Mitterrand and Macron… Funnily enough, I got/get very enthusiastic feedback from other European countries whilst many French aficionados – and more often than not, the very posers who rave about "le rock'n'roll", love to stick stupid little labels on bands and wouldn't know an irregular verb if they were pissing on one -, hated me for doing so, and still do. So I stuck to my guns, partly to bother those cunts and partly because it had become some sort of trademark; ie machines + guitar + lyrics in French + vocal samples in every possible language… Interestingly enough, I witnessed an actual evolution around the turn of the century, and when we played England with Attrition and The Venus Fly Trap, or Rome a couple of years back, or the NCN and E-Only festivals in Germany people really went for it.
—You mentioned Sampler et Sans Reproches, whom we have met a couple of times last year, as one of the only radio stations promoting the scene. What other radio or magazine is helping the scene in your area?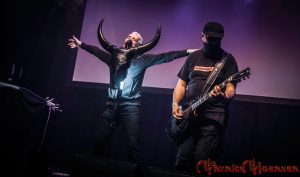 —Sampler et Sans Reproches have been doing a great job for innumerable years now. Magazine-wise it's mainly fanzines or webzines, since the official press are generally expecting a cheque with your CD so that they should review it at all. We're more of an indie DIY act appealing to other indie DIY mavericks like you for instance… In our region, like in the rest of the country, there is nothing. Among the indomitable, I can mention the fanzine Twice, and the radio-shows Coma Electrique on Aligre Paris, Eclectronic on Radio Scarpe Sensée, Cyberland Radioshow on Franche-Comté… But I can also mention vudu-people from all over, including Luminous Dash and Peek-a-Boo (Belgium), Retroactivity Radio and Radio Deepland (Brazil), Twice Mag or Cyberland (France), Ver Sacrum and Flux (Italy), The Slab, Intravenous and Pulse (UK), Dark Essence Radio (Au), EBM Radio (Germany), as well as talented photographers such as Marija Buljeta, Patrice Hoerner, Yannick Lagier or Roger Op Den Camp and Xavier Marquis. But to get a full view you'd better go to our Facebook's reviews and interviews photo-page to check it all.
—Is it difficult to promote a band nowadays? Do you think that Bandcamp and YouTube has been useful for the band?
—It's tougher than ever, believe me. When we released our first album it was pirated the very next day by some cunt on his Russian site. But indie labels like EKP or Wool-E do a great job, and have never been in it for the money but for the music… As regards Bandcamp and YouTube, they are rather useful and have proven a good means to get across to people who haven't seen you live (yet) and spread the news, although it would require a full-time job to handle that, Facebook comes in quite handy at times too… otherwise we'd remain stuck in some cave instead of having some decent visibility. But it's also polluted by a lot of dunces and posers.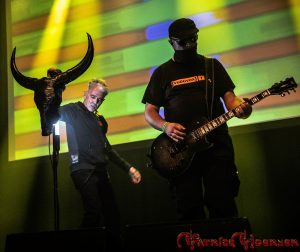 —What gear are you using to compose and record your songs? Do you prefer digital or analogue?
—It's gonna sound like heresy but I'm more into music than sound. I've got no time to spend on that. I don't give a toss about that analog/digital rift. I sold all my analog gear when I was broke in the 90's, having spent all my money on recordings and never getting a single penny back from our label… So when I was able to buy some new gear it was cheap, easy, and portable. My mike is a mere SM 57, which I also use on stage. I tried more expensive ones and they didn't fit me, it's as simple as that. Once a Punk always a Punk and I'm not interested in getting "the machine that goes ping". All my VUDUVOX tracks are based on the same sound, just like the Ramones used to, and the only time they changed their sound was by hiring Phil Spector who turned it into an abominable dirge.
—You were going to play at W-Fest, right?
—It's never been so close but unfortunately we won't be part of the 2020 edition. We've just received a mail telling us that due to that f**** Covid-19, they had to postpone the festival and switch to a smaller venue… Although they had to cancel again that option because of the lockdown. But they assured us we'd be on the bill in 2021 and it's a great opportunity, when the day comes it's gonna be a blast, and the long-awaited "Fétiche" should be out by then, together with some songs released in compilations… But let's all stay in and stay safe for the time being. The dark bea[s]t go.[r]es on!