You know what you can expect of a band called Vomito Negro and they certainly give you even more than that. Since the beginnings of the 80s, the band has been mixing industrial, EBM and electro, always with their characteristic harsh sound. We have talked with Gin Devo who will be playing at the W-Fest on the 21st of May. Don't miss it!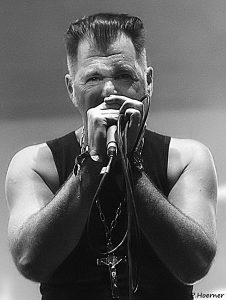 —Why did you choose a name as Vomito Negro for your band?
—The name Vomito Negro means "Black Vomit"… it appears in the last stadium of "Yellow Fever" when the patient vomits his black guts out. In the '80s this sort of names was very popular with bands.
—What were your influences when you started the band?
—Industrial German bands and British synth bands… John Fox… Cabaret Voltaire, etc.
—There is a very limited edition of your first EP (Vomito Negro) that includes a lot of tracks from Dec 84 to Sept 85, Oct 85 to May 86 and May 86 to Nov 86. Were these the first recordings of the band? Did you release them on cassette?
—I believe they were released on cassette tape, yes. And no, these are not the first recordings of the band, the first recordings date before 1984. I'm working on the recordings at the moment. I'm editing and remix them to release in 2020 on limited vinyl.
—On Dare, the band used an Atari ST 1040. In a few interviews, other artists have stated that the apparition of the Atari ST was really important for them back in the day. How was your experience with this machine? Also the band did not use samples, why? Did you prefer to create your own sounds?
—The Atari ST 1040 had a very good midi clock. We used the machine to sync our studio, it was more or les the first personal computer that could be used in studio production. We created most of our own samples, but some vocals we used from movies. We didn't use sample libraries.
—On your album from 1989, we found some "shocking" lyrics, like in "Chicago Cave" or "Baby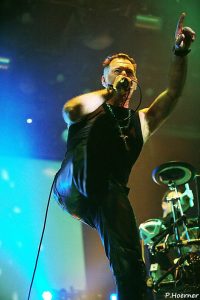 needs Crack." Where do you find inspiration for them?
—Because there were people in the band with a drug addiction, some lyrics went in that direction. In that period there were a lot of drug deaths around Antwerpen … so yes … that was the reason.
—How was born the collaboration with Liquid G? A cassette with him called Musical Art Conjunct of Sound was released in 1989, right? He also worked on some of your albums.
—Liquid G was always hanging around in the studio in that period, as a good friend, so if we needed him to play some additional instruments … he was the man to do it, great bass guitar player.
—Why are some albums like Human half full of instrumentals? Don't you think that your voice is essential in your songs?
—We were pushed by the record company to release more albums, so we added some instrumental songs to release it faster. That's it.
—The band recognizes the influence of film noir, something that can be seen in records like The New Drug. Why this genre interested you? Would you like to do the soundtrack of movies?
—Film noir is a great starting point, I like very dark scary movies with only a few personages, it's a very open platform to start making music from. Yes, to do a film score or movie soundtrack would be great.
—The music of the band has been described as having a minimalistic approach and even Wake up is labeled this way in Discogs (although to be honest they are wrong so many times). Do you agree with this?
—Vomito Negro is not minimalistic, the songs are full of sound, they are packed with atmosphere. They are very tense, even bombastic at some songs, so yes, they are wrong.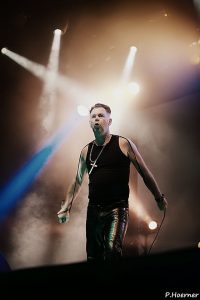 —What's the story behind the side project Full Dynamic Range that released the album Lost Generation in 1993?
—Around 1993 the electro scene in Belgium was falling apart, DJs were speeding up the BPMs … so lots of bands had to start with other musical stuff to stay alive … so FDR was born out of that … you can't change a musical style from a band in one album, so FDR was used to try out some other direction.
—Why did the band have a hiatus in 2002? You were not happy with the result of Fireball, right?
—The electro scene was death, and Fireball was a very bad album, so it suddenly stopped.
—During this hiatus, you formed Pressure Control and released only one record in 2004. Do you see this project as a continuation of Vomito Negro?
—No, Pressure Control was a project like FDR, just something that came alive from ideas, it has nothing to do with Vomito Negro.
—How was the creation of Skull and Bones, the coming back album?
—Skull and Bones was fun to do, it opened doors again, and proved the old Vomito Negro formula still worked.
—The album also came with a CD of remixes: The 2K10 Remakes. Did you want to know how the old tracks could sound with the new technology/gear or did you think that the original sound was a bit outdated?
—My intention was to update the old songs a bit, and to prove that even without all the original studio material gone, or not available, I was capable of reconstructing every song, and every detail.
—Fall of an Empire is the first album with Sven Kadanza, from then, the second member of the band. What was his contribution to the sound of Vomito Negro?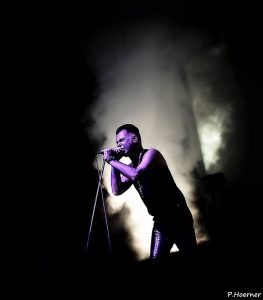 —Sven is a fantastic drummer that guides me always in some direction, he has a critical view in what I record, so he is a part of the music-making machine behind Vomito Negro.
—Black Plague, the album from 2017 took a few months longer to release due to the re-recording of some songs in order to keep that typical Vomito Negro sound. How would you describe this typical Vomito Negro sound?
—I'm a very critical person, so if I'm not happy with the result, I redo all or some parts. I think Black Plague has that typical harsh Vomito Negro sound … nobody can copy that sound.
—I read that you prefer to work with analog gear instead of depending on computer programs. What are the advantages do you find in analog?
—Buttons … interaction with old machines, computers are boring. I just need some vintage synth, an analog sequencer, drum machine and tape recorder to do my stuff, I only use computers to master the album, that's it.
—Gin Devo, you have done three albums on your own, first Errata from 2012, Surface (for the Antwerp Art exhibition), and Electrotheque from 2017. What can you please tell us about them?
—The Gin Devo solo projects are pure electronic, there is another one coming in 2020 named The Garden of Evil.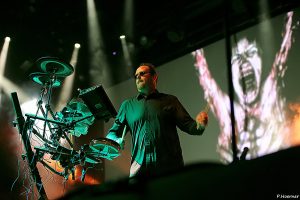 —I read about a project that you had with Sandy Nys called Størung. What happened?
—The Størung album with Sandy Nys is ready and will be released in 2020.
—In 2020, the band has planned to release a new album. Can you please give us some details about this new record?
—The new Vomito Negro album will be called Two Kings and it will be released in 2020. The sound from that album will take us back to the period of Save the World.
—What can your fans expect of your concert at W-Fest? It's going to be your second time at the festival, how do you remember the first one?
—The first W-Fest, we played after The Human League … strange timing LOL; now we have a better timing, and I think the W fest programming is getting better every year. Vomito Negro will bring some songs from their 2020 album Two Kings and some early 80s never performed songs, so don't miss it!!
Pictures: Patrice Hoerner