In romanticism with dark and melancholic overtones, where pleasure meets pain, we find Velvet May, Andrea Davide's project. Deep, edgy, introspective and conceptual EBM textures, with a velvety touch of retro, post-punk nostalgia.
Coming from Naples, Andrea is now based in Berlin. With three amazing records like Velvet May and after founding his own label (Tears on Waves), we will have him playing his mix of Techno and EBM for the first time in Spain at the DOMINANT Showcase 03, on July 9 at The Garage of The Bass Valley (Barcelona).
Hello Andrea, first of all, thank you very much for your time and for answering our questions…
—I would like to start with a question that has nothing to do with your musical career, but which always arouses a lot of curiosity in me. What did you dream of when you were little? What did you say you would like to be "when you grow up"?
—Hi guys! Thank you for having me in this interview. When I was a child I desired to work into art, of any kind, or to be a sportsman. But also many other things fascinated me, such as botany and computer science, two opposite fields we can say, but which in one way or another intrigued me a lot.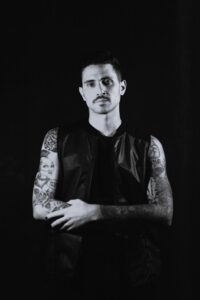 —Your interest in music comes from a young age. You have been in contact with music since you were 12 years old, listening to many genres, but preferably rock and electronic music. Do you remember any song or album that marked you a lot? Or the first one you heard and said, "Wow, this vibe is what I like?"
—The first two albums that come to mind that certainly ignited something really big in me are definitely Alan Vega's Cubist Blues and Black Sabbath's first self-titled album from 1970.
—At the age of 15 you started playing in clubs in your hometown, Naples. Do you remember the exact moment of epiphany, in which you said: "I know that I want to dedicate myself to this the rest of my life"?
—Ah well, this happened years later when I was 15, but for sure playing in my hometown, in a period where everything was going towards more experimental realities, has contributed a lot to my artistic path and motivated me to belong to the music. Naples has given many opportunities for there to be an always active, colorful music scene with new guests every weekend, and this burnt something in me for sure.
—When you moved to Berlin, did the Velvet May project arise or was Velvet May born because you moved to Berlin?
—The project was born two years after I moved to Berlin. I also think that my experiences in this city have led in part to the creation of this project.
—How do you feel living in Berlin? It is very different from your hometown of Naples, both in terms of climate, organization, people, food, customs… What things have living there given you?
—As you said, Berlin is a completely different city from my hometown, so when I arrived here I felt the need to take everything that was different from my hometown, discover it and make it my own. What living here gave me was being in contact with a society that is multi-ethnic and offers art in all its fields in 360 degrees. Living in such an open society has allowed me to get to know myself better and also to experience all the experiences with another view, and this obviously contributes to the creative path. Certainly, I often miss my city and when I go there I treasure all the warmth, emotions, people, sun and last but not least the very strong spiritual aspect that Naples can give.
—Can you explain to us where the aka comes from. Velvet means velvet in Spanish; does it have something to do with the velvety texture of your music?
—Very precisely I can tell you that May was a month in which many important things happened, things that ignited something in me but also a month in which I made choices. The word Velvet refers to the velvety characteristic that I decided to give to the month of May. Something that can refer to romantic and nostalgic, but tough and resilient.
—Could you tell us what inspired you to create this project? Both musically and conceptually, if there have been books or movies that influenced you.
—My inspiration comes from really many junctures, and I can say it is the result of a journey that has lasted my whole life and is still mutating. But I can say that the one that has inspired me most artistically, socially and thematically is Charles Baudelaire's novel "Les Fleurs Du Mal." A masterwork famous for its portrayals of sex, death, the corrupting and oppressive power of the modern city and lost innocenceIt that contains many aspects on which my project is based, and many of my track titles also refer to it.
—The project was very prolific in 2019 and 2020, releasing 3 albums in less than a year, with remixes of Autumns or Years of Denial, but since then it seems that the pace has slowed down. Has it had something to do with the pandemic or is it that you have been focused on other projects?
—Thank you for the question. This is something that has completely engaged my mind and thoughts intensely every day for more than one year. I think the pandemic has definitely affected and dogged the emotions, and especially the input and motivation that an artist, in my opinion, needs to constantly receive or seek. In my case during this period, I decided to go in a new musical direction, broadening my horizons through new projects that I feel more connected to my true self, and embracing the music 360 degrees. I'm working on the first album with the band I'm in, but I'll be returning to releasing music as Velvet May shortly.
—Speaking of the pandemic, how did the hiatus that has taken place in the last two years affect you? Both artistically and personally.
—As I mentioned in the previous question, the pandemic certainly created a lot of obstacles emotionally and therefore artistically. Not being in contact with the outside world, not seeing people, not going to concerts, traveling, and otherwise doing activities of any kind that can keep the mind active on other things, makes us close in on ourselves and then also hunt something out, producing can become very difficult. Moments to shut ourselves in and be alone are important, but we always have to balance so that the creative process is limpid.
—And now that it seems that we have recovered normality, what good things and what bad things do you think it has brought?
—Unfortunately, the negative effects have been devastating for everyone. Beyond all the people who populate our world, I think the art sector has been hit really hard, economically and also psychologically. There are some artists who have become very close in on themselves, losing their energy and motivation and maybe they're finding themselves again only now and then there are others which I think needed that moment of closure, in order to research them trying to better understand the direction to take and also many other thoughts to clear.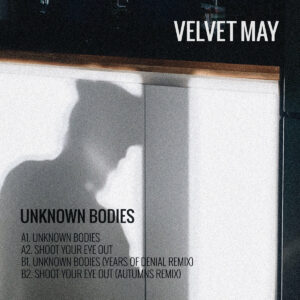 —Like you, many producers decide to found their own label, not only to release music when they want and be musically independent, but also to publish music from other artists they like. Now that you've been with Tears On Waves for a few years, could you tell us what is the best and the worst thing about managing your own record label?
—Well, I've been running my label to release, as you said, the music I make and love independently and whenever I feel the need, and I think I haven't had many worse aspects to mention since I've been releasing my music slowly and scheduling things so that everything works well. The best thing is to create something in all its features, to work on the concept. The worst thing may be having slowdowns from pressing plants.
—What is Velvet May's day to day like? Do you have a daily study routine, does it depend on the season? Tell us…
—My day depends a lot on the state of mind I'm in, I follow very much what I feel and what I need. I don't like to force myself to go to the studio when I don't feel like it. I think the creative process has to be as natural as possible for it to get the desired results. In any case, I love to spend days in the studio even if it's just to experiment, to go towards unknown directions without having a specific destination, but also to be there, listening and discovering music all day. In a few words, I completely follow my feelings.
—Speaking of the studio, what kinds of instruments and supports do you use to produce?
—I like to create music in as many ways as possible, using everything the world of sound and audio can offer us, from the fully digital instrument to the fully acoustic instrument. I think it is important not to set limits for yourself, to always experiment and to have a desire to learn. What I think in contrast to that, though, is that it's important, in my opinion, to focus on your own favorite instruments, to search for your own sound and not wallow too much in a thousand things that maybe can only lead to slowing down.
—When you produce, do you think about the dance floor and about making your music rhythmic for the dance floor?
—When I make music, I do so by following only what I feel at that moment, and what I want or need to express, without looking at where it will be played.
—What inspires you for the lyrics of your songs?
—Several concepts inspire me when I write lyrics, and the ones that inspire me the most are love, time, lust and desire, decadence, the dissolution and the beauty of madness.
—What is the set-up that usually accompanies you in your live performances?
—I don't have a fixed set up, rather I like to integrate and interchange different instruments whenever I feel the need. But normally I have a general controller and sequencer, Akai Force, microphone and some synths like Dave Smith Mopho and Access Virus.
—To act, do you feel more comfortable in small and intimate clubs, or do you like big rooms with a lot of public?
—I like both, and I think it depends a lot on the kind of situation and the kind of intimacy with which you can connect with people. Very often I like more intimate situations to do live, where I can also sometimes experiment, whereas when I do DJ sets I prefer big rooms.
—Is there any live performance that you remember especially, that has marked you? Why? If it is difficult for you to choose, it is also cool that you give us more than one 🙂
—Yes absolutely. The one I remember the most and the one that has stuck with me is two years ago at the Urban Spree for Choke Fest, both because it was my live debut in Berlin and because the warmth of the people was really exciting. Besides that I can say that a month ago I had one of my best live gigs, at Link in Bologna (Italy), which is a really amazing and crazy place, I recommend a lot to visit.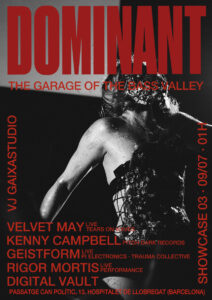 —Speaking of DOMINANT, I think Velvet May is a perfect match 😉 I'm curious to know since when you know the project and what aroused your interest in it.
—I noticed the Dominant party two years ago and have always been intrigued and delighted by its selection of artists. I am also very intrigued by the message intrinsic to the name and the party artworks that are crazy. I am really happy to play for the first time in Barcelona with this party.
—It will be the first time you perform in Spain, what do you think of the Spanish scene in particular? Do you think it is very different from the Italian or Berlin scene?
—On a musical level, I can say that the Spanish music scene is one of the hottest scenes and has contributed the most to the music industry with the artists it has given birth to. Unfortunately, I haven't been around clubs in Spain that much, so I can't say exactly what I think about the club scene and the differences with Berlin. But I can certainly say that I notice a lot of cultural similarities with us Italians and our heat, so I expect to find the same when I'm there.
—Do you have plans for the future that you can share with us, both solo and collaborations with other artists?
—What I will focus on in my next weeks will be the project with our band, with which we will release an album soon. I really can't wait for this. Furthermore I can't wait to release my next and fourth EP on Tears On Waves, a track on a compilation released by Kablys (club in Vilnius, Lithuania) and a remix on She Lost Kontrol. Well that's all, thank you very much for your time and see you at The Garage of The Bass Valley on July 9 😉