Although we love darkness, we also like the light of ULTRA SUNN, the new Belgian EBM/coldwave revelation that has proved that the night is theirs during their incredible concert at Ombra Festival. The young duo has only needed two EPs to electrify our bodies with their unique hymns to the night. They are playing in Madrid next Thursday at Specka club together with Dead Violets Night and Nöle. It's going to be, without any doubt, a night to remember, organized by Bizarro and El Garaje de Frank.
Photos: Kris Parenti
—Sam, you have been making music for a long time. Can you please tell us a bit more about this?
—I started doing music when I was 15. When I was 18, I started to play with rock bands as a guitarist and singer. I learned a lot of things during that time. I traveled a bit, learned how to compose, to record, how to be on stage, etc. It was a great time and I have so many good memories.
—In an interview you have said that "ULTRA SUNN means the perfect light. The light that reveals what is hidden and also the fights against darkness." Do you think that music can be an instrument to make people think about social issues?
—ULTRA SUNN is for us a certain idea of beauty and aesthetic. The perfect light of the sun, and more symbolically, as a guiding light in the dark, a moment of peace and inclusiveness. This same light can also become a weapon to fight against obscurantism. Music can be a way to communicate values and invite people to share them with us.
—In May 2020, the band designed face masks and half of the profits were donated to ROSA, and association which actively fights in favor of gender equality, against homophobia and transphobia. Can you please tell us a bit about this?
—Before the pandemic, we had to play for the Concert Against Sexism, organized by ROSA. We were happy to be contacted by them and to be part of this event. After the gig was canceled, we wanted to do something on our small scale. This association lives only on donations and the pandemic period was also very complex for them. The activists even received fines because they continued to protest publicly to expose violence against women and discrimination which then exploded during the lockdown.
—Do you think that the dark/goth scene at least has been a bit more open-minded in terms of sexuality that other scenes?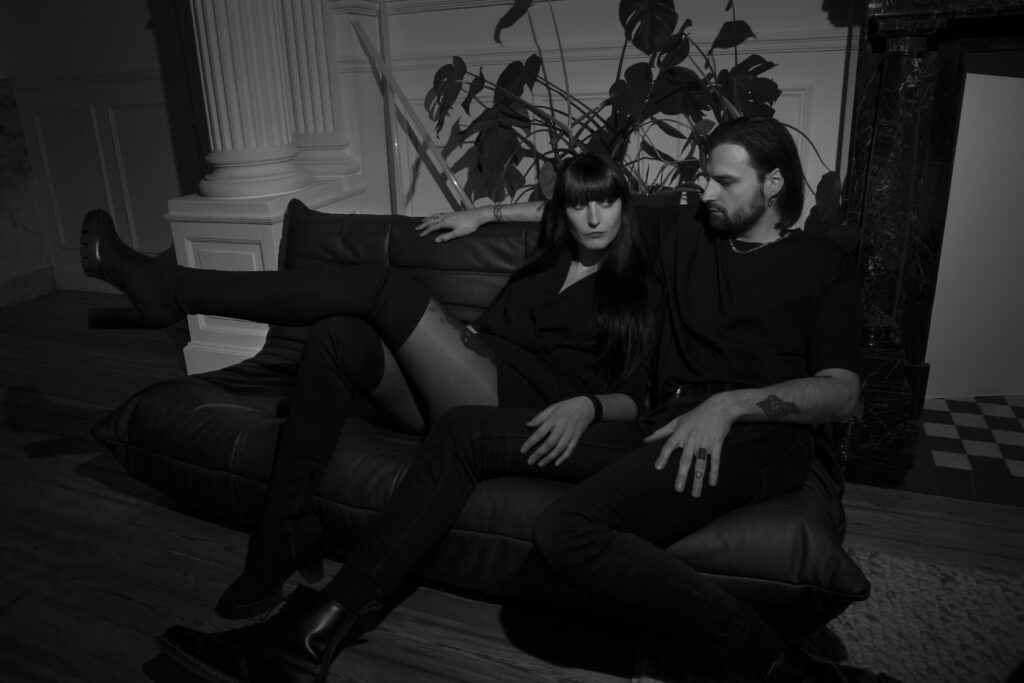 —There is more space for everybody, and you can see that the scene is much more inclusive with the audience and that is really important to us. There is still a lot of progress to be made, we notice that the industry remains dominated by cis men. We have already dealt with behaviours that were not OK, we observe a lot of mansplaining and it happened to us to find it really tiring. The behaviour of some people will be very different with a boy's band, for example. We still have hopes for the new generation and the younger people who grow up and grew up with more inclusive and egalitarian values. We can't expect them to have more space in the industry and for us all to be able to breathe a little more. We are happy to be able to show that you can be a woman or a man and not adhere to all the behaviours that are expected of you just because of your gender. We can choose who we are, and we must break these oppressive standards.
—Sam, you have always named New Beat as an influence, what can you please tell us about this? What are your favorite works of this genre? You have done a new beat remix of Night is Mine as an homage to the scene.
—New Beat music inspires me a lot. It is a genre that was born in Belgium in the late 80s/early 90s. I was just born when the New Beat appeared and the images and the sounds have something special which reminds me of this strange feeling of being a child in Belgium in the 90s. The sounds used and the atmosphere are very particular and instantly recognisable. They echo the political thing of the time. There was something very cold and quite hard during this period. At the same time, the young people wanted to let everything go and dance for hours in slow motion in the fog, to forget all the rest. In Belgium, we are very proud of our New Beat. I have always been fascinated by the drum machines, synthesizers and this atmosphere that sums up so well our Belgian experience. For the tracks that I prefer, I can mention, "Virgin in-D Sky's" from In-D, "Bryllyant" from Boytronic, "Voices" from NEON, "Cocaine" from The Maxx, "Externia" from Inouï, "Come To Me" from BPM AM and of course "Flesh" from A Split-Second.
—Gaëlle, please tell us about the electronic acts that you like and how they have influenced your work with ULTRA SUNN.
—I'm also very much influenced by the New Beat, and like Sam, by classic EBM like Front 242, Nitzer EBB or A Split-Second. We always keep in mind our desire for modernity and we are very attentive to what is happening now. The current scene is very interesting and productive and we really appreciate bands and people like Schwefelgelb, Kontravoid, Reka, SARIN, Die Selection or Sextile.
—Not every day a band debuts with a track as strong as "Night is Mine." Can you please tell us a bit more about the composition/story of this song? The lyrics were written after having been molested by some aggressive people, right?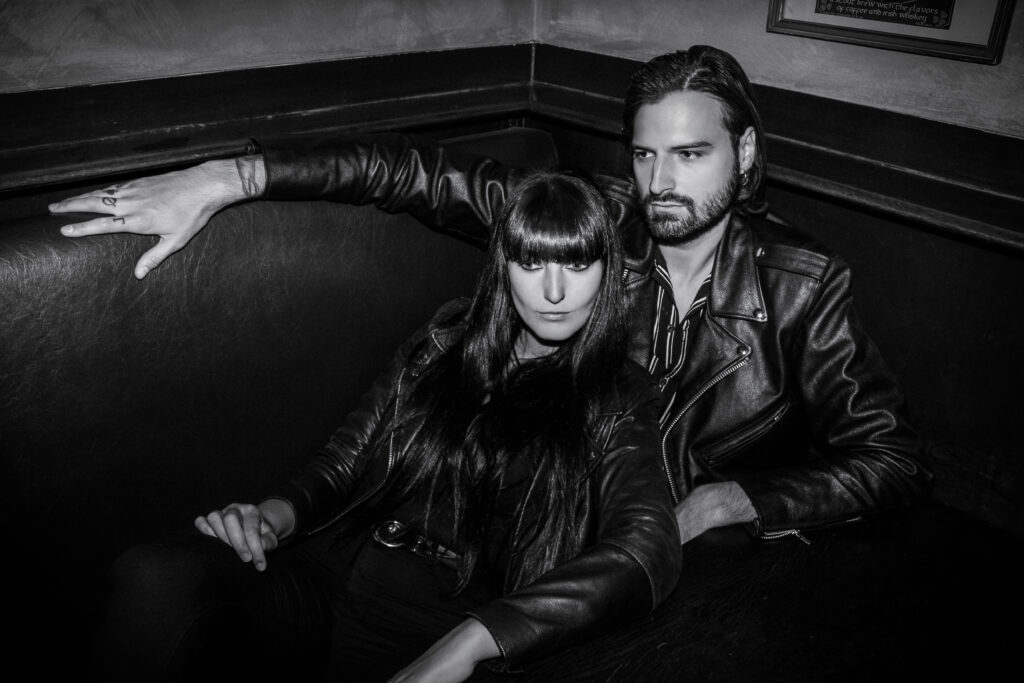 —That happened the day we went to do some scouting for the video, we had finished the music but haven't written the lyrics yet. We wanted to film in a street in Brussels. That day, while we were working, we got harassed in the street. When we got home, we had this need to write something about what had just happened, especially our feelings. We wanted the track to sound like an anthem with a strong and positive message, there was no question of complaining but of moving forward! We went to film in the same street a few days later and it was a great revenge. Another particularity of this track is the speed of composition. In less than an hour, everything was done, we didn't ask any questions, it was like automatic writing. It can explain the sincerity of the track.
—You have said that you work better at night. Do you get more inspired at night-time? I also prefer to work at night, but Violaine instead is a more day person.
—Yeah, that's right haha, the night-time is a perfect time to work. The light hardly changes, things seem to be like endless and eternal. It's also a time when no one can disturb you while you are in the middle of something.
—You said that you have limited yourself to five synths and a drum machine for composing. Why five and which ones?
—You can quickly get scattered looking for sounds for hours, and it's even worse when you start quibbling with VSTs. It could quickly turn into a never-ending quest. Lots of new sounds, samples, etc. are available every day. Five machines, that's enough for us and it is already a challenge if you want to know all the possibilities. It also helps to work faster: when you have something in your mind, you can go directly and create it on your machine. Restricting ourselves to five machines also allows us to keep it logical, a kind of a sound palette that we make evolve very slowly. So we work with a Roland Juno 106, a Moog Model D, a Korg Minilogue, a Fairlight CMI and a good ol' Microkorg.
—"Night is Mine" was remixed by SARIN, why did you choose him as a remixer? What do you like of his work?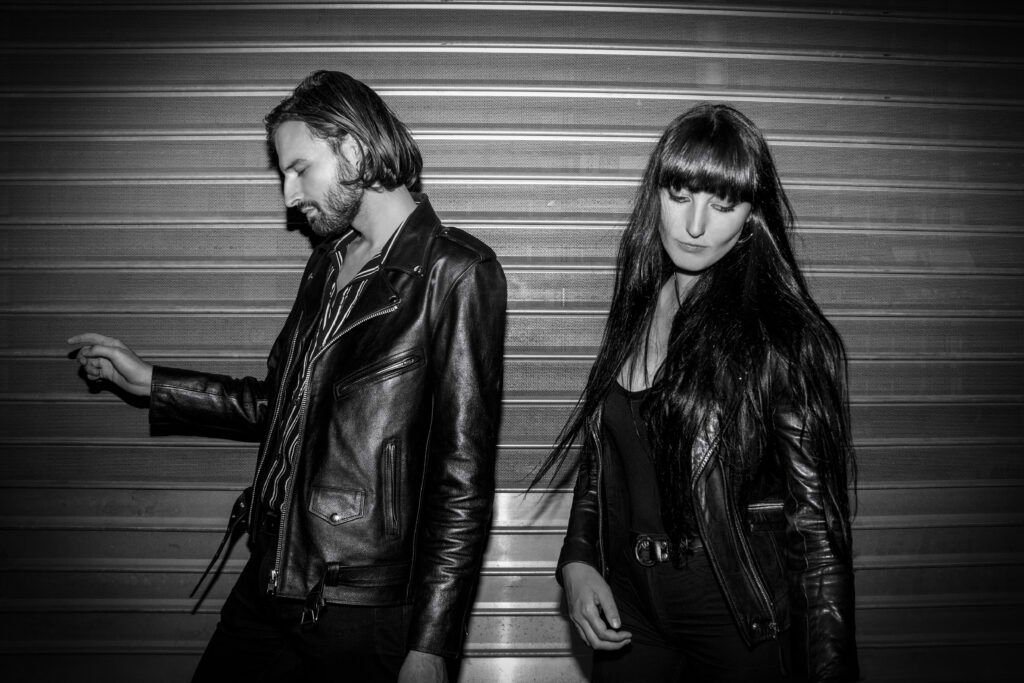 —We were honored and proud that SARIN wanted to remix our first track! We love his approach, his sound and his energy. He makes a very detailed, powerful and elegant EBM/Techno. Our chats were very cool, he is a really nice person.
—Oráculo Records released your first EP, how did they contact you?
—Oráculo contacted us after hearing "Night Is Mine" and offered to release our first EP. We were super happy to be on a label like that. This first EP is now sold out and the people who bought it, have now a collector's item. There will never be a repress exactly like this one. (There will be a repress on Cold Transmission music, with nice surprises on it!)
—Your first concert as a band was supporting post-punk band Rendez-Vous. It was also Gaëlle's first concert ever. How do you remember the experience? Were you afraid at first?
—Rendez-vous is a band that we really like and we often had the opportunity to see them live. So, supporting them was really great, they were very sweet guys. It was stressful but, you know, good stress! It will remain a great memory for us.
—In an interview you have said that you want to think of your project as something global, keeping the same aesthetic in music, visuals, photos… Gaëlle, you are a fashion designer, how much of this is your work?
—We really do everything together and we manage all aspects together. Both of us can bring more specific know-how for certain things. Before becoming a musician, I was a fashion designer and Sam is an art historian. For example, we get as much inspiration from fashion as we do from painting and we go to a lot of exhibitions, museums and we watch a lot of fashion shows. These are things that we love in common and that inspires our work a lot. It is important for us to keep some logic in everything we do and it is really by working together that we achieve this.
—You said that you wanted to make a video for every song of the Body Electric EP. Are you still planning to do this? Are they going to follow a story like the first two ones?
—That's still the idea! Speaking of that, there is only one song left for which we need to make a video. We decided that the official video for the track "Body Electric" was going to be a live filmed during our release party in Brussels. We think it's a track that has to be experienced live so it is perfect like that. So, the last track we're going to release as a video is "Two Snakes" and then we will have videos for our whole EP.
—Your last EP, Body Electric includes six tracks. How do you see this work in relation with your first EP?
—This new EP is a bit different, we really focused on working with our machines, we took some good drum machines and all the sounds are full analog. We listened to a lot of new things and let ourselves be inspired by other kind of arts such as fashion or painting as we already said. We think that this second disc is a continuation of the first one while offering an evolution, something different in the sound. Each track is designed for live because even if there are messages in the lyrics, in the end, it's dance music.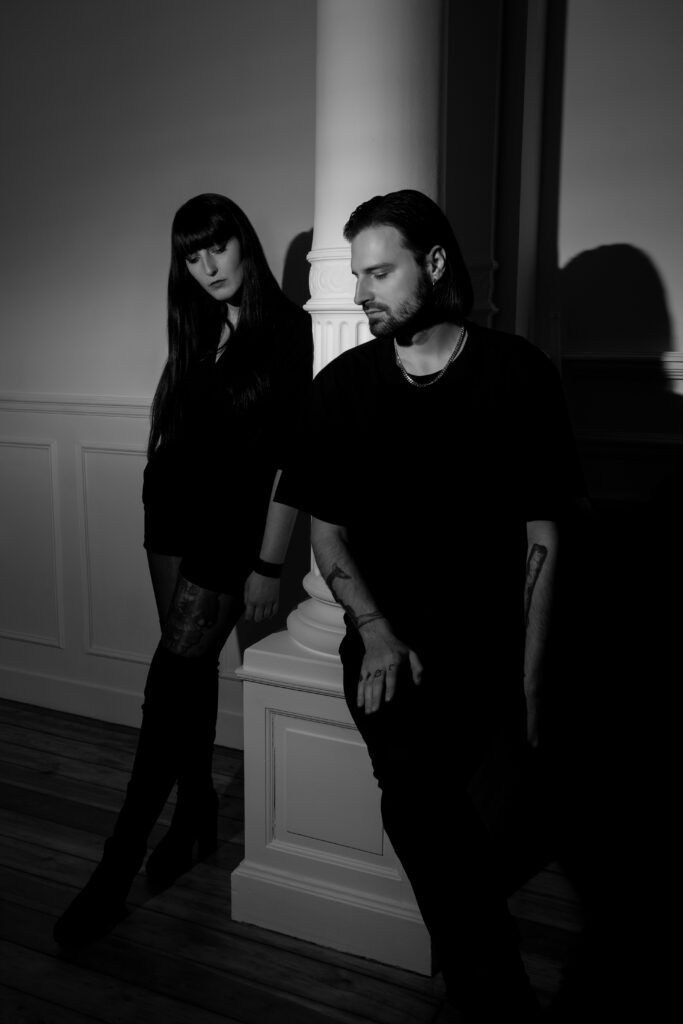 —The single "Young Foxes" talks about the party and the end of carelessness. Do you consider yourself party people? I guess we will find out during your visit to Madrid.
—Yes, we wanted to talk about that time in your life when you party a lot without thinking about anything else and suddenly you start behaving like a spectator. You look at the others. This is the end of recklessness and this is also the time when you start to rationalise, to ask yourself questions. Like if a curtain falls down while you still hear the others shouting and devouring the night. This is also a time when purely superficial relations aren't really for you anymore. The song is about all of that but still celebrates the beauty of it. This recklessness is beautiful, the difference is that now you have to provoke it a little more than before. In the end, it's not that hard to get there again and jump around like young foxes. To answer your question, yes we consider ourselves party people but we are also hard workers and we can be serious and focused at times. These are the two aspects of our personalities.
—You have done a remix for The Secret French Postcards. Can we expect more in the future? What is your approach to remixing?
—It was a cool experience. More remixes are coming and we can't wait to start again. So far we've tried to keep the vocal lines as a guide. From there we allow ourselves to redo the basses, drums and synths. It's always cool to keep some of the original track's features because it allows us to do something that remains recognisable and respectful even if we decide to transform it in our own way.
—You are part of the Cold Transmission family and I guess you have a good relationship with the label as every time I have seen you, you were with Andreas and Suzy. Which other artists of the label would you like to recommend us?
—We get along really well with our label. We are lucky to work with Suzy and Andy who are very professional and attentive. It's really precious to be able to grow together with people who share our vision of a work well done. Humanly, they are really good people, welcoming and warm, we always feel well cared and boosted with them! We have the chance to go on tour in Europe from February 2022 with two bands that we like a lot which are S Y Z Y G Y X and Palais Ideal, these are bands that we already listened to before signing with Cold Transmission.
—I would like to discuss with you about the issue of the audience. Your public is mainly composed of fans of 80s music and as we saw in your concert is not really young. Nowadays we have a lot of young bands making this kind of music. Don't you think that the audience should renew too, at some point?
—Honestly, it depends on where you are. There are some countries or cities where the audience is a little bit older and is more nostalgic for the 80s music but, on the other hand, those people have a real interest in new bands and we find that this energy and curiosity contribute so much to the life and good health of the scene. In many other cases, the profiles can be younger or mixed. We notice that the new generation is really touched by our music, maybe because we talk to them directly. We always keep in mind that we are not a revival music band, we are part of our time and we feel at our place in current music even if some of our inspirations can be drawn from the music of the end of the 80s. Our process, visuals and messages are contemporary. When we look at our statistics on social networks or streaming, we can see that the age groups are quite young. We think that the scene is already renewing itself naturally. So it depends on the places we play, and above all we are happy to see that all the generations are mixed and find different interests at the same place.
—You have also recorded some DJ sessions. Are you also interested in DJing at clubs or are you already doing it?
—We mixed several times on Twitch during the Lockdown. Djing was clearly something that we wanted to develop at that time and we had the pleasure of mixing live several times when the clubs reopened. We stay on the lookout for all the music that comes out and we are always searching for forgotten gems in record stores. We have the intention of continuing the DJing, which is a lot of fun for us.
—How have you lived these covid times?
—We started the project just before the lockdown, which may have given us the feeling that we were cut off really soon actually. We had to abruptly cancel all the gigs, our support act for KOMPROMAT, etc. Despite everything, we decided to work very hard and rethink our concept several times, to be as honest as possible in our approach. It gave us time to create a lot of new things. During this period we released our first EP on Oráculo, then we signed with Cold Transmission and started to prepare the second EP with them. We never really stopped releasing new tracks. it was a pretty intense moment, a lot of work but we came out with a lot of positive things.
—What are your plans for the future? An LP?
—Lots of gigs, and then the Night Is Mine repress we're working on. We're also already thinking about a new record to be released in like a year from now.
—What can we expect of your concert at Madrid?
—As always, a beautiful moment of exchange and sharing. The important thing is to forget the norms and dance all together. We create moments where you can be who you are, you will always be welcomed and loved. What else? The night is ours!