Tyske Ludder, German gods of EBM have published six albums of pure Electronic Body Music, a real gospel for all the believers of this religion that didn't hesitate to fight heretic sects in Works like the  SCIENTif technOLOGY EP. Claus Albers and Olaf A. Reimers bring the holy word to the Garaje de Frank and they will be playing heavenly in the W-Festival on the 17th of August, a Saturday that it's going to be divine.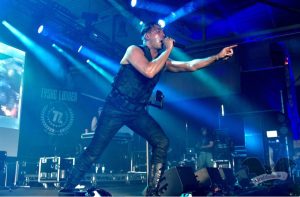 —The band started with a more wave project, what made you change to electronics?
—Claus: We attended a Front 242 concert in Bremen in the late 80s. We were very impressed by the way the performance was presented. Since we were already experimenting with a synthesizer, it was obvious that we switched to the EBM genre.
—The name of the band means "German Whore" in Norwegian. How did you pick up this name? Did you have any problems when touring Norway?
—Claus: When we switched to the electronic sector, we were looking for a two-part historical name. When we then saw a documentary about the fate of Norwegian women who had engaged with German soldiers during the 1940–1945 occupation, we quickly agreed to take the name "Tyske Ludder," as the Norwegians named these women. Norwegians have a very special sense of humor. They like the name very much.
—What can you tell us about your first release, the cassette Pabjda Live?
—Olaf: Papjeda was released during a time, when we had no record deal, along with two other tapes. I think that this was normal in the early nineties for bands who just began. We recorded them on a Fostex 4-track recorder we already used for our wave project Leaders of men.
—You said that you created Bombt die Mörder?, your first album from 1994, with a sampler and an Atari computer. How was your creative process and the recording back in the day?
—Olaf: We used the ATARI and the Ensoniq EPS sampler for our first two records. I think Bombt die Morder? was made only with that equipment. Then in the studio we recorded every single sound one after another on a professional TASCAM tape machine. That was the process for the first three TL albums until the end of the 90s.
—One year later, you released Dalmarnock, the difficult second album published in 1995. How did you face the creation of this album? Do you think it was a continuation of the first one?
—Olaf: In fact, on the second album Dalmarnock the use of a WALDORF synth had a great impact on our work. We wanted to sound a little more "catchy" and worked more with melodies on that. The creation process was totally different as we entered the studio of X Marks the Pedwalk for this. I think it was the first time we saw a digital desk. And it was a real strange thing, to work with a strict time limit for the first time. I really hated that.
—You had a break after the release of the Creutzfeld EP in 1996. What did the band do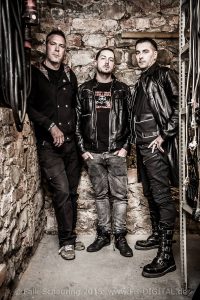 during these years until its return?
—Olaf: After the Creutzfeld EP all members of the band went after university to different cities in Germany for their working career. I still worked on some Tyske Ludder tracks back in that time, and some find its way on the 4th album SOJUS, but during that time family and work had the focus.
—You returned with Sojus, nine years later. Was it difficult to write songs together again? How was the album received?
—Olaf: We decided to start working on the 4th album SOJUS after having a great live comeback at the beginning of 2000. We didn't play for years and suddenly you are something like a "Cult-Band." That was a strange but great experience. And in all the years after the last album I always made some songwriting. So it wasn't that heavy to lift the new album SOJUS in those days. I think the work on the next ANONYMOUS was much harder.
—Now, with the perspective of time, do you see Anonymous like a turning point in your career?
—Claus: Definitely. I think ANONYMOUS is so far our most successful album. And after that album we defined TL new, also as a Live Band. From that point we also played the big Festivals in Europe like Mera Luna, AMPHI, WGT, INFEST and so on. Also, since then we worked with other people for the production of our music.
—Diaspora was another strong release. The cover features the Star of David and the first song is in Hebrew (or at least, I think). Was it part of the theme of the album?
—Olaf: DIASPORA is more a concept album with a strong focus on our PRO-Israel attitude. I think 3 or 4 songs from the album just deal with that. We just had a feeling in those days to make a clear statement for that. From time to time we just think it's time to make something clear to the people, like we did with our single SCIENTific technOLOGY. In fact, we were really in politics these days.
And btw, the first song is HEBREW, indeed 😉
—The band has lyrics in Frisian, how do you think this culture has influenced your music?
—Claus: Frisians are considered cool and restrained, but if we believe in an opinion, we are vehemently advocating it. Accordingly, these genes characterize us. Introverted during studio work, extroverted on stage. Anyone who has ever attended a Tyske Ludder concert knows what I mean.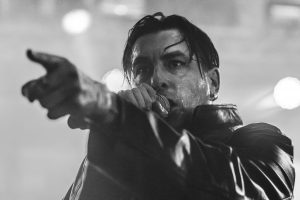 —You have covered Tilt, TC Matic and Jesus and the Gurus. How do you choose a song to cover?
—Claus: Most of the songs we cover have either influenced us or have always been among our personal musical milestones. TC Matic, for example, has accompanied us as a listener since the 90s and SPK's "Crack!" is for us music art at the highest level. The decision which song we cover for an album is made from a combination of love and thematic content.
—Evolution is your last record from 2015. Do you think that there is an evolution to the dance floor in the music of the band? Are you interested in dance music?
—Claus: The name evolution is more related to the textual content of the album. The evolution of humanity from human to pig as the next step of development. Whereby we do not mean the animal pig but rather the context in which the word pig is used. Asshole would probably be another name for it.
—Olaf, how is your side project Harmjoy going?
—Olaf: We just finished our second album IRON CURTAIN. VELVET GLOVE, which will be released on April the 26th. So far everything is working fine and the people seems to like our first single We Could Go On. It's a pity that it's so expensive to bring Dan, my singer from Harmjoy, from San Francisco to Europe for some cool Club-Shows.
—Which are your favorite EBM artists?
—Olaf: I'm not really in listening to EBM anymore. Okay, from time to time I really enjoy the new stuff from bands like WULFBAND or YOUTHCODE. So, I would say that I favorite them at this moment. Today I have a great variety of styles and bands I'm listening to. EBM is just a small part of this.
—Claus: This requires that you can really define EBM, in my opinion, it's very difficult. There are always publications that are assigned to the EBM sector and I really like it. But I'm not on any band. I feel more comfortable in the industrial field and am still a self-confessed Ministry and Skinny Puppy fan. Furthermore, I move through different genres of music and I am influenced by my nieces but also very much by Olaf, who obviously wanders 24 hours a day through the net and share very bizarre songs. Anyone who has ever attended one of our legendary drinking music bouts knows what I'm talking about. Bring Me The Horizon is always welcome.
—Vio and I are interested in languages and everything related. Do you think that German is the language that better fits EBM? For our French and Spanish ears, German sounds a bit aggressive and seems to fit perfectly the style.
—Claus: I think that one should sing in the language in which one feels most comfortable, detached from the musical genre. It's hard to say anything profound unless you're in your native language. So, it always depends on what you want to say. If I want to stay superficial and engage in shallow conversation, I could do it in a foreign language. If I want to meet directly between the eyes, I should choose my mother tongue, otherwise you run the risk that it sounds ridiculous. That is why the majority of our texts are in German.
—Do you think that in general the sound of EBM is kind of stuck somewhere between 1988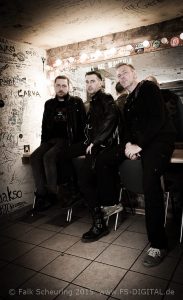 and 1995? I don't say that anything is wrong with that, of course.
—Claus: What exactly is EBM? I do not want to participate in the discussions about whether EBM dies and what constitutes EBM. For me, EBM is not just a style but also an attitude to life. I do not think EBM is stuck, it's just a special arm of electronic music that does not change much anymore, but rather lives from mixing different EBM styles. EBM will always be part of my life.
—Do you think that thanks to Trump, the United States will achieve world domination? At least, I guess it must be a good period for the band for the writing of the lyrics. There is so much to say.
—Claus: In fact, dickheads once again dominate world history. But we are more interested in how this could happen. Who are the ones who unconditionally follow these motherfuckers? With this question we will deal more closely with the next album. We will definitely put our point of view of those things with the necessary sharpness for which we are well-known.
—Do you think that your music and EBM in general can interest young people? I mean, the youngsters that are currently listening to trap and similar things could find the same rage and sense of rebellion in your music, right?
—Claus: I do not like to predict how EBM and music in general will affect young people in the future. I think that the whole electro scene, because of its aging and sometimes also very great intolerance, has turned away from the opportunity to inspire young people. I just remember the group of cybergothics who would have liked to be part of the scene but was bullied by the establishment. Since it is difficult to change, it will be very hard in the future to get new blood in the scene. This affects both the audience and the bands.
—And for the future? Any new album on the making?
—Claus: Olaf has just completed the work for the new Harmjoy CD. I think as soon as he recovers, we will start working on a new album. But when exactly we have finished this album you cannot say today.
—What can you advance of your concert at W Festival?
—Claus: Work and sweat.