I will never forget the first time I heard "One Chord Wonders". I found an anger that was not common in the dull AOR records that I was listening at the time. It was the record that made me love punk. More than twenty years later, I find even more necessary to tune in to this anger. We are very proud of talking with TV Smith, creator of some punk hymns and more, a lot more.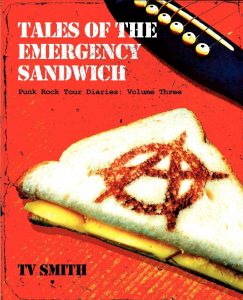 —You have written so far five volumes of tour diaries, how did you come up with the idea this idea of writing about your tours? Do you think they can be useful to young musicians?
—I never planned to write five volumes – I just started writing down what happened to me on tour because I thought people would be interested to hear what it's really like. As far as the audience is concerned, you appear on stage in the evening and what led up to you getting there is a mystery. I think most people assume you came out of the hotel in the morning and got on the tour bus and then arrived at the gig, and that's all that happened. It may be like that for some famous bands, but for the independent musician the reality is very different – a lot of challenging, funny, difficult and sometimes scary things happen along the way.
—You are touring with the Bored Teenagers; do you feel that they are the definitive band to play your songs?
—Yes, they have the enthusiasm and dedications to translate The Adverts songs into versions that work on stage in 2017, and they are also able to play the new songs really well. The fact that they live in Spain and I live in England means that we can only play occasional tours together, but I think we are actually a tighter band than a lot of bands who tour together all the time. We are all good friends, never argue and are all very dedicated to playing the best we possibly can.
—Any new bands that you like? How do you feel about modern music?
—I strongly believe that good music never goes away, it just gets ignored by the music business. I hear lots of new bands and songwriters I like – but nothing on mainstream radio or television. There are also plenty of us older people still creating good stuff, and we don't get heard either. There is no "modern music," there's just "music." The soul and spirit that creates it never changes.
—How was the experience of re-recording your songs with Die Toten Hosen for the Useless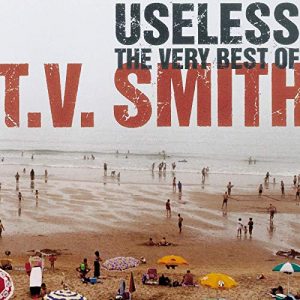 compilation?
—It was a great opportunity for me to have the luxury of a professional studio to record in and a great band to record with. Die Toten Hosen were big fans of my songs but most of the records I'd made up to that point had been recorded on a very small budget, with different musicians and in different studios, often very cheap ones! There's nothing wrong with that, but the idea of Useless was to bring together the best of the songs and give them a consistent sound and backing. We were all really happy with the result.
—We finally have a reissue of the music of Cheap, do you think these songs deserved a better luck?
—To be honest, I think all my songs since The Adverts broke up could have done with better luck, but that's just how it is. Cheap was a particularly painful experience for me, as we made the record in very difficult circumstances. No record company would finance the recording so we ended up using a studio that was about to go bankrupt, working in the middle of the night to get a cheap hourly rate. When we finally finished the record, no one would release it. I was only ever able to get it out a few years later after the band broke up. Now I've released it again in a remastered version with some songs that didn't appear on the first version, as well as all the John Peel sessions, which I think were some of the best things the band did. I'm happy that it's out there for people to hear – there are still a few records from my back catalogue that aren't…
—How was your relation with Stiff Records? The first time I listened to your music was thanks to the Stiff Box Set, which included "One Chord Wonder". A lot of things have been said about their peculiar way of running the company.
—They were certainly unique. Working with Stiff had its advantages and disadvantages. Because the label itself had such a strong character, they had almost total control over the way the records looked and were marketed. That's how they preserved the image of the label, of course, but it did mean the bands had very little control over how their music was presented. I have no complaints though, being on Stiff was a great first step for The Adverts.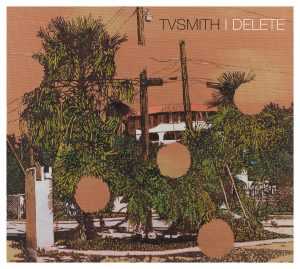 —From Channel Five to I Delete you have released 9 albums. Which one would you recommend to someone who only listened to The Adverts albums? 
—Listen to them all! If you can find them. To be serious, it's an impossible question. The two Adverts albums sound completely different to each other, for a start. I've tried to never repeat myself over the last forty years, so every album has a different approach and a different style. The only thing connecting them is the songwriting, which I believe I've kept consistent. If you like the songs on The Adverts albums, I think you will like the songs on all the other albums too.
—And the required question about Crossing the Red Sea with the Adverts, how was recording with Larry Wallis? Do you think that the record could have sounded slightly different if the producer had been Nick Lowe (the other in-house producer at Stiff)?
—Larry Wallis recorded "One Chord Wonders" for us on Stiff, and then we brought him with us to record "Gary Gilmore's Eyes" when we moved to Anchor Records. We changed again for Crossing The Red Sea, and asked John Leckie to produce it. I think they both did a great job – Larry was perfect for the singles, and John was perfect for the album. It would also have been fabulous to work with Nick Lowe. I love his production on the first Damned album and I'm a big fan of his recent solo records too.