Photo: Klara Johanna Michel
In all the posts that you find in a digital magazine, there are tags that are helpful for searching purposes. In a music magazine like ours, this metadata corresponds to the genre of the band we are talking about. For this interview with The KVB, we could, for once, use most of our tags, because the music of the English duo can be labelled using a lot of genres: darkwave, post-punk, experimental music, shoegaze… We have chatted with Nicholas Wood and Kat Day, who will be playing at the W-Fest on the next 23rd of May. 
—Nicholas, your first band was Man on the Moon, a project a bit more country, can you please tell us something about it?
—It was really just my first experiments at writing and recording songs in my bedroom a long time ago! I'd say I was going for a "psych-folk" vibe at the time, as it was before I discovered or could afford synths and drum machines.
—The first reference of the band (you were the only member back in the day) is the cassette The Black Sun released in 2010, right? What made you start The KVB?
—The project started as an outlet for recording demos for other bands I was playing in with friends at the time. I never planned to release anything until James from Pink Playground contacted me on MySpace, to ask if I wanted to do a cassette with them, which was The Black Sun.
—"Never Enough" (for me one of your best songs) is already on this first cassette. Why did it take you six years to release it again?
—We don't like to look backwards too often, but we felt the time was right to release it again when we included it on Of Desire. We have always played that song live and it made sense that it should appear on a proper album.
—After this first cassette, you released a 10″ called It's too Late in January 2011, and the Into the Night EP, in June. How would you define the sound of The KVB at that moment?
—The first 3 years of releases from 2010 to 2013 were all recorded the same way, on multitrack ADAT and tape recorders, so I guess they all have a similar raw vibe.  
—In between, you recorded Minus One at home in five days, something really amazing considering that you also published another 10″ in that month. Are you always so fast writing your songs? It was the first of your albums to get re-released, did you feel specially proud of it?
—We've tried to slow down a bit since those days, as we have developed and refined the way that we write and record. I think that the Minus One re-release was the album that started to get more people into discovering us.
—When did Kat joined the band, during Subjection/Subordination or during THE KVB EP? Did the writing process changed when she started to be a member of the band?
—Kat joined me in late 2011; initially it was just for the live shows I had booked and to make visuals, but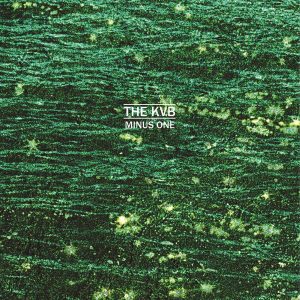 after a while we started to work together on the music too. This really started around the time we released Minus One and recorded Out Of Body.
—Any plan of re-releasing all this material? The band was selling at shows a Memory Stick with everything recorded until 2018, right?
—Yes, we did sell a very limited edition memory stick in 2018. I'm sure that more of our older material will be re-released in time.
—The KVB sails between the Goth and the Shoegaze scenes, but you also play in big festivals like Primavera Sound. Where do you find the band better received?
—We don't really see ourselves in one particular scene, so we play a lot of different events. Playing an event like Primavera Sound is great as the audience is so broad. We recently toured North America and the audience reaction caught us completely by surprise, especially in cities where we didn't expect it such as Salt Lake City—they were pretty wild!
—In the first proper album of the band, Always Then, from 2012, there is a cover of Lee Hazlewood's "These Boots are Made for Walkin'." The band has also covered "Sympathy for the Devil," "Taxman" and "Rebel Rebel." What is your approach to cover songs? Also, why did you re-recorded four of the songs of the original album?
—When we do a cover, we like to do our own thing with it, because otherwise we find it boring and don't see the point in doing it. We re-recorded those 4 songs from Always Then for the bonus EP, as we were curious to try updating them to how we played them live.
—The band has appealed to some techno artists such as Regis and Silent Servant. Is it true that Silent Servant got a cassette of the band and helped signing a contract with the label founded by Regis?
—Yes, that's true. I didn't know much Downwards at the time, but I was honoured that he reached out to me. That release is really what kick-started the project.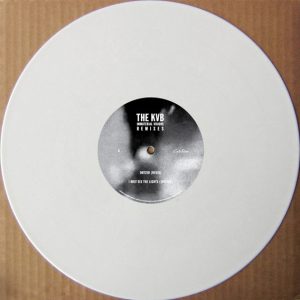 —How did you have the idea of the remix EP with Regis, Silent Servant and In Aeternam Vale? What do you think that they brought to your music?
—We wanted those guys to remix us for a while, so we asked Veronica from Cititrax if she would release and thankfully she wanted to do it. All the artists have such an interesting approach to the manipulation of sound and the remixes they did have timeless appeal that still makes them feel as interesting today and for years to come.
—Is it difficult to be a DIY band nowadays, or do you think that thanks to the Internet it's a bit easier than in the '90s?
—Kat: To be honest, it's impossible to say as I was born in the '90s and so it's hard for me to know precisely the experience for bands then. The Internet has definitely helped us reach a lot of people around the world, but it feels like it's getting harder these days for bands to reach people, especially when so many online and print music publications are ceasing to exist.
—Kat, you have said that you don't see the visuals as a separate thing from the music. So, when the two of you are composing, do you already think on the visuals, or is it something that you work just for the concerts?
—Kat: The visuals are our third member; they create the atmosphere we want at the concerts. In the most ideal situations, the bigger and more enveloping the better. At the moment the visuals always come after reflecting on the music but always reduce to the similar subjects such as nature, architecture, digital bodies and have clear intentions of bodily effect, analogue artifacts and the haptic. I have been really pushing myself and recently built a computer to render more interesting 3D visuals as well as contributing live visuals to my friend Tommi's project group A based on our shared love of Brutalist architecture.
—What's the story behind Mirror Being, a collection of experimental and instrumental songs recorded in 2014? Did you try to find new ways for the band with these songs?
—Those tracks were originally being recorded for a different project, but once we started compiling them we had the idea to release it as a tape for The KVB, to show a different side to what we do. Atmosphere and hints of the cinematic are evident throughout our albums, and it felt good to explore the more experimental side of this.
—How different was the recording of Of Desire where the band counted with Geoff Barrow and his synths?
—It was the first full-length album we recorded in a studio, and after already so many albums recorded in our bedroom it felt like a necessary change at the time. We learnt a lot while we made it and the various synths and machines at the studio definitely helped us explore new ideas and find new sounds that have become part of our aesthetic. For example, it was in his studio that we discovered an effects pedal called the PT Delay by Bugbrand which has become an integral part of our soundscapes and also for feedback textures live.
—In Only now forever, you said that you wanted to expand your compositions and instrumentation. How would you say that you achieved that? It's also the album with the new synth OB-6, right?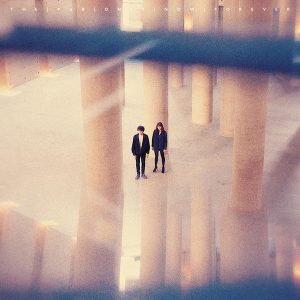 —We wanted to focus on creating the best range of songs that we could, whilst still being a KVB album. We worked a lot on adding melodies, variations and textures, more than we'd been able to do on previous records and the OB-6 helped a lot with that.
—We have interviewed a lot of musicians that have moved to Berlin. What do you like of the city? Do you already feel part of the city?
—We're not actually in Berlin any more, we're now back in the UK and moving to Manchester. Of course, we still love Berlin, but it's a very transient place and it had a big influence on the art we created there.
—Nicholas, what's the status of your side project Burma Camp, and Saccades? What can you also please tell about them?
—I have another Saccades album almost ready, but not sure when that will appear. I'm not really doing anything with Burma Camp now, but I am working on ideas for a different project with Kat.
—Four years ago, you said that you wanted to do a short film and soundtrack it. Have you been thinking about this?
—Of course, but these things take time. Touring and everything that comes with it takes up a lot of our time, but we'd still like to do the film idea at some point soon. Perhaps under a different name.
—Do you like the music of other couples like Mueran Humanos (also living in Berlin) or Lebanon Hanover? Do you find things in common with them?
—Yeah, we hung out with Mueran Humanos a lot in Berlin and they're great! I especially love "Un Lugar Ideal" it's a good song to dance to. We're actually playing with Mueran Humanos and Qual (Lebanon Hanover solo project) in Leipzig in May!
—In your last release, from October last year, the EP Submersion, there is a remix by Minami Deutsch. How did you meet them? Are you interested in Krautrock (classic or modern)?
—We met Kyotaro a couple of years ago while living in Berlin and we discussed the idea of a remix swap for a while. Yeah, we love Krautrock old and new, it's been a big influence on our sound over the years.
—How is going to be the concert at W-Fest?
—Kat: We will be playing a mixture of new and classic songs, maybe bringing some back that haven't been heard live for a few years. Kat is also revamping some of the visuals. We are looking forward to it, and also looking forward to watching DAF afterwards!